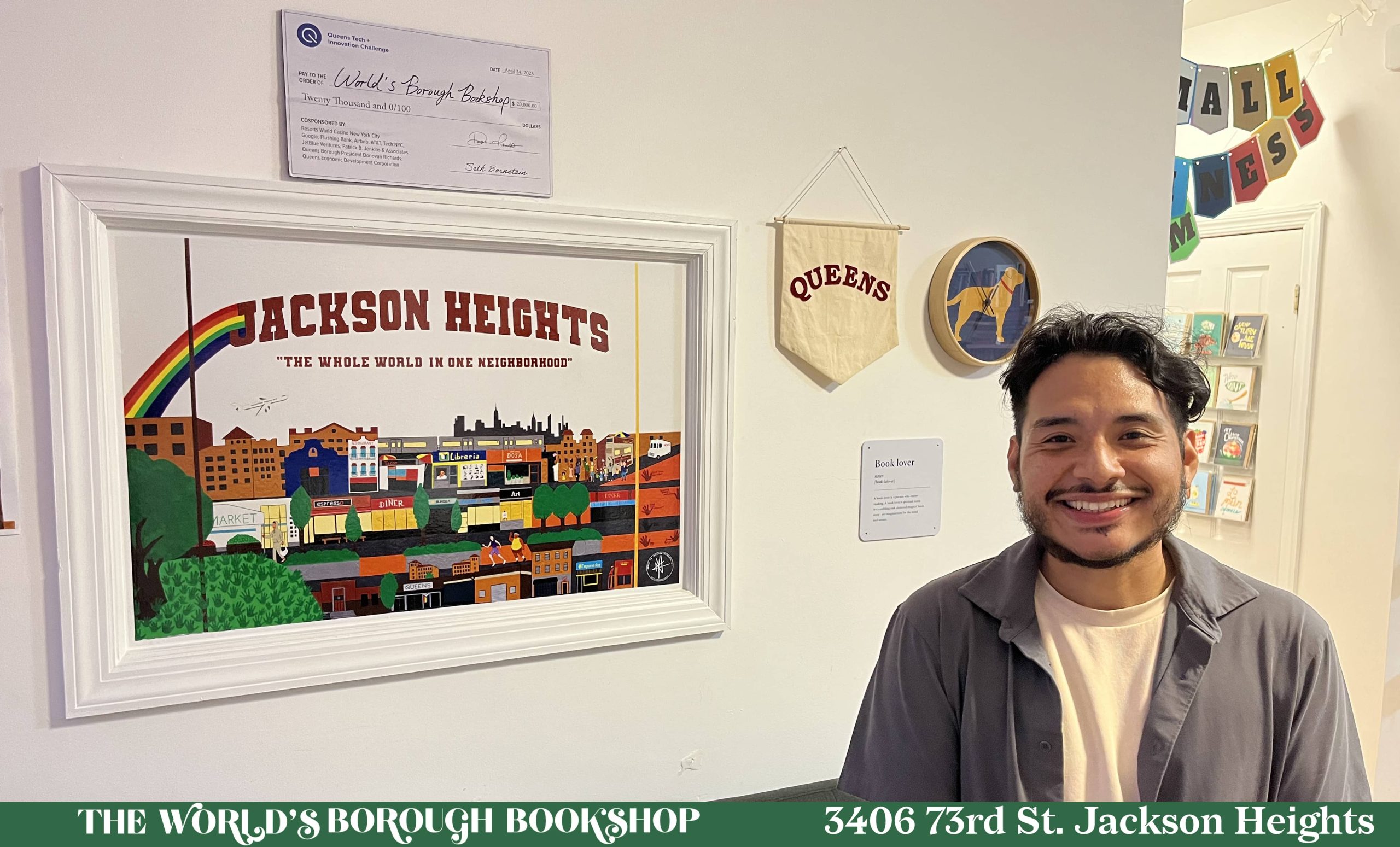 Dear friends,
JHISN has been around for just over six years—a youngster in relation to many local immigrant justice groups. But we are old enough to have learned the difficult lesson that many justice groups know too well: hard-won activist victories are also hard to sustain. In this newsletter, we report on how the Biden administration and corporate capitalism are undermining New Jersey activists' successful attempt to shut down privately contracted immigrant detention centers in the state. La lucha continúa …The struggle goes on.
We are delighted to also offer an introduction to a new neighbor—The World's Borough Bookshop just opened its doors on 73rd St and 34th Ave. We encourage you to visit and explore this wonderful community space.
Newsletter highlights:
New bookstore comes to Jackson Heights

Notorious privately-run detention jail in NJ supported by Biden's DOJ
---

1. The World's Borough Gets a New Bookstore
Seven years ago, Adrian Cepeda had a dream: open a bookstore here in Jackson Heights. Today that dream has an address: 3406 73rd Street. The World's Borough Bookshop, located just off the neighborhood's Open Street, launched for business on August 5. Its shelves are filled with Latinx and Black fiction and nonfiction, literature by Desi authors, Queens writers, manga comics, and a selection of used books. There's a colorful kids' room with children's books in Portuguese, Bangla, Mandarin, and Urdu.
 "Por y Para La Communidad" ("for and by the community") reads the banner at the entrance. With comfortable couches inside, and tables on the sidewalk, the world's borough bookstore invites students-after-school, parents with excited kids, or teachers looking for an English translation of García Márquez, to linger for conversation, or to just sit and read in the late summer sun. Cepeda, who curates the store's selection of BIPOC-only (Black, Indigenous, People of Color) books himself, is looking to the community for ideas and desires about what our local bookstore should be. "I want to make it a very Queens bookstore," he smiles.
Growing up in Jackson Heights, Cepeda credits his mom—who also grew up in the neighborhood—with nourishing his love of reading with trips to the JH Public Library. But he is committed to making the World's Borough Bookstore attractive to both readers and non-readers alike, a place where people can fall in love with books for the very first time.
---
2. Biden Continues Expanding 40-Year Policy of For-Profit Detention
In August of 2021, New Jersey implemented Sanctuary Law AB5207 banning ICE contracts with private detention facilities—a victory for the years-long activist struggle to close down private, for-profit detention. The law successfully resulted in closing three New Jersey detention centers, leaving just one operating: the Elizabeth Detention Center (EDC). However, private contractor CoreCivic challenged AB5207 as unconstitutional for violating the Supremacy Clause, which gives federal laws precedence over state laws. The federal contract with CoreCivic to house migrants in EDC was set to expire in September of this year and was an opportunity for Biden to follow through on campaign promises to end private detention. 
As a presidential candidate, Biden said, "No business should profit from the suffering of desperate people fleeing violence," and proclaimed private detention centers, "should not exist. And we are working to close all of them." Although he signed an executive order last January to end the use of private prisons under the Department of Justice (DOJ), that order does not apply to immigrant detention because Homeland Security is not under the DOJ. 
Last March, after President Biden's 2024 budget proposal increased ICE and Border Patrol funding, Make The Road NY joined with New Jersey-based immigration support groups NJ Alliance for Immigrant Justice (NJAIJ), Wind of Spirit NJ, MinKwon Center NJ, and AFSC Immigrants Rights Program to condemn him. Erik Cruz, of the NJAIJ, accused the Biden administration of supporting "a rollback to his predecessor's worst and cruelest policies." Soon after, 223 organizations signed a letter demanding asylum seekers and other migrants not be placed behind bars in immigration detention.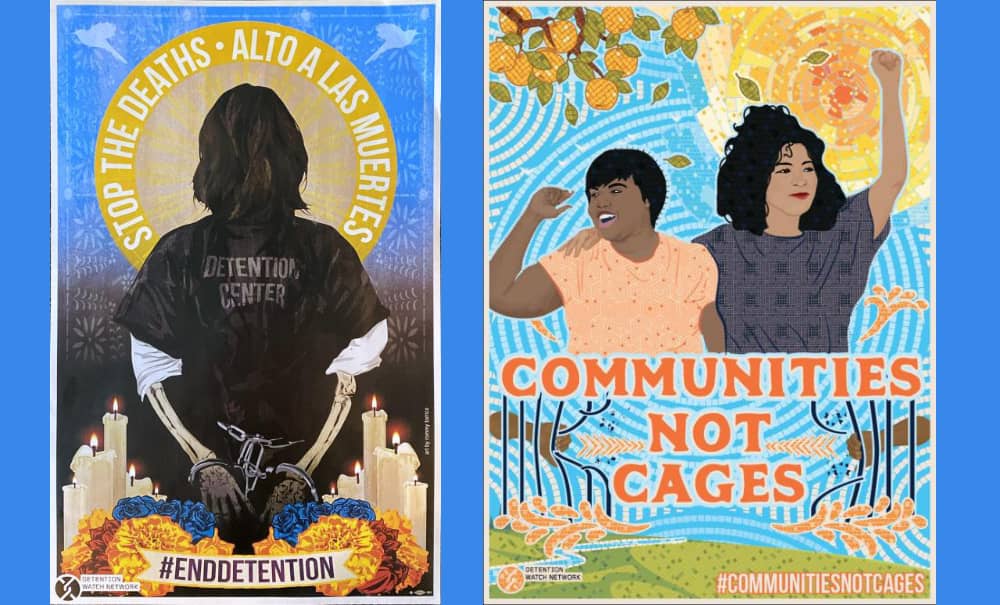 After Title 42 was repealed in May, a new set of immigration restrictions was introduced, and a review launched by senior immigration officials identified about two dozen detention centers to be scaled back, reformed, or closed. Only three closed. During 2022, the Biden administration actually increased the number of detainees held in private facilities to 90%–compared to 80% at the end of Trump's administration. Revenues for one private prison company, GEO Group, reportedly jumped by more than $1 billion (an almost 40% increase).
Then, in July, the CoreCivic case against AB5207 gained a boost from Biden's DOJ which filed an amicus brief supporting the CoreCivic injunction. The DOJ called the Elizabeth facility "mission critical" because of its proximity to Newark and JFK airports; they described direct flights out of the United States as "crucial" for removals. Instead of acknowledging that detainees could be released to family and community, Biden's DOJ filing highlighted the increased costs for out-of-state relocations and transportation to alternative detention facilities which limits access to families and legal counsel. It also focused on possible worst-case scenarios saying shutting down the center could lead to the release of "dangerous noncitizens."
50 local groups, including DetentionWatch, called the Biden administration's support of the CoreCivic suit "bitterly disappointing but unsurprising." They called on NJ Governor Murphy to shut down EDC, reminding everyone that detainees had long complained about problematic conditions at EDC: the facility is set up to have just one bathroom for every 40 people; birds inside reportedly defecated on beds; people were abused by staff; and there has been a lack of sanitary pads. 
A "free them all" rally was held on August 20th to defend AB5207 and demand the facility's closure. Five days later, ten New Jersey congressional leaders joined with 41 immigrant support organizations and delivered a letter to the DOJ expressing concern for the Biden Administration's support of the private prison company. Li Adorno of Movimiento Cosecha said later of Biden, "He could actually shut down the Elizabeth Center at any moment, any given day …This is it—his time to shine, and he's not shining."
Instead of shining, Biden did nothing to close EDC, nor end the contract. At the end of August, Judge Kirsch declared AB5207 unconstitutional and within a day a $20 million 12-month contract between ICE and CoreCivic was signed. Judge Kirsch had ruled the NJ law was "naked interference" with federal immigration enforcement and was "a dagger aimed at the heart of the federal government's immigration enforcement mission and operations." Kathy O'Leary, the Director of Pax Christi and one of many activists, including Unidad Latina and Movimiento Cosecha, protesting the ruling outside the federal immigration building in Newark, responded to his grotesque dagger statement:
"We cannot stab a dagger into the heart of ICE. It has no heart, it's not a person. The people in ICE's cages—they can bleed, they can shed tears. That's who we should be concerned about." 
Yanet Candelario of The Mami Chelo Foundation, who spent time inside the walls of the Elizabeth Detention Center, said when Biden was elected president, she was happy. "I thought he would end the Trump era of terror, where children were separated from their parents and kept in cages like animals." She continued, "I believed he would make a difference in a country where immigrants have fewer rights…I don't think Biden knows that people are dying in immigration detention because they have been denied medical attention, but I also expect him to keep his promises and end a system that denies us our humanity."
WHAT CAN WE DO?
In solidarity and with collective care,
Jackson Heights Immigrant Solidarity Network (JHISN)
Follow @JHSolidarity on Facebook and Twitter and share this newsletter with friends, families, neighbors, networks, and colleagues so they can subscribe and receive news from JHISN.