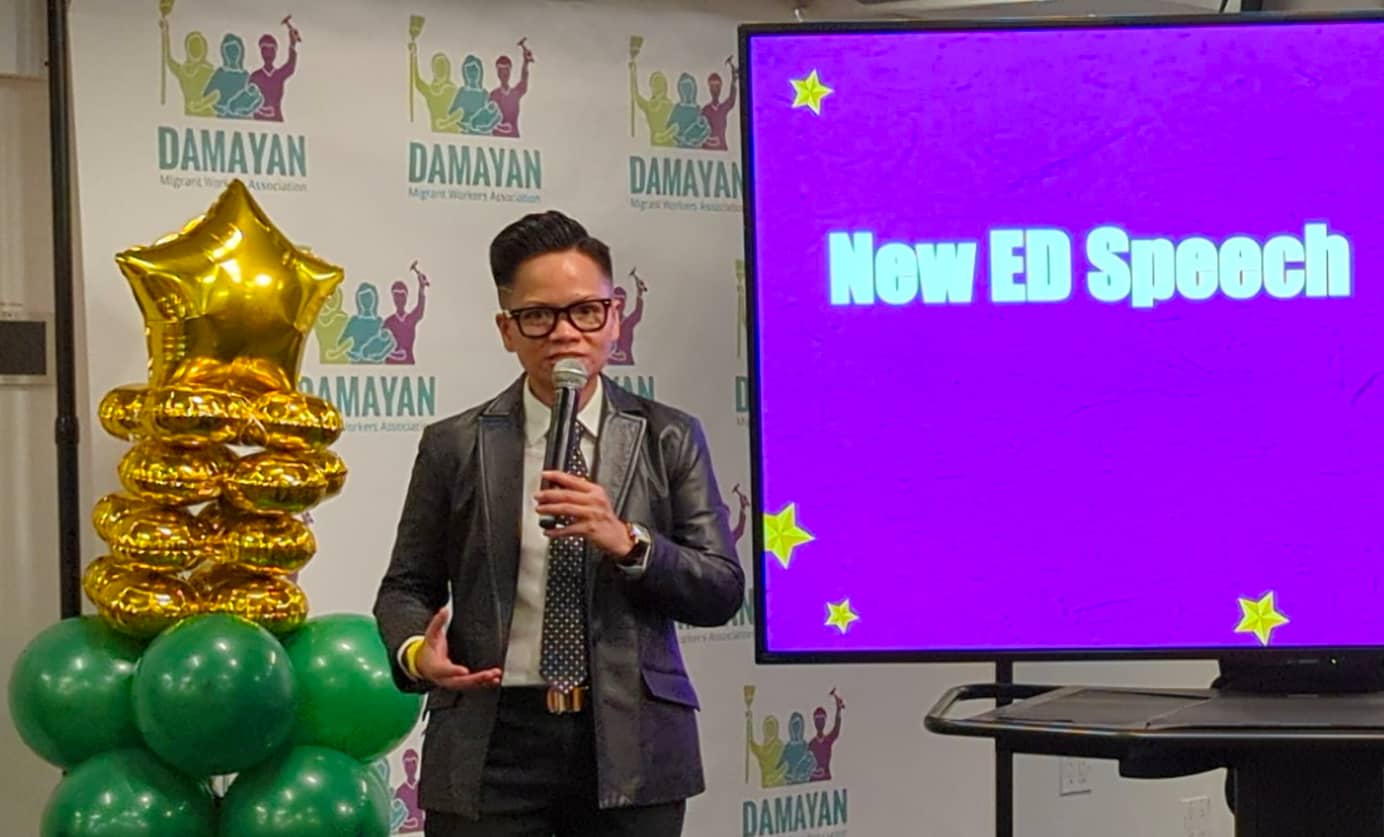 Dear friends,
We are excited to bring you news about recent changes, and accomplishments, at Damayan—a local immigrant justice group that some of our readers already know well. With Woodside now home to 'Little Manila' and over half of all Filipino New Yorkers living in Queens, Damayan's grassroots work is vital to our community. We also introduce you to public events organized by the Zolberg Institute on Migration and Mobility housed at The New School, with a summary of their recent webinar on US border politics and Biden's new asylum policy.  
Newsletter highlights:
Damayan celebrates 20 years of Filipino organizing

Public webinar on Biden's betrayal of asylum seekers
1. DAMAYAN at 20
"Sa loob ng 20 dekada, nanatili ang Damayan na matatag sa pananaw na anti-imperialista, bumuo ng malinaw na vision at mission, at mga strategies para gumabay sa mga tulad nating domestic workers… [For 2 decades, Damayan has remained steadfast in its anti-imperialist vision, developed a clear vision and mission, and strategies to guide domestic workers like us…] —Rose Alovera, Damayan Board Member
Damayan Migrant Workers Association's mission is to "organize low-wage Filipino workers to combat labor trafficking, promote human and worker's rights, and develop social justice leaders." At the end of 2022, Damayan—many of whose 1500+ members live in Queens—made several major announcements at their 20th Anniversary and Annual Holiday Party.
Perhaps the most important news was that Riya Ortiz, a long-time organizer with Damayan, has been selected as the group's new Executive Director. Ortiz said, "My family's experience of forced migration and years of organizing and activism convinced me to embrace the vision and mission of Damayan." Co-founder and outgoing ED Linda Oalican will transition out of office in the first quarter of this year, after two decades of what Damayan praised as "providing critical services, educating, organizing, and mobilizing Filipino migrant workers in New York and New Jersey."
One of Damayan's key accomplishments in 2022 was to help more than 200 Filipino workers receive a total of over $3 million from the New York State Excluded Workers Fund. Last year, Damayan assisted a record number of workers to gain visa approval, and secured financial assistance for 26 trafficking survivors through the federal Trafficking Victims Assistance Program. In a display of the group's broad community support, Damayan's recent holiday fundraiser easily surpassed its goal, raising over $22,000 from more than 170 donors.
JHISN congratulates Damayan and outgoing ED Lina Oalican on 20 years of impressive achievements in the fight for social justice. We extend our solidarity to new ED Ortiz, and to all Damayan's Directors, activists, and members. 
WHAT CAN WE DO?
If you are able, please

donate to Damayan

!

Attend the

tribute

to outgoing Executive Director Linda Oalican on February 25th.
2. Asylum Betrayed: Biden's Border Politics and Title 42
On January 13, The New School's Zolberg Institute on Migration and Mobility here in NYC hosted an important webinar, "Asylum Betrayed: Biden's Border Politics and Title 42." The Institute offers courses, sponsors lectures, and events, and supports critical scholarship on all aspects of migration. The webinar discussion featured Eleanor Acar, director of the Refugee Protection Program at Human Rights First, Alexandra Delano Alonzo, professor and chair of Global Studies at The New School, and Lee Gelernt, Deputy Director of the ACLU's Immigrants' Rights Project. 
Participants reviewed multiple aspects of US immigration policy and highlighted problems with President Biden's January 5 announcement of a new "parole" plan for migrants from Nicaragua, Cuba, and Haiti. This scheme will allow up to 30,000 migrants per month to enter the US for a period of two years and receive work authorization, but will require everybody to apply from their home country, have a sponsor in the US, and pass background checks. Anyone trying to enter in any other way will be expelled under the controversial "pandemic emergency" authority of Title 42 and will be disqualified from the program in the future. Mexico has agreed to accept 30,000 of those expelled each month. 
All webinar participants appreciated the value of providing migrants with a legal path for entry, but rejected the use of Title 42 to punish those unable to meet the requirements of parole. The Biden program is designed to favor people with family connections in the US and with financial resources. Some migrants with good cases for asylum will likely be expelled–-a violation of international law.
The webinar offered updated information about cross-border immigration to the US: 
Of the "2 million migrants" said to have recently crossed the southern border, many are actually people who were expelled and who then re-crossed, getting counted two or more times. Ms. Acer explained that the restrictive policies of former president Trump are the main cause of the ballooning numbers, not the weaknesses of Democrats' border policy.

Among migrants recently expelled to Mexico under Title 42, some 13,400 are victims of kidnapping or rape. 

For the past three years, there has effectively been a halt to asylum—a clear violation of international law and stated US values, according to Mr. Gelernt.

The Mexican asylum system is already overburdened and underfunded and will have difficulty absorbing 30,000 additional migrants per month. It is not known why Mexico has agreed to accept people expelled by the US, but Dr. Delano Alonzo said the Mexican administration might be anticipating some sort of economic quid pro quo.
Biden's new parole plan has been strongly criticized by many immigrant justice and advocacy organizations as well as by four Democratic senators who are usually White House allies—Senators Alex Padilla (California), Bob Menendez and Cory Booker (New Jersey), and Ben Ray Luján (New Mexico). One biting public statement against "parole" came from Murad Awawdeh, Executive Director of the New York Immigration Coalition:
"President Biden's plan to expel those who attempt to cross the border … is an attack on the humanitarian values and obligations of the United States. This plan needlessly endangers the lives of those crossing the border in search of basic freedom in our country, and succumbs to the fearmongering espoused by anti-immigrant conservatives. . . . Rather than limiting humanitarian parole for just a select few with family connections and financial privilege, the Biden administration must expand additional protections for all asylum seekers, so that our country can fulfill its humanitarian obligations and provide opportunity and freedom for all."
In solidarity and with collective care,
Jackson Heights Immigrant Solidarity Network (JHISN)
Follow @JHSolidarity on Facebook and Twitter and share this newsletter with friends, families, neighbors, networks, and colleagues so they can subscribe and receive news from JHISN.