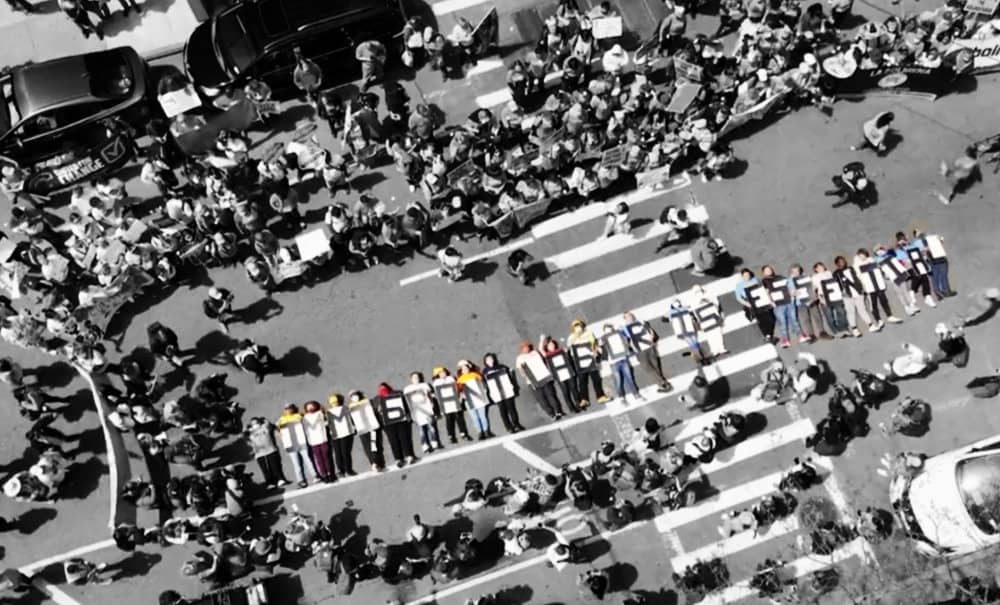 Dear friends,
For many of us, Jackson Heights is an extraordinary example of a vibrant immigrant neighborhood. We may not know all the statistics–that over 60% of residents are immigrants; that over 80% of households speak a language other than English at home; that we have the second-highest percentage of immigrants among any neighborhood in NYC. But we know that immigrant communities are the heart of Jackson Heights. This week, JHISN takes a critical look at how immigrant politics are playing out at the national level, under a Democratic-led government. We offer our report with an eye on the future and grassroots justice struggles in our own backyard.   
1. Here We Go Again: Democratic Party Failing Immigrants
There's a recurring, predictable pattern for many decades to the betrayal of undocumented immigrants and immigrant justice struggles by the Democratic Party–which now controls the White House and has a majority in Congress. It's like clockwork:
First come the big promises. During Biden's campaign, he vowed to create "a roadmap to citizenship for the nearly 11 million people who have been living in and strengthening our country for years." 
Then the flawed proposals. The actual plan Biden submitted to Congress treated immigrants like criminals who were "earning" the chance for citizenship instead of welcoming them as essential workers and valued members of the community. It laid out a complex process for attaining citizenship, full of pitfalls and exclusions, that would take most immigrants 8 to 13 years to navigate; many would not be successful.
Then the watered-down Biden bill immediately met with Democrat defections and unnecessary obstacles. The Senate parliamentarian decided to oppose including immigration reform in a large omnibus bill; Joe Manchin and other Democrats refused to override her. Therefore the Biden plan is dead in the water. So is another proposal by Democrats in Congress that could have helped legalize roughly four million Dreamers and farmworkers.
Predictably, now comes a proposed "bipartisan" consolation prize. Senate Judiciary Committee Chairman Durbin's bipartisan "compromise" initiative apparently follows the classic DC sellout pattern. As always, it promotes a fake "balancing act": more money for "border security," more "guest workers" with limited rights, amnesty for Dreamers if they are good, and no pathway to citizenship for their parents, or millions of other immigrants.
If the classic pattern holds, Congress will fail to pass even a deeply compromised bill like this. 
 In the meantime, the Democrats have increased the budget for ICE. Biden used the Trump era deployment of Title 42 to illegally bar millions of asylum seekers. On the sidelines, Democrats deal out targeted immigration reforms and funding to certain immigrant rights groups and ignore others, dividing the movement. Democrats welcome 100,000 white immigrants from Ukraine, while forcibly expelling millions of immigrants of color.
This is corrupt political theater, not progressive politics.
If the Dems actually cared about the 11 million immigrants without rights in the US, they would:
Be strong advocates

. Talk every day about how immigrants are exploited and abused by corporations and the government. About families being ripped apart. About immigrants contributing to the economy without being given rights in return. About essential workers. About US responsibility for migration flows. About how the 100-mile border enforcement zone and other police-state measures hurt everybody.

Help organize unified national protests

against immigrant exclusion. Support a "union of immigrants" to add muscle to immigrant justice demands. Hold public national hearings and consultations with immigrant justice activists. Include grassroots immigrant leaders in all Democratic meetings about immigration and spending priorities.

Punish Democrats who take anti-immigrant stands

(like Manchin) by taking away their committee positions, Party financing, and endorsements. Openly criticize them for their reactionary stands and run alternate candidates to replace them. 

Clean the white nationalists and sadists out of the Department of Homeland Security

. Close down ICE and return immigration oversight to the Justice Department. Set new policies to end the criminalization of migrants. End all detention for migrants.

Declare mass pardons or amnesty

for undocumented immigrants,

and expand the use of TPS

. Use Biden's presidential power to attempt to provide asylum and decriminalize immigrants. 

Stop the relentless attacks on migrants at the southern border. Follow international laws on asylum and refugees.
 But it's become obvious that we can't count on the Democratic Party on its own to speak or act for immigrants. JHISN believes that excluded migrants and solidarity activists must rely on ourselves by building a unified, national, non-partisan movement led by immigrants of all nationalities, starting from the bottom up. Such a movement, which can only be led by grassroots immigrant justice organizations, must maintain its independence from the Democratic power structure and their corporate funders, even as it seeks to light a fire under the Party to do the right thing.
 Local immigrant justice groups are already generating the kind of heat that's needed. On May Day, local immigrant workers and allies held a march and rally and staged a die-in to call out Congress for failing to deliver on a pathway to citizenship as promised. Among the sponsors were groups from our neighborhood: MTRNY (Make the Road NY), DRUM (Desis Rising Up and Moving), and NICE (New Immigrant Community Empowerment). The local actions converged with organized marches in at least a dozen other US cities.  
 The Democratic Party won't support serious measures to help immigrants unless it is confronted with a powerful independent movement that holds it, and the rest of society, accountable. JHISN hopes, in solidarity with immigrant-led organizations, to help that movement become a reality.
WHAT CAN WE DO?
Support Movimiento Cosecha's

national campaign "Papers, Not Crumbs!"

protecting the rights and dignity of undocumented immigrants.

Join marches and rallies by local immigrant justice groups demanding citizenship for all 11 million! 
In solidarity and with collective care,
Jackson Heights Immigrant Solidarity Network (JHISN)
Follow @JHSolidarity on Facebook and Twitter and share this newsletter with friends, families, neighbors, networks, and colleagues so they can subscribe and receive news from JHISN.