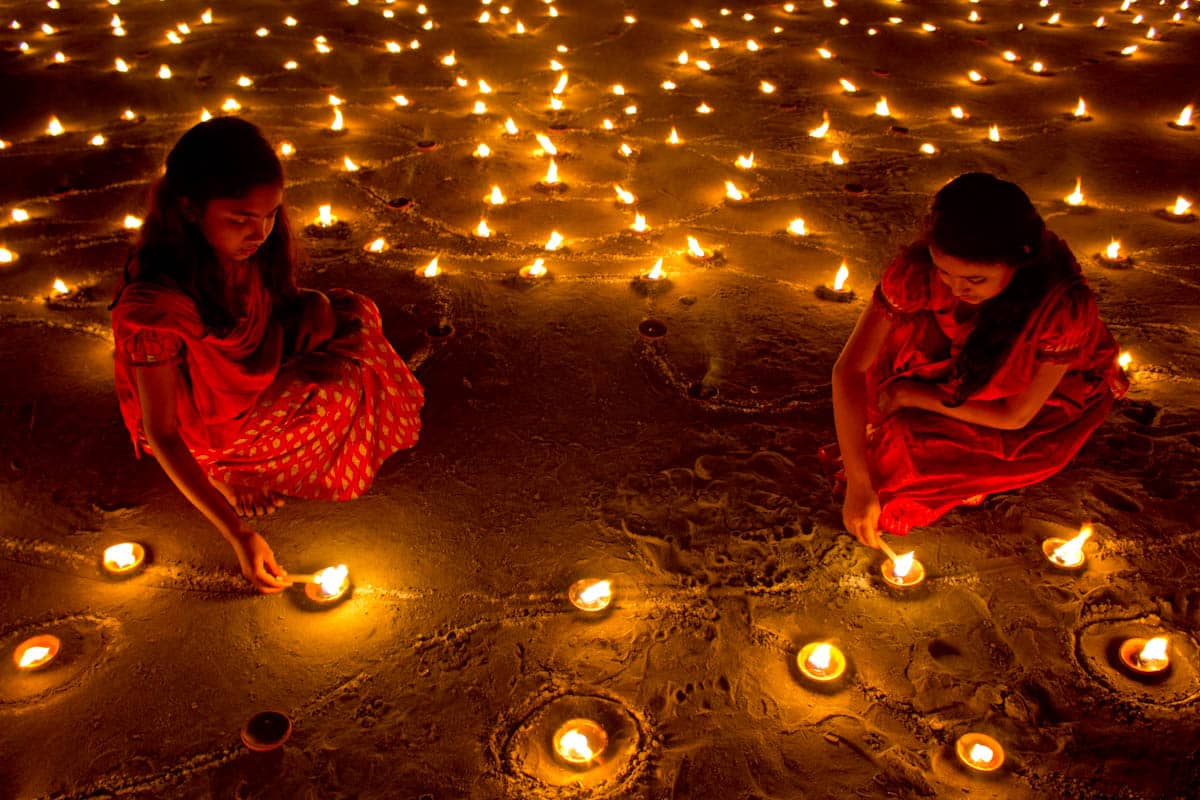 Dear friends,
The immigration news headlines this past week have been grim. A 26-year-old immigrant attempted suicide on Wednesday at the city's new 'migrant shelter' in Red Hook where hundreds of men are being warehoused in inhumane conditions. At ICE's Northwest Detention Center in Tacoma, WA, private guards sprayed chemical agents on detainees who had launched a hunger strike to protest bad food, unpaid labor, and harassment. 
Beneath the headlines, at a slower tempo and often out of sight, struggles for immigrant justice continue. We report on the ongoing mobilization demanding the establishment of an official NYC school holiday to mark Diwali—a major holiday celebrated by many communities here in Jackson Heights. And as we highlight the unprecedented number of immigration cases backed up in our dysfunctional US immigration system, we ally with all those calling for truly independent immigration courts. 
Newsletter highlights: 
Celebrating Diwali as an official school holiday

Unprecedented backlog of US immigration cases 
1. When Will Diwali Be Recognized?
"If I trusted the mayor by his words, then Diwali would have been made a school holiday on Jan. 1, because that is the promise that he made during his campaign." –Assemblymember Zohran Mamdani
For more than 20 years, NYC's South Asian and Indo-Caribbean communities have been trying to get Diwali—the pan-religious Festival of Light—recognized as a school holiday. Hundreds of thousands of local Hindu, Jain, Sikh, and Buddhist residents celebrate the five-day Fall holiday, which is embraced by more than a billion people around the world. But so far, neither the city nor the state has mustered the will to include Diwali on the school calendar. A new initiative in Albany is raising hopes but also provoking criticism and doubts.
In 2013, Jackson Heights City Councilperson Daniel Dromm and 16 co-sponsors were unable to get a local Diwali school holiday bill passed. Dromm tried again, without success, in 2018. At the state level, Assemblyperson Jenifer Rajkumar's 2021 Diwali bill never made it out of committee. But many advocates were convinced that 2022 would be the breakthrough year. Before his election, Mayor Adams publicly promised that once elected, he "would take his oath of office and walk into City Hall and 'sign it into a holiday.'"
That did not happen. Adams has adopted a new position: there is no room on the school calendar, because of the state's requirement for 180 days of instruction. Making Diwali a holiday, he now claims, requires substituting it for another holiday, which in turn requires state approval. Mamdani strongly disputes this, noting that Adams himself had previously dismissed scheduling concerns: "There are ways to move around the calendar to get the required number of days," Adams once told Politico. South Queens district leader Richard David points out that "whenever the city punts to Albany, it's always a little unpredictable, and you don't really know what's going to happen there." 
Many private schools in NYC already treat Diwali as a holiday. Some parents question "why Adams can't follow his predecessor's example when former Mayor Bill de Blasio added the Asian Lunar New Year and the Muslim holidays Eid Al-Fitr and Eid Al-Adha as fixtures on the city schools calendar." Fed-up families have resorted to simply taking their children out of school for Diwali on their own.
While the press put a harsh spotlight on Adams' broken promise, advocates continued to apply pressure. In September, a public school student coalition circulated a petition for the Diwali holiday which gathered almost 5,000 signatures. Finally, in October, Adams joined forces with Rajkumar and Schools Chancellor David Banks in announcing a new initiative. The plan is to get the state legislature to substitute Diwali for "Brooklyn-Queens Day" or "Anniversary Day," a holiday commemorating the founding of the first Sunday school in Brooklyn in the 1800s. The public announcement of the new Diwali initiative had a triumphal quality, as if it was already a done deal. NBC News said that Diwali "will be a school holiday in 2023." So did NPR and TimeOut New York. Others were more cautious: "Even with over two dozen state lawmakers signed onto the legislation, community leaders in Queens remain skeptical of the efforts being made to complete a promise that they say has been made to them before," the Queens Daily Eagle reported.
On November 2, the new City Council held a Diwali celebration in its chambers. On January 25, dozens of lawmakers and activists gathered in Albany to lobby for a bill to carry out the Rajkumar/Adams/Banks substitution plan. In the Assembly, Queens co-sponsors include Steven Raga (D-Woodside), Ed Braunstein (D-Bayside), Catalina Cruz (D-Corona), Khaleel Anderson (D-Far Rockaway) and Zohran Mamdani (D-Astoria). The sole sponsor of the matching bill in the Senate is Flushing Democrat John Liu. Rajkumar observes that "we have never seen such enthusiasm for this cause." 
Will 2023 be the year Diwali makes it onto the public school calendar in NYC? Advocates say it is possible, if the state legislature gives approval by July. 
WHAT CAN WE DO?
Follow the fight for a Diwali holiday at the

Diwali Coalition

Twitter feed.

See footage of Diwali being celebrated in India in this

short video

.
2. Dramatic Backlog in US Immigration System
"When I started [as a lawyer] about 15 years ago, I could take on an asylum case, and within a three-month time frame you'd get a hearing before a judge. Now that time frame has stretched up to a five-year waiting period just to get a court date." –Karla McKanders, Director, Vanderbilt Law School Immigration Practice Clinic
The numbers are stunning. Over 2 million pending cases in immigration courts at the end of 2022—a number that has more than doubled in the past 5 years. 9.5 million pending applications at US Citizenship and Immigration Services (USCIS) as of February 2022, with a surging backlog. At least 1,565,966 asylum seekers currently waiting for immigration hearings in the US, according to TRAC's Immigration Project.
Behind these numbers are real people living in limbo for months and years, and spiraling stories of partners, families, beloveds, children, workplaces, and communities trying to manage profound uncertainty while sustaining hope and connection.
There are multiple reasons for the growing case backlogs. One major culprit is a history of underfunding of the immigration court system under both Democrat and Republican administrations, which has led to shortages of staff, technology, and resources. COVID shutdowns certainly played a role. Increased migration over the past decade due to economic dispossession, state violence, and environmental devastation is a factor. Also, the Trump administration intentionally jammed the immigration machinery, weakening due process protections in US immigration courts, while simultaneously increasing bureaucratic obstacles to legal immigration.
And there is no easy fix. There are no less than five different federal agencies involved with immigration processing, and four different congressional appropriations committees that fund—and underfund—their work. Right-wing electeds are actively working to slow the wheels of legal immigration while maximizing detention and deportation. Bringing down the number of backlogged immigration cases isn't an easy target for grassroots activism. And the complexity of the US immigration bureaucracy makes popular education about the backlog difficult. All this contributes to a problem that feels increasingly intractable even as it grows more consequential.  
One step in the right direction for reforming the dysfunctional and backlogged immigration system would be for Congress to create and fully fund truly independent US immigration courts. For historically perverse reasons, US immigration courts are currently housed in the executive branch, under the jurisdiction of the Department of Justice-–a law enforcement agency. Together with the American Bar Association and the National Association of Immigration Judges, we support a separate immigration court system that, like other parts of the US judiciary, has meaningful autonomy from the whims of executive branch authority and is less subject to political pressure. An independent, accountable immigration court system might help to bring justice to the hundreds of thousands of lives currently stalled by the unprecedented backlog of pending immigration cases.
In solidarity and with collective care,
Jackson Heights Immigrant Solidarity Network (JHISN)
Follow @JHSolidarity on Facebook and Twitter and share this newsletter with friends, families, neighbors, networks, and colleagues so they can subscribe and receive news from JHISN. 
---
---