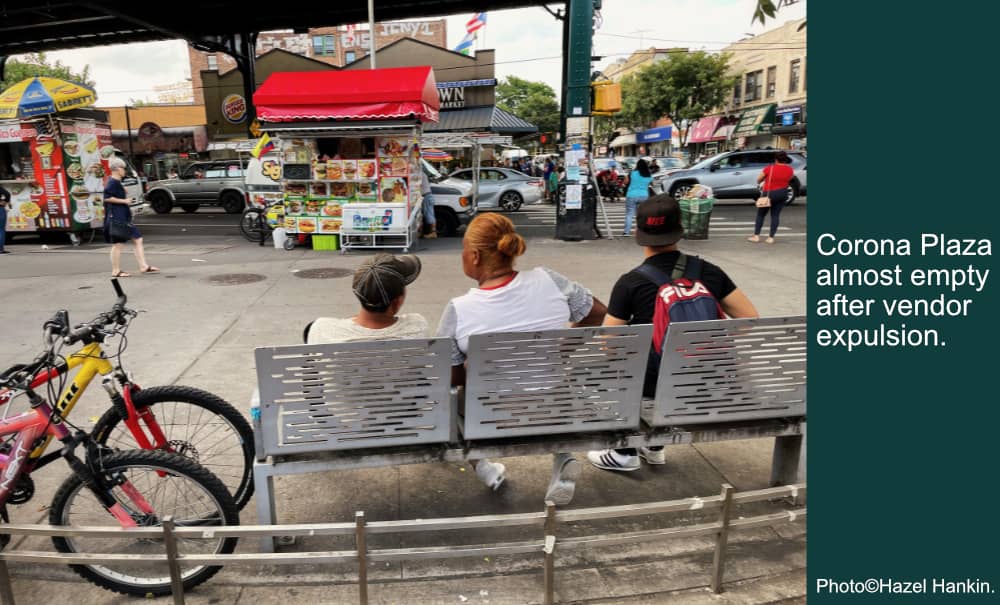 Dear friends,
Sometimes the news hits very close to home, and this week we report on the city's shutdown of the lively street vendor scene at Corona Plaza. Many of us can remember our most recent visit to this informal outdoor marketplace that grew like a welcome garden during the pandemic. We urge all of our readers to sign the petition supporting the struggle of local vendors who are threatened with losing their income and their community. We also encourage you to circulate this newsletter to neighbors, co-workers, and political and religious organizations who might offer social solidarity. 
 Note: JHISN newsletter is also available in Spanish on our website. Share the link!
Newsletter highlights:
Sanitation Department Police shut down street vendors in Corona
---
1. Adams Betrays Corona Plaza Vendors
"We are central to the economy of Corona, Queens, and must be heard and respected!" —Corona Plaza Street Vendors Association
 The war on street vendors has come to Corona Plaza. Following the same script he used recently in Flushing, Mayor Eric Adams toured the Plaza and claimed to be appalled by "illegal vending and just dangerous food service." Soon afterward, on July 27-28, Sanitation Department Police swept through the Plaza, handing out tickets for up to $1,000, seizing supplies and confiscating vending carts, and shutting down more than 80 vendors. Today, instead of the familiar vibrant market featuring inexpensive Ecuadorian and Mexican food and crafts, workers and community members coming home to Corona find mostly blank, ugly concrete. A few lonely food trucks lucky enough to own scarce city cart licenses are all that remain. As in Flushing, demonstrations for and against the crackdown have attracted politicians on both sides and dueling petitions, as the vendors—mostly immigrant women—scramble for a way to pay their bills.
 JHISN Newsletter readers are already aware of the ongoing struggle by city street vendors to maintain their livelihood in the face of attacks and double-dealing by the Adams administration. Last July, we reported that Adams had adopted the recommendations of a new Street Vendor Advisory Board. The SVAB, the City Council, and Adams agreed to reduce punitive enforcement and issue more cart licenses. In November, we wrote about Adams breaking these promises. Cart licenses were delayed while ticketing of vendors continued to intensify. In April, we published an article about the city's removal of street vendors in Flushing. Since then, the city has evicted vendors in Sunset Park and Elmhurst Chinatown. Police continue to harass the churro vendors at the Roosevelt Ave/74th St. station.
 Street vending in Corona Plaza epitomizes a citywide trend. When thousands of jobs held by migrant workers disappeared early in the pandemic, street vending tripled. Recently, there's been another wave of vendors—including new asylum seekers unable to get working papers. (One manifestation of this trend is an increase in migrant women and children selling candy in the subway.) Corona Plaza, a previously underutilized space next to a busy 7 train station, offered a ray of hope for migrant vendors. It grew into a sort of working-class street fair, widely known for the variety and authenticity of its food. It attracted not only locals but visitors from all over New York and beyond. The NYT's food critic named it one of the best food spots in the city for 2023. According to the Street Vendor Project, roughly 100 families came to depend on vending in the Plaza for income. They paid substantial taxes, created new jobs, and built up a dedicated customer base.
 Over time, parts of the Plaza became crowded, and there were real problems with trash. But the vendors worked diligently with city agencies to address these issues. Operating through a volunteer Corona Plaza Task Force, they organized a 501c nonprofit and set rules for vending, added trash containers, coordinated cleanups, and hosted cultural events. They thought they had an informal arrangement with the city as they looked for a permanent solution. So the Adams administration's decision to suddenly uproot vendors from the Plaza took them by surprise.
 A number of Corona businesses, politicians, and residents were glad to see the vendors evicted. For instance, some local restaurant owners view the food vendors as non-rent paying competitors. Luis Tacuri, who runs a nearby Ecuadorian restaurant, welcomed the city's sweep of food vendors. Still, he admitted, "the crackdown has done little to redirect customers his way, as he hasn't seen much change in his own business." The Plaza, in fact, is now mostly empty.
A more concerted anti-vendor campaign centered around the office of District 21 city council member Francisco Moya, who has worked closely with Adams in the past. "We deserve clean streets. We deserve safe streets," Moya insisted on TV, claiming that he received 20 complaints a week about the Plaza. But the complaints made to Moya (and the media) often tried to link food vending to unrelated issues like massage parlors on Roosevelt Avenue or illegal drug sales that happened outside the food area. Moral panic was calibrated to appeal to the Adams administration's "law and order" reflexes. A local church volunteer, Douglas Weidner, told the LIC Post that, at night, the Plaza had become "the devil's playground." 
Shockingly, it has recently been revealed that an NYPD "Neighborhood Coordination Officer" from the 110th Precinct, who is supposed to act as a neutral liaison, helped organize opposition to the vendors. The Street Vendors Project has filed a complaint with the Civilian Complaint Review Board.
 A number of progressive activists link Moya's "clean streets, safe streets" mantra to his promotion of rezoning and real estate development, including his decisive support for the Flushing Waterfront District and the Willets Point Redevelopment Project—both just down the street from Corona Plaza. They accuse Moya of encouraging real estate speculation and gentrification in one of the poorest districts in the city. Ads paid for by a real estate super PAC endorsed Moya's recent reelection, praising him for "leading the charge to redevelop Willets Point," a process that has resulted in the loss of thousands of immigrants' jobs.
Corona Plaza street vendors are struggling to find a way to restore their livelihoods. In the long run, they hope for a "concession agreement" sponsored by the Department of Transportation, which owns the Plaza. A nonprofit company would be responsible for enforcing city regulations. Cart licenses—almost impossible to get—would not be required under such an agreement. This is a concept pioneered at Fordham Plaza, where the Bronx Night Market was founded in 2018. But the DOT says they are months away from even releasing a request for proposals for a company to manage Corona Plaza. In the meantime, how will the vendors survive?
In a recent editorial, State Senator Jessica Ramos and Queens Borough President Donovan Richards argue: 
There is a false choice hanging over Corona Plaza. An escalating discourse around street vending has created the impression that we have to choose between the right people have to earn an honest living and the right to clean, safe public space. But both should – and can – be true.
WHAT CAN WE DO?
In solidarity and with collective care,
Jackson Heights Immigrant Solidarity Network (JHISN)
Follow @JHSolidarity on Facebook and Twitter and share this newsletter with friends, families, neighbors, networks, and colleagues so they can subscribe and receive news from JHISN.