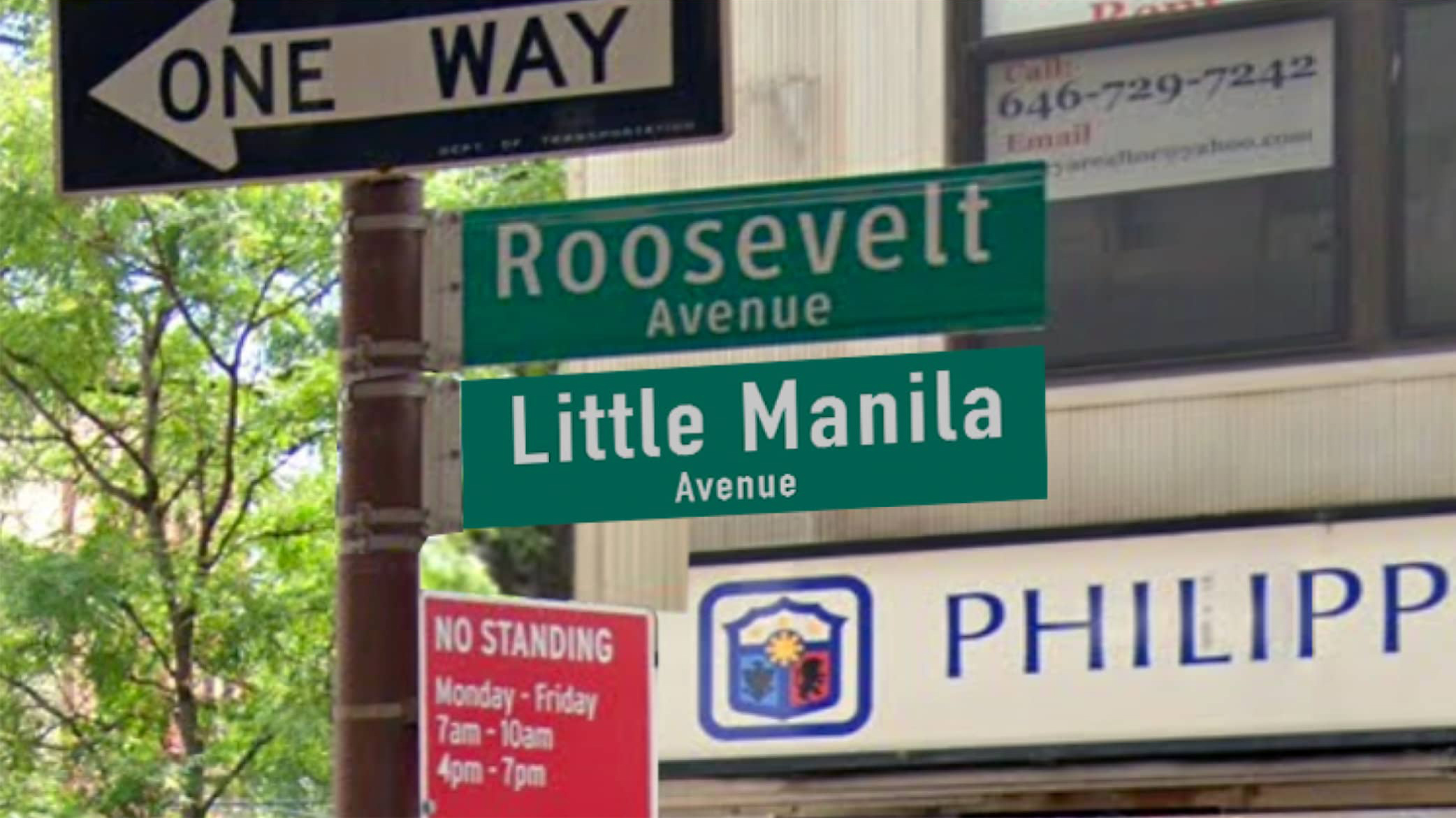 Dear friends,
As the first official day of summer approaches, with stunning urban sunsets and the roving jingle of the ice cream truck, we take a local look at two immigration stories. In Central Queens, the community power of Filipinos is celebrated with a new street name. And we explore the shifting grounds of immigrants' electoral voice in the wake of redistricting in New York State, together with the legalization of immigrant voting in municipal elections and the impending redistricting in New York City.
For lively, engaging podcasts for your summer walk, check out the recent series produced by the Queens Memory Project. Season 3 of their award-winning series presents Queens' diverse Asian American communities "in their own voice." And language! Eight bilingual podcasts include Bangla, Hindi, Korean, Mandarin, Nepali, Tagalog, Tibetan, and Urdu. Even if your only language is English, take the opportunity to hear the music and rhythms of these many languages of our neighborhood.
Newsletter highlights:
Woodside recognizes Filipino community

Redistricting, electoral politics, & immigrant voting power in NYC
1. "Little Manila Avenue" Coming to Queens
On June 12, 2020, a beautiful mural "Mabuhay!" ( "to life") honoring Filipino health care workers was unveiled on 69th Street and Roosevelt Avenue, in the heart of the Woodside neighborhood called Little Manila. Tomorrow, June 12, 2022, at noon, a new street sign at the southwest corner of 70th Street and Roosevelt will co-name the street as "Little Manila Avenue."
The co-naming represents the success of an online petition campaign, launched after the mural was unveiled, to officially recognize the Filipino community. The law authorizing the name change was sponsored by former council member Jimmy Van Bramer and passed by the city council on December 15, 2021. June 12 is significant as Philippine Independence Day, celebrating the end of Spanish colonialism in1898.
Filipinos are the fourth largest Asian group in New York City, with over half living here in Queens. Filipinos are renowned as health care workers and caregivers. Large numbers of Filipinos began to settle in Woodside in the 1970s when Filipino nurses arrived to fill a shortage of nurses in the US.
Little Manila—stretching across Roosevelt Avenue from 63rd Street to 71st Street—features many restaurants specializing in Filipino food as well as the Phil-Am Food Mart that attracts customers from many surrounding states. 
Currently, Little Manila is split among three State Assembly Districts and two State Senate districts. Residents would prefer to be in a single assembly district with one representative offering a strong, unified voice to counter real estate development that threatens to transform their neighborhood. Even though Queens has been redistricted, Little Manila will for now remain separated into different assembly and senate districts.
WHAT CAN WE DO?
 

Listen (in English or Tagalog) to Queens Memory Project's Podcast

"Our Major Minor Voices"

Season 3 Episode 6

to learn about another art project for the area, and one nurse's recollection of her work during the Covid pandemic.

Take a

walking tour of Little Manila

and visit the Phil-Am Food Mart or Amazing Grace Restaurant and Bakery.
2. Immigrants central to electoral changes
Big changes are on the way for New York's electoral system, and some will have important implications for immigrant voting power. The 2020 census has set off a cascade of redistricting, which will directly and indirectly affect the influence of various immigrant communities on national, state, and local elections. In addition, immigrants with legal status will be able to vote in NYC elections starting in 2023. The impact of both of these new developments depends substantially on how politicians and activists adjust to the rapidly-growing population of Asian Americans in the state and NYC.
The state legislature's recent redistricting uproar, which resulted in district lines drawn at the last minute by a judge-appointed special master, is forcing candidates for 2022 and 2024 elections, including those in Queens, to scramble to figure out where they belong in the new geography and demographics of an altered electoral map. For instance, State Senator John Liu is moving his campaign from District 11 to the modified District 16, which will now include his home and much of his political base in Flushing. Rana Abdelhamid, an Astoria-based progressive from an Egyptian immigrant family who aimed to bring more immigrant and working-class voters into the electoral process, is withdrawing from the race for the 12th Congressional District because of the new map. "My community and I were cut out of our district," she says.
The new map makes a significant change to Congressional district borders in our own community. Woodside and most of Jackson Heights will be subtracted from Alexandria Ocasio-Cortez's current Congressional District 14. The removed neighborhoods include many of the Asian American voters in her district—mostly immigrants from South Asia, the Philippines, and Tibet. Those areas will now be part of Congressional District 6, currently represented by Grace Meng. CD 6, which includes Chinatowns in both Flushing and Elmhurst, already has a large bloc of East Asian voters. How this consolidation of Asian American voters will affect future elections in Queens is difficult to predict.
Over the next year or so, the New York City Council will be redrawing its own 51 districts as well. The city's population grew by nearly 600,000 people from 2010 to 2020; Asian American/Pacific Islanders made up the majority of that increase. Asian political representation is certain to be a major consideration in adjusting Council district lines. Significant Latino population increases in the Bronx and Brooklyn will also have to be taken into account. A Districting Commission (made up of seven mayoral appointees plus five commissioners chosen by the majority Democrats and three by the Republicans) will decide on district borders. The Commission has started holding hearings and drawing preliminary maps.
In terms of NYC elections, the biggest transformation is likely to be the impending rollout of non-citizen voting which, assuming it survives a court challenge, will begin in 2023. An estimated 800,000 immigrants with green cards or other legal status will become eligible to vote. Registration is scheduled to begin this December. If immigrant communities sign up to vote in big numbers, it could dramatically reshape city elections. Between the infusion of new immigrant votes and the reshuffling caused by redistricting, immigrants may soon play a much bigger role in New York electoral politics.
WHAT CAN WE DO?
In solidarity and with collective care,
Jackson Heights Immigrant Solidarity Network (JHISN)
Follow @JHSolidarity on Facebook and Twitter and share this newsletter with friends, families, neighbors, networks, and colleagues so they can subscribe and receive news from JHISN.