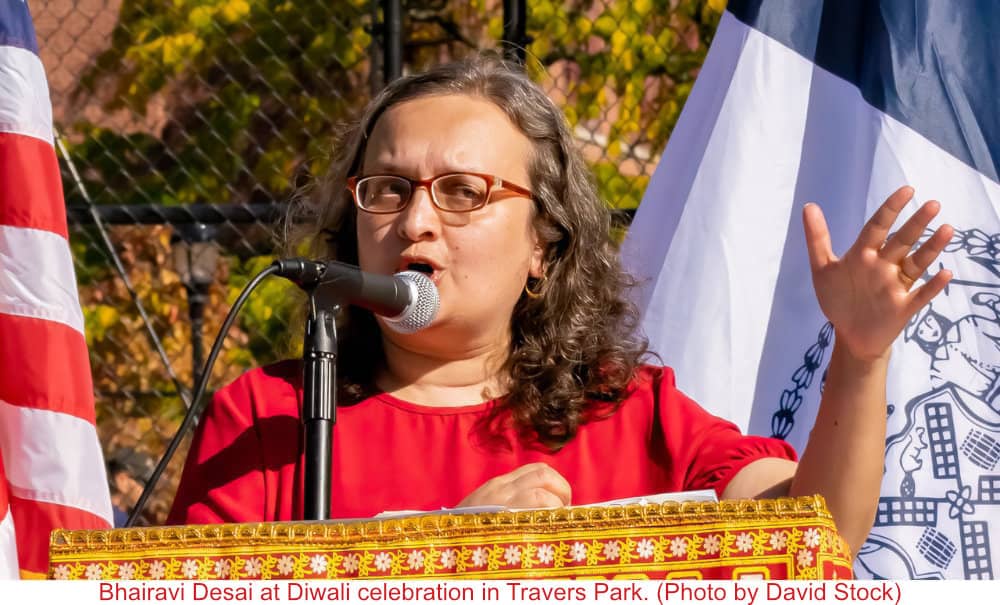 Dear friends,
 As the sun drops earlier in the sky, and as communities around the world draw in their final harvest, it is time to join in the festival of lights. Diwali, and the related festival of Tihar Utsav, were celebrated this past week throughout South Asia—and here in Jackson Heights. Over 200 people gathered on October 22 in Travers Park for a day-long Diwali event, featuring food and performances, a lamp-lighting ceremony, and speakers including a young climate justice activist and the director of the New York Taxi Workers Alliance, Bhairavi Desai.
 And on October 27, Adhikaar held its Fall Utsav festival. As a Queens-based, women-led immigrant justice organization for the Nepali-speaking community, Adhikaar has much to celebrate: their statewide nail salon workers campaign; the fight for economic justice for domestic workers; and the urgent work to extend Temporary Protective Status for thousands of Nepali immigrants. Adhikaar is also marking a change of seasons in leadership as executive director and long-time community organizer Pabitra Khati Benjamin transitions out of her role, and the search for a new director begins.          
Our newsletter this week features an in-depth article on the status of DACA (Deferred Action for Childhood Arrivals). The fate of tens of thousands of young DACA recipients here in New York is at stake as legislative and judicial wrangling continues, and real lives are upended by uncertainty and the threat of deportation.  
Newsletter highlights:
1. No Protection for DACA's Young Dreamers
DACA Recipients Still in Limbo
"We were promised immigration reform in the first 100 days [of the Biden administration]…Those 100 days came and went, and we have nothing"—Catalina Cruz, the first former DACA recipient elected to NY State Assembly
President Obama inaugurated the DACA program (Deferred Action for Childhood Arrivals) in June 2012. It has been under attack by right-wing Republicans ever since. Today DACA's future is unclear, leaving hundreds of thousands of people and their families in limbo, including tens of thousands of Dreamers here in NYC. Many are unable to work, and some face the prospect of deportation if DACA is not renewed or replaced with other pathways to legal status.
DACA has been the subject of a seesaw battle involving executive orders and litigation. In 2017, President Trump attempted to end the program by barring new and renewal applications so that DACA holders' protections would expire over time. In July 2021, a Houston court ruled that DACA was illegal because it had not gone through the proper public notice and comment process. This month, shortly after DACA's tenth anniversary, a Federal Appeals Court upheld the Houston decision, returning the case to the Houston court and ordering further review. As a result of the court's recent decision, DHS policy will only allow current DACA recipients to renew their application and work authorization; no new applications will be processed. The hundreds of thousands of young people eligible for DACA can still submit a new application, but it will be set aside and not acted upon by US Citizenship and Immigration Services (USCIS). 
Which States Have DACA Recipients? As of June 2022, USCIS reports there are 594,120 DACA recipients nationwide, with over 1,150,000 eligible. There are 25,580 in New York state, with 56,000 eligible.
The states with the highest number of DACA holders are:
| | | | |
| --- | --- | --- | --- |
| California 169,590 | Texas 97,760 | Illinois 31,480 | New York 24,580 |
| Florida 23,240 | North Carolina 22,670 | Arizona 22,530 | Georgia 19,460 |
Where Did Their Families Come From? The most common countries of birth for DACA holders are: 
| | | | | |
| --- | --- | --- | --- | --- |
| Mexico 480,160 | El Salvador 23,080 | Guatemala 15,710 | Honduras 14,390 | Peru 5,610 |
| South Korea 5,540 | Brazil 4,530 | Ecuador 4,230 | Colombia 3,690 | Philippines 2,900 |
According to the Migration Policy Institute, most states have more people eligible for DACA than are currently enrolled, and eight states have twice as many people eligible for DACA than are enrolled in DACA.
This is an extraordinary number of people.
What Can Dreamers Do? DACA recipients can legally live, work, and go to college in the US. They have married, had children, bought homes and cars, completed college degrees, started businesses, and worked in a variety of fields. Their taxes and labor have made substantial contributions to the US economy.
According to data from the Center for American Progress, DACA recipients boost the US economy by paying federal, state, and local taxes, buying homes, paying rent, and spending money. Nationwide, DACA recipients and their households each year pay $5.6 billion in federal taxes and $3.1 billion in state and local taxes. Based on 2018 data, their contributions in New York state include:
| | | | | | |
| --- | --- | --- | --- | --- | --- |
| Federal taxes | State and local taxes | Homes owned | Mortgage payments | Annual rental payments | Spending power |
| $374.1 million | $238.8 million | 800 | $16.4 million | $132.8 million | $1.3 billion |
But they do not benefit equally from the taxes they pay due to their precarious status.
What Are DACA's Education Benefits? In many states, undocumented students have to pay the same tuition rates as international students. Such high rates can prevent people from going to college. To address this problem, in 2019 New York state passed the Senator José Peralta New York State DREAM Act which gives undocumented and other students access to New York State administered grants and scholarships that help pay the cost of higher education. DACA allows people to join licensed fields (like nursing and education), which improves their ability to get a well-paying job with health benefits.
Where Do Dreamers Work? In a 2020 survey, 89.1% of DACA recipients 25 and older who responded were employed. DACA allowed them to move to jobs with better pay and better working conditions with health benefits, and 12.9% were able to get professional licenses. Higher wages and financial independence increase their contributions to the economy.
The Center for Migration Studies, using data from 2018, reported that DACA employees were concentrated in the following industries: health care (including hospitals and nursing care facilities); retail trade (including supermarkets and pharmacies); transportation and warehousing; restaurants and other food services; support and waste management services; and manufacturing. In 2021 the Center for American Progress reported that 343,000 DACA recipients were employed in essential jobs during the pandemic, primarily in health care, education, and the food supply chain.
What's Next? According to a Pew Research Center survey conducted in June 2020, about three-quarters of US adults favor granting permanent legal status to immigrants who came illegally to the United States when they were children, with the strongest support coming from Democrats and Latino/as.
In 2012, DACA  was intended to be a temporary solution until Congress provided a pathway to citizenship. But congressional attempts to pass a solution have failed, even though there is some bipartisan support. As a result, undocumented teenagers graduating high school this year will not have protection from deportation or the ability to work. According to Neil Bradley, chief policy officer for the US Chamber of Commerce: "The inability to hire tens of thousands of high school graduates comes amid a 'massive shortage' of labor that has developed partly because of the country's aging population and low birthrate" (June 2022, New York Times). Ending DACA would put families in danger of job loss, deportation, and separation from their US citizen children, and have a deleterious effect on the US economy.
Many immigrant justice organizations, including the National Immigration Law Center, United We Dream, and Make the Road NY, continue to fight for legislation to provide a path to citizenship for Dreamers and other undocumented immigrants. But for now, hundreds of thousands of young DACA recipients are constrained by the program's two-year increments, forced to live in limbo and in fear.
WHAT CAN WE DO?
In solidarity and with collective care,
Jackson Heights Immigrant Solidarity Network (JHISN)
Follow @JHSolidarity on Facebook and Twitter and share this newsletter with friends, families, neighbors, networks, and colleagues so they can subscribe and receive news from JHISN.