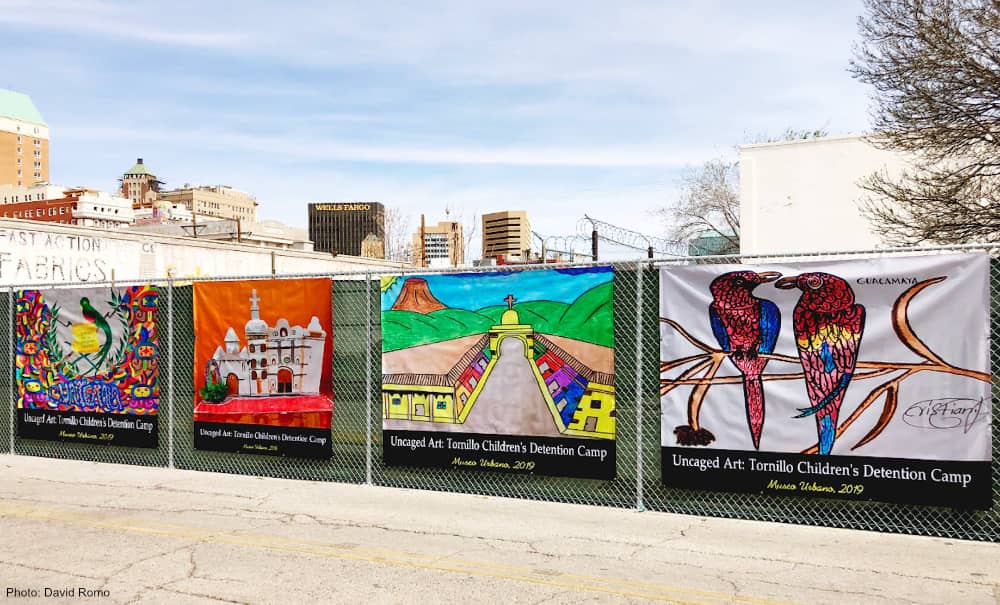 Dear friends,
As the year 2022 comes to a close, we invite our readers to look back on some of the recent activism of local immigrant groups, and look ahead to the ongoing struggle to dismantle the US detention and deportation system. We feature the recent activities of three vibrant organizations—NICE, DRUM, and Make the Road NY—that each have a base here in central Queens. And we report on what a 'true' alternative to detention might be while remembering that, as the new year approaches, over 23,000 immigrants are currently in detention, and over 377,000 people are being monitored under ICE's 'Alternative to Detention' (ATD) programs.
As we usher in 2023, we wish you joy, and community, and collective imaginings of a more just world for all.
Newsletter highlights:
Year-end activities of local immigrant-led groups

Implementing real alternatives to detention
1. Local Immigrant Justice Groups@End of Year 2022
As the calendar year turns, we take a look at three immigrant-led groups based here in Central Queens, and report back on some of their recent activism and advocacy. 
NICE (New Immigrant Community Empowerment) held a demonstration with City Council member Shekar Krishnan in front of City Hall on November 22, advocating for more resources to fight against wage theft. Undocumented workers are especially vulnerable to not being fully paid for their work, or not being paid at all. 
NICE's commitment to protecting workers includes their support for Carlos' Law. Named for Carlos Moncayo, a 22-year-old undocumented Ecuadorian construction worker killed on the job in 2015, the bill was proposed in 2018 and passed the NY State Legislature in August. It would raise the maximum fine for criminal liability for worker injury or death from $10,000 to no less than $500,000, or, in the case of a misdemeanor, no less than $300,000. The bill has been sitting unsigned on the desk of Governor Kathy Hochul, even though three more workers were killed this November, for a total of at least 24 construction worker deaths this year. Over 80% of construction workers who die in New York are employed at non-union work sites, and immigrant construction workers are disproportionately vulnerable to dying on the job. 
On December 13, members of NICE together with CUFFH (Churches United for Fair Housing), CASA, Make the Road NY and Center for Popular Democracy rallied in Washington, DC, to demand climate, health, economic and immigration justice. NICE met with six different congressional offices: Senator Bernie Sanders and Representatives Rashida Tlaib, Ilhan Omar, Alexandria Ocasio-Cortez, Grace Meng, and Nadya Velazquez.
The Omnibus federal budget bill recently approved by Congress allots $500,000 to NICE.
DRUM (Desis Rising Up and Moving) joined more than 100 organizations on November 15 calling on Department of Homeland Security Secretary Alejandro Mayorkas to designate Temporary Protective Status (TPS) and Special Student Status (SSR) for Pakistani nationals working and studying in the US. The devastating floods of 2022 have created ongoing health and economic crises in Pakistan, with at least 33 million people (1 in 7 Pakistanis) directly affected by the disaster. No safe return of Pakistani immigrants to their country of origin is currently possible. Support TPS and SSR for Pakistani by signing this petition. 
DRUM's director of organizing, Kazi Fouzia Kabir, joined Grassroots Global Justice Alliance's delegation in November at the United Nation's COP27 meetings in Egypt. Kabir works to connect with civil and government representatives from countries that DRUM's members come from, in order to coordinate their demands for climate justice.
On November 22 and again on December 7, DRUM participated in a Care Not Cuts rally at City Hall demanding that Mayor Adams protect city services for working-class New Yorkers—threatened by Adams' proposed budget cuts in fiscal 2023—and roll back the Mayor's dangerous plan to forcibly detain New Yorkers deemed by the NYPD to have a mental illness. The proposed budget cuts and hiring freeze will affect vital city services, including a proposed cut to the extension of the universal 3-K Child Care Program. DRUM is fighting for housing, childcare, education, and care, instead of cuts and criminalization.  
DRUM is also working with ICE Out! NYC, Make the Road NY, African Communities Together (ACT), and other immigrant justice organizations to advocate for three crucial bills being considered by the City Council. The proposed legislation would further restrict the city from funneling people into ICE custody and detention by: ensuring accountability and compliance with existing detainer laws; limiting the Department of Corrections from communicating with ICE about a person's release; and limiting the NYPD's ability to hold a person for ICE.
Make the Road NY's (MTRNY) Trans Immigrant Project (TrIP) held a vigil on November 19 in Corona Plaza to honor the lives of trans and gender-diverse siblings lost in 2022 and previous years. They renewed their commitment to protecting those who are still with us, and the generations that come after us.
MTRNY also held a series of Town Halls for members to meet with Queens legislators ahead of the 2023 legislative session. The November 16 Town Hall included State Senator Jessica Ramos, and Assembly members Catalina Cruz, Jessica Gonzalez-Rojas, Juan Ardila, and Steven Raga. Two more events were held on November 17 in Brooklyn and November 29 in Westchester.
On November 16, MTRNY launched its 2023-24 Respect and Dignity for All state policy platform to address the persistent inequities across NY State and improve the lives of immigrant, Black, and brown families. Proposals include:
The just-passed federal budget allots $400,000 to MTRNY which will help them implement their policies.
WHAT CAN WE DO?
2. The Real Alternative to Detention is No Detention
"The point is not to provide an alternative to electronic monitoring, an alternative to probation …  and so on—but to look instead at the actual problems we face, and to take lessons from projects around the country that are addressing these problems in effective ways." –Prison by Any Other Name, by Maya Schenwar and Victoria Law (p.241)
Immigrant advocates including Mijente, Detention Watch Network (DWN), the National Immigrant Justice Center, and the U.S. Conference of Catholic Bishops with the Center for Migration Studies have each issued reports opposing ISAP (Intensive Supervision Appearance Program), an Alternative to Detention (ATD) program run by ICE agents. They highlight the many problems of ISAP, and the value of community-based support programs as true alternatives to detention. ISAP, launched in 2004, is run by prison corporations and has been renewed four times despite sustained criticism by immigrants and activists. 
The government has piloted a few community-based ATD programs. In 2000, the Vera Institute for Justice worked with the INS (Immigration and Naturalization Services) to run one such ATD called the Appearance Assistance Program (AAP). The AAP was a break from the carceral approach to immigration policy which ramped up after Cuban and Haitian refugees arrived on Florida's shores in the late 1980s, prompting Congress to amend the Immigration and Naturalization Act to require mandatory detention for immigrants with specific criminal convictions. The association of immigration with criminality was expanded by the 1996 Illegal Immigrant Reform and Immigrant Responsibility Act (IIRIRA) which increased the scope of mandatory detention and captured legal permanent residents as well. 
Despite the AAP's non-carceral success, with 90% of participants attending their court hearings, the aftermath of September 11, 2001, reconfigured immigration policy as a national security issue. The creation of the Department of Homeland Security (DHS) in 2002 prioritized immigrant surveillance, deportation, and the escalation of detention. ISAP became the primary ATD program supported by DHS, which leverages smartphone and facial recognition software, ankle monitors, and telephone check-ins with ICE agents with a focus on discipline and supervision, not community support.
The chart below shows the increase over time of funding allocations to ATD programs, including ISAP, as daily enrollment in those programs grew, spiking at almost 225% under President Biden in one year. The chart clearly shows government spending is not reduced with ATDs because they continue to spend on detention. The data reveal that ATDs like ISAP are not a real alternative, but an addition to detention. The chart also illustrates how bed quotas in private detention facilities keep detention costs consistently high even though the actual detention population recently dropped due to the unjustified use of Title 42 as an immigration enforcement tool during the COVID-19 pandemic.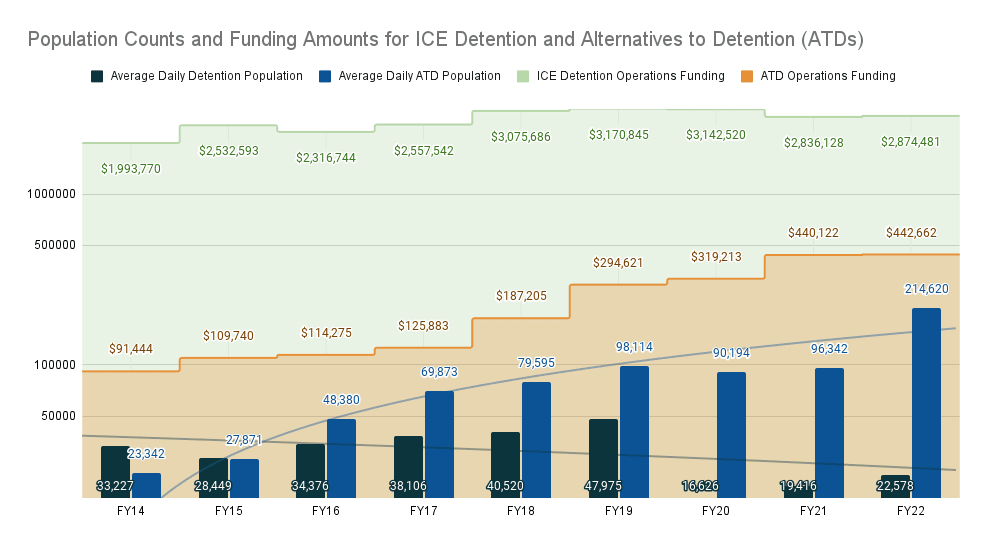 Some claim that the ISAP program is better than detention as a more humane way to approach the problem of immigration management. Participants in the program have agreed that given a choice between detention or not, then ISAP is preferred. But the report Tracked and Trapped: Experiences from ICE's Digital Prisons shows the direct human impact that ISAP has on people (not by comparison with detention): 
Detention Watch Network criticizes these ATD approaches as Alternatives to Freedom, but there are programs that can be community-based true alternatives, and ISAP is not the sole approach that ICE takes with ATDs. Parole allows people to live freely while they navigate their immigration cases—95% of Ukrainians were granted this option to escape the war with Russia, but only 11% of non-Ukranians were given this option during the same timeframe. In January 2016, ICE set up the Family Case Management Program (FCMP), an ATD without punitive and restrictive measures which did not use ankle monitors. The program successfully maximized court hearing attendance and ICE appointments. It was also significantly cheaper than the detention costs at just $38 each day per family unit instead of $320 per detainee per day. President Trump chose to eliminate this successful program after just one year. He also adjusted the Risk Classification Assessment (RCA) algorithm used to advise if someone can be released from detention and placed into an ATD—as a result, the continued detention of low-risk individuals rose from around 50% to 97%. When later seen by a human case officer, about 40% of people were released on bond. In 2020 the Bronx Defenders and the ACLU brought a lawsuit against ICE for adjusting RCA as a violation of due process and federal immigration law that calls for "individualized determinations" about a person's release. 
Much immigrant justice work has tried to ensure that legal representation is provided to protect due process. However, as with the criminal justice system, the guarantee of due process does not always lead to a better outcome, which would be no detention and no deportation. But there are community programs working independently of the government that offer prime examples of successful ATDs: the New York Immigrant Family Unity Project, NYIFUP, is a coalition of groups with a process that strives for a different outcome from all the rest. It resulted in a 48% non-deportation outcome–a different measure than ensuring participation in court appearances and ICE meetings. That is a real alternative with a valuable outcome for immigrants.
WHAT CAN WE DO?
In solidarity and with collective care,
Jackson Heights Immigrant Solidarity Network (JHISN)
Follow @JHSolidarity on Facebook and Twitter and share this newsletter with friends, families, neighbors, networks, and colleagues so they can subscribe and receive news from JHISN.