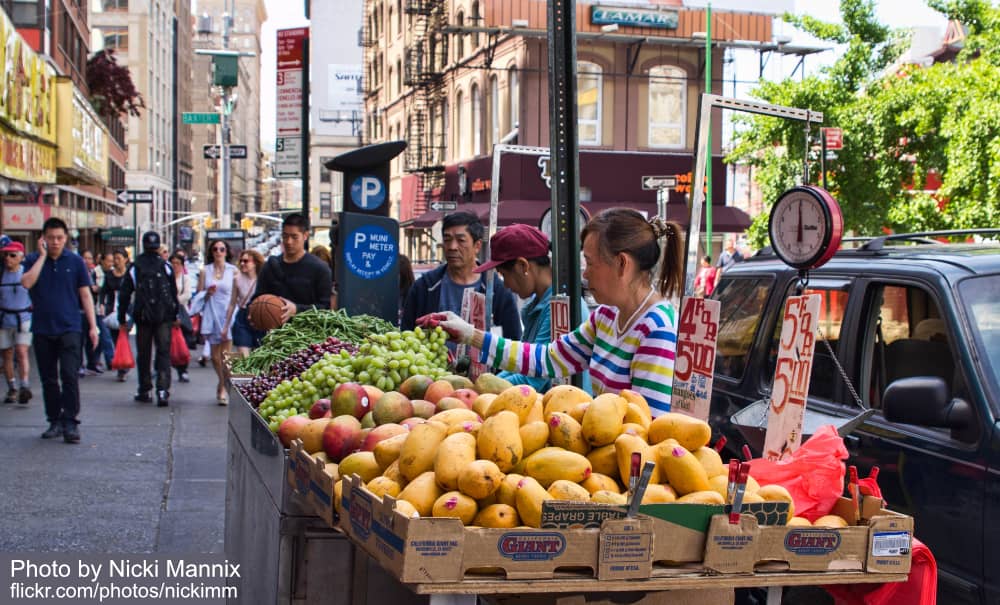 Dear friends,
We offer two stories this week of immigrant justice struggles here in New York City. First, we report on Mayor Adams' betrayal of a hard-won agreement between street vendors and the City to decrease harassment and increase new permits for vendors. We then take a brief look at the brewing battle for a fair and equitable 2024 NYC budget that protects essential services for all New Yorkers.  
Finally, with grief and outrage, we mark the deaths of 39 migrants in a blaze inside a detention center just across the border from El Paso, Texas, on March 27. The fatal fire is the latest evidence of the inhumane conditions in which growing numbers of asylum seekers and refugees are being held in Mexico, under pressure from the US government to stall their entry into the US.  
Newsletter highlights:
Adams administration undermines agreement with street vendors

A People's Budget for NYC fiscal year 2024
---
1. Street Vendors Under Attack
"We are not a public safety issue. We are vendors, and we are what makes New York City great." –Guadalupe Sosa, longtime Harlem street vendor
Street vendors' epic struggle for economic survival and respect on NYC streets has recently suffered a sharp setback. The bad news for vendors—almost all immigrants—began with a March 8 news conference, at which Flushing City Councilmember Sandra Ung launched a petition in English, Chinese, and Korean demanding strict enforcement of city street vending regulations. In particular, Ung called for clearing out a downtown Flushing no-vending zone approved by the Council in 2018. Standing alongside the executive director of the Flushing Business Improvement District (BID), with a group of like-minded brick-and-mortar business people, Ung characterized Flushing's crowded street vendor scene as a threat to public safety. She described "out of control" street vending as a vector for counterfeit goods, live seafood, and illegal cannabis.
Quickly seizing the opening provided by Ung, the Adams administration suddenly transferred enforcement of street vending regulations from the Department of Consumer and Worker Protection (DCWP) to the Sanitation Department (DSNY) and its police force, effective April 1. DSNY has been heavily criticized in the past for summarily crushing street vendor property in its garbage trucks.
Putting vendors at the mercy of the DSNY Police undermines a careful agreement reached by vendors, the City Council, and Mayor de Blasio in 2021. This plan included the formation of a Street Vendor Advisory Board with a range of stakeholders, de-emphasis on police action, and substantial increases in the number of vending permits, which have been almost impossible to get for decades. Before April 1, the spirit of this agreement had already been violated by the Adams administration, which implemented major increases in inspections and ticketing. New permits, meanwhile, have been repeatedly delayed.
Street vendor advocates responded to the latest development with shock and anger. "What message is the administration sending us? Are they considering us trash that needs to be picked up?" asked Mohamed Attia, executive director of the Street Vendor Project (SVP). Vendors complained that neither the Advisory Board nor the City Council had been consulted about Adams' change.
Shortly after the mayor signaled his intentions, a March 16 demonstration at City Hall promoted a different path: full and immediate implementation of the 2021 street vendor agreement. This event was attended by many politicians, including Councilmembers Shekar Krishnan, Oswald Feliz, Shahana Hanif, and Tiffany Cabán. At another protest on March 22, after Adams' plan was formalized, protesters demanded its reversal. Organized by Councilmember Sandy Nurse, chair of the Sanitation Committee, the demonstration included Alexa Aviles, Pierina Sanchez, and Queens reps Jennifer Gutierrez and Julie Won. Street vendors also have elected allies at the state level, where Assemblymember Jessica González-Rojas and state Senator Jessica Ramos have been promoting matching bills that would uncap vending permits, create a fair and equitable street vending licensing program, and expunge the records of vendor violations.
The issues surrounding street vendors have exposed differences along class and ideological lines within NYC immigrant communities. While members of the City Council's Progressive Caucus from immigrant families have strongly supported the vendors, other immigrant Democrats, like Sandra Ung and her predecessor Peter Koo, have taken the side of brick-and-mortar businesses and "law and order." Ung, elected in 2021, is carefully navigating the political cross-currents in her district. Speaking about changes in Asian voting patterns in the city, she commented, "I recognized at the very early stage that my constituents, the community, their views are probably not going to be aligned with the progressive caucus stances."
Immigrant street vendors have more immediate concerns. They are worried about becoming enmeshed in the legal system. And they feel that their economic survival is imperiled. As vendor Guadalupe Sosa puts it, "It's traumatizing and heartbreaking when you spend your savings and all your time preparing your merchandise or cooking what you sell just for the health department to come alongside with NYPD to dump or confiscate your merchandise into a garbage truck." 
WHAT CAN WE DO?
---
2. Immigrant Justice Groups Support a People's Budget
"Budgets are moral documents." –attributed to Rev. Martin Luther King Jr.
Financial budgets are maps of action priorities, worldly statements of what will be valued and what will not. In February, Mayor Adams released a preliminary fiscal year 2024 NYC budget that defunds and devalues core city services including libraries, education, CUNY, and pre-K for 3-year-olds. Just days ago, on April 4, he ordered another round of 4% cuts for almost all city agencies—on top of two previous rounds last year of mandatory 3% cuts. One of the administration's justifications for the new cuts is the unexpected costs of the city's migrant crisis.
Local immigration groups including DRUM (Desis Rising Up and Moving) and Make The Road NY are fighting back with the People's Budget #CareNotCuts. The coalition of groups supporting a People's Budget campaign state clearly:
"These harmful cuts most deeply impact low-income New Yorkers of color who rely on the City's public safety net, schools, and institutions. The Mayor's budget cuts are unacceptable for a city that is home to the most billionaires in the world …. In the long run, divesting from these necessities will make NYC a less safe, stable, healthy, and desirable place to live."
In response to the Mayor's proposed cuts in the preliminary $102.7 billion budget, the City Council announced this week that they've identified $1.3 billion in taxpayer monies that the city can use to avoid additional cuts to core services. A budget agreement between the Mayor and the City Council must be reached by July 1. Join immigrant justice and local progressive groups in demanding a fair and just budget that meets the needs of all New Yorkers.
WHAT CAN WE DO?
Use this

Action Network link

to send an e-letter to Mayor Adams and the City Council in support of a People's Budget.
In solidarity and with collective care,
Jackson Heights Immigrant Solidarity Network (JHISN)
Follow @JHSolidarity on Facebook and Twitter and share this newsletter with friends, families, neighbors, networks, and colleagues so they can subscribe and receive news from JHISN.