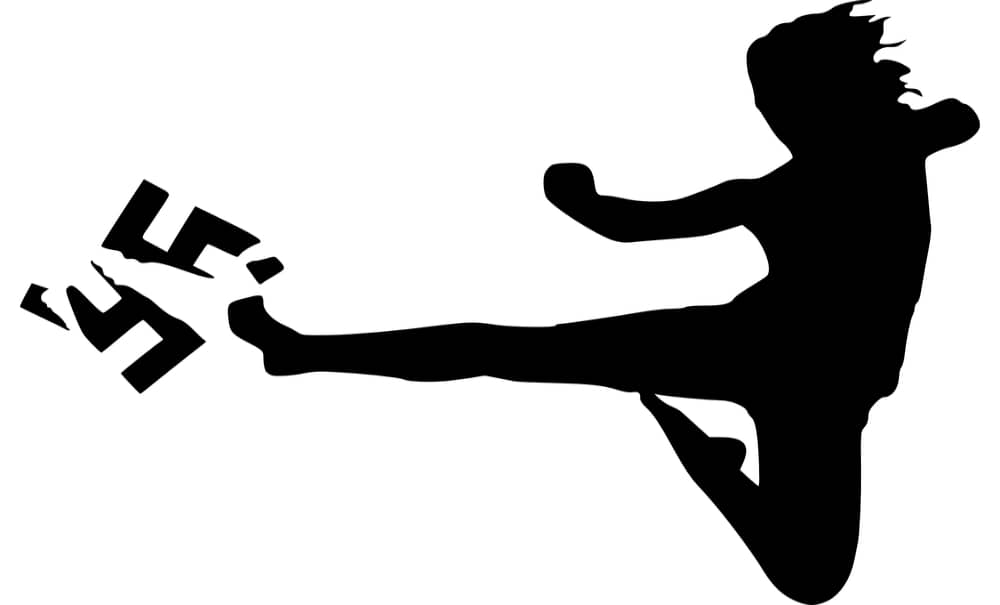 Dear friends, 
This week, a different cry went up near the steps of the US Capitol: "If we're to live up to our own time // Then victory won't lie in the blade // But in all the bridges we've made // That is the promised glade  // The hill we climb if only we dare it // Because being American is more than a pride we inherit // It's the past we step into // And how we repair it."  In solidarity with the fierce spirit of Amanda Gorman, a young Black woman poet laureate who captured the inaugural stage, we offer you this week's newsletter.
On the cusp of political change—a moment of promise that so many have fought for, and a moment of danger that together we must name—we analyze the connection between an emergent US fascism and anti-immigrant hatred. Closer to home, we then look at the politics of distributing the Covid vaccine in immigrant communities like Jackson Heights. Finally, we offer a local history of immigrant justice groups and the key role of women's leadership in repairing the past and making bridges … in our own time.        
Newsletter highlights:
US fascism and anti-immigrant politics

Vaccine rollout and NYC immigrant communities

Women-led immigrant activism
1. Hatred of immigrants fuels US fascism
After four years of relentless racist attacks, sponsored and directed by the highest levels of government, hatred of immigrants of color has become a more normal, open feature of mainstream politics in the US. This hatred provides fuel for a rising wave of fascism: a revolutionary movement of the racist Right that treats the existing "deep state" government as an "anti-American" fraud. Not all anti-immigrant sentiment is fascist. But fury against immigration plays a central role in the rise of fascism here, as it does in other countries around the globe. This is evident within the key political trends feeding into the January 6 insurrection at the Capitol—Proud Boys, QAnon, and the militia movement:
Proud Boys founder

Gavin McInnes

constantly mocks and insults immigrants and people of color. "I love being white," he says…."I don't want our culture diluted. We need to close the borders now." Enrique Tarrio, the new head of Proud Boys, is the son of conservative Cuban immigrants. He

denies

that he (or Trump, or

law enforcement

) is fascist, or racist. But in online chat rooms, Tarrio and other Proud Boys spew white nationalist hate and call for violence against undocumented people. Tarrio's Twitter feed was suspended in 2018 after he tweeted

racist comments

about Black actor Leslie Jones, and slurred Islam, Jews, and trans people.

QAnon supporters, who promote a

bizarre conspiracy theory

alleging that top Democrats are running a massive pedophilia ring, also pretend to be inclusive. But they are deeply implicated in anti-immigrant politics. Ashli Babbitt, the QAnon "martyr" shot to death while invading the Capitol, posted videos "

ranting about immigration

at San Diego's southern border." Marjorie Taylor Green, the new

QAnon congresswoman

, considers immigration "a full on illegal invasion."

Anti-immigrant hatred

is a prominent feature of the national right-wing militia movement. The Oath Keepers, a large militia drawn from law enforcement and the military, is convinced that undocumented immigrants are part of a Democrat plot to shatter US society. (Two of the

people arrested

last week after the insurrection are members of the Ohio State Regular Militia, a subset of the Oath Keepers.) The

Three Percenters

consider immigrants and Muslims to be

enemies

, while the insurrectionary Boogaloo movement is "a

broad anti-government movement

that is full of white power activists"

promoting race war

. These three militias were

key actors

in the Capitol attack.
Fascism walks hand in hand with racist attacks on immigrants. US fascism is also rooted in anti-Black racism, as the many Confederate flags waving during the Capitol invasion proudly proclaimed. It's of grave concern that the cancer of fascism has become deeply embedded inside police forces and the military. Notably, neo-nazis and other fascists are highly active inside ICE and the Border Patrol.
As the Trump regime leaves office, hopes are high that the new administration will reverse his anti-immigrant policies. But the fascists and their hard-core white supremacist allies aren't going away. The immigrant justice movement must join with the Black justice movement and other progressive people to turn back the fascists' violent threat, and to uproot their social influence. The boldness, militance, and size of the attack on the Capitol indicate that this will have to be a sustained struggle.
2. New York will not share citizenship status with feds during Covid vaccination
As New York begins rolling out the Covid-19 vaccine, public health officials and advocates urgently stress the importance of getting it to marginalized communities, including immigrants.
As part of that effort, New York Governor Andrew Cuomo last month announced that the state will not share identifying information with the federal government that could be used to determine an individual's citizenship status. Sharing this sensitive data could have discouraged undocumented immigrants—many of whom are essential workers—from getting the vaccine. 
The announcement came soon after Governor Cuomo sent a letter to U.S. Health and Human Services Secretary Alex Azar, requesting in part that HHS allow New York to develop its own system to keep track of vaccinated individuals and administration of doses. The December 1 letter objected to the federal government's original requirement that states provide information on individuals receiving the vaccine—such as social security, passport, or driver's license numbers—that could be used to determine if a person is documented.
The letter was signed by the governor and leaders of 52 community groups, including Queens-based organizations like New Immigrant Community Empowerment (NICE) and Adhikaar, as well as Make the Road New York.
The success of the vaccination campaign will likely be determined by its rollout in communities of color, which include many immigrants. Not only have these communities been hit hardest by the virus, but they include large numbers of essential workers who can't work from home. Reaching them for vaccination will be key for New York to prevent more loss and achieve herd immunity—the point when enough people are immune that the virus can't spread. (Officials often say that about three-quarters of the U.S. population would need to be vaccinated to get to herd immunity.)
At the same time, some members of these communities have said they're skeptical about getting vaccinated, something advocates have warned about given long histories of mistreatment and neglect by scientific and medical institutions.
"We are working hard with the undocumented and Indigenous immigrant population," Janet Perez, director of programs at Sunset Park-based Mixteca, said last month. "Our goal is that they also have access to those vaccines."
As with most other aspects of the pandemic response, policies to distribute the vaccine vary from state to state. New Jersey officials said all residents and workers in the state can get the vaccine, including those without documentation.
Nebraska Governor Pete Ricketts was criticized early this month for saying undocumented immigrants wouldn't be included in the early vaccine rollout—even though many of those individuals work in meatpacking plants, which have been well-known sites of outbreaks. A spokesperson later said that while proof of citizenship won't be required to get vaccinated, "Nebraska is going to prioritize citizens and legal residents ahead of illegal immigrants."
The confusion and stigmatization come during an already complicated vaccine distribution effort that's been slowed by high demand and short supply, and frequently changing guidelines on who's eligible. Many of these problems have been attributed to mismanagement at the federal level that's kept states from getting vaccines and, until recently, withheld critical funding for distribution. President Joe Biden is aiming to distribute 100 million vaccines in his first hundred days in office.
In New York City, health care workers and people 65 years and older, as well as public-facing grocery store workers, teachers, and homeless shelter residents, are eligible to sign up for a vaccine appointment. However, appointments are hard to come by, and over 20,000 appointments were canceled this week due to lack of vaccine. At the current rate, the governor has said it could take until the summer for those eligible to get vaccinated and for the rest of the state to begin. What remains clear is that the inclusion of immigrant workers and communities is vital to the success of any vaccination program in New York. 
WHAT CAN WE DO?
3. Local History: Women and Immigrant Activism
This week, the daughter of two immigrants was sworn in as the first Black, South Asian, and female vice-president of the United States. On the campaign trail, Kamala Harris laid out a roadmap to citizenship for DREAMers, another example of the power of women's leadership in the recent history of immigrant activism. Women's leadership has also been central in our own Queens-based neighborhood organizations.
Immigrant rights activism is not an old story. After the 1986 Immigration Reform and Control Act granted legal status to almost three million undocumented immigrants, border enforcement also became more harsh; more immigrants stayed in the US instead of migrating back and forth. The unintended effects of IRCA actually increased the number of undocumented workers living in the US, which prompted the development of organized groups advocating for their right to stay and for safe work conditions … these groups needed activist leaders.
Immigrant rights groups share goals with civil rights and labor movements, but don't share the tradition of dominant male leadership. Studies of immigrant activist groups in California suggest that since many immigrant justice groups were created after struggles for women's rights, the women who had migrated to the US and had to work outside the home, were motivated to take on those leadership roles. In Queens, we can tell similar stories.
In the early nineties, Latin Women in Action was founded by Haydee Zambrana in Corona for Hispanic women and families in Queens. Shortly after, Sakhi for South Asian Women started tabling in Jackson Heights for women's rights as part of International Women's Day. At the end of the `90s, Sakhi spun off a Queens-based Women's Domestic Workers Committee group called Workers Awaaz. Closing the decade, NICE developed in response to anti-immigrant billboards placed in Queens. (In 2020 a founding board member of NICE, Jessica González-Rojas, was elected to represent the 34th Assembly District).
In the 2000's Seema Agnani, a founder of Jackson Heights-based Chhaya CDC, created housing and economic support for low-income South Asian Workers building from her experience working at Asian Americans for Equality's housing and neighborhood development program. Shortly after that Monami Maulik founded DRUM to build up the power of South Asian workers. Damayan was co-founded by Linda Oalican to support Filipino domestic workers, and Voces Latinas was co-founded by Nathaly Rubio-Torio to reduce violence and HIV transmission among immigrant Latinas. In that same decade, Luna Ranjit helped create Adhikaar in Woodside for the Nepali community to promote human rights and social justice. In nearby Astoria, the RIF Center was established by Maria Blacque-Belair to support the legal needs of refugees and asylum seekers.
While the idea for Immigrant Movement International was conceived by artist Tania Bruguera in 2006, it took four years and support from the Queens Museum to create a space for its services, where artists use their skills to advocate for immigration reform. IMI was the seed that became Centro Corona which shares a close connection with woman-led Queens Neighborhoods United—a local activist group that advocates for democratic control over land use, policing, and immigration policies.
Join with JHISN in honoring the historical leadership of the many women-led organizations that advocate and fight for immigrant workers, families, and communities.
WHAT CAN WE DO?
In solidarity and with collective care,
Jackson Heights Immigrant Solidarity Network
Follow @JHSolidarity on Facebook and Twitter and share this newsletter with friends, families, neighbors, networks, and colleagues so they can subscribe and receive news from JHISN.