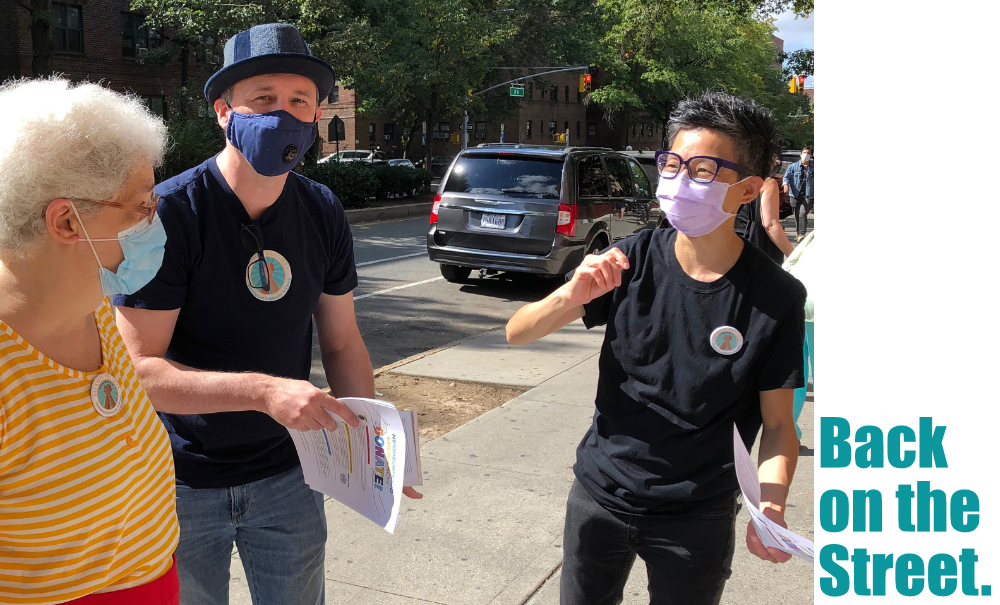 Dear friends,
This week we address two things close to JHISN's collective heart, and our collective work during the pandemic. First, we focus on the newsletter itself. Below is a link to a brief survey that will give us a better sense of how folks are using the newsletter, and a deeper sense of who you, our readers, are. Second, we focus on our launch last week of the 'Neighborhood Emergency!' fundraising campaign. The campaign will continue throughout October, directing donations to six fierce, dedicated frontline immigrant justice groups doing emergency solidarity work.    

1. Please Take Our Brief Survey! 
Survey link: https://jhimmigrantsolidarity.org/surveys/index.php/956417?lang=en
This survey of newsletter readers takes less than three minutes to complete. For an archive of newsletters we have sent since the pandemic began, see here.  
2. Back on the Street
"I'm elated!" That was one JHISN member's feeling after we returned to the street to launch our "Neighborhood Emergency!" fundraising campaign. Our first campaign activity–tabling and leafleting at the Farmers' Market–met with lots of friendly interest. People seemed willing to contribute, and eager to learn more about local immigrant-led groups. It felt good to reach out to a wider community, to exercise our activist muscles, to function in some small way as a practical force for immigrant solidarity. 
We're grateful that six incredible community organizations trusted us to use their names and logos on our fundraising materials, which directly link people to each group's own donation page. A couple of them have told us that donations are starting to come in.
We're also grateful to you, our newsletter readers. Your interest and support has sustained us during these long hard months. This newsletter anchored JHISN and kept us going even as Covid-19 limited our activities.
Now, as we get back out onto the street, we hope you'll keep on supporting JHISN by participating fully in the "Neighborhood Emergency!" campaign. We know many of you have already donated. If you haven't yet made a contribution, please visit the fundraising webpage here. Whatever you are able to afford will help! 
Just as important, you can also promote the campaign by spreading the word. Some of us are putting leaflets in our building lobbies. Others are sending out personal emails with campaign info to our friends and families, and re-posting the campaign on social media.
It does feel good to work on this campaign. But it's also deadly serious for us. Jackson Heights was in the epicenter of the first wave of Covid-19. It's still an epicenter of unemployment, hunger, housing insecurity, and crushing debt for immigrant families. We're determined to support the deeply-rooted frontline groups who are aiding, rallying and mobilizing local immigrant communities.
In solidarity and with collective care,
Jackson Heights Immigrant Solidarity Network
Follow @JHSolidarity on Facebook and twitter and share this newsletter with friends, families, neighbors, networks, and colleagues so they can subscribe and receive news from JHISN.