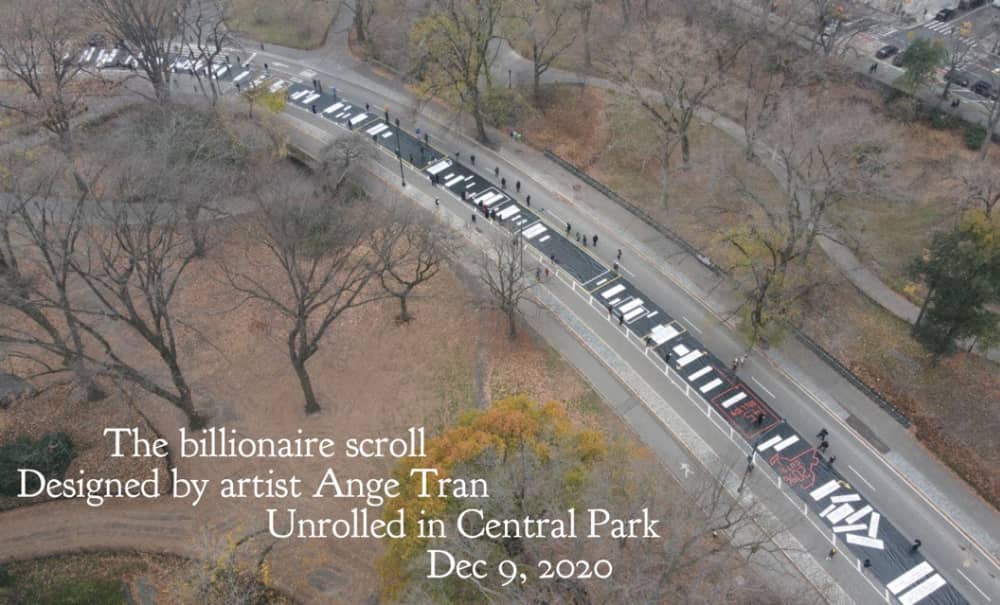 Dear friends,
Winter arrives, with beauty and threat, in pandemic times. As the snowstorm swirled this week, COVID deaths continued their catastrophic rise across much of the country. Since last March, when JHISN started to meet remotely, we have drawn inspiration from the ongoing grassroots activism of so many local immigration groups during the crisis. We offer this final newsletter of 2020 with a focus on the collective resistance of the hunger strikers in New Jersey, and on the powerful political art created by immigration activists here in NYC.  
For those of you who have not yet — please consider contributing to our 'Neighborhood Emergency!' fundraising campaign. The campaign gathers direct donations to local immigrant-led community groups who are providing, under extraordinarily difficult conditions, emergency support throughout the pandemic. Deep thanks to each of you who has already made a donation.
We wish you collective warmth as, together, we continue to find ways to struggle and to celebrate.
Newsletter Highlights:
Hunger Strike by Local Immigrant Detainees

The Billionaire Scroll — ArtActivism@CentralPark
1. The Struggle at the Bergen County Jail
When anyone embarks on a hunger strike, they are putting their bodies on the line for the opportunity to be heard. These brave hunger strikers are protesting their indefinite detention and right to be reunited with loved ones and community where they can safely socially distance. —Abolish ICE NY-NJ
As this is written, several immigrant detainees at the Bergen County Jail in Hackensack, New Jersey, have been on a hunger strike for over a month. They are demanding their right to wait for their immigration hearings at home with their families, instead of locked inside freezing cold, unsanitary cells where they are abused by guards and denied adequate medical treatment and water. One of the hunger strikers has lost over 40 pounds. In retaliation for the strike, ICE has transferred some of the strikers to other jails, where they will potentially be subjected to force-feeding and increased exposure to Covid-19
Transferring those putting their bodies on their line for a chance of freedom is a clear act of retaliation. The process separates people from their network of support, worsens the COVID-19 pandemic behind bars, and is directly responsible for the record number of deaths in ICE detention this year. Officials must act immediately to release those on hunger strike, and take substantive steps towards decarcerating ICE prisons." —Tania Mattos, Freedom for Immigrants, Dec 9, 2020
Supporters of the hunger strikers have maintained a daily presence outside the jail, and have sometimes clashed with police. In recent days, Bergen County Sheriffs have become increasingly aggressive with protesters, including arresting 25-year old Niko Sanabria-John on December 11th on multiple charges. An organizer for the group Ridgewood for Black Liberation considers the arrest of Sanabria-John, who is Black, to be racially motivated. On December 12, nine more people were arrested outside the jail, eight of whom are New Yorkers. (Most of the immigrants detained in the Hackensack facility are from New York.) Jail windows have been covered to prevent strikers from hearing the demonstrators outside.
Meanwhile, in Manhattan, six people attending a demonstration supporting the hunger strikers had to be rushed to the hospital after a car drove into the middle of their protest on December 11.
According to existing law and past practice, people arrested for immigration offenses are supposed to be individually evaluated as to whether they are a flight risk or threat to public safety. If not, they are supposed to be released on bond or their own recognizance. But the New York ICE field office is jailing virtually everybody. As an excuse, they use a risk assessment algorithm, modified in 2017 by the Trump regime to remove any option that could produce a recommendation for release.  According to the NY Civil Liberties Union, "ICE has secretly decided to detain thousands of New Yorkers unlawfully, inflicting enormous and entirely unnecessary harms." 
NYCLU and Bronx Defenders brought a class action suit against this illegal policy in February. But while that effort works its way through the courts, many immigrants in the NY/NJ area are stuck in jail, separated from their families, and deeply worried about contracting coronavirus. That is why they have taken the drastic measure of staging a hunger strike.
The current strike was also inspired by the success of a previous hunger striker, Marcial Morales Garcia. Morales Garcia insisted that his underlying health problems made him vulnerable to coronavirus. After nine days of striking, he was allowed to leave the jail with an ankle monitor–something that could also be done for the current hunger strikers. Instead, ICE continues to resort to aggressive threats and systematic retaliation.
WHAT CAN WE DO?
Volunteer with or donate to the New Sanctuary Coalition "Free Them All"

campaign

.

Fight to make the Biden administration enact a

moratorium

on immigration deportation and detentions
2. Scrolling for Justice — Activist Art for Excluded Workers
[T]he billionaire class, over all, has been the biggest winner from the pandemic, and the working-class has been the biggest loser. —The New Yorker, Dec. 10, 2020
Snow was falling thick and fast as activists, masked, shouted into the microphone, demanding passage of an emergency billionaires tax in New York State. On December 9, over 100 community members gathered in wintry Central Park to display a stunning three-block-long black scroll, calling for a new tax on the very richest to support working-class, immigrant, and undocumented workers. The scroll was designed and built by artist Ange Tran, with creative support from Zosia Skorko, in a huge studio space donated just for the project.
Immigrant justice groups including Make the Road NY, the Laundry Workers Center, and the Street Vendor Project, came together to roll out the massive 650-foot scroll, representing the $600+ billion in net worth held by New York's 120 billionaires. Angeles Solis, an organizer with Make the Road, took the mic to make clear the connection between #Tax the Rich and the urgent campaign to fund excluded workers:
In a moment of mass inequality and desperation, the NY billionaires have gained more than they ever need or deserve. As I stand here in the snow, in the cold, with hundreds of excluded workers who are lining up every single day at food pantries to survive, we are outside of the homes of billionaire Leon Black, Steve Schwarzman, and the Trump Tower, a small representation of the disgusting hoarding of billionaire wealth in New York. —Angeles Solis, Dec. 9, 2020
Far from a quixotic battle, the movement to Tax the Rich took a huge leap forward as dozens of state lawmakers called for a return to Albany before the New Year to pass emergency legislation, including a tax hike on the wealthy. A national group of 50 economic and legal scholars released a public letter on Dec. 10 advising top NY officials to raise taxes on billionaires in the face of fiscal emergency. Responding to Cuomo's repeated concern that NY billionaires will move out-of-state, the letter pointedly notes: "Billionaires much more frequently remain ​​residents of the localities in which they became successful. Unless Wall Street is transported to ​​Florida, then, such fears are unfounded." This past week, in a surprise move, the state Assembly Speaker also voiced support for the first time for an end-of-year tax hike.
Immigration activists are responding by stepping up the pressure. On December 16, Make the Road NY co-organized a "Ten Tweets for $10 Billion" hourly twitter rally, from 10 am to 7 pm. The digital activism mobilized supporters to send a series of tweets urging lawmakers to immediately pass $10 billion in emergency aid. Organizers explained:
For nine months the drumbeat of need has been building in epicenter communities and the homes of families hardest hit by the COVID-19 pandemic. Today we echo that drumbeat and tell those families and neighbors that we commit to standing with them. Every hour on the hour we speak out on Twitter to build the drumbeat for the relief they deserve – 10 tweets for $10 billion in emergency cash and a down payment on the investment we will need to make in 2021 for the recovery of our communities. Join us.  –MTRNY email, Dec. 16, 2020
JHISN, together with over 140 organizations, is part of the Fund Excluded Workers campaign. Help us keep building a coalition of solidarity to #Tax the Rich and #Fund Excluded Workers.
WHAT CAN WE DO?
In solidarity and with collective care,
Jackson Heights Immigrant Solidarity Network
Follow @JHSolidarity on Facebook and Twitter and share this newsletter with friends, families, neighbors, networks, and colleagues so they can subscribe and receive news from JHISN.