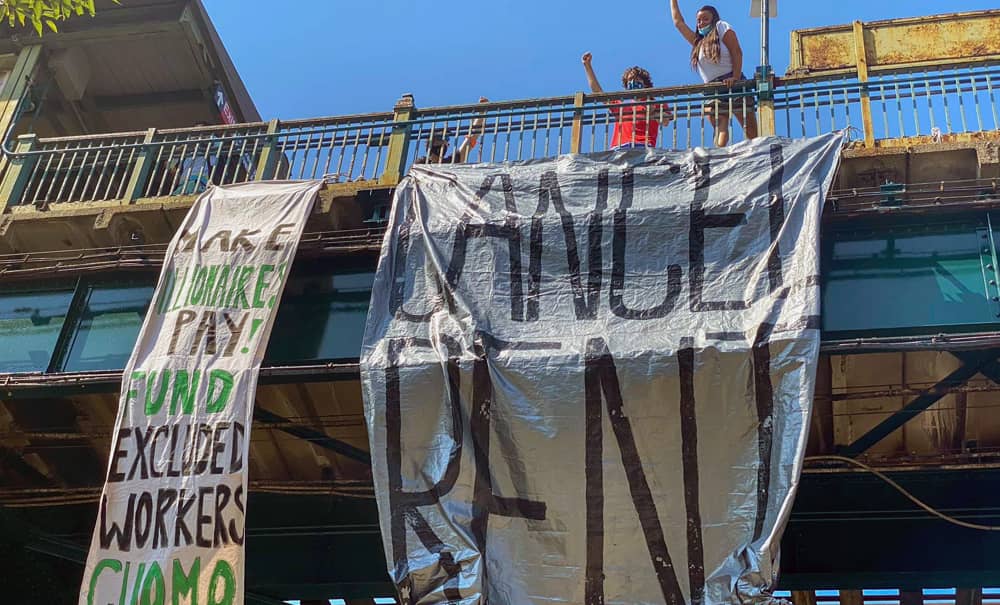 Dear friends,
This week we take a focused look at the intersecting emergencies faced by thousands of community members in Jackson Heights. Some have started to call it, simply, 'the cliff,' that dangerous edge where housing eviction, income loss, health and food insecurity, and lack of government support now threaten to push people into economic free fall. As an increasingly authoritarian White House–in violation of the Constitution–orders undocumented immigrants to not be counted when apportioning congressional districts, we need urgently to ask 'Who counts?' Who counts during a deadly pandemic? Do some count more than others? Who decides?
The Cliff
Virtually the entire population we serve is jobless and facing food insecurity. —Anetta Seecharran, Executive Director, Chhaya (Queens, NY)
It shouldn't ever get this bad, in one of the richest cities in one of the richest countries on earth. Nevertheless, working-class immigrants in New York City, and the US as a whole, are confronting a devastating economic crisis that threatens their very survival. Already brutally battered by coronavirus, and reeling under constant police and DHS repression, millions of immigrant families have now been pushed to the edge of a financial cliff as basic needs go unmet, debt piles up to the sky, and crushing unemployment surges to Depression-era levels.
In the Jackson Heights area, working-class immigrants of all nationalities are in emergency mode. Gotham Gazette reports that hundreds of Bangladeshis have died from coronavirus in New York City, and thousands have become sick. Many lack health insurance. One in three Bangladeshis lives in poverty, but many are being passed over entirely for government assistance programs because they are undocumented. Communication from the City government to Bangla speakers has been poor, obstructing access to accurate health care information, food resources, and unemployment compensation.
A new report by Make the Road New York details the economic hardship faced by local working-class immigrants, mostly Latinx, who were surveyed at the end of July. Sixty-six percent of the respondents are out of work. About 60% were unable to pay rent for May, June, and July; almost all were worried about paying August rent. Among unemployed undocumented respondents, 98% have received no government economic assistance whatsoever; the same is true for 60% of the unemployed citizens.
In Corona, as in other parts of our neighborhood, the effects are stark:
Shutters are down on businesses that have closed permanently. Many people haven't paid rent in weeks, said Pedro Rodríguez, executive director of La Jornada, a food pantry. "We have gone from 20 to 30 new clients a week to thousands in the last three months…." (Washington Post, July 28, 2020)
On top of food insecurity and unemployment, working-class immigrants are facing an explosive housing crisis. New York State and the federal government have extended eviction freezes month by month. There are partial rental assistance programs for some New York tenants. But whenever the programs and temporary freezes end, thousands of dollars of accumulated rent will suddenly come due for already-impoverished families. According to the National Low Income Housing Coalition, 30-40 million people are at risk of being evicted by the end of the year in the US; this includes hundreds of thousands in New York. Despite the supposed freezes, landlords are already lining up to file for judgments and evictions in a newly-reopened Housing Court.
Immigrant-led organizations, mutual aid networks, and some local progressive politicians are making heroic efforts to deliver funding, food, and services to working-class immigrant families. Congresswoman Ocasio-Cortez has raised over $1 million for COVID-19 direct relief for immigrant and excluded workers, distributed to nearly 40 community and grassroots groups, including several in Queens. But donations and volunteers, crucial as they are, can't be expected to meet the long-term survival needs of millions of people abandoned by a cruel and corrupt government during this crisis. 
Meanwhile, the rich get richer. 118 New York billionaires increased their wealth by more than $77 billion during the first three months of the Covid-19 shutdown. US insurance companies doubled their profits in the midst of the pandemic.
Progressive activists and immigrant justice groups have gathered around two major demands:
Increase taxes on billionaires and millionaires to create a fund to help those excluded from current government benefits.

Local State Senator Jessica Ramos authored one of several

bills

to make this happen. On August 9,

over 300 people rallied

and marched down Roosevelt Ave in support of the Billionaires' Tax. (Governor Cuomo says he is firmly opposed, while also scooping up

campaign contributions from billionaire families

.)

Rent and mortgage cancellation.

Legislation to

cancel rent

for tenants facing hardship has so far been

pushed aside by Democratic leaders

in Albany. But

grass-roots pressure

is growing, accelerated by

demonstrations

and rent strikes.
It's not just individuals who find themselves at the edge of a cliff. It's our whole community. Powerful forces seem ready to destroy, by design and by neglect, the fabric of our neighborhood, and the immigrant families who are its heart. How will we fight back? Will we keep them from pushing us over into the abyss?
WHAT CAN WE DO?   As regular readers know, JHISN usually ends each newsletter section with this question, proposing a set of concrete actions that readers can take. Today, we leave the question open. Jackson Heights, together with working-class and immigrant communities around the country, faces a cascading set of deep crises. They will not resolve in a few weeks or a few months. They will unfold across our communities in uneven and profoundly unequal ways. The question of what we can do–collectively and with sustained solidarity–is one we dwell in, together. 
Jackson Heights Immigrant Solidarity Network
Follow @JHSolidarity on Facebook and twitter and share this newsletter with friends, families, neighbors, networks, and colleagues so they can subscribe and receive news from JHISN.