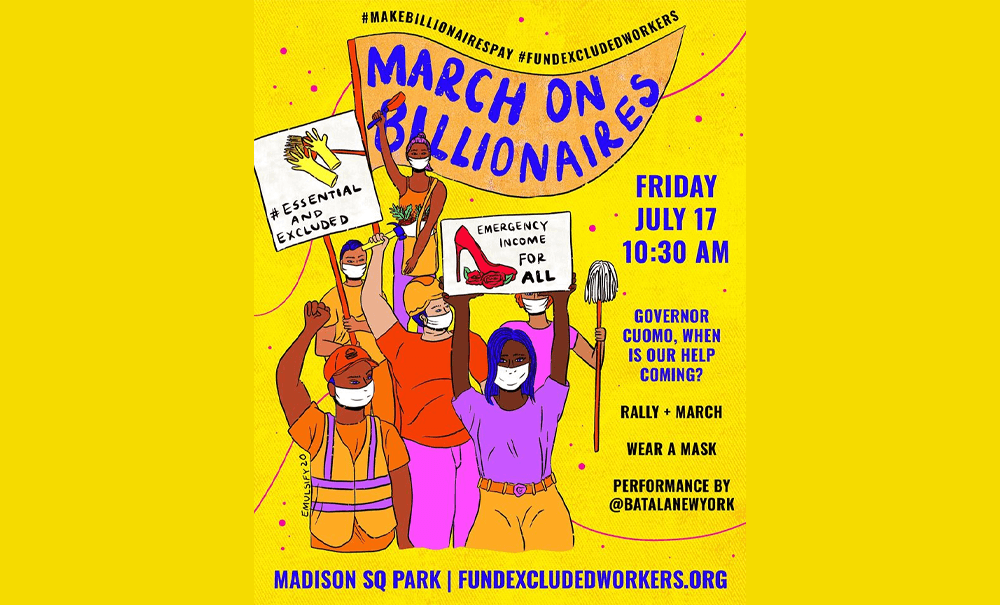 Dear Friends,
We hope this unexpected summer-in-pandemic-times might also bring you unexpected pleasures, including a deeper sense of community and neighborhood. Normally, this time of year, JHISN would be outside tabling on 37th Avenue. This summer, the newsletter is our digital 'table.' We are encouraged to know how many of you are reading it, via email and social media. Please share it, please let it feed your actions and political imagination. 
Newsletter Highlights:
Funds for Excluded Workers: Hunger Fast & March On Billionaires in NYC

History of Dominican Community @ Jackson Heights

COVID-19's impact on Black Immigrant Domestic Workers
1. Fasting for Justice—#FundExcludedWorkers
At noon on Thursday, July 16, amidst the lush mid-summer green of Madison Square Park, over one hundred excluded workers and their allies—immigrant day laborers, domestic workers, street vendors, nail salon workers, farmworkers, religious leaders, and elected officials—began a 24-hour hunger fast. Fasting activists in the park were surrounded by live performances and a #NamingTheLost memorial altar, honoring community members who have already died from COVID-19. The public fast shined light on the brutal fact that undocumented immigrant New Yorkers, many of them also essential workers, have been starved of government financial assistance during the public health crisis.
Facing food insecurity, job loss, and the threat of homelessness, these excluded and essential workers are at the heart of the #FundExcludedWorkers campaign. The campaign—endorsed by over 90 immigrant and social justice groups including DRUM, Adhikaar, Street Vendor Project, Make the Road NY, and JHISN—calls for a billionaire wealth tax in New York State to pay for emergency survival funds for immigrant workers and households. So … just across from the park where fasting protesters spent the night, dozens of immigrant New Yorkers on Thursday also held a sidewalk 'sleep-in' in front of the Fifth Avenue penthouse of Amazon founder and billionaire Jeff Bezos. Bezos is one of 118 billionaires living in New York State who have together increased their value by $45 billion since the start of the pandemic, and who now hold a breathtaking total of $556 billion in 'billionaire wealth.'
In a broader study of the economic and political power of billionaires in the U.S., the Institute for Policy Studies reports that in the past 30 years, billionaire wealth has increased by a stunning 1,130 % (in 2020 dollars). In the same 3 decades the tax obligations of U.S. billionaires, measured as a percentage of their wealth, has decreased by 79%. Recent 'pandemic profiteering' allows billionaire wealth to soar even as tens of millions of households struggle to pay rent, buy groceries, and survive the crisis.  
The public fast and sleep-in culminated Friday morning with activists walking in a lively March on Billionaires from Madison Square Park to Cuomo's office. A just recovery demands that the Governor implement the billionaire tax and support over 1 million workers in NY who have been excluded so far from any emergency financial relief. 
WHAT CAN WE DO?
2. History & Politics of Dominican Immigration
Dominicans are the largest Latinx nationality in New York City, numbering over 800,000 people. "Today, the pattern of Dominican immigrants tends to be a settlement in Washington Heights/Inwood followed by a move to another borough." Dominicans have become the second-largest immigrant group in the Jackson Heights area.
Dominican migration has been heavily impacted by US imperialism. The US military invaded and occupied the Dominican Republic from 1916 until 1924. This period cemented the economic control of US-owned banks and sugar plantations, reinforced by white supremacy. 
After the occupation, the US Marine Corps groomed Dominican National Guard General Rafael Trujillo to take over, sponsoring his military coup in 1930. Trujillo, who ruled for 31 years, "was one of the most ruthless dictators in modern Latin American history. He was notorious for his torture chambers, his massacres of protesters, and his genocide of tens of thousands of ethnic Haitians. Trujillo accumulated billions of dollars through corruption. Under his rule, the Dominican Republic became a center for terrorism against progressive movements throughout the hemisphere.
After Trujillo's assassination in 1961, there was a period of political upheaval. Juan Bosch, a progressive, was elected in 1963. But he was soon overthrown in yet another military coup, backed by 23,000 US troops. The new dictator was Joaquín Balaguer, a brutal, racist Trujillo protege. These events prompted the first major wave of Dominican migration to the US, which included both opponents of the regime and people simply fleeing social chaos.
Migration from the Dominican Republic accelerated in the 1980s. It was fueled by a huge Latin American economic crisis, often called the "Lost Decade." As one historian puts it, "the debt crisis of the 1980s is the most traumatic economic event in Latin America's economic history." Those who fled to the US included a mix of very poor people, plus professionals and other middle-class Dominicans looking for economic opportunity.
Economic opportunity isn't always easy to come by here, though. As of 2017, the median income for full-time Dominican workers in the US is $32,000; 21-23% of the Dominican population lives in poverty. As an Afro-Latinx people, Dominicans are often confronted with white racism and discrimination; many live in fear of ICE raids.
In recent years, the main route for Dominican migration to the US has been through reunification with family members who are already here. Trump's new "public charge" regulations may have a significant effect on the ability of working-class Dominicans to acquire green cards in the future.
Dominicans in the US actively discuss the politics of anti-Blackness, prompted partly by the Black Lives Matter movement. Dominican student Roderich Martinez gives a personal point of view:
Throughout history, Dominicans have greatly acknowledged the Europeans who took over the island, Hispaniola, while at the same time minimizing the importance of the Africans who were slaves at the same time….There are places I go in New York City where people immediately assume that I am just black. The moment they hear me talk, I get a reaction like, OH MY GOD! I thought you were one of the black people. I am not going to lie, the uneducated me of three years ago would've answered: "Oh no, I'm just Dominican with dark skin." Today, I would say, "Dominicans come in all different shapes and colors and I am black."
WHAT CAN WE DO?
Make a digital visit to the

Museo Memorial de la Resistencia Dominicana

in Santo Domingo, featuring in-depth research on the long Dominican resistance to dictatorship and imperialism.

Fight to overturn "public charge" rules that could prevent working-class Dominicans from getting green cards;

Support Congresswoman Grace Meng's

No Public Charge Deportation Act

, endorsed by over 50 immigrant rights groups.
3. How COVID-19 Impacts Black Immigrant Domestic Workers
Just 10 years ago, the New York State Legislature passed the Domestic Workers Bill of Rights. Remarkably, this was the first time that any state included domestic workers in the labor laws protecting other worker categories. Two Queens-based immigrant justice groups, Adhikaar and Damayan Migrant Workers Association, were part of the coalition that rallied and organized for six years to get the NYS legislation passed. A third of all non-citizen women in the U.S. were employed in domestic work in 2010, and over 90% of those workers were women of color.
Intersectional identities such as Black, immigrant, woman, and low-wage worker make these essential workers some of the most invisible and vulnerable workers in our country. Notes From the Storm (IPS, June 2020)
Domestic work reveals contradictions at the heart of the international migration of women workers: it propels women to migrate as entrepreneurial, risk-taking, decision-makers who became primary contributors to household incomes in their home country; and, at the same time, domestic work remains economically undervalued, stereotypically characterized by servility and subservience, and excluded from most formal global labor market reports.
For U.S. white women, between the Civil War and WWI, domestic work was often a transitional role between early adulthood and marriage. Throughout much of the 20th century, for U.S. black women, domestic work was an intergenerational, full-time occupation until the Civil Rights Act of 1964—when black women's organizing resulted in a shift of this role to Filipino and Mexican immigrants. 
During May and June of 2020, over 800 black immigrant domestic workers in the U.S. were surveyed about how COVID-19 affected their lives. Workers interviewed were in New York City, Massachusetts, and Miami-Dade, Florida. Most respondents had more than one domestic job with different employers but each region identified its own dominant 'type' of worker. In NYC the majority of black immigrant domestic workers are nannies, providing private child care. In Miami-Dade they are housekeepers and cleaners, while in Massachusetts they are paid caregivers in the home. 
For black immigrant domestic workers in NYC, the findings are deeply disturbing:
Two-thirds of respondents either lost their jobs or have fewer hours and less pay since the pandemic.

Over 80% of undocumented domestic workers (and almost 30% of documented) have no health insurance; the same percentages of workers indicate they will not seek government support out of fear about their immigration status.

Over 75% who have jobs indicated their employers do not provide Personal Protective Equipment.

Two-thirds of undocumented domestic workers anticipate eviction or having utilities shut off in July, August, or September.
Over the next months, as domestic workers are called upon once more to take up work that is vital but historically undervalued, we must demand federal support for black domestic workers and their prioritization in the economic recovery efforts. Individual employers must take responsibility for protecting the health of workers they employ, providing the needed PPE, and avoiding convenient gig economy apps which will not direct money to the women they employ. 
WHAT CAN WE DO?
In collective struggle and mutual care,
Jackson Heights Immigrant Solidarity Network
Follow @JHSolidarity on Facebook and twitter and share this newsletter with friends, families, neighbors, networks, and colleagues so they can subscribe and receive news from JHISN.