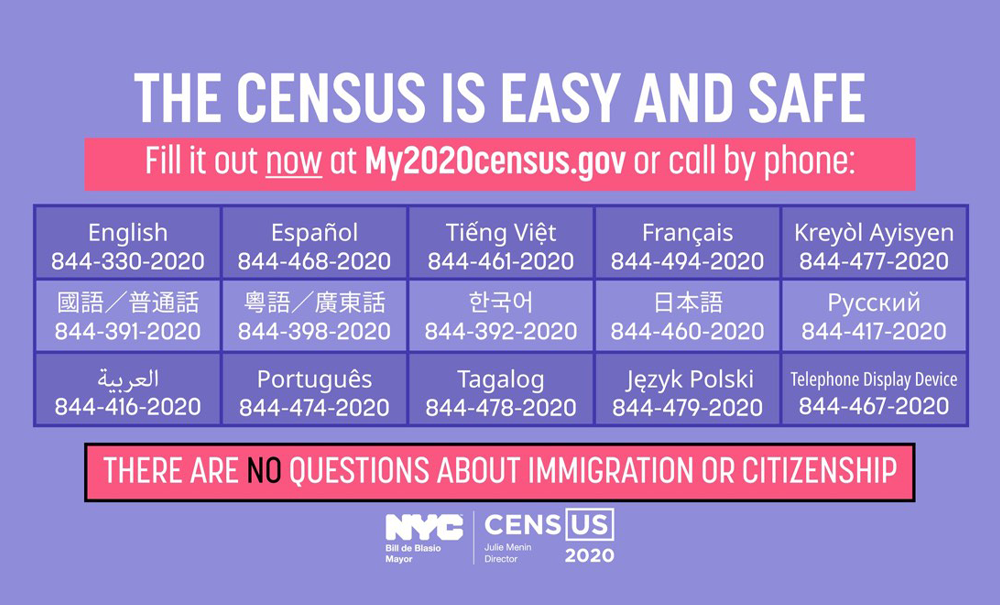 Dear friends,
Jackson Heights continues to find itself challenged by intersecting life and death emergencies. Still, we dare to hope that our newsletter finds you in a moment of peace and a place of personal safety. 
When injustice rises, resistance is the only source of dignity. Every positive act, big or small, encourages the rest of us, and helps knit us into a community of struggle. This week, we reflect again on what it means to count, and to be counted.
Census: Fighting to be Counted
The millionaires who have fled New York City to their second or third homes will likely get themselves counted in this year's census (though not necessarily as New Yorkers). And they may actually be counted more than once if they fill out their census forms in multiple states. Once again, New York turns to its immigrant communities for essential work — this time to stand up and be counted, and ensure that the 2020 Census gathers a full and accurate count of our population. 
The Constitution (Article 1, Section 2) requires that every ten years all U.S. residents, citizens and non-citizens alike, be counted for the purposes of fair political representation, and proportionate distribution of federal funding. In 2015, Census data were used to allocate over $675 billion in federal monies to state and local governments for health, housing, education, and infrastructure programs. The U.S. Census Bureau's website celebrates the Constitutional design of the U.S. census as a turning point in world history. Instead of using the census for military conscription or tax collection, the Constitution transformed a tool of government into "a tool of political empowerment for the governed over their government." This is not what is happening in 2020. 
The Trump administration's failed push to include a citizenship question on the census survey, combined with fears of ICE and federal government surveillance, are certain to make already worried and hard-to-count immigrant populations even less comfortable about participating in the census. While the courts eventually ruled the 'citizenship' question to be illegal, its ugly purpose has already been served: to further discourage immigrants from census participation.
When asked how likely it is that answers to the census will be used to find people living in the US without documentation, 31.6 percent report it is extremely or very likely and 33.2 percent report it is somewhat likely…Among nonwhite and Hispanic adults and among adults in immigrant families, 40 percent or more are extremely or very concerned.   Urban Institute – Feb 2020
Census workers report often hearing concerns about the security of the data they collect. Historically, census data was used to seize the property and destroy the livelihood of US citizens and immigrants of Japanese origin, who were rounded up at gunpoint and forced into internment camps during World War II. After that national shame, the Census Bureau now follows policies and procedures that ensure their encrypted data cannot be used to locate individuals. The data is anonymized by converting it to simple counts with no identifiable information.
In early August, the Census Bureau announced suddenly that it would end the census count a full month earlier than its previously set deadline (October 30). Despite a public statement from four former Census Bureau directors warning that the new plan "will result in seriously incomplete enumerations in many areas across our country," the all-important door-knocking efforts to ensure an accurate count of hard-to-reach populations will now end by September 30. There is only one month left "to try to reach people of color, immigrants, renters, rural residents and other members of historically undercounted groups who are not likely to fill out a census form on their own" (NPR, August 4, 2020). A past director of the 2000 census said publicly this week that the 2020 count might be so flawed that the Census Bureau will not want to release the data.
The Trump regime has also proposed–in a move that civil rights groups call blatantly unconstitutional–to eliminate all undocumented residents from the counts after census work is complete. Without notifying the Census Bureau Director, Trump declared that "undocumented immigrants would not be factored when drawing congressional district lines" [Associated Press]. While this move to weaponize the count to discount immigrants and boost congressional districts in favor of Republicans is unprecedented in U.S. history, as a practical matter "Mr. Trump's order could not be carried out even were it legal, because no official tally of undocumented immigrants exists, and federal law bars the use of population estimates for reapportionment purposes" [NY Times]. But the threat remains, and court challenges are assured.
Concern is now widespread that New York state might lose another congressional seat due to a census undercount. There are even projections that New York State could lose two seats. To date, New York State has 5% fewer respondents than 10 years ago when we lost two congressional seats due to a low population count. As of this week, the city's overall response rate sits at just 57%. Queens has the second-lowest rate of the five boroughs. Critical financial resources for schools, parks, public transport, and housing, will all be reduced if the 2020 count is not accurate. In Jackson Heights there is only one land tract (from 75th to 78th Street between Roosevelt and Northern) which has a response rate equal to or greater than that of 2010.
Neighborhood volunteers and local non-profit, community-based groups who work with immigrant populations in Queens, have stepped up their efforts to encourage as many people as possible to complete the census survey. Adhikaar, Make the Road NY, and Chhaya all joined an online Town Hall with Congresswoman Alexandria Ocasio-Cortez to promote completing the census. Local groups are often more successful than government agencies in encouraging people to respond. They are grassroots organizations, primarily immigrant-led, known and trusted to work for the benefit of the people we need to count.
Successfully persuading people to complete the census is less a question of overcoming reluctance or refusal, and more about raising people's awareness of the benefits. Local volunteers also say they are "knocking doors and doing Census canvassing to break the fear and sense of isolation." People are learning from Information sheets written in over a dozen languages about how school classroom sizes and hospital bed counts and improvements to roads and housing are all driven by the census counts. Tabling efforts by local and national electeds, plus a novel census subway series encouraging competition between city neighborhoods to increase their participation count, have recently helped to increase our response numbers. A series of rewards that people can win if they show they have completed the census has also encouraged more people to complete online.
There is still time for New Yorkers, and local folks in Central Queens, to stand up and be counted–and to encourage neighbors, co-workers, friends, and strangers to be counted!–before the census gathering period ends. 
WHAT CAN WE DO?
In solidarity and with collective care,
Jackson Heights Immigrant Solidarity Network
Follow @JHSolidarity on Facebook and twitter and share this newsletter with friends, families, neighbors, networks, and colleagues so they can subscribe and receive news from JHISN.