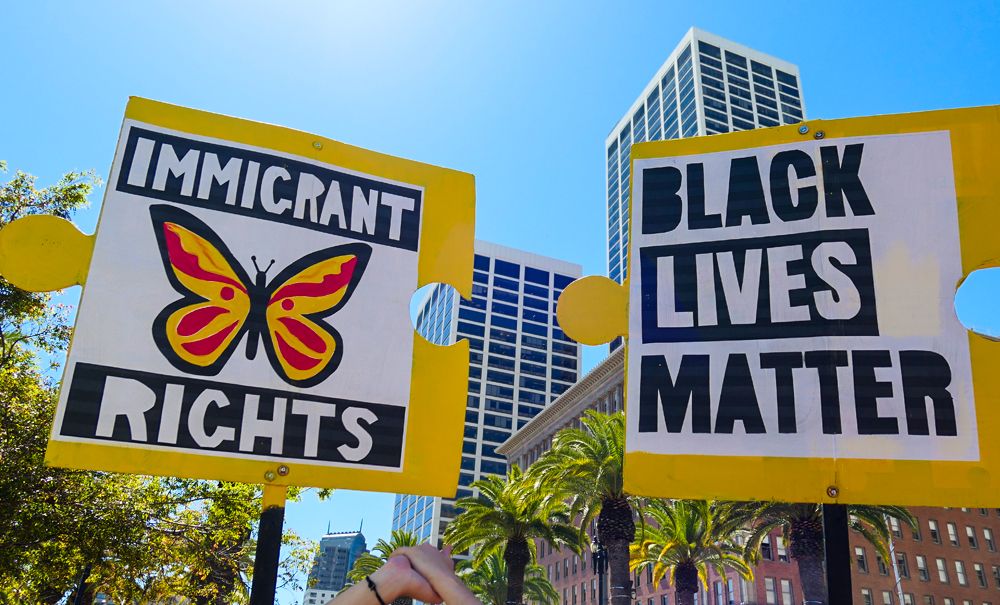 Dear friends,
Red, blue, and white are the proclaimed colors of this nation's founding. The color of justice is yet to be invented — but it will always be indebted to black. As we approach a national and nationalist holiday this weekend, JHISN offers a newsletter in response to the nationwide demand for a profound reckoning with anti-Black racism and violence. We present three stories at the intersection of Black Lives Matter, the ongoing protests, struggles for immigrant justice, and policing. We ask that you put them to use! 
Newsletter highlights:
How Immigrant Politics Intersect with Black Lives Matter

"Defund the Police!" — More than a Rallying Cry

ICE/CBP/DHS Deployed Against Racial and Social Justice Movements 
1. Black Lives Matter and Immigrant Rights
Our call for Respect and Dignity doesn't stop on immigrant issues…Now is the time to demand justice for all, but especially for Black lives…That means we must also work to check the anti-blackness within our own community, we must now all become actively anti-racist and ensure that our community stands in solidarity with Black Lives Matter. The Latinx community has benefitted from this long and generational fight for racial justice by our Black familia and we must acknowledge it and be thankful for their strength and courage through the centuries. —Make the Road Nevada
Immigrant rights groups were quick to join the Black Lives Matter uprising. Solidarity arises largely out of common experience with white supremacist oppression, enforced by violent policing and mass incarceration. For immigrant rights groups, the BLM rebellion also shines a spotlight once again on the political imperative of unity with the Black freedom movement–a movement which is leading the attack on the same racist, violent system that impacts working-class immigrants and immigrants of color. Such unity could not only help save Black lives, but also play a wider role in defeating white nationalism and building a coalition for broad progressive change.
There's extensive overlap between the oppression of Black people and of working-class immigrants:
1. Many immigrants are Black. Black immigrants make up about 7.2% of the non-citizen population. In some cases, they faced anti-Black racism in their countries of origin. Now they face dual oppression in the US–as immigrants and as Black people. One organization in New York that fights for the rights of Black immigrants is African Communities Together, which wrote a moving facebook post embracing Black Lives Matter.
2. Immigrants and Black communities have common experiences with mass activism to resist police brutality and mass incarceration. For instance, Desis Rising Up and Moving (DRUM), the powerful immigrant rights organization based in Jackson Heights, emerged originally out of the militant protests that followed the police murder of Guinean immigrant Amadou Diallo in 1999.
3. Many immigrants have already endured police violence in their countries of origin; many also have experienced racist brutality at the hands of the US military in their countries of origin. Damayan Migrant Workers Association, which fights for low-wage Filipino workers in New York, connects the dots:
As Filipinos, we continue to suffer the long term consequences of colonization and plunder of our country by US corporations and its military-industrial complex that continues to fund the Duterte regime back home.
Where there is oppression, there will always be resistance and Black liberation movements have always stood alongside Filipinos in our shared anti-imperialist struggle. Damayan supports Black worker led movements and organizations in their calls to defund the police and end structural anti-Blackness and racism. We urge Filipinos to join the uprisings and be part of the historic moment for systemic change.  
4. Immigration police are being used to attack Black Lives Matter. At the same time, state and local police are repressing immigrants and collaborating with Customs and Border Patrol (CBP) and ICE. (See related article below.)
Unity between immigrants and the Black movement isn't automatic. Although white citizens are overwhelmingly responsible for structural racism in the US, some immigrants have also participated in anti-Black attacks. And some African Americans have adopted anti-immigrant positions. The Trump regime has certainly tried its best to turn African Americans and Latinx immigrants against each other.
But there are many factors favoring unity. Polls show that most Black people in the US have positive attitudes towards immigrants. Meanwhile, second-generation immigrants are actively combating anti-Black racism in their communities. Most immigrant rights forces are giving enthusiastic support to BLM. BLM even inspired a remarkable hunger strike in solidarity with BLM at an immigrant detention center in California.
Adhikaar, the local social justice organization based in the Nepali-speaking community, describes the necessity for unity in blunt terms: 
We call on our Nepali-speaking community to open our eyes to George Floyd's death. In the same way an Asian police officer stood by and did nothing as George Floyd was killed, we too, must not remain silent and do nothing. Let's remind ourselves that our struggle for human rights, as working-class immigrants, is directly tied to the struggle for Black liberation. It is more important than ever now that our communities speak up and take action.
WHAT CAN WE DO?
2. No Justice, No Peace // De-fund-the-Po-lice
"La policía y la migra
son la misma porquería!"
–street chant, everywhere
As we finish writing this newsletter, hundreds of New Yorkers will again sleep outside under the banner Occupy City Hall, an autonomous encampment in Lower Manhattan where thousands have gathered for more than a week to demand the Mayor and City Council defund the police. Mobilized by nationwide popular uprisings for Black Lives Matter and justice for George Floyd, Occupy City Hall calls for a $1 billion cut in a $6 billion NYPD budget. Activists demand that money be reallocated to support education, housing, mental health services, and community programs that serve black and brown communities across NYC. The City Council on July 1 approved a budget with a fake $1 billion 'cut', and protesters have refused to end the encampment.
Activist demands to defund the police—a rallying cry that has reached a national audience this summer—are not new. Collective movements to radically re-conceive and re-structure policing, and the very meaning of community safety, have been around for decades. Organized work to disband, demilitarize, abolish, or defund the police share one goal: a structural, permanent transformation in policing that goes far beyond reform or police re-training. 
Local immigrant justice groups from DRUM and Queens Neighborhood United (QNU) to Make the Road NY publicly support defunding the NYPD. Queens-based immigrant-led groups have long mobilized for de-carceral, de-criminalized approaches to community safety. DRUM led a campaign to close Rikers and defund local jails. For QNU, organizing against policing and the criminalization of immigrant communities is central to their founding mission.
WHAT CAN WE DO?
3. Homeland Security or Racist Persecution?
The actions of CBP and ICE-HSI may violate the Privacy Act of 1974 and threaten the exercise of First Amendment-protected activities including freedom of speech and association …ICE's surveillance activity does not appear to be predicated upon any suspected violation of a law ICE enforces.
Center for Democracy and Technology, letter to DHS, May 2019
Last month New York State passed the Public Oversight of Surveillance Technology (POST) Act, to ensure that state officials know the types of surveillance conducted on New Yorkers, and how that information is protected from federal agencies, including ICE. The POST Act was passed after reports of ICE working with the NYPD despite the city's public stance of non-cooperation, and after the Department of Justice allowed the Drug Enforcement Agency (DEA) to conduct covert surveillance of protests against the police murder of George Floyd. 
The DEA, Customs and Border Patrol (CBP), and Immigration and Customs Enforcement (ICE) are all agencies within the sprawling Department of Homeland Security (DHS) with its $51 billion annual budget. In June, Black Lives Matter protests in 15 U.S. cities came under DHS surveillance, including the use of CBP drone technology, despite the protests having nothing to do with drug law enforcement or border 'control.'  
The House Oversight Committee has demanded an explanation from DHS for the use of Homeland Security resources to intimidate and surveil peaceful U.S. protests. The committee also recently investigated "racist, sexist, and xenophobic comments made by CBP employees in secret Facebook groups" over the last year. Local groups like DRUM have called out, as far back as 2012, the widespread racial profiling and surveillance of working-class immigrants by DHS and other federal and local law enforcement agencies.
During the recent nationwide uprisings against anti-Black violence, the use of fusion centers–established after 9/11 to share 'intelligence' between local, state, tribal, territorial, and federal agencies–has been questioned as the DHS has treated peaceful protests as a potential national security threat. DHS has deployed "fusion" surveillance technologies for years to target social justice activist groups, lawyers, and journalists. Fortunately, many organizations filed Freedom of Information Act (FOIA) requests, bringing attention to these unconstitutional practices:
In June 2019, 100 organizations joined forces and wrote a letter to oppose DHS surveillance of activists, journalists, and lawyers "based on their association with migrants seeking asylum." Their letter also noted that ICE and Homeland Security Investigations (HSI) had created a spreadsheet of 'anti-Trump' protests in NYC during the summer of 2018, as the 'Abolish ICE' campaign gained visibility and the Trump regime continued its family separations at the southern border. Five days later Oregon Senator Josh Wyden sent a letter to Acting DHS Secretary McAleenan demanding confirmation about DHS activity and clarity on what was done with the information gathered.
The last decade reveals that challenges coming from both government and progressive groups to DHS's unconstitutional overreach have not changed its behavior. The DHS was built from the same cultural perspectives as the existing police system which persecutes people of color and anti-racist mobilizations as potential threats. DHS should meet the same challenge for defunding and radical restructuring.   
WHAT CAN WE DO?
In solidarity and with collective care,
Jackson Heights Immigrant Solidarity Network
Follow @JHSolidarity on facebook and twitter and share this newsletter with friends, families, neighbors, networks, and colleagues so they can subscribe and receive news from JHISN.