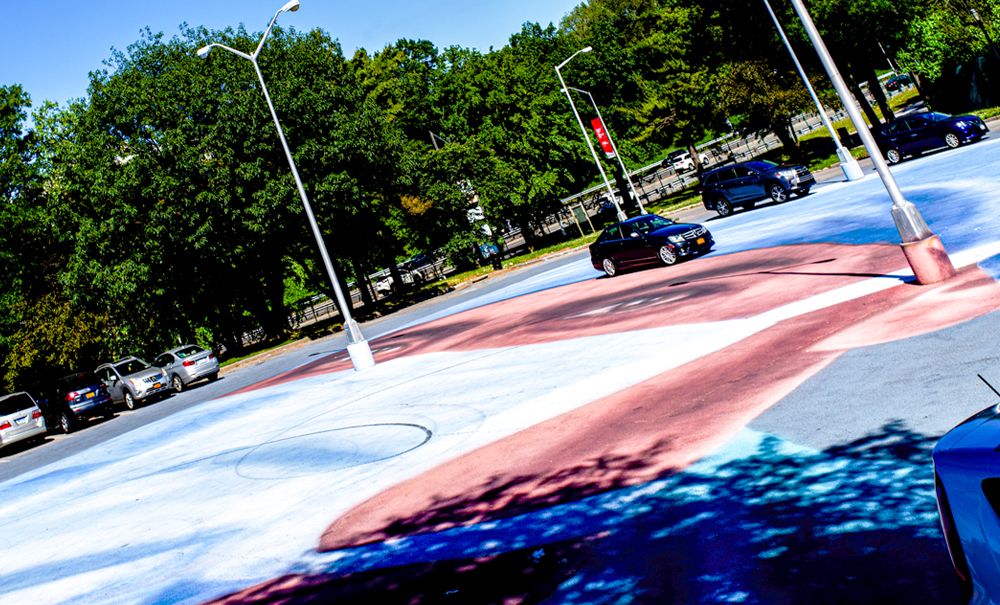 Dear friends, 
In a time of so much loss and uncertainty, we find strength in whatever victories come our way. This past week, the Supreme Court stopped the Trump regime from deporting hundreds of thousands of young DACA immigrants–many of whom are healthcare workers fighting on the front lines of the coronavirus pandemic. Relief is only temporary: the Court says Trump can end DACA, he just needs to do it the "right" way. But the delay will take us past the presidential election in November. The struggle continues….
Newsletter highlights:
Immigrant Voting Not a Dream

Essential Immigrants @ Queens Museum Mural

New Public Charge Rules: Working-class Immigrants Need Not Apply (Part 3 of 3)
1. VOTING  – A POLITICAL PRIMER
As the NY State primary approaches on Tuesday, June 23, and as unprecedented numbers of New Yorkers vote for the first time via absentee ballot or early voting, JHISN offers a brief window onto what has been, what could be, and what is, in terms of voting and the politics of power in the U.S. Historically, women of all races and ethnicities were denied voting rights in the U.S. until 1920 when, for the first time, voting by women was decriminalized. Voting rights for indigenous americans in all 50 states was not achieved until 1962. The violent and systematic suppression of Black voting in the U.S. was targeted by the 1965 Voting Rights Act—and then gutted seven years ago by a Republican-leaning Supreme Court. As of 2020, millions of US citizens in the colonial territories of Guam, Puerto Rico, the Virgin Islands, and American Samoa are denied a vote in US presidential elections. 
If voting is a "right" in the United States it has been won by struggle, denied by force, and shot through until this day with colonial, racist, patriarchal, and imperial power relations.
Establishing municipal voting rights in NYC for immigrants—legal permanent residents and those with work authorizations—is a vision and a struggle gathering force today. A coalition of over 50 organizations has called for the enfranchisement of immigrants in NYC elections for mayor, city council, and borough president. Adhikaar, African Communities Together, Desis Rising Up and Moving (DRUM), New Sanctuary Coalition, and Street Vendor Project are some of the local immigrant justice groups joining the fight. In January 2020, City Councilmember Ydanis Rodriguez introduced a bill to enfranchise immigrant New Yorkers and secure their electoral power.
Immigrant voting is not a pipe dream; it is a historical precedent. Before WWI, immigrant men in some US states were able to vote in municipal, state, and even Congressional elections. Several cities in Maryland have expanded voting rights to noncitizens, including undocumented immigrants. San Francisco, Portland, Chicago, Washington DC, the states of Massachusetts and Maine have all passed or proposed legislation to enfranchise immigrant voters.
On the ground in Queens, for those of you voting in the June 23 primary, a few facts: Absentee ballots needed to be requested by June 16; absentee ballots must be sent in by election day. If you requested but do not receive an absentee ballot you are still eligible to vote in-person on June 23. Early voting runs June 13 – 21 and reports so far suggest that early voting is quick and easy, especially if you go early in the morning. 
WHAT CAN YOU DO?
2. "Somos La Luz" ("We are the Light") – Murals and Memory
In the early 20th century, Mexico's vibrant Muralist art movement brought leftist images and politics to the walls of public buildings. Mural artists recognized workers as central figures in the country's developing political and cultural identity. Here in Queens, in the early 21st century, Cuban-American artist Jorge Rodriguez-Gerada recently completed a mural that recognizes the essential immigrant healthcare workers who are giving their labor and, too often, their own lives to treat those suffering from COVID-19. Nationally, almost 27,000 of our essential health care workers are DACA recipients who experienced a small sigh of relief this week when the Supreme Court ruled the Trump administration could not simply end the DACA program. 
Gerada's enormous mural, painted on the Queens Museum parking lot in Flushing Meadows Park, works on two levels. The first celebrates and gives thanks to workers on the pandemic front lines, while a deeper level conjures the social and political challenges that immigrants are forced to navigate. Supported by the NYC Parks Department, the Queens Museum, the SOMOS Community Care Network, and Make the Road New York, Gerada explains:
This project is an homage to Hispanic caregivers that risk their lives to save others. It highlights their contribution while at the same time calling for action. These are the people that make our city move, the people that care for us, these are the people that contribute socially, culturally and economically to the nation…how it is that minorities today still have to suffer the same injustices of the minorities of the past.
Jorge Rodriguez-Gerada – Artist
The mural's face can only be seen from the heavens, where the compassion of the healthcare provider is apparent, and most people will only know it from those aerial photographs. Gerada tells us that the eyes belong to a particular SOMOS doctor, Dr. Ydelfonso Decoo, but the rest of the mask-covered face could be anyone—any of the unknown faces protecting our neighborhoods and our lives.
The mural's deeper level of meaning, the challenges of being an immigrant, can only be experienced in person. The mural introduces uncertainty: it is not immediately apparent that you are driving onto a work of art. Parking space markings are obscured by the giant painting and, while you know the marks should be there, you can't find them. No vantage point provides a clear picture. You could attempt the risk-taking enterprise of climbing a nearby tree where you might finally see both eyes together, but they are not looking at you. Their kindness is not directed to the person on the ground. The eyes look skyward, seen through the screens of people who are remote and, mostly, working safely from home, while the essential immigrant workers remain outside.
Already, a short week after the mural was completed, there are scars where possibly a motorcycle has done a wheel spin on the face mask. People have paid homage. Given recognition. But they are starting to move on. Soon, parked cars will cover the mural face as practical needs become more important than seeing the bigger picture.
WHAT CAN YOU DO?
3. New Public Charge Rules (Part 3 of 3) 
In the final part of this series (see Part 1 and Part 2), we discuss the most damaging aspect of the new public charge rules that aim to systematically alter the demographics of immigration.
A battery of expanded financial tests is now being applied to most people seeking to live in the US, whether temporarily or permanently. The new public charge tests are applied even to non-immigrant visa holders when they apply to extend or modify their visa–for instance, if they want to change an education visa to a work visa. But the biggest impact of the new regulations is on people with modest incomes who are trying to get a green card in order to live permanently in the US with their spouse or their family. These applicants are affected by public charge whether they are applying from inside or outside the country.
We noted in Part 2 that most green card applicants are ineligible to actually participate in any of the newly-listed public charge benefits that cause disqualification. Unfortunately, that doesn't necessarily give them protection from the new public charge process. Officials reviewing green card applications are also now instructed to decide, based on an Orwellian scoring system, if an immigrant is likely to use one of the designated public charge benefits in the future, after they get a green card. Department of Homeland Security or Department of State officials scrutinize an applicant's income, age, health, "insurability," education, family size, family income, employment status and history, skills, credit score, English proficiency, disability status, sponsor support, etc. Is the applicant likely to ever use food stamps, or welfare, or Section 8 housing vouchers, other listed benefits, in the future? If an official thinks so, based on the "totality of circumstances," the application is denied.
This is a process expressly designed to discriminate against low-income households. And it will affect a large proportion of green card applicants. The Migration Policy Institute explains the long-term significance:
This forward-looking test will likely have an enormous impact on future green-card grants and has the potential to reshape U.S. immigration by lowering levels of permanent immigration and tilting admissions toward those with more wealth and education. Using data on recent green-card holders, MPI determined that 69 percent have at least one factor that would be considered negative under the test, 43 percent have at least two factors, and 17 percent have at least three. In short, the public-charge rule's primary immigration impact will be through its test of the likelihood of future benefits use.
A lot is riding on advocacy, activism, litigation, and legislation to reverse these damaging public charge regulations. In the meantime, how can immigrants weigh the risks? Like public charge itself, the answer is complicated. Every individual needs a strategy for making it past the public charge barrier. And so the last word of this series goes to Hasan Shafiqullah, Attorney-in-Charge of the Legal Aid Society's Immigration Law Unit:
If there's one message to leave people with: do not stop your benefits without speaking to an immigration expert, because it's possible that the benefits you are getting are totally fine.
WHAT CAN YOU DO?
In solidarity and with collective care,
Jackson Heights Immigrant Solidarity Network
Follow @JHSolidarity on Facebook and twitter and share this newsletter with friends, families, neighbors, networks, and colleagues so they can subscribe and receive news from JHISN.