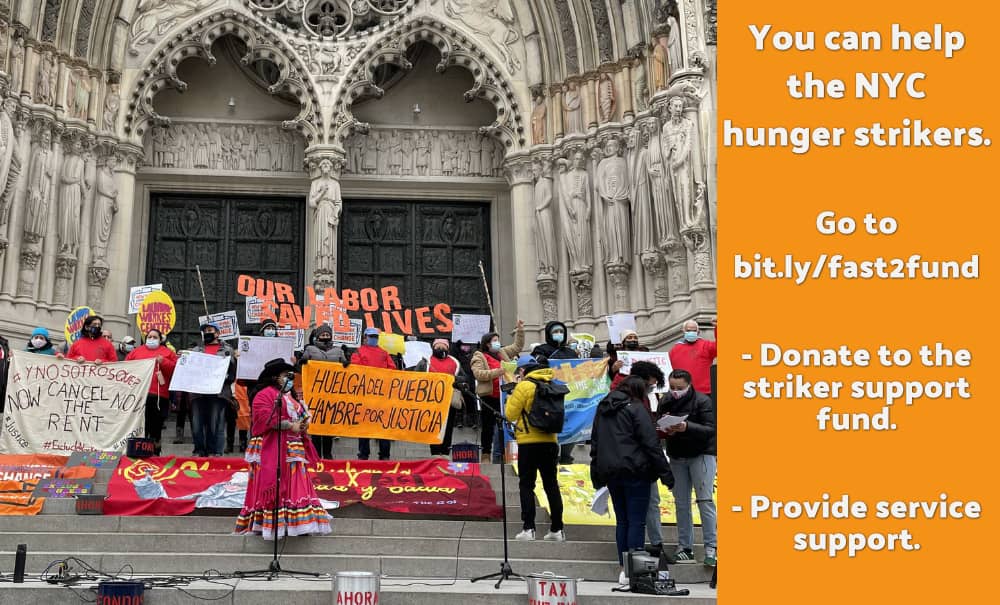 Dear friends,
As we count the days toward spring, it is Day 5 in the hunger strike launched by immigrant New Yorkers who are calling for billions to fund workers intentionally excluded from pandemic emergency and unemployment benefits. And it is Day 59 of a new administration that promised, but has not yet begun, a 100-day moratorium on deportations. Spring will come. Let's join forces to see that urgent funding for excluded and essential workers also arrives. Let's demand that an indefinite moratorium on deportations ushers in a season of immigrant justice and radical changes to a damaging, racist US immigration system. 
If you are receiving a stimulus check in the new round of pandemic relief and have the resources, please consider a direct donation to one of the six local immigrant groups that are part of JHISN's Neighborhood Emergency! fundraising campaign.
Newsletter Highlights:
Hunger strike launches to support Fund for Excluded Workers

JHISN calls for a 'Deportation Moratorium Now!'
1. 'Fast for the Forgotten': Hunger strikers demand NYS pandemic relief 
"Because of the pandemic, I've lost all my savings and all of my income. I am eight months behind on rent and unable to support my family …. The government doesn't ask me for my status when it wants me to pay taxes, but it bars me from receiving help. Excluded workers have been through enough this year. We need support now."  —Rubiela Correa, hunger striker, Jackson Heights
Activists are calling on state leaders to provide billions of dollars in relief for undocumented workers who have yet to receive assistance as the pandemic enters its second year. They're urging lawmakers to set $3.5 billion aside in the state's budget for workers excluded from federal pandemic relief packages. And they say they won't eat until it happens.
With an April 1 deadline to finalize New York's budget for the coming year, the State Assembly is considering allocating just over $2 billion for excluded workers. This fund would be the first of its kind in the nation. But excluded workers say that while it's a start, it's not enough.
On March 16, immigrants launched their hunger strike on the steps of St. John the Divine and other spots around Manhattan and Westchester, in a coordinated effort to pressure state politicians. About 75 people have signed on to participate in the Fast for the Forgotten, including members of Make the Road New York and other immigrant rights groups with the #FundExcludedWorkers coalition. On March 19, more than a dozen state politicians joined the ongoing hunger strike in solidarity. The $3.5 billion they're calling for would retroactively distribute money to workers for the past year of unemployment. According to the coalition, this amount would be comparable to what other unemployed workers have received during the crisis.
"Workers who have been laid off or furloughed through no fault of their own should get the same support that has helped keep other New Yorkers afloat—especially because excluded workers themselves pay taxes to make unemployment insurance possible for other workers," said Bianca Guerrero, coordinator of the Fund Excluded Workers coalition. The lawmakers' current proposal is welcome, she said, but it won't give workers what they need.
New York's wealthiest residents continue to make billions of dollars during the crisis, Guerrero noted, and the state should tax them more to raise the needed revenue for those who have been economically devastated during the pandemic. A survey by Make the Road last August found that 98% of unemployed undocumented workers hadn't received any federal or state government assistance. The Fund Excluded Workers coalition estimates 500,000 undocumented workers have been left out of relief packages. This past week, major unions and labor organizations declared their support for increasing taxes on the ultra-wealthy in New York.
This isn't the first time excluded workers are striking: Last summer, immigration activists in Madison Square Park fasted for 24 hours to bring visibility to the lack of assistance for excluded workers. In the fall, they formed a mock bread line outside Governor Andrew Cuomo's office. And in December, activists unveiled a three-block-long scroll in Central Park to bring attention to the wealth gap exacerbated by the pandemic, with the state's richest residents increasing their wealth by tens of billions of dollars while the poorest continue to go into debt.  
"This is not a game," said Ana Ramirez, a hunger striker and member of New York Communities for Change. "Our lives and the lives of our families are on the line. We're here for two days, for three days, for 10 days, for 100 days—until we are heard and treated with dignity."
WHAT CAN WE DO?
2. Moratorium Now!
"All deportations and immigrant detentions must stop while the current immigration system is abolished and re-imagined." —JHISN leaflet
The early days of the Biden administration demonstrate that the long-standing demand for a complete moratorium on immigration detentions and deportations is more urgent than ever. Since the election, right-wing anti-immigrant forces have mobilized to stop the new administration's reform efforts. For their part, leading Democrats show signs of sliding back into an unprincipled "good immigrant vs. bad immigrant" approach to immigration legislation. Without a groundswell of support for a real moratorium, millions of undocumented immigrants will continue to be threatened by arrest and expulsion. JHISN joins the call for a Deportation Moratorium Now!
Biden started his term by proudly announcing a 100-day limited "pause" on many deportations and detentions. Within days, Texas Attorney General Ken Paxton sued to stop the new policy. He succeeded, obtaining a temporary restraining order against the moratorium from a Trump-appointed U.S. District judge. This has now become an indefinite temporary injunction.
ICE has openly defied the enforcement policies and priorities Biden spelled out, and has actually accelerated deportations. For instance, in an act of racist child abuse, agents deported 22 Haitian children, including an infant, on February 8. This is exactly the kind of injustice Biden had pledged to stop. On February 18, ICE issued a memo affirming that its agents have wide powers of enforcement—in effect, undercutting Biden's moratorium and the provisions of his proposed Citizenship Act.
News media are currently full of stories casting doubt on the new administration's ability to carry out fundamental immigration reform at all. Biden now says he's "flexible" on what legislation to fight for; his officials urge "patience."
The obstacles are certainly daunting: the Immigration Tracking Project has found over 1,000 Trump-sponsored immigration policies that are now embedded in regulations and executive orders. At the southern border, large numbers of migrants hoping for consideration by the new administration pose logistical and political challenges for Biden. "As of Wednesday, more than 3,700 children were reportedly being detained in Customs and Border Protection temporary holding facilities…for longer than legally permitted—a record high" (N. Narea, Vox, 03/15/21)
Meanwhile, in a discouraging retreat from Biden's broad immigration bill, Vox reports that some House Democrats are falling back on "piecemeal immigration reform." The bills they have introduced "narrowly address immigrant populations perceived as sympathetic by members of both parties." Passage of these bills, which is far from assured, would certainly help many farmworkers, TPS holders and Dreamers. But it would leave millions of other immigrants under continued threat of detention and deportation while reinforcing the toxic discourse of "worthy" vs. "unworthy" immigrants.
Responding to the current moment, immigrants are making their own voices heard:
Movimiento Cosecha, a national movement fighting for undocumented immigrants in the United States, has presented President Biden and Democrats with a deadline for action in protecting the undocumented community. The group has vowed to mobilize in D.C. on May 1st if Biden fails to provide permanent protection for the 11 million undocumented workers and families living in the states. —WGVU, 03/11/21
On March 14, Cosecha sponsored a rally in front of Democratic leader Chuck Schumer's Park Slope home, protesting his "empty promises." Later, they projected messages onto the triumphal arch at Grand Army Plaza, including "Schumer: Do Your Job."
Immigrant justice groups including DRUM, Chhaya, Make the Road and the New York Immigration Coalition have been calling for a complete moratorium on deportations and detentions for years. JHISN has also made this a central demand. In our new moratorium leaflet, we call for abolishing and re-imagining the current immigration system, and replacing it with a system based on human rights, international law, and decriminalization. 
We recognize that transitioning to a just system will be difficult and complicated. It will require, among other things, a thorough purge of the white nationalists inside DHS. But it can be done, especially if Biden and the Democrats are sincere about a path to citizenship for all 11 million undocumented migrants. During the process of abolition and restructuring, however long it takes, there's no excuse for continuing to criminalize, detain and deport more of our family members, friends, co-workers and neighbors. 
A symbolic or temporary moratorium is not enough. Along with other immigrant justice organizations, we demand a complete moratorium on deportations and immigrant detentions until there's a system in place based on human rights for all immigrants.
WHAT CAN WE DO?
In solidarity and with collective care,
Jackson Heights Immigrant Solidarity Network
Follow @JHSolidarity on Facebook and Twitter and share this newsletter with friends, families, neighbors, networks, and colleagues so they can subscribe and receive news from JHISN.