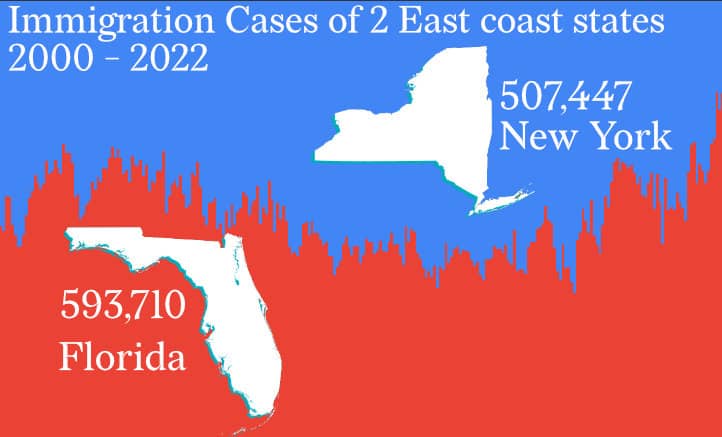 Dear friends,
When we are writing the newsletter, we often are imagining you reading it. This week, we are imagining that our quick dive into recent activities of local immigrant justice groups could motivate and inspire you. That our update on the latest twist in revisions to NY City Council district maps might help keep your eyes on the prize of electoral power for immigrant communities. And that our brief comparison of immigration courts in New York and Florida can deepen your understanding of what some officials have called the "human trafficking" of migrants by Florida's governor. Read on!  
Newsletter highlights:
Activities of local immigrant justice groups

New City Council district maps contested

New York vs. Florida immigration court outcomes
---
1. News from Local Immigrant Justice Groups: August–September
As always, multiple immigrant-led organizations are working creatively to provide services, leadership-building, and outreach to local immigrant communities. Here are a few of their most recent efforts:
Make the Road NY

has r

elaunched its

Deportation Defense Handbook

, a comprehensive tool helping undocumented people to assert their rights and be empowered when it comes to law enforcement. 

New York Immigration Coalition (NYIC)

published a

13-page resource guide

for immigrants.

This toolkit is updated regularly based on changing laws and policies.

Make the Road and New York Immigration Coalition

have been at the forefront of welcoming the migrants bussed in from Texas and Arizona. They've provided information about services and shelter, and distributed  Metrocards, prepaid phone cards, hygiene products, water, and food. In August,

New Immigrant Community Empowerment

(

NICE)

collected donations of clothes and hygiene products and will now be participating in the new

NY Asylum Seekers Navigation Center

on 49

th

Street in Manhattan. 

The 2020 Census necessitated

changes to NY's City Council Districts.

Adhikaar and DRUM

testified before the NY Redistricting Committee in opposition to proposed new City Council Districts 26, 27, and 31 that would divide the South Asian and Indo-Caribbean communities, lessening their political power. Instead, they are supporting the

Unity Map

. The next set of proposed maps were presented on September 22 and voted down (see below).

Chhaya

is still fighting to get relief for families affected by

Hurricane Ida

in 2021, and is helping small businesses secure NY State

Covid-19 Recovery Grants

valued at up to $50,000. Also, on September 24, their

street fair on 37

th

Avenue

celebrated South Asian and Indo-Caribbean cultural heritage with music, food, and vendors and supplied valuable information on available services in the city.

Minkwon Center

and

DRUM Beats

were very active in supplying information to voters during the June primaries. Minkwon is now campaigning to support the NY City Immigrant Voting Rights bill that will give DACA recipients and permanent residents the opportunity to vote in city elections.

Now that the worst of the pandemic has passed,

Adhikaar

and

Minkwon Center

have restarted their in-person English classes that were discontinued during the height of the pandemic. 
WHAT CAN WE DO?
If you are able, make a donation to any of the local immigrant activist and advocacy groups mentioned here–check their website for donation information!
---
2. Revised City Council District Maps Rejected
On Thursday, September 22, the NY Redistricting Commission held another public meeting to present its revised maps for the 51 City Council districts. Although the revisions incorporated many changes urged by 9500 public comments received during the Commission's summer public hearings, the maps were rejected by a vote of 8 to 7. Please see our JHISN story of 08/06/22 on the importance to immigrant communities of the redistricting maps. 
Three notable changes to the original redistricting proposals were: 1) restoring District 26 as a Queens-only district by not including Roosevelt Island and part of the Upper East Side. Roosevelt Island would be part of Manhattan's District 5; 2) reuniting in a single district Rochdale Village, the second largest co-op community in the city and largely home to Black homeowners; and 3) making Staten Island District 50 a crossover district by including a small part of Brooklyn.
Efforts were made to incorporate concerns that many immigrant communities (particularly South Asians) would be split into different districts and lack adequate representation on the Council. But the Commission says it is hampered by state law that only allows a 5% deviation in population between the most and least populated districts, and by the need to follow criteria set by the US Constitution, the federal Voting Rights Act, and the City Charter.
Dr. Lisa Handley, a prominent  Voting Rights Act expert, said the revised maps fulfilled the requirement that Blacks, Asians, and Hispanics would have the opportunity to elect their preferred candidates. But one reason for the "no" votes was that some Commissioners believed that Brooklyn and Bronx residents, and Dominican residents in Manhattan, would have their votes diluted by the new revisions to the maps. Mayor Adams was rumored to have asked his appointees to vote in opposition. 
The Commission is now required to make additional revisions before sending the maps back to the City Council. The next Commission meeting was Thursday, September 29, with time for further deliberations before the December 7 deadline for final maps.
---
3. New York and Florida—immigration courts in comparison
New York has had a one-way migrant connection to Florida since the 1970s, and 7% to 10% of people living in Florida were born in NY. There is a summer Jitney Bus line connecting the Hamptons with Florida; however, this summer it is the planes that Florida's Governor DeSantis used to bus migrants North to sanctuary cities that have made headlines…prompting accusations that he may have violated the law. A review of immigration court outcomes in the two states gives us a picture of the systematic differences that shape the everyday lives of immigrants channeled through our current 'injustice' system. 
Going back over 20 years, Florida and New York have reviewed a similar number of deportation cases–each state handling between 500-600,000 proceedings. Some years NY has more cases than Florida, and sometimes it is the reverse. But New York consistently releases 7% more immigrants from custody than Florida, and Florida regularly detains 6% more people than New York. 
There are stark differences between how a New York and a Florida immigration court will rule in the cases that come before them. Overall, New York grants relief to 14% more immigrants than Florida, while Florida issues 8% more removal orders forcing immigrants to leave the country. Two crucial elements make the difference in case outcomes: 1) whether a person has legal representation and 2) how long they have been in the US.
Representation makes a difference in New York immigration courts: 40% of cases involving lawyers are granted relief or terminated (the person is released); without legal representation, 52% of cases end in removal orders. By comparison, in Florida, 35% of cases involving lawyers result in removal orders or 'voluntary' departure. So outcomes in Florida's immigration courts, even with legal representation, are more likely to favor deportation over granting continuing residency in the US. The consequences for individuals and families coming before the court is huge. 
The best outcome is given to people who have been in New York for 1 to 2 years: 44% of them are granted a relief to stay in the country. At the other end of the spectrum, 48% of immigrants in Florida (who have been there for 3 to 4 years) face a most likely outcome of a removal order. For someone who has lived in the US for more than 5 years, immigration court rulings in Florida and New York have almost opposite outcomes: over 10% of those Florida cases will result in a removal order while the same (or a slightly higher) percentage of New York cases will result in a grant of relief and the ability to stay in the country. 
Florida processes half as many asylum cases as New York, but the outcomes follow a similar pattern. With legal representation, 64% of cases in New York are granted asylum while in Florida, even with representation, 75% of cases will be denied. Even without representation, New York will grant asylum to 24% more of their cases than does Florida.
So. Perhaps the best way for New York to respond to the DeSantis transport of migrants is to expedite the normal outcome of NY immigration court rulings.
WHAT CAN WE DO?
In solidarity and with collective care,
Jackson Heights Immigrant Solidarity Network (JHISN)
Follow @JHSolidarity on Facebook and Twitter and share this newsletter with friends, families, neighbors, networks, and colleagues so they can subscribe and receive news from JHISN.