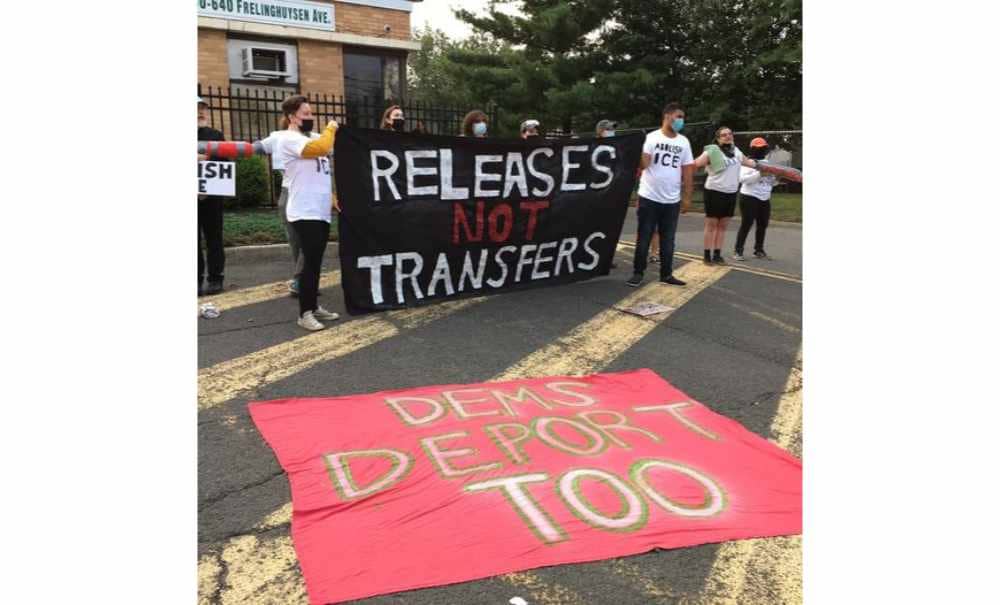 Dear friends,
The days grow short as the winter solstice approaches. At this darkest time of year, we celebrate the power of community and the promise of collective warmth in our immigrant neighborhood here in the heart of Queens. We celebrate the political promise of hundreds of thousands of immigrants now enfranchised to vote in local elections, as NYC joins over a dozen US communities where non-citizens have the right to vote.
In this issue, we offer you a local story of how the historic fight to fund excluded workers in New York State has been curated into a museum exhibition in Queens. And we report on the statewide campaign to end ICE detention of immigrants, in the context of the 20th-century criminalization of immigrants of color in the US.  
Newsletter highlights:
'Nuevayorkinos: Essential and Excluded' at PS1
Shutting Down ICE Detention 
---
1. Immigrant Activism Meets Museum Space: Art & Politics @MoMA PS1
The room is sunny, spacious, and quiet. The white museum walls are adorned with colorful banners in Spanish, and photographs of immigrant activists taken last spring at Corona Plaza. In the middle of the room is a comfortable couch and chairs circled around a table with Spanish- and English-language books on immigration history and politics, including a neatly stacked pile of tales of resistance for children.
The exhibition in the "Homeroom," a community-engagement space at MoMA PS1 in Queens, invites reflection: What is the place of community activism in a museum that contributes to gentrification and community displacement? How can we build popular memory of immigrant struggles using the tools of art and visual culture? Who is this exhibition created for, and who may be excluded by ticket price and social class?
PS1's exhibition Nuevayorkinos: Essential and Excluded (on view through January 10, 2022) brings together the work of artist Djali Brown-Cepeda and local immigrant groups Make the Road NY, the Street Vendor Project, and NY Communities for Change. At the center of the exhibition is the historic struggle of the Fund for Excluded Workers, and their 23-day hunger strike in spring 2021 that culminated with an unprecedented victory: a $2.1 billion fund in NYS dedicated to immigrant workers excluded from federal programs of pandemic relief and emergency support.
In a corner of the exhibition, providing a rolling soundtrack, are two videos by Jose Armando Solis, filmed on Day 5 and on Day 17 of the hunger strike. As visitors wander in and out of the exhibition space, the voice of hunger striker Ana Ramirez cries out, over and over, "It is not just me but thousands of families—families that went to the bakery to bake the bread so that the rich can eat during this pandemic comfortably. I am forgotten, I am one of the excluded. We are house cleaners, construction workers, restaurant workers, retail workers, laundry workers, all of whom have worked hard for this nation…"
For those of you unfamiliar with the Fund for Excluded Workers, the hunger strike, or the cultural power and beauty of immigrant justice struggles, we encourage you to visit the exhibition. To not forget those who were systematically forgotten. For those of you who have participated in the victorious fight for essential and excluded workers – a fight that is ongoing – we honor your power and the possibility that this exhibition can help strengthen community support and solidarity. For the struggles ahead.
---
2. 'Dignity Not Detention': Decriminalizing Immigration 
"This hard-fought victory reflects the resilience and tenacity of our communities – and reaffirms that our vision of a world without detention is within reach." –Tania Mattos, Freedom for Immigrants (August 2021)
Sustained activism on the part of immigrants, their families, and immigrant justice activists has succeeded in shutting down ICE detention in the state of New Jersey. The Hudson County Jail processed out its last immigrant prisoner in October. And the last 12 immigrant detainees in the Bergen County Jail were transferred out on November 12. Ending the use of these jails for immigrant detention was a result of militant protests outside the facilities, hunger strikes by prisoners, and an intense publicity and organizing campaign run by activists including the Abolish ICE NY-NJ coalition. 
Unfortunately, while some immigrants have been released, most of the New Jersey detainees have been transferred to New York State jails such as the Orange County Correctional Facility in Goshen and the Buffalo Service Processing Center in Batavia. This puts them hundreds of miles farther away from friends, family, and lawyers.
New York State activists hope to keep the anti-detention momentum going with the "Dignity Not Detention Act"  now making its way through the state legislature (it is currently in committee in both houses). The Act would require the termination of all existing ICE contracts for immigrant detention in public jails in New York, including the Goshen and Batavia facilities. Local groups including Centro Corona, DRUM, Queer Detainee Empowerment Project, NICE, and Street Vendors Project are supporters of the statewide mobilization for the Act. Similar legislation has already become law in Maryland, California, Washington, and Illinois. Activists in New Mexico launched their own Dignity Not Detention movement in 2019.
But as the ICE detainee transfers from Bergen County make clear, passing state-by-state laws isn't a panacea. In fact, some immigrants may find themselves transferred even farther away from where they were arrested, to completely different parts of the country. They might also end up in brutal private for-profit jails –  still widely used for ICE detention, despite pledges by the Biden administration to eliminate them.
Nationally, ICE continues to detain tens of thousands of immigrants. Most of these people are simply waiting for their backed-up immigration hearings, which they could do without being jailed. The number of undocumented migrants imprisoned has increased 50% since Joe Biden took office. Conditions in the facilities are often brutal. When immigrants speak out about rampant abuses, they face severe retaliation and ongoing surveillance. 
The criminalization of migrants to the US began in the 1920s with a wave of reactionary anti-immigrant politics that led to a series of quotas, exclusions, and other restrictions on immigration, mainly targeting immigrants of color. In 1929, the Undesirable Aliens Act – authored by an avowed white supremacist and pro-lynching advocate – epitomized the hardening of immigration policing. Entering the US illegally–which had been processed as a civil complaint–suddenly became a misdemeanor, punishable by up to a year's imprisonment and a fine. Returning to the US after deportation was now defined as a felony, resulting in up to two years imprisonment and a $1,000 fine. The Act was intended specifically to control and regulate Mexican labor. In the years after the passage of this law, Mexicans made up as much as 99% of the newly-criminalized immigrants filling just-built federal prisons in El Paso, Tucson, and Los Angeles. (Today, Latinx immigrants still make up 92% of people prosecuted for illegal entry and re-entry to the US.)
The 1929 law was eventually updated by the Immigration and Nationality Act of 1952. This legislation cut the sentences for crossing the border in half but continued to criminalize migrants through its notorious Sections 1325 and 1326. During periods when Mexican labor was in demand, immigrant detentions and prosecutions fell. But starting in 2005, as the "war on terror" ramped up during the Bush and Obama administrations, the federal government once again began prosecuting tens of thousands of migrants and jailing them until their cases could be heard. Donald Trump used Section 1325 as a basis for his infamous "zero tolerance" and family separation policies.
The most effective means of stopping the large-scale detention of immigrants would be a national law that overturns the criminalization of border crossing. (For example, by returning illegal border crossing to its previous status as a civil offense.)  Hundreds of immigrant justice groups have been demanding this kind of federal legislation for years, including local groups like DRUM, Adhikaar, and JHISN. However, decriminalization of border crossing is not included in the current Build Back Better draft legislation. A 2019 decriminalization proposal introduced by Representatives Pramila Jayapal and Jesus Chuy Garcia, has been stalled in Congress, despite the fact that it is endorsed by many immigrant justice groups and has 44 co-sponsors – all Democrats.
And so the end of immigrant detention in New Jersey must be seen as only one hopeful step in a long struggle. Local activists have turned their full attention to fighting against the abuses of immigrant detention in New York State, including punitive transfers, detainee mistreatment, and deportations. At each step, they raise the need for the Dignity Not Detention Act. 
Last Sunday, December 12, a small demonstration took place outside the Bergen County Jail. It commemorated the one-year anniversary of a violent clash with cops that led to the arrest of ten immigrant justice activists. Protesters carried signs saying "Releases Not Transfers," "Close the Camps," and "Abolish ICE."  As Shamz Azanedo, one of the organizers, said, "We didn't feel right just letting today pass. Today was a huge day last year, and we needed to be here together."
---
WHAT CAN WE DO?
In solidarity and with collective care,
Jackson Heights Immigrant Solidarity Network (JHISN)
Follow @JHSolidarity on Facebook and Twitter and share this newsletter with friends, families, neighbors, networks, and colleagues so they can subscribe and receive news from JHISN.