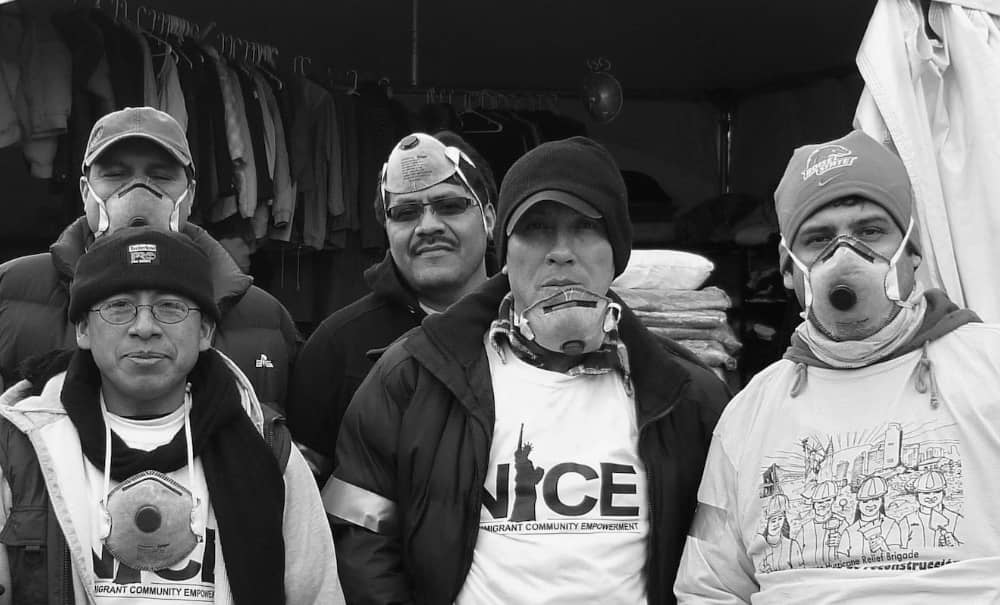 Dear friends,
As winter brings colder weather and our search for warmth, the realities of economic inequality and financial insecurity become all the more stark. Our newsletter looks at two local struggles to generate security and empowerment for immigrant workers often left out in the cold: day laborers, and those who are systematically excluded from the unemployment system. Our first article reports on the growing importance of Worker Centers in organizing immigrant day laborers, and the leading role of NICE (New Immigrant Community Empowerment), based here in Jackson Heights. Our second article announces a new movement launched by the Fund Excluded Workers Coalition to permanently expand unemployment compensation to cover many of the most vulnerable workers in New York state.  
Newsletter highlights:
Day laborers and worker centers: NICE organizing

Statewide campaign to secure unemployment insurance for all 
1. Jornaleros: Pushing Out of the Shadow Economy
On a recent afternoon in Woodside, more than fifty men wearing work clothes and backpacks have spread out along 69th Street, from Roosevelt Avenue to Broadway. Hanging out in small groups or alone, they scan the passing traffic intently, hoping that a van or car pulls over with an offer of work.
These workers are among an estimated 10,000 day laborers, gathered at about 70 sites around the city, who play an indispensable role in the NYC economy. Day laborers are hired for a variety of jobs, including domestic work. But the greatest demand for day labor comes from the city's sprawling, $86 billion dollar a year construction industry. 69th Street has long been known as a stop—parada—where employers can find construction day laborers.
Immigrants make up 63% of the city's construction workforce. Most are from Latin America. Their pay and conditions differ greatly depending on immigration status and union membership, with undocumented day laborers at the bottom of the construction labor hierarchy. Struggling just to get a one-day job, they tend to work for small, non-union contractors and landlords, some of whom are notorious for low pay, wage theft, and unsafe conditions. Now a new wave of migrants, many from Venezuela, is trying to establish a foothold in the industry, hustling jobs on city streets. Early morning crowds at 69th Street and other paradas have grown.
Day laborers—jornaleros and jornaleras in Spanish—have always engaged in an uphill struggle for dignity and fairness in the US. In recent decades, a nationwide network of "worker centers" has been at the heart of this struggle. In our own community, one of these worker centers is organized by New Immigrant Community Empowerment (NICE), whose offices on Roosevelt and 71st Street are buzzing with day laborer activity. NICE is part of a citywide day laborer coalition of worker centers fighting to "improve workplace conditions in unregulated industries, defend their civil rights, and to end wage theft."
Although worker centers were once seen as unwanted competitors by the construction unions, in recent years it's become clear that worker centers are organizing workers who the unions themselves can't reach, and that they are helping lift up standards in the whole construction industry. Relations between worker centers and unions vary around the country. But today there is often cooperation, which sometimes includes the funding of worker centers by unions, and has even involved a few joint unionization efforts. In New York, Local 79 of the Laborers Union and other unions work closely with local worker centers on the #FundExcludedWorkers campaign, including the recent mobilization to expand unemployment insurance.
NICE and the other worker centers often protest and lobby for legislation needed by day laborers, such as Carlos' Law, a major NY State workplace safety bill signed by Governor Hochul in December. Workers victimized by wage theft or who face unsafe conditions can count on NICE to use its collective strength to intervene—sometimes side by side with unionized workers. NICE runs a continuous series of Occupational Safety and Health classes, which are legally required for work on most construction sites. The waiting list for these classes has grown long, as the recently arrived wave of asylum seekers searches for work. NICE also teaches construction skills such as framing, plumbing, and painting, as well as "soft skills" like English and technology. Women are encouraged to investigate careers in construction. All of the classes and workshops are free.
NICE's effort to build solidarity among jornaleros is exemplified by their day laborer hiring hall. Employers looking for dependable day labor contact the Center. ("Hire NICE Workers," the Center's website says.) Workers who are registered with NICE get dispatched without favoritism, with an agreed wage, and with a formal work order. This system protects workers from unscrupulous bosses and job agencies. The Center's workers make decisions democratically about minimum pay and other aspects of dispatch. The Worker Center doesn't have the number of jobs or the physical capacity that would allow them to dispatch the whole local day laborer workforce today. Most jornaleros are still looking for work on 69th Street at least part of the time. But the hiring hall model is known in labor history to be a potential kernel of powerful worker organizations. For instance, in the 1930s, the demand for a hiring hall was central to eliminating the competitive "shape-up" of day laborers that ruled the longshore industry at that time. Winning the demand for a fair hiring hall helped create longshore unions in the US, mobilizing a mostly-immigrant day labor workforce that had been considered unorganizable.
To amplify its day labor activism, NICE developed a cell phone app in 2016 that helps workers track their hours and pay, rates employers, and shares warnings and alerts. Omar Trinidad, a construction worker, was the lead organizer for the app, which was named, appropriately, Jornalero/a. The app has spread to day laborer stops and among delivery workers in the city and beyond.
WHAT CAN WE DO?
Sign the petition

, by NYC's Day Laborer Coalition, calling on the city council to fund the Day Laborer Workforce Initiative. 

Hire a NICE worker

if you need construction, day labor, domestic work, or a dog walker.
2. #ExcludedNoMore Launches Campaign for Unemployment Compensation
Immigrant justice groups and the Fund for Excluded Workers (FEW) Coalition won a historic struggle here in New York in 2021: $2.1 billion in state funding for immigrant workers systematically excluded from federal pandemic relief programs such as unemployment insurance and stimulus payments. The NY Department of Labor (DOL) distributed the money to 130,000 eligible applicants, with most recipients receiving the maximum funding amount of $15,600. Last month, the NYDOL made final payments of another $30 million to an additional 1,900 New Yorkers.
But immigration activists and community organizers didn't stop after this unprecedented victory. The pandemic revealed brutal inequities in government support for workers in precarious times:
"[T[here are hundreds of thousands of workers across New York who have no way to access financial support when a crisis hits, be it a pandemic or an economic recession. That's because our unemployment insurance system shuts out many of our state's most vulnerable workers, especially Black, Brown, and immigrant workers in precarious low-wage industries …. We need a permanent solution that will remedy the need for an Excluded Workers Fund in the future." –Nisha Tabassum, FEW Coalition Manager
This week, #ExcludedNoMore launches a statewide Unemployment Bridge Program campaign to secure economic justice for all workers excluded from unemployment compensation due to their immigration status, or the kind of job they hold—including coverage for up to 750,000 domestic workers, day laborers, freelancers, and street vendors. "We need to do the structural work of matching our state's unemployment system to the realities of the labor force," said Queens-based State Senator Jessica Ramos, "The Unemployment Bridge Project is an update that aims to create a 21st-century safety net to match our 21st-century workforce."
On January 11, the new campaign officially launched in NYC with a march and press conference near the Brooklyn Bridge. Rolling launch actions will take place this week in Westchester, Long Island, Upstate, and Albany. The struggle is just beginning!
WHAT CAN WE DO?
In solidarity and with collective care,
Jackson Heights Immigrant Solidarity Network (JHISN)
Follow @JHSolidarity on Facebook and Twitter and share this newsletter with friends, families, neighbors, networks, and colleagues so they can subscribe and receive news from JHISN.