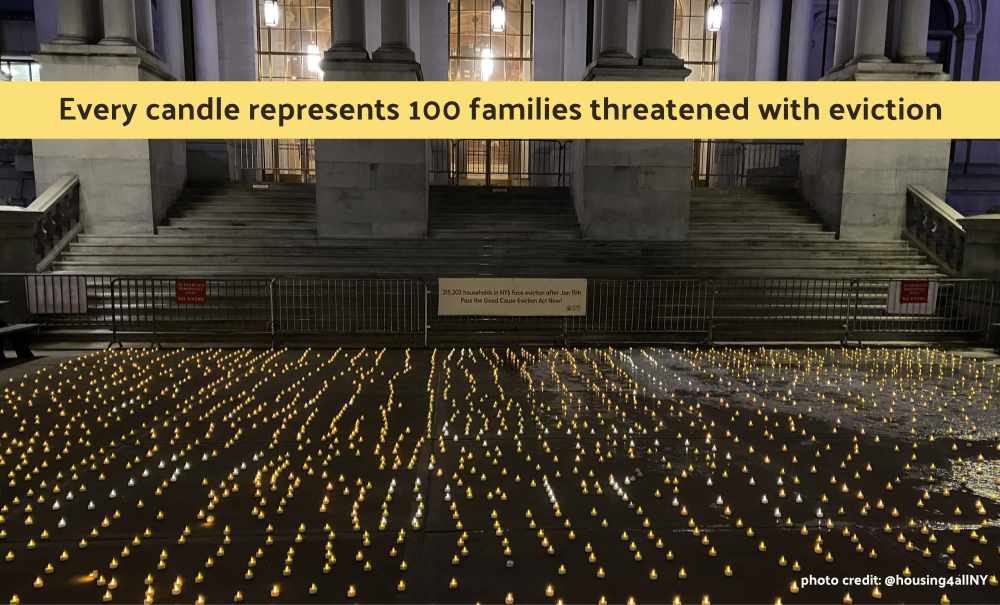 Dear friends,
The rich diversity of communities who call Jackson Heights home is well-known. Most of us living here value and celebrate that 'another world is possible' right here in JH. But the complexity of histories and languages, and of political issues that people face at every level, also makes it hard to always know what's happening, even when our own communities are directly affected. Today's newsletter looks at two issues that are urgent and immediate for immigrant households in central Queens: the lifting of a state eviction moratorium put in place to protect renters who are unable to make ends meet during the pandemic; and the resurgent threat of federal 'public charge' policies that would deny working-class immigrants access to assistance with food, housing, and health care needs.   
Newsletter highlights:
What's next as eviction moratorium ends in New York State

New struggle over discriminatory public charge regulations
1. Eviction Moratorium Ends – What Now?
"I think that this is a concerted effort by the rich and powerful … not just to force people back to work for profit's sake, health be damned, but also to chip away at some of the victories that working class tenants have made in building a little bit of a sense of democracy during this pandemic." – Joel Feingold, Crown Heights Tenant Union
Hundreds of thousands of renters in New York who owe back rent as a result of the pandemic now face the threat of eviction, as the state's moratorium on evictions expired on January 15 – in the cold of winter and during an unprecedented peak of Covid infections. The majority of tenants facing eviction live in neighborhoods hardest hit by the pandemic, including working-class communities of color in Eastern Queens, Central Brooklyn, and Upper Manhattan. In our own community, most low-income, vulnerable renters are part of immigrant households. So rent relief and protection from eviction, like almost every political concern that cuts through Jackson Heights, is also an issue of immigrant justice.
In the days before the NYS eviction moratorium expired, housing activists mobilized. On January 8, tenants rights groups marched across the Brooklyn Bridge to the Manhattan Housing Court calling for an extension of the moratorium until June 2022. On January 11, activists blocked the steps of the Capitol in Albany, demanding that Hochul declare an extension. On January 14, more than 100 people marched through Midtown with signs calling Hochul the "Governor of Evictions"; 13 people were arrested outside her Manhattan office. But Hochul turned her back on renters, preferring to prioritize her ties to major real estate billionaires and lobbyists.
Even before the pandemic hit, an eviction epidemic was raging in New York, with nearly 100 families evicted statewide every day. In NYC, where one-third of renters spend over half their income on rent plus utilities, more eviction cases were filed in 2019 than in any other major US city. As the moratorium ends, there are more than 215,000 active housing court cases in NYC—over 190,000 of them involving non-payment of rent—which can begin moving forward this week. 
The national eviction moratorium ended in August 2021, when the Supreme Court blocked the Biden administration's move to extend it. However, federal funding continued to support a nationwide Emergency Rental Assistance Program (ERAP), aimed at tenants struggling to make ends meet during the pandemic. Here in New York state, federal ERAP funding totaled $2.4 billion. But in November 2021, Governor Hochul shut down the application portal for ERAP—which housing activists had credited with preventing a surge of evictions after the end of the federal moratorium—claiming the fund was almost exhausted. News reports suggest that the state has actually spent only half of the $2.4 billion, while putting aside the rest of the funds for 'paperwork.' 
When Hochul closed down ERAP applications, she also eliminated the safe harbor that ERAP was designed to provide: once a household applies for emergency relief they are temporarily protected from eviction as their application is pending. The Legal Aid Society sued in mid-December 2021 for ERAP applications to be reopened; on January 6, a judge ruled in their favor and issued a court order that forced NYS to reopen the application portal.
Activists are divided on the next steps forward. Some support the so-called "Good Cause" eviction bill, introduced in the NYS legislature, that would legally require landlords to have 'good cause' for evicting tenants, while also protecting them from rent gouging. Supporters argue that the Good Cause bill offers a permanent solution for vulnerable renters, in contrast to the emergency-based eviction moratorium. Several cities in NYS have already passed versions of the Good Cause bill, including Albany and Hudson, with bills pending in Kingston, Poughkeepsie, and New Paltz.
Other activists argue that the Good Cause legislation doesn't go far enough. Given that one of the bill's stated 'good cause' for eviction is non-payment of rent, the bill would not protect many of the 200,000 people in NYS at risk of eviction now that the moratorium has ended.
At the local level here in central Queens, we must remain informed, vigilant, and ready to act. The homes and livelihoods of thousands of immigrant households—and other mostly working-class renters—in our neighborhood are at stake.
WHAT CAN WE DO?
If you are facing eviction, apply to the Emergency Rental Assistance Program (ERAP)

here

. You will immediately be protected from eviction once you show your landlord that you have applied. The ERAP website will say there are no more funds available–but you are still allowed to apply. New York state has requested additional funds from the federal government for the assistance program.   

If you need assistance with an eviction situation, contact Councilmember Shekar Krishnan at 929-293-0206 or

Krishnan@council.nyc.gov

. 

Know your rights! Under NYC's

Right-to-Counsel law

, legal services are free for any tenant facing eviction in housing court, regardless of immigration status. Call 718-557-1379 or 212-962-4795 from Monday-Friday to get connected to a Right-to-Counsel lawyer. 

Share the above information with your neighbors, co-workers, religious communities, and political action groups.

 
2. Ongoing Battle Over Public Charge
Public charge rules—federal regulations that disqualify immigrants from entry to the US or from becoming citizens if they use social benefits—have been a hotly-contested part of immigration law since 1882. Recent developments are bringing public charge issues back to the forefront of immigrant justice activism.
Newsletter readers will recall that we did a deep dive on public charge rules in a three-part series in 2020, shortly after Donald Trump engineered a radical expansion and toughening of their provisions. We investigated the racist and xenophobic functions of public charge laws, from their origins until today. We took a close look at which immigrants were at direct risk from Trump's new restrictions, observing that many others were frightened or discouraged from using social programs because of his aggressive changes. And we showed that the biggest danger of Trump's new regulations was that they gave immigration officials wide discretion to target immigrants who they claimed might use public benefits in the future.
Fulfilling a campaign promise, the Biden administration canceled Trump's 2019 changes. But widespread confusion remains within immigrant communities about who is legally entitled to which public benefits. Many immigrants in New York and elsewhere don't realize that they are fully eligible for many health and social services—including Covid-19 testing, vaccinations and care; food assistance; tenant protection; and free legal help.
To eliminate confusion, the Department of State (DOS) needs to clarify and finalize new public charge rules. So in November 2021, DOS solicited comments from the public. The comment period ends this month. The main issue at stake right now is whether to revert to pre-2019 rules or write new ones.
Protecting Immigrant Families (PIF) and its coalition partners have written to DOS asking that the rules return to the pre-October 2019 policies. They argue that Trump's 2019 changes have had a persistent chilling effect as immigrant households remain uncertain to this day about their legal access to social benefits (including for US citizen children who are always eligible). They note that pre-2019 policies were clear, fair, and had worked well for more than a decade. Finally, PIF highlights how pre-Trump public charge rules would provide essential workers during the ongoing pandemic with "core health, nutrition, and housing assistance programs" that nearly half of all US citizens draw on to make ends meet. 
In stark contrast, the attorneys general of at least 12 Republican states, led by Arizona, have filed suit to reinstate Trump's regulations, supporting the hardline public charge policy that primarily threatens poorer immigrants to the US. Ominously, the Supreme Court has agreed to hear this case on February 23. 
How this case is decided will have a profound impact on immigrant communities, including here in Central Queens, and on working-class immigrants' access to a just and equitable pathway to citizenship.   
WHAT CAN WE DO?
Check out Protecting Immigrant Family (PIF) website, with

comprehensive answers

in multiple languages about who public charge applies to and which benefits are available. 

Know Your Rights! Here are the

Top Five Facts

on public charge.
In solidarity and with collective care,
Jackson Heights Immigrant Solidarity Network (JHISN)
Follow @JHSolidarity on Facebook and Twitter and share this newsletter with friends, families, neighbors, networks, and colleagues so they can subscribe and receive news from JHISN.