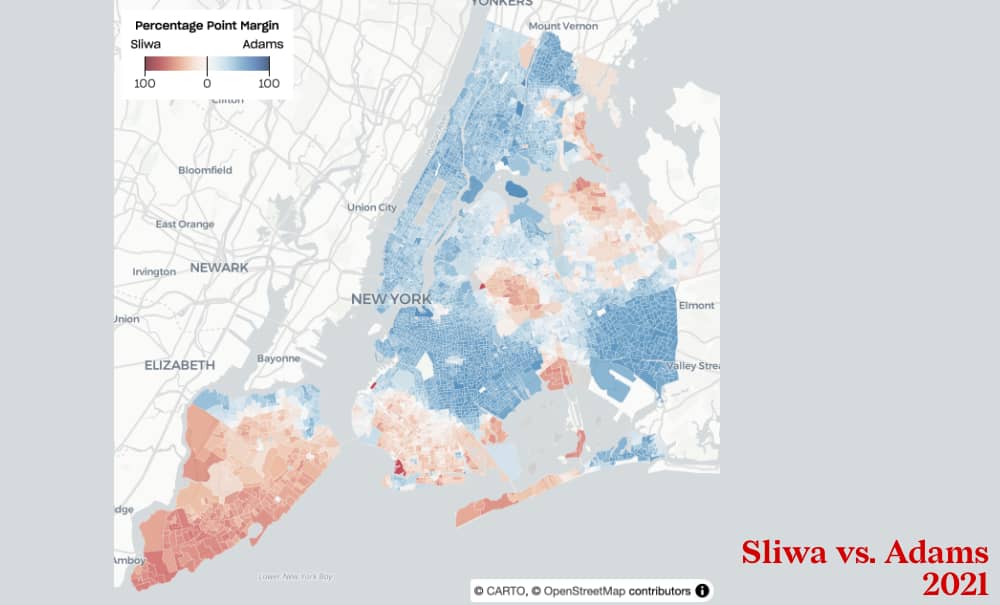 Dear friends,
We debated whether to bring this week's story to you. Would we be amplifying Curtis Sliwa's vicious, cynical politics by reporting on them? Should readers who have never heard of Sliwa be introduced to him here?
Ultimately we decided that this was an important story to share. We offer a summary look at the anti-immigrant movement that Sliwa, with his billionaire-funded bullhorn, is trying to build in NYC. Some of you may remember Sliwa as the failed Republican nominee in the last mayoral race. Today, anointing himself the "mayor in exile," he hopes to use anti-immigrant resentment and fear in his next run for mayor. We also want to situate Sliwa's (limited) popularity in the context of the growing traction of conservative and anti-immigrant politics in the city. So. Read with caution. Read with care. And help us build immigrant justice movements strong enough to make this story irrelevant.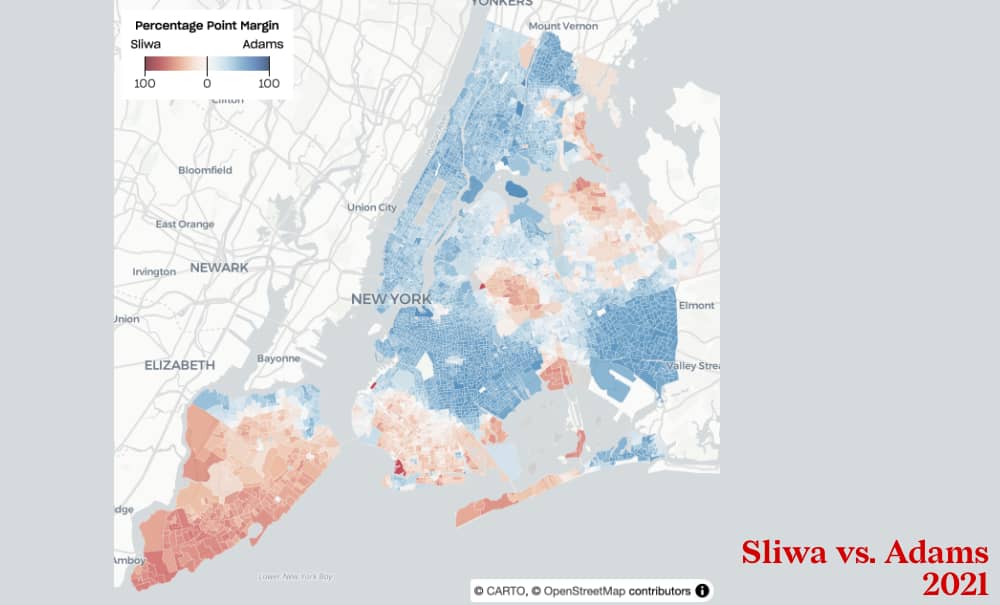 Curtis Sliwa and 77 WABC—Spearheading NYC's Anti-Migrant Protests
"They don't have enough handcuffs. They don't have enough cops. They don't have enough cars. We're going to be here 24/7/365 and the illegals are not gonna want to come here. They should stay in Manhattan." —Curtis Sliwa at the former Island Shores Senior Living facility (9/19/2023)
If you were in New York City in the 1980s, you probably knew Curtis Sliwa as the red beret-wearing Guardian Angel claiming to "protect" subway riders. If you listened to talk radio in the 1990s, you knew him as a regular co-host on WABC. If you were here in 2021, you'll remember him as the Republican candidate for Mayor. Now, using the radio platform of 77 WABC, Sliwa's latest incarnation is as the chief organizer and promoter of protests against migrant asylum seekers,  thinly veiled as opposition to the shelters that house them. 
A regular feature of Sliwa's broadcasts is verbal attacks on Mayor Adams for his ineptitude as a mayor, his fancy suits, his enjoyment of NYC's nightlife, and his policies towards migrants arriving in the city. At the end of August, in an intensification of those attacks, Sliwa organized a loud rally in front of Gracie Mansion. He declared that asylum seekers should be housed at Rikers Island until they are granted working papers. Immigrant justice counter-protesters from Rise and Resist denounced Sliwa for his hate-filled rhetoric.
Sliwa is on right-wing radio for hours each day. He is a regular guest at 7:05 a.m. on 77 WABC's Sid Rosenberg & Friends morning show. He then hosts his own midday show (with Anthony Weiner as his foil). Sliwa also produces a stream of  Minicasts and Rip and Read podcasts. Hectoring listeners at the top of his voice, he recycles half-truths and baldfaced lies about migrants, characterizing legal asylum seekers as an invasion of "illegal aliens" who have deliberately decided to come to NYC for the freebies. Sliwa's daily screeds imply that "fighting age men" seeking US asylum are at best a danger to citizen children and women and, at worst, terrorists in disguise.
77 WABC is the third-largest talk radio station in NYC. It was purchased in 2021 by billionaire John Catsimatidis' Red Apple Media. Catsimatidis is best known as the owner of the New York supermarket chain Gristedes, but Red Apple Group also owns United Refining in Pennsylvania and real estate in New York and elsewhere. Catsimatidis' Republican credentials are very strong. His daughter, Andrea, is chairwoman of the Manhattan Republican Party (and married to the grandson of Richard Nixon). His son John and wife Margo are numbers three and four of the 22 Party vice presidents. 77 WABC hosts shows for other right-wing Republicans including Bill O'Reilly, Sid Rosenberg, Rudy Guiliani, Brian Kilmeade, Andrew Guiliani, and Jeanine Piro, and offers a perfect vehicle for Sliwa's return to political prominence.
During August and September, Sliwa organized, promoted, and attended protests against temporary shelters for asylum seekers in Queens, Staten Island, and the Bronx. Protests targeted the former Creedmore Psychiatric Center, the former Catholic girls school, St. John Villa Academy, the former Island Shores Senior Living Facility in Midland Beach, the unused Floyd Bennett Field, and Overlook Manor, a former college dorm in Riverdale. Despite Sliwa's claims that people have been forced out of these places to accommodate migrants, each was already vacated and/or sold before the city identified them as possible sites for migrant shelters.
Creedmore, in Queens, was Sliwa's first target. On August 8, hundreds of people waving signs reading "Save Our Neighborhood" and "Americans Over Migrants" turned out to protest a tent city being built on Creedmore's parking lot. Sliwa returned to another Creedmore protest a week later and was arrested when he refused a police order to move out of the road.
Much of Sliwa's activism has been in Staten Island. Sliwa appeared at a preemptive protest at the Midland Beach facility organized by artist Scott LoBaido before it was certain the facility would be a shelter for migrants. A week later a larger protest was held at the same site with LoBaido and Newsmax television's John Tabacco as speakers. 
At least eleven Staten Island electeds—including some Democrats— wrote to Mayor Adams and Comptroller Brad Lander asking them to refuse to make the Midland Beach facility a migrant shelter. Nevertheless, a contract was signed. When the first bus of migrants arrived at night on September 19, Sliwa led protesters who blocked the streets. They shouted, "You're not welcome," You're illegal" and argued with the large police presence. Ten were arrested and Sliwa threatened more protests to come. Several dozen protesters returned the very next day.
On August 28, Sliwa led a protest rally attended by hundreds at Staten Island's St. John Villa Academy, expected to house up to 300 migrants. Representative Nicole Malliotakis and Borough President Vito Fossella also attended and spoke in opposition to the shelter. Sliwa returned to St. John Villa on September 5, where he threatened to shut down all the bridges to the island. After several Staten Island lawmakers filed suit to prohibit the shelter, a judge ruled that the right to shelter was "an anachronistic relic from the past," and issued an injunction preventing the city from using the school to house migrants. Although the city is appealing, Sliwa organized hundreds of residents in a "victory rally." He warned that the court decision was only a "part-time victory," and the "war could resume at any moment." He also proclaimed, "You won this battle here, but the bigger battle is in Midland Beach.''
On his podcast, Sliwa called for "the mother of all rallies" at Brooklyn's Floyd Bennett Field on September 14. He claimed there were going to be "7,500 single able-bodied young men, illegal aliens with no jobs and nothing to do" housed in tents on a flood plain, implying that these will be dangerous people. "This is our battle for our neighborhoods, for our children, for our grandparents. For your equity." Sliwa's anti-migrant rhetoric as well as sharp attacks on the mayor were recorded at the rally. Bolstering the protest, a dozen lawmakers filed suit on September 19 to block the use of Floyd Bennett Field to shelter asylum seekers, arguing that it is an improper use of federal parkland. While some claim to worry about the migrants being housed on a known floodplain, protesters' signs and comments indicate instead a focus on the false allegations that the migrants are illegal.
At the end of September, Sliwa turned his attention to Overlook Manor in Riverdale (planned as a residence for migrant families). He organized 75 residents of nearby Waldo Gardens to protest, claiming the building is an unused college dorm on campus. In fact, it is not on campus and is no longer connected to the college, having been sold in May 2022 to Stagg Group, an affordable housing developer. When met by a 50-person counter-demonstration at his September 24th rally, Sliwa said:
 "If you look at the demographics of both groups, on the one side, the pro-migrant group. They're young progressive socialists for the most part. [On the other], these guys, senior citizens, many of them first-generation immigrants from Russia, Eastern Europe, who fled communism." 
Let's be clear: Mayor Adams bears a lot of responsibility for the current antagonism against the shelters by failing to talk to local politicians and community leaders before announcing plans affecting their neighborhoods. The initial outcry in May after he sent migrants, unannounced, to a Westchester community apparently did not improve his communication skills. Lack of dialogue with affected communities creates political space for the demagogues stoking people's anti-immigrant fears, despite how misplaced and often racist those fears are. And people like Curtis Sliwa take full advantage, preying on and amplifying those fears to their political advantage.
WHAT CAN WE DO?
In solidarity and with collective care,
Jackson Heights Immigrant Solidarity Network (JHISN)
Follow @JHSolidarity on Facebook and Twitter and share this newsletter with friends, families, neighbors, networks, and colleagues so they can subscribe and receive news from JHISN.