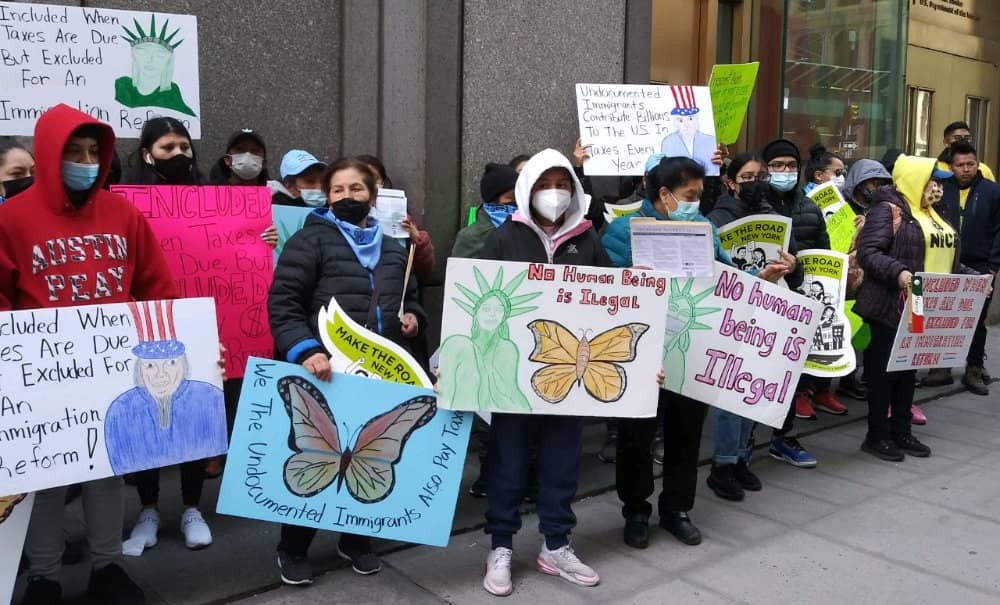 Dear Friends,
Our neighborhood trees have begun to bloom as the weather warms, providing us with hopeful signs of Spring. This week's newsletter highlights the press conference and demonstration by several immigrant justice groups in front of the IRS Taxpayer Assistance Center on Tax Day. Participants emphasized that they pay taxes for government programs but rarely receive any benefits from those programs. They continue to insist on a path to citizenship. We also offer you a specific way to help asylum seekers fill out applications and access resources by volunteering with SAFE (Seeking Asylum & Finding Empowerment).
1. Immigration Reform Fight Continues
Several months have passed since Congress closed the conversation about immigration reform that was part of the Build Back Better package. But immigrant justice organizations continue to push legislators to provide a pathway to citizenship for 11 million immigrants. Last Monday, April 18th–Tax Day, about 75 immigrants and supporters gathered for a press conference and demonstration at 290 Broadway, in front of the Internal Revenue Service (IRS) Taxpayer Assistance Center. Among the groups represented were Make the Road NY, New Immigrant Community Empowerment (NICE), UnLocal 79, and Churches United for Fair Housing (CUFFH). They were there with a message for the government: after paying taxes for years, and doing essential work that benefits everybody, they are tired of being marginalized and disrespected. 
Demonstration slogans included,  "We pay taxes and we are excluded!" and "Included when taxes are due, but excluded from immigration reform!" Speakers highlighted the risks that undocumented immigrants face—from both Covid and from deportation.
"We are tired of being forgotten…of being part of a political game while our lives, and the lives of our family continue being at risk. We are tired of feeling afraid to be deported and being separated from our families. For these reasons we ask for immigration reform. We need to be included in the budget of the [Congressional] Reconciliation Package and we need it now." —Dolores Juarez
At election time politicians offer all kinds of promises to undocumented immigrants, but most of them are never fulfilled. As Joanne Ibanez said at the press conference:
"I have 4 children and fight to belong to this country that has changed my life, where my children belong. And I accepted to pay taxes for more than 20 years. We want promises [to] be fulfilled. We follow the rules and the government doesn't. We want freedom! We live in jail; prisoners are getting free after finishing their time in jail. And for us when?! We want immigration reform now."
This is a crucial time to apply pressure on Congress since politicians are starting to talk again about immigration on Capitol Hill. According to press reports, Democratic Senator Dick Durbin is finding support from GOP legislators to pass a narrowly crafted bipartisan immigration reform bill this year. A Republican in Washington and a Democrat from California are urging the Senate to take action. The Hill wrote on April 27th that Senators Durbin and Tillis have said at the beginning of April that "they intended to convene an immigration gang after the two-week April break."
The immigration reform being discussed follows a well-worn path: amnesty for Dreamers, "balanced" by increased funding for border enforcement. The bill may also include a "guest worker" program that would help relieve worker shortages in restaurants and other industries. It isn't clear if such a proposal would have enough votes to pass both houses of Congress. But even if it did, it would fall far short of what the Democrats promised and would leave most undocumented immigrants without a pathway to citizenship.
2. Volunteer Opportunity at a Weekly Clinic
Seeking Asylum & Finding Empowerment (SAFE) helps run a pro se legal clinic (for people representing themselves) with Congregation Beit Simchat Torah and RUSA LGBT.  The model they follow is similar to the one used by the no longer operating New Sanctuary Coalition. The volunteers help immigrant "friends" fill out asylum applications and connect to resources; JHISN newsletter readers are invited to join the team of volunteers at the weekly clinic called the Ark. 
What is it? A weekly clinic where volunteers help primarily LGBTQ asylum seekers complete their asylum applications and find out what other legal and social services are available to them. 
What kind of volunteers are needed? Anyone who can make a regular weekly commitment. They need lawyers, law students, computer-savvy people, notetakers, and interpreters (Spanish and Russian speakers especially). 
Are volunteers mostly lawyers? Some volunteers are lawyers, but most are not. There are lawyers present every week who can offer support and guidance, but they do not provide representation. 
When? Every Wednesday and/or Thursday from 6-8:30 pm 
Location: ZOOM 
I'd love to volunteer for the first time. What should I do? Email sanctuary@cbst.org – They will send you training materials to review before joining to begin volunteering. 
Will volunteering at the Clinic count toward my NYS pro bono hours for law students? Yes! The volunteer supervising attorneys and clinic coordinator are happy to sign off on your hours.
In solidarity and with collective care,
Jackson Heights Immigrant Solidarity Network (JHISN)
Follow @JHSolidarity on Facebook and Twitter and share this newsletter with friends, families, neighbors, networks, and colleagues so they can subscribe and receive news from JHISN.