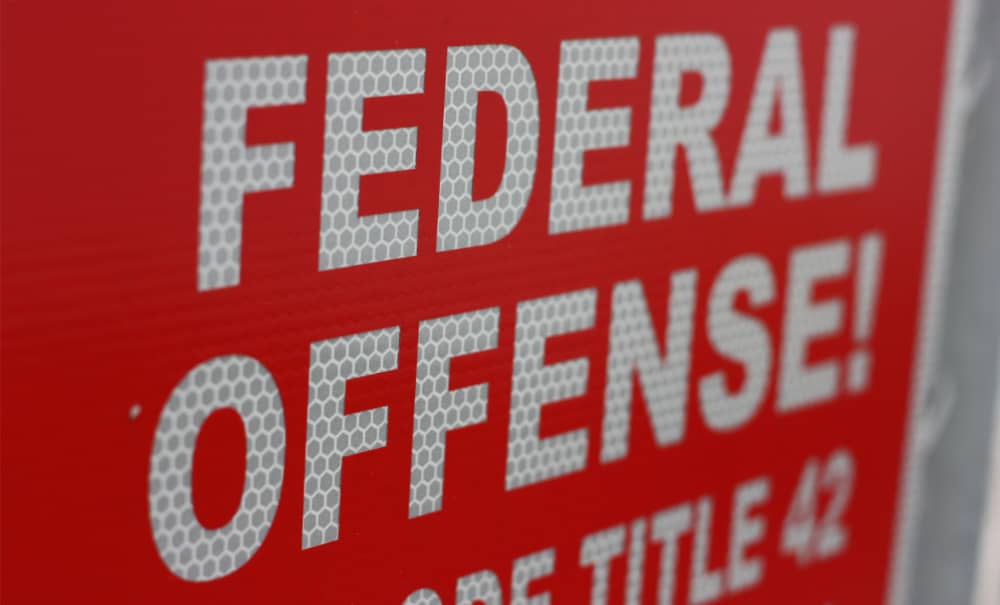 Dear friends,
Our newsletter this week illustrates the incoherence and political confusion of current US immigration policy. On the one hand, Democrats have just proposed a bill to remedy the 80-year old travesty of locating immigration courts in a federal law enforcement agency, subject to political interference from the executive branch. On the other hand, the Biden administration continues to embrace one of the most vicious anti-immigrant policies of the Trump years: the systematic expulsion of migrants at the US-Mexico border under the trumped-up authority of Title 42.
Both of these issues have intimate effects on the everyday lives of immigrant communities, including here in Queens. How to move beyond confusion to understanding and action? We hope our stories this week can help.
Newsletter highlights:
New legislation targets the immigration court system

Politicizing border-crossings in a pandemic 
1. Creating an independent immigration court 
"As long as the immigration courts remain under the authority of the Attorney General, the administration of immigration justice will remain a game of political football–with people's lives on the line" –Alison Peck, Co-director, Immigration Law Clinic
On February 3, 2022, the Real Courts, Rule of Law Act of 2022 was submitted by three House Democrats to alter the US immigration court system. The national union for US immigration judges has long advocated for an independent court. If passed, judges would form an independent judiciary that no longer bends the whims of the executive branch;  immigration courts would be removed from the Department of Justice (DOJ) oversight. This would be the first significant change to the immigration court system since 1940 when Roosevelt moved it out of the Department of Labor. 
The way we house immigration courts within the DOJ is inconsistent with practices of justice, fairness, and due process. Today we talk of immigration judges, but the Immigrant Inspectors of the Treasury Department (also known as Inquiry Officers in the DOL and DOJ) were not authorized to use the title "judge" nor to wear judicial robes until 1973. These courts can order the indefinite detention of immigrants without meeting any burden of proof that detention is necessary—a foundational legal demand required of the government in all other court proceedings. This has contributed to a massive detention network in the US and advanced ICE's extraordinary powers to confine. In the face of bipartisan acceptance of prolonged detention of immigrants without an opportunity for review by an immigration judge, activist campaigns like the Dignity Not Detention actions become critically important. 
The recently proposed bill was immediately criticized by Republican opponents as an expensive change that won't significantly reduce the unprecedented backlog of 1.6 million immigration cases. The author of the bill, California Democratic Congresswoman Zoe Lofgren, along with 148 organizations that support it, doesn't claim it will directly reduce that backlog. They see it as a way to eliminate the presidential and political influences that add to the backlog regardless of which party holds the presidency. Under Obama, the backlog grew out of political pressure to process family hearings—with Trump a quota system was created to handle border hearings, which contributed to a record number of immigration judges leaving in 2019. 
In Alison Peck's The Accidental History of the U.S. Immigration Courts, we learn, "The immigration courts are not really 'courts' at all but an office of the Department of Justice, the nation's law enforcement agency." Peck's research reveals that the reason the courts report to the Attorney General in the DOJ is not based on rationality or best practice, but a history of paranoia and fear.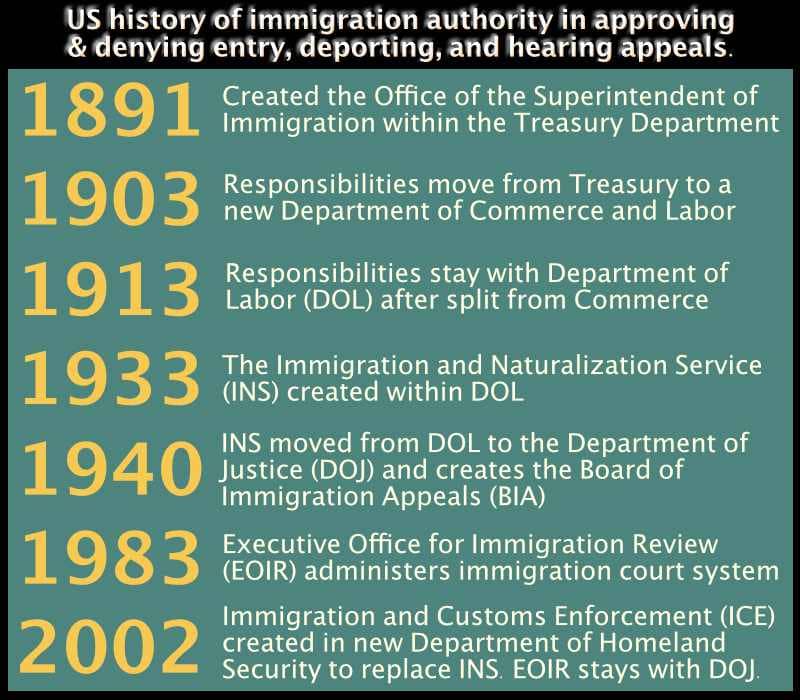 The Secretary of Labor during The New Deal era was responsible for immigration adjudication—a responsibility at odds with her role to deal fairly and impartially with union leaders, many of whom were immigrants potentially subject to deportation. The Department of Justice was rejected in 1939 as an alternative federal agency to take on this authority: lawyers expressed concern about immigration management in the DOJ becoming politically charged, and advisors warned immigration would become associated with crime and law enforcement. But, by May of 1940, President Roosevelt grew fearful of a supposed Fifth Column Nazi plot to take over the US government from within. This paranoia resulted in a plan to "afford more effective control over aliens" by moving immigration responsibility to the DOJ. There was no Fifth Column, just fear-mongering propaganda that generated almost a century of immigration court proceedings without the constitutional principles of due process and separation of powers. 
After 9/11, fear further entrenched immigration courts within the DOJ and, in 2002, created the Department of Homeland Security. The DOJ's Immigration and Naturalization Service agents, attorneys, intelligence analysts, and detention and removal officers merged with the United States Customs Service (USCS) into a new agency, Immigration and Customs Enforcement (ICE). The focus of ICE is enforcement and security, not administrative immigration; DHS attorneys from ICE present evidence during removal proceedings in immigration court with a focus on ensuring removal. At the same time, immigration judges work for a prosecutorial agency (the DOJ) and leverage rulings such as In Absentia removal orders that seek to deny entry to immigrants. 
The Real Courts bill is the first opportunity in 80 years to separate immigration courts from law enforcement by creating a system similar to the tax courts. The American Immigration Lawyers Association reported that the bill was drafted to appeal to members of both political parties, with a promise that the scales will not be tipped toward either end of the political spectrum. But the bill may not de-politicize immigration courts entirely because it proposes a Presidential nomination and Senate confirmation process for judges, similar to the Supreme Court, and such nomination and confirmation processes can be heavily politicized. 
WHAT CAN WE DO?
2. Covid Borders 
On the US's northern border this week, Canadian trucker blockades—having disrupted international trade and laid siege to several neighborhoods—were slowly and politely cleared by authorities. The blockades were sparked by the Canadian government's mandate requiring Covid-19 vaccination for cross-border truckers (90% were already vaccinated). Well-funded protesters, virtually all white Canadian citizens, leveraged border choke points to advance a peculiarly right-wing version of "freedom": freedom to undermine public health during a pandemic; freedom to infect others.
By contrast, on the other US border, some 1,500 miles to the south, hundreds of thousands of impoverished working-class migrants of color, seeking asylum from violence, economic crisis, and climate change, are being brutally abused and ejected from the US, in violation of international law, by an administration that had promised them dignity and respect. The administration's excuse? Covid-19.
In March 2020, when Donald Trump weaponized Title 42 of the 1944 Public Health Services Law to expel asylum seekers because of "Covid risk," he was denounced in many quarters. Title 42 does allow the government to prevent individuals from entering the US during certain health emergencies. But it doesn't give the government free rein:
"U.S. law says that any person in the United States or at the border with the United States has a right to seek asylum…. There's nothing in the law that allows the government to expel [migrants] without any due process." Olga Byrne, International Rescue Committee
Several federal judges ruled that blanket Title 42 expulsions were illegal. Nevertheless, Trump forged ahead, carrying out hundreds of thousands of expulsions without hearings. The Biden administration is following in his footsteps. It announced last summer that it would continue to utilize Title 42, subject to review every 60 days. It was last renewed on February 2.
Covid-19 is a fake pretext for Biden's mass expulsion of working-class people of color, just as it was for Trump. "Covid risk" hasn't caused the US to prohibit millions of visitors and employees from routinely crossing the Mexican border every month. Neither has the administration bothered to test, treat, or vaccinate asylum-seekers—it simply rejects them all out of hand. DHS Secretary Alejandro Mayorkis strongly defends this practice, insisting that the agency will use Title 42 to its fullest extent to expel asylum seekers who arrive at the border. 
In September, shocking images of Border Patrol agents on horseback threatening to whip and trample Haitian migrants raised public awareness about the cold-blooded reality of Title 42 expulsion. Unlike asylum-seekers from some other countries, Haitians arriving at the border are generally not returned to Mexico to wait for an asylum hearing—a practice that is itself a radical violation of migrants' human rights. Instead, most have been incarcerated without any hearing in Covid-infested detention centers in the US and then forced onto planes heading back to Haiti—and the same intolerable conditions that caused them to flee in the first place. As a result, many Haitian asylum-seekers have decided not to approach the US border, and remain trapped in Mexico.
Immigrant justice advocates and progressive Democrats condemned Biden's Title 42 policy. "We speak out against the cruel, the inhumane, and the flat out racist treatment of our Haitian brothers and sisters at the southern border," Rep. Ayanna Pressley said. Two top Biden appointees resigned in disgust. The United Nations repeatedly denounced Biden's violations of international law. Just this past Monday, over 30 congresspeople demanded that the CDC explain how it could justify supporting such a policy. And yet, over 17,000 Haitians have now been expelled by this administration based on Title 42—and over a million migrants total. 
"I never would have predicted this White House, within Year One, would be expelling Haitians to a failed state. In December of 2020 we're talking about a transformative vision. And in 2022, expelling Haitians without a meaningful asylum process. Wow."  —Frank Sharry, America's Voice
WHAT CAN WE DO?
In solidarity and with collective care,
Jackson Heights Immigrant Solidarity Network (JHISN)
Follow @JHSolidarity on Facebook and Twitter and share this newsletter with friends, families, neighbors, networks, and colleagues so they can subscribe and receive news from JHISN.