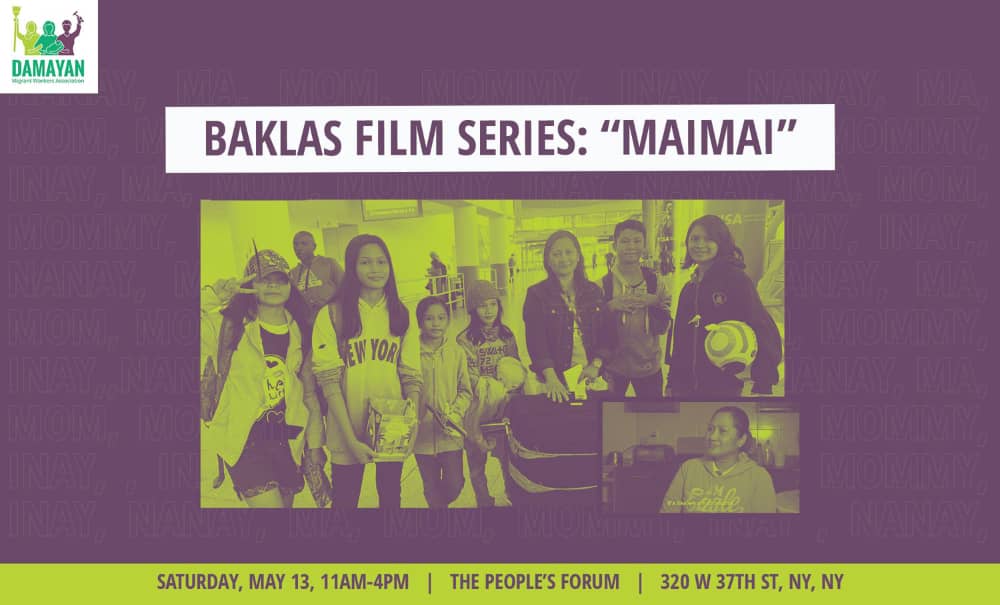 Dear friends,
As spring blooms all around us, JHISN offers two local stories with significance for our majority immigrant neighborhoods. First, we update you on the latest twist in statewide redistricting plans, and the failure to make changes to district maps fought for by immigrant communities in Queens. Next, we report on recent solidarity work by Damayan Migrant Workers Association, in conjunction with the People's Forum.  
Newsletter highlights:
South Asian community in Queens challenges district maps

Damayan's work in Filipino community
---
1. Status Quo for Queens State Assembly Districts Angers South Asians
"These maps are nonsensical and will hurt all of the residents in our neighborhood. It sends a message to us all that our community yet again is not cared for."—Anjali Seegobin, Civil Engagement Coordinator, South Queens Women's March
On Monday, April 24, the New York State Legislature overwhelmingly approved State Assembly District lines that are substantially unchanged by the recent redistricting battles, and therefore continue to divide Asian American communities into multiple districts. Advocates from the South Asian and Indo-Caribbean communities in Richmond Hill and South Ozone Park held a protest rally on Monday morning before the final vote. They said the maps protect incumbency and ignore all of the community input provided during public hearings.
"This is supposed to be an independent process designed to protect communities of interest, but instead the [Redistricting] Commission protected incumbency, maintaining the same lines the legislature would have drawn themselves." –AALDEF Press Release 
In 2022, the NY Independent Redistricting Commission (NYIRC) was charged with producing new maps for the Assembly districts after political activists challenged in court the maps drawn after the 2020 Census. At multiple public hearings, community representatives voiced displeasure and stated their preferences. Primary among the protesters were South Asian and Indo-Caribbean communities in Queens. They charged that their community was split among four voting districts, and urged the NYIRC to consolidate them into a single Assembly district to ensure full representation for their issues. The NYIRC presented its draft maps in December 2022, which did include most of the communities in a single 24th Assembly District. The following February, community members praised the NYIRC's plan. However, the final maps approved by the legislature in April 2023 had been changed back to the original districts—dividing and diluting South Asian community power.
The need for a unified district is urgent because Asian Americans are the fastest growing racial group in NYC and the country. Since the 2010 census, the Asian population grew by 43% in Brooklyn, 29% in Queens, and 24% in Manhattan. "The new district lines at all levels must reflect the tremendous growth in this community and the demographic shifts that have occurred over the last decade. The proposed NYIRC map does not do this and has unfairly and potentially illegally divided Asian American communities of interest throughout New York City."
In March 2023, JHISN wrote about the redistricting of the NY City Council and noted that complaints about the City Council districts are the same as those for the State Assembly districts. In February 2023, the Asian American Legal Defense and Education Fund (AALDEF) sued the NY City Districting Commission, the NY City Board of Elections and the NY State Board of Elections because the City Council district maps deny "any reasonable chance for fair and effective representation" of the Asian American community.
"The council map continues the historic oppression and silencing of our community—but we won't be quiet. We demand the representation we deserve. We belong here as much as anyone else and should be allowed to take part in the decision making of the city we give so much to." –Jagpreet Singh, Political Director, Desis Rising Up and Moving (DRUM)
The question now is how will the decision about the Assembly districts affect the City Council districts? We will continue to follow this story.
---
2. Damayan's Vital Work Continues 
"A hate crime on one person of color is a hate crime towards the whole community. And a helping hand towards one of us, uplifts us all."—Damayan
JHISN has written about the anti-Asian violence that has impacted the people and the political landscape of NYC. In April, Damayan Migrant Workers Association convened at The People's Forum to understand the root causes of that problem, as well as build solidarity and identify resources of support.
Cecille Lai, who survived a violent and racially motivated attack in Corona in early March against her and her son, was one of the panelists for an event that highlighted how anti-Asian violence was a significant issue for elderly women. Speakers emphasized the importance of alliance-building with people of color who are not necessarily part of the Filipino community that Damayan represents. Two of the three attackers have since been arrested and have been charged with assault as a hate crime. 
In addition to solidarity work, Damayan also hosts free legal clinics, and in April worked with legal partners to provide labor and immigration consultations. One of those partners, Take Root Justice, is allied with local groups Adhikaar and DRUM as well as working with the National Domestic Workers Alliance, the Black Alliance for Just Immigration, and the MinKwon Center for Community Action.
Finally, Damayan continues its crucial work to sustain Baklas, their "break-free campaign against labor trafficking and modern day slavery." The Baklas campaign trains people who were victims of trafficking to become leaders in the anti-trafficking program. On May 13, the Baklas Film Series will present "Maimai" and host a panel discussion. The film is about MaiMai Cahumnas, a Filipina migrant worker mother, and labor trafficking survivor, and her family's story of forced migration, separation, and reunification.
WHAT CAN WE DO?
Register

and attend the film screening of "Maimai" on Saturday, May 13, 11am to 4pm, at The People's Forum, 320 W. 37th Street between 8th and 9th Aves.
---
In solidarity and with collective care,
Jackson Heights Immigrant Solidarity Network (JHISN) 
Follow @JHSolidarity on Facebook and Twitter and share this newsletter with friends, families, neighbors, networks, and colleagues so they can subscribe and receive news from JHISN.