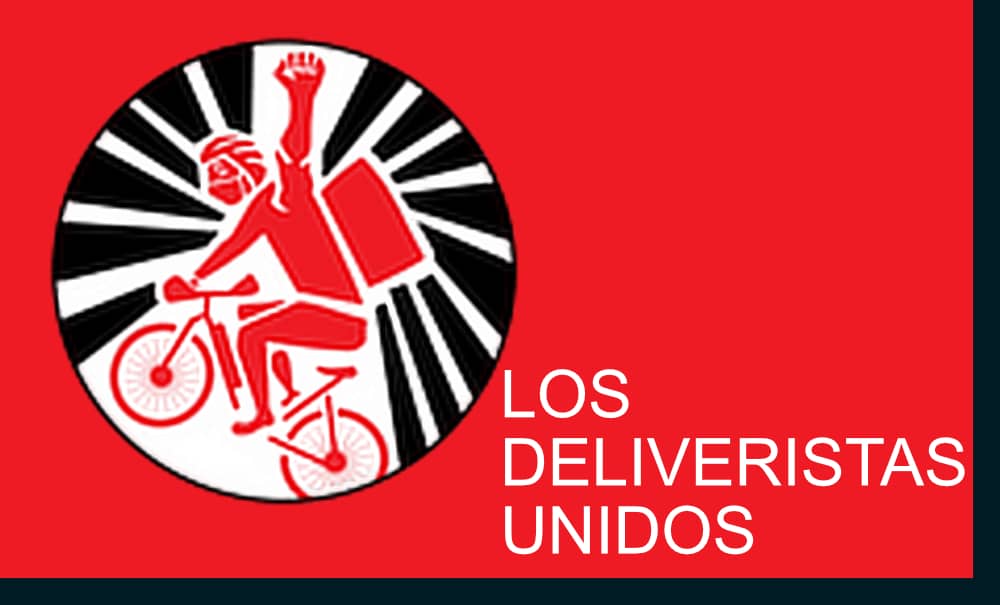 Dear friends,
With you, we welcome the arrival of summer and its promise of warmth, and green shade, and shared gatherings that one year ago seemed dreadfully out of reach. Food will be at the center of so many of our renewed gatherings this summer, and this week's newsletter takes a deeper look at the intersection of food politics and immigrant justice. From farmworkers to restaurant workers to street vendors, immigrant labor is a huge force in the harvesting and production of our food. We look at one essential sector of that labor: the tens of thousands of food delivery workers in New York City.
Delivering Justice: Immigrant Workers Fight Back
The bitter truth is that many food delivery workers can work 12 hours a day in the cold or rain for multiple food service apps and still not make enough to feed their own families.   —Los Deliveristas Unidos
Restaurant delivery workers helped keep New York alive during the worst days of the pandemic. They are celebrated as "heroes," and as "essential." Yet every time we accept a food delivery at our front door, we are interacting with one of the most exploited workforces in the city–almost all immigrants, and almost all people of color. 
For years, delivery workers have fought for justice against their employers and a callous city government, determined to improve unacceptable pay and working conditions. Now these skirmishes are turning into an outright battle, as delivery workers gain allies and move to a new level of unity and organization.
Restaurant delivery in the U.S. is a massive industry, worth tens of billions of dollars. And New York City is its epicenter. Just a few years ago, food delivery in New York was arranged mainly by individual restaurants, usually paying undocumented immigrants "under the table." In parts of the city, this notoriously harsh model continues. Many delivery people work up to 16 hours a day, for a few dollars an hour with no overtime.
However, the advent of delivery apps like UberEats, Seamless/Grubhub, and DoorDash, has rapidly transformed the industry. The app services hire people as "independent contractors"; workers must now supply social security numbers, and are usually given basic English language tests. 
When Covid-19 closed down much of the city, unemployment and demand for food delivery both skyrocketed–and so did "gig" delivery work. Before the pandemic, New York had an estimated 50,000 app delivery workers. In just one year, ending in March, UberEats alone added 36,000 more "couriers" locally. Other app companies had similar exponential growth.
 The app services have upended the old business model in many ways. What hasn't changed is the relentless oppression experienced by delivery workers, mainly immigrants from Latin America and Asia. App workers are poorly paid, with no benefits. They work long hours in bad weather. They buy their own e-bikes, which cost upwards of $2,000, and also pay for batteries, parking, and supplies. Their jobs are dangerous–not just because of traffic, but because delivery people are often assaulted and robbed. There's a long history of tips and wages being stolen by restaurants and app companies. Delivery workers are subjected to racist disrespect: denied use of bathrooms (which especially impacts women workers), harassed by police, forced to use "poor doors," insulted on the street. Referring to restaurants that won't allow the use of their bathrooms, delivery worker Williams Sian comments, "We're what's driving their income right now, but…they treat us like insects."
New York has seen a series of struggles by delivery workers and their allies to combat such abuses in recent years. When Mayor de Blasio and the NYPD started ticketing e-bike riders and confiscating thousands of bikes in 2017-18, grassroots groups like Make the Road and the Chinese Mutual Association helped pressure them to back off. Widespread public outrage about credit card tips being ripped off by restaurants and app services forced some of the big companies to improve their policies. (Grubhub, Seamless, UberEats, Postmates, Caviar, and DoorDash now promise that 100% of customer tips will go to the workers.)
When the pandemic hit, and thousands of laid-off restaurant workers started streaming into app delivery work, the Workers Justice Project, which was already meeting with delivery workers, decided to organize Los Deliveristas Unidos (LDU)–United Delivery Workers. Worker leaders soon emerged to run the LDU collective. Many of the founding members are indigenous Guatemalans or Mexicans. Their demands are simple:
The right to use restaurant bathrooms

A living wage and hazard pay

Protections from e-bike robberies, wage theft, and health and safety hazards

A place to eat, rest, and escape bad weather

The right to organize
Last fall, deliveristas held a series of rallies and gained wide press coverage of their problems. In October, some 800 delivery workers demonstrated in lower Manhattan. In April, thousands of delivery e-bikes snarled traffic in a protest near City Hall, demanding justice from the mayor. On June 8, deliveristas rallied in support of a series of six reform bills introduced in the City Council by LDU allies. SEIU Local 32BJ, one of the largest unions in the city, has been actively supporting LDU, as has outgoing Comptroller Scott Stringer. The deliveristas movement, it appears, is emerging rapidly as a powerful force for immigrant worker justice in New York.
WHAT CAN WE DO?
Tip well, and

in cash

, unless you're sure that the full credit card tip will get to the delivery person. 

Donate

to the Workers Justice Project/Los Deliveristas Unidos

Support the

legislative package

introduced in New York City Council to secure delivery worker protections and economic justice. 
In solidarity and with collective care,
Jackson Heights Immigrant Solidarity Network (JHISN)
Follow @JHSolidarity on Facebook and Twitter and share this newsletter with friends, families, neighbors, networks, and colleagues so they can subscribe and receive news from JHISN.