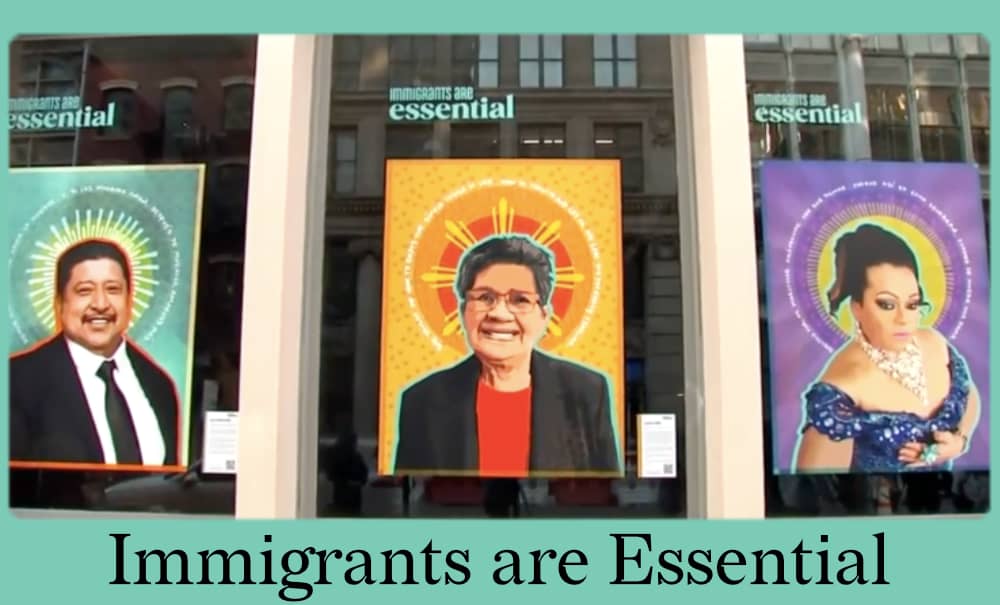 Dear friends
For lots of us, this is a time for optimism, as Covid-19 slowly loosens its grip on our lives and our nightmares. But for too many of us, the nightmare continues–this is a time for worrying, for mourning, for reckoning. The coronavirus still surges in South Asia, Latin America and so many other places where immigrants have loved ones. Here in New York, vaccination rates are starting to taper off, and the familiar wound of inequality continues to characterize "the recovery." In this week's newsletter, we consider some of the factors that have held back vaccine use in our community, and efforts by activists to overcome those obstacles. We also spotlight a moving public art tribute to essential immigrant workers who were lost to the pandemic. For the communities they helped save, fully honoring their humanity is a test of our own.
In Memoriam to Essential Workers
Vaccine Access @ Jackson Heights 
1. Memorial Art in Covid Times
"We have to remember exactly who has been affected. We have to remember the communities who have lost people needlessly …. Those losses have to be mourned, they have to be acknowledged, and they have to be honored."  —Mourners Walk video (P. Mendoza, 2020)
The violinist, in a black mask, plays at the intersection of 35th Avenue and 95th Street. White roses are laid on the steps of Elmhurst Hospital. In October 2020, artists, activists, and community members gather after dark in Jackson Heights to mark the beloved dead, and call attention to the unfathomable loss and unacknowledged grief borne by communities like ours ravaged by COVID-19.
Six months later in the windows of an empty storefront in Manhattan's SoHo, a memorial exhibition appears honoring seven undocumented immigrants who have died during the pandemic. Each beloved loss is marked with a huge poster of their image, and a QR code linked to an oral history of their life. The street installation is designed by artist-activist Paola Mendoza, who also co-organized the Jackson Heights 'Mourners Walk' last October. She names the public art memorial Immigrants Are Essential:
"The word 'essential' has become an identity during this crisis, of the people and places that keep our society moving even when everything else is on pause, of those that are too often in the background but without whom we would fall apart … This is exactly who immigrants have always been and will continue to be in the United States: essential. May their stories inspire and ignite change…" –Paolo Mendoza (April 2021)
To date, over 9,800 people in Queens have died of COVID, disproportionately working-class, of color, and undocumented. The intimate stories featured in Mendoza's public art exhibition narrate just seven out of tens of thousands of undocumented lives ended by a virus that fatally tracks unequal structures of vulnerability and social suffering. 
On Memorial Day weekend, a nationalist holiday dedicated to remembering US military lives lost, how to also honor the undocumented dead? How to continue the collective task of memorializing our community's incalculable loss from this pandemic?   
2. Pop-up sites and worker protections vital to getting people vaccinated
While COVID-19 vaccinations lag across the country and around the world, several efforts have been launched to get shots into the arms of Jackson Heights and neighboring communities.
"We're in a pretty good news period around the effectiveness of pop-ups, and going where people are to make this more convenient," S. Mitra Kalita said on a recent episode of WNYC's "Brian Lehrer Show," speaking about the mobile vaccination sites showing up in New York's working class communities.
Kalita founded Epicenter NYC, a news site that aims to highlight pandemic-related developments in Central Queens, often focusing on issues that immigrant communities face here. In addition to delivering news, Epicenter NYC offers help booking vaccine appointments. The website has important resources for both people looking to get vaccinated and those who want to help others in their community do so.
Neighborhoods with high populations of Latinx residents continue to face high barriers to vaccination, often due to the inability of employees to miss work so they can get the shot and recover. Restaurant workers, in particular, have had difficulties getting time off for a vaccination, Kalita said.
She recently demanded that the city transform its signage at pop-up sites to make it immediately clear, in multiple languages, that the vaccines are free and, especially, that immigration status will not be questioned. According to New York protocols, any ID will be accepted to confirm an appointment–even an old phone bill. But this fact is not widely known in some communities.
Several organizations are working in our neighborhood to help people get vaccinated easily. They show up on street corners, under tents, and in front of stores. It's quite possible you've seen them around.
If you or anyone you know has questions about how, when, or where to get vaccinated—and if you're wondering whether it's a good idea (many people are understandably concerned)—these organizations will likely be able to provide helpful information. Whether it's online or on Roosevelt Avenue, there are many places to go to learn more. Here are just a few:
Vaccination is critical to protect health and lives, for people to be able to gather with communities and family, for businesses to reopen safely, and to prevent the spread of new coronavirus variants. If more people in the United States and around the world can get vaccinated, we may be able to truly begin the long road to recovery from COVID-19.
In memoriam and in hope,
Jackson Heights Immigrant Solidarity Network (JHISN)
Follow @JHSolidarity on Facebook and Twitter and share this newsletter with friends, families, neighbors, networks, and colleagues so they can subscribe and receive news from JHISN.