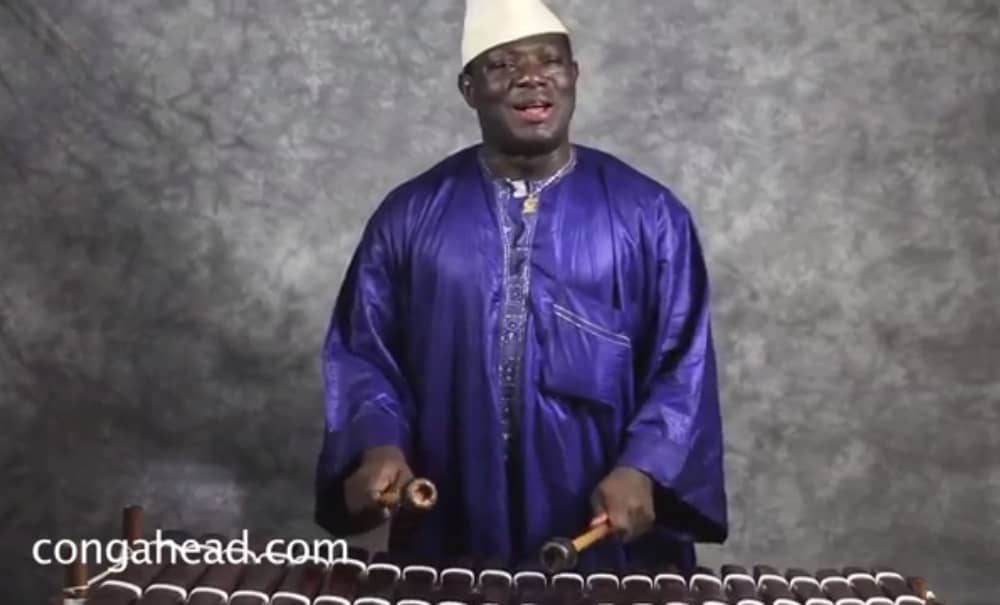 Dear friends, 
We are delighted to devote this week's newsletter to the story of Famoro Dioubate—musician, migrant, teacher, griot. In October 2019, Famoro's live performance was the opening and closing act for JHISN's third annual Community Gathering, 'We All Belong Here: Jackson Heights Fighting for Migrant Rights.' In April 2021, Famoro is working to obtain US citizenship and stay in his adopted homeplace, Harlem. JHISN invites you to listen below to his story, and his music. Please check out the GoFundMe page and help support Famoro's path to citizenship. 
The living history book of Famoro Dioubate
Famoro Dioubate had just sent his band home and was setting down roots in Sydney, Australia, when he got a call from a friend.
The United States was in need of good balafon players, his friend said. Dioubate was famous in his native Guinea and was known internationally for his skill on the balafon—known as a xylophone in the States. And so, his friend asked, would he come here and help make an album?
More than 20 years later, he's still here. And after preparing more than once to up and go, Dioubate now has family, friends and a career in the United States, with students and the prospect of live performances once again on the horizon. He also has a mother in Guinea he hasn't seen since he left. To assure his future here, and to make it possible to see his mother, he's officially begun the long and expensive road to citizenship.
Dioubate is a djeli, also called a griot, part of a storytelling tradition in West Africa. ("Djeli" is pronounced with a j sound at the beginning.) The djeli tradition is a history passed within families from generation to generation through things like stories, music and poetry.
"It's called a living history book," Dioubate said in an interview with the Jackson Heights Immigrant Solidarity Network. "That's what we are."
Djeli history is passed down orally. Nothing is written down. It was within this tradition that Dioubate learned to play the balafon, which he started at the age of six.
He carried the tradition with him after he left Guinea, playing his music in places from Paris to Bangkok to Sydney, ultimately landing in New York. Dioubate performs ceremonies here as a djeli with his balafon, and in pre-pandemic times, he played many live concerts as a professional musician. Whether it's a baby shower or a show onstage, "anything is like a concert for me," he said.
Dioubate didn't plan to stay in New York long when he arrived in 2000. But soon after he came, he found out that he was going to have a newborn daughter here. His original plan was to help her mother through the pregnancy and then leave, but instead he got sick. So he stayed to get surgery, planning once again to leave after that. But now broke and with no work or money to return home, he had to stay.
Eventually, as he prepared to leave once again, a friend of his, a cellist, stopped him. "Famoro," he said, "stay here. You are a good musician. We don't want you to leave." He invited Dioubate to stay in his living room while he figured out his next steps.
"So I stayed," Dioubate said.
Dioubate's daughter is 21 years old now, which means she can sponsor him as he seeks citizenship. It's important for him to attain citizenship status, not just so he can live and work in the United States, but also so he can travel to Africa to visit his mother.
Death has thinned his family back home, and he and his mother want to be reunited after 22 years apart. But "if I go, I could not come back," he said. So he tells her, "When I get my citizenship, I'm going to come see you."
Dioubate has become well-known throughout the United States. He has a band here, called Kakande, which usually tours around the country. He offers classes to students, who learn in his living room in Harlem. He makes his own balafons, using wood sent from Guinea by relatives.
"Balafon is not only music," he said. "It's like school." He passes stories on to his students, helping the djeli tradition expand here. His daughter, too, is part of the tradition. "It's happiness for me," he said. "I'm happy to have a baby in the United States, and to have a djeli girl from America. We are like that. The living history book, the djeli, we are everywhere in the world."
***
Famoro Dioubate has begun the process of seeking citizenship, retaining the services of a New York-based lawyer. This process, which typically takes years, is also very expensive. To lessen the burden, Dioubate is hoping to receive donations of any amount to a GoFundMe page.
With collective care, 
and respect for our living histories,
Jackson Heights Immigrant Solidarity Network (JHISN)
Follow @JHSolidarity on Facebook and Twitter and share this newsletter with friends, families, neighbors, networks, and colleagues so they can subscribe and receive news from JHISN.