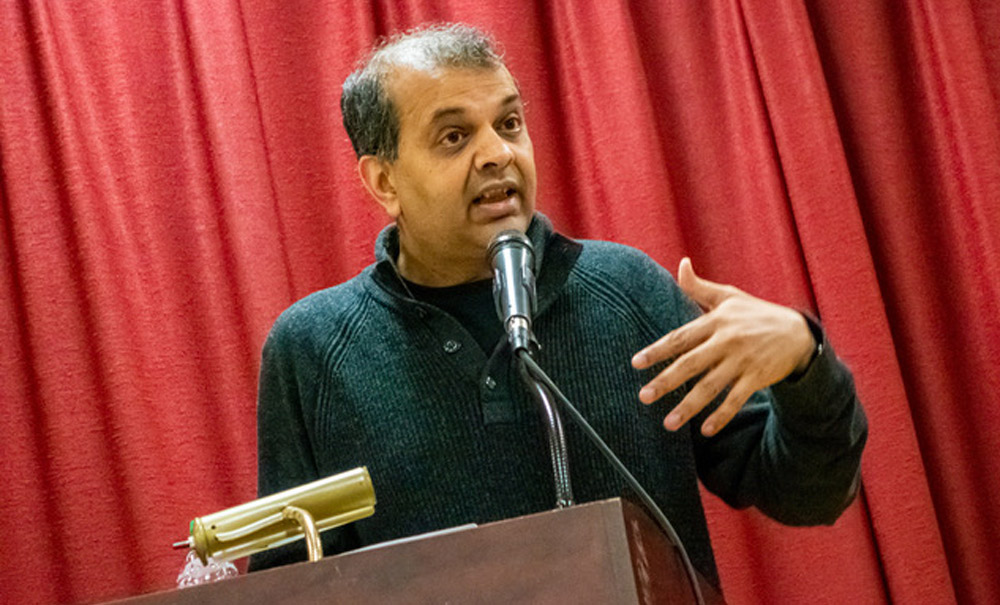 On October 17, 2019, the Jackson Heights Immigrant Solidarity Network (JHISN) held its annual community gathering at The Renaissance Charter School. Videos of the speakers' presentations and musical performances, as well as photographs, are posted below. Following is a recap of the event.
Balafon master Famoro Dioubate from Guinea performed as attendees arrived at the gathering and found their seats.
Melissa Greenberg welcomed everyone and explained how JHISN began in 2017. She introduced Nuala O'Doherty, president of the Jackson Heights Beautification Group. Ms. O'Doherty described some of the difficulties immigrants face and how we as residents of this diverse Jackson Heights area need to support all our immigrant neighbors. She said we shouldn't separate people into "good" and "bad" immigrants, but support all immigrants regardless of their history or past mistakes. She urged us to educate ourselves about the old laws we haven't paid attention to, but that now are being enforced. She urged us to get those laws changed. Her most important point was that our immigrant neighbors are afraid and they must know that we're behind them.
The featured speaker was Suketu Mehta, author of This Land Is Our Land: An Immigrant's Manifesto, and a professor of journalism at NYU. His book has been celebrated as a "powerful, passionate, angry, and hopeful cry for justice." Mr. Mehta recounted several of the themes in his book. He began by saying that he wrote the book in response to the emergency in the United States and all over the world of immigrants arriving in large numbers. Never have more people immigrated than now. He explained that people are leaving their countries because rich countries have stolen the future from the poor countries. "We re the creditors. You've stolen from us and we're here to collect. We're here because you were there." Europeans took from colonies and the colonies made Europe rich. After different wars, Western colonial powers drew lines on maps without considering where people actually lived. This has caused problems that continue to the present day. Now imperial colonialism has evolved into corporate colonialism.
Mr. Mehta continued by pointing out some causes of migration: wars, gang wars in the Northern Triangle of Central America, and climate change that ruins economies because of drought. There are estimates that 1 billion people will have to move during this century because of continuing climate changes.
He also told of his experience at Friendship Park on the border between San Diego and Tijuana. There is a fence of thick mesh separating the towns. Here loved ones from either side of the border can meet for only 10 to 15 minutes across the fence that has only enough space for people to touch pinkies, not enough space to touch or hug one another. This has been dubbed "the pinky kiss." It is a situation that mocks the name of the park and is a subtle cruelty.
The people who fear immigrants are people who don't know any immigrants. The truth is that immigration is good news because everyone benefits. Immigrants send remittances back to their countries of origin. Immigrants are young and have children and pay taxes that support Social Security for the aging population of the USA. Immigrants help themselves and start new businesses. So his message is that immigrants are good for the countries they enter.
The third speaker was Denise Romero, originally from Mexico and now living in Sunnyside, Queens. She is undocumented and a DACA recipient. Ms. Romero is currently a legal advocate and tenant organizer at Mobilization for Justice Legal Services. She described a recent encounter she had with Senator Chuck Schumer at a street fair in Sunnyside. (You can see a video of that encounter here.)  Ms. Romero challenged Senator Schumer because he was a sponsor of the Comprehensive Immigration Reform Bill and he proclaims he is a friend of immigrants. But Ms. Romero and others don't see him as a friend of immigrants because the bill had too many compromises they could not support. The bill would only have helped some immigrants and would have pitted DACA kids against their parents.
Ms. Romero urged us to remember that 70% of immigrant families are mixed status, i.e., at least one family member is undocumented. She believes that if the government and Democrats aren't ready to talk about the old laws (of the eighties and nineties) and the drug wars or abolishing ICE, then they aren't really trying to help immigrants. She pointed out that none of the Democrats running for president are talking about immigration issues. So she urged us to pay attention to the candidates and to organize to force Senator Schumer and others to provide a real solution. Finally, she said the solutions have to come from those affected, so we have to back the young people. (See our post about the reactions to Ms. Romero's confrontation with Chuck Schumer.)
Following a song from Venezuelan folk singer Miriam Elhajli, the next speaker was Javaid Tariq. He came to the U.S. in 1990, escaping political repression in Pakistan. As a cab driver, he helped found the New York Taxi Workers Alliance to fight oppressive work conditions in the cab industry. Mr. Tariq explained that taxi drivers come from more than 100 countries and 60% to 70% of them are Muslims. The Alliance grew from 75 members to 22,000. After 9/11 there were crimes against the Muslim drivers, but his union stood up for those who were attacked. The Alliance fought for a Taxi Driver Protection Act, but it took 11 years before Mayor Bill de Blasio signed it into law. The union shut down JFK airport when President Trump initiated the ban against Muslims entering the U.S. Now they are fighting for economic rights for the drivers. Because of the tremendously high cost of medallions, many drivers are now deeply in debt. Congresswoman Ocasio-Cortez is trying to get loan forgiveness for the affected drivers. The New York Taxi Alliance is bringing awareness and urging drivers to stand up for themselves. Mr. Tariq believes all immigrants must stand together.
Next we heard from Terry Duprat a volunteer at the New Sanctuary Coalition (NSC). New Sanctuary Coalition has an accompaniment program that trains volunteers to accompany people facing deportation to their immigration court hearings and ICE check-ins. Volunteers accompany hundreds of people each year and thousands of NYC immigrant families have been supported by NSC's social justice work.
Ms. Duprat has been accompanying immigrants to their court hearings for three years. She described how there have been significant changes to the procedures during that time. Families used to be able to see and touch the detainees. However, since August 2019 detainees only appear on video. They can see the judge, their lawyer, the DHS lawyer, but not the accompanier or their family members. This is very upsetting for the families. Ms. Duprat said during the previous week, she attended 17 hearings at the Foley Square courts. Some of the judges were on video in other states and had to be instructed about NY State laws. Although using videos has made the process quicker, it is alienating for the detainees. Also, the asylum application is long and it changes often. This whole process is very stressful for all involved.
After Miriam Elhajli sang Woody Guthrie's song "Deportee," we heard from the final speaker, Julie Schwietert Collazo. Ms. Collazo is a writer, journalist and a mother of three. She founded the grassroots collective Immigrant Families Together (IFT) in 2018. IFT works with an all-volunteer staff to bond out immigrants being held in detention and reunite them with their children and families. IFT has reunited over 75 children and families and provided resettlement and legal support to dozens more. She expressed her surprise that IFT has raised $2 million through its GoFundMe page although she didn't have a specific monetary goal in mind at the beginning.
In order to illustrate some of the common events she encounters, Ms. Collazo described four cases. The first was the case of a woman whose asylum hearing Ms. Collazo planned to attend. When the judge realized that she was not biologically related to the woman, he didn't want her to be there until the woman told him Ms. Collazo was part of her family by choice. Her asylum plea was denied within 90 minutes of the hearing.
Next Ms. Collazo related the series of bureaucratic mix-ups that prevented a man from getting the travel documents he needed in order to return to his country to see his dying mother. ICE had taken his passport and since it was his only means of identification, his consulate wouldn't grant him the travel documents he needed to return to Honduras.
The third case was a boy denied entrance to school although the Department of Education had said he was assigned to the last seat available in that school. The school couldn't understand why the DOE had sent him there. Many hours were spent to finally get the boy into a school.
The fourth case was how a foster care agency claimed a mother had to pay $1000 to pay for the flight and chaperone for her child to be reunited with her. Ms. Collazo had been in similar situations before and knew the agency was legally required to pay. So she was able to get the foster care agency to pay the plane fare for the child and chaperone. The child was successfully reunited with his mother after a separation of 14 years.
Ms. Collazo emphasized that although these cases represent absurd events, she said they are very common. In closing, Ms. Collazo mentioned that her husband had asked her why they keep going to events like this in Queens, the most diverse place in the United States and arguably one of the most progressive. Her responses highlighted that there is still work to be done, even in neighborhoods such as ours, but she also stressed the importance of coming together to renew our commitment to do that work.
The evening ended with Famoro Dioubate playing another song while audience members purchased books on their way out. Representatives of the Astoria Bookstore provided copies for sale of Suketu Mehta's book This Land Is Our Land: An Immigrant's Manifesto, as well as a variety of children's books that could be purchased for children of families Immigrant Families Together has reunited. Each attendee received an envelope with material related to the work of the Jackson Heights Immigrant Solidarity Network, including "Ideas for Volunteering and Activism."