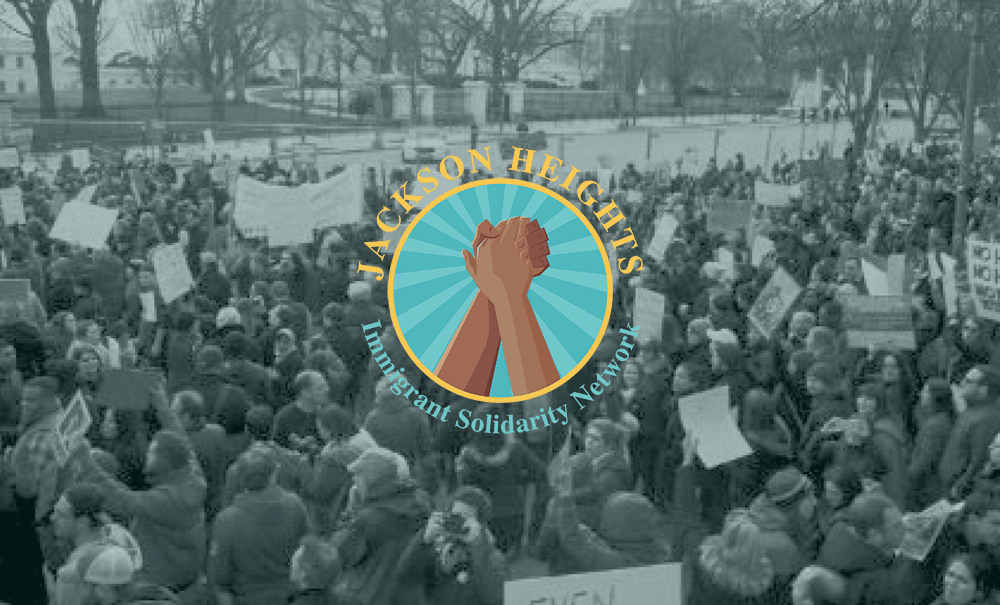 Dear friends,
Greetings in this ongoing moment of crisis. And gratitude for continuing to help JHISN and Queens-based immigrant groups mobilize local solidarity during a global pandemic. We hope that our newsletter can be one small route to connecting, organizing, and providing mutual aid in our community, one of the hardest-hit areas in New York City and the nation.  
Newsletter highlights:
How to donate "stimulus" money in solidarity with local immigrants

Damayan, local Filipino workers rights organization, responds to the emergency

Fighting for rent and mortgage cancellation as May 1 looms
1. Getting "stimulus" money to immigrants abandoned by the government
Last week we discussed how millions of immigrants—including those who need it most—are excluded from getting COVID-19 stimulus checks. Grassroots immigrant rights groups in Queens are providing ways, for those of us who can afford it, to redirect all or part of our stimulus checks to our neighbors who are abandoned by the federal government, who are facing job loss, hunger, and the inability to pay essential bills, including burial costs.
What can you do?
The following six trusted frontline organizations are mobilizing aid to our local immigrant neighbors during this pandemic crisis, especially undocumented people cut off from receiving other forms of assistance. We encourage donations to one or more of them. If you are able to donate stimulus money to these groups, please consider doing so in the name of the Jackson Heights Immigrant Solidarity Network.
New Immigrant Community Empowerment (NICE)
Donate to:

www.nynice.org/donors




NICE is a non-profit that focuses on assisting vulnerable and precarious workers, especially day laborers, domestic workers, and newly arrived immigrants.

Queens Neighborhoods United (QNU)
Donate to:

 

paypal.me/qnu




QNU is an all-volunteer community-based group that battles gentrification and police abuse. Its Facebook page is now a hub for donations to local families who have lost a loved one to coronavirus. QNU also works with Centro Corona as they build out a mutual aid network, based among immigrant families, including direct food delivery.

Damayan
Donate to:

bit.ly/STPCampaign




Damayan Migrant Workers Association organizes low-wage Filipino workers, including undocumented workers who have no safety net. They are providing direct COVID-19 support to the ill, the elderly, the unemployed, and families with small children.

Desis Rising Up and Moving (DRUM)
Donate to:

 

drum.ourpowerbase.net/civicrm/contribute/transact
DRUM has been building the power of South Asian and Indo-Caribbean low wage immigrant workers, youth and families since 2000. In the face of the pandemic, they are initiating a multifaceted campaign called Building Power and Safety Through Solidarity.
Adhikaar
– Donate to:

www.mightycause.com/organization/Adhikaar




Adhikaar is a social justice, legal advocacy, and workers rights organization serving the Nepali community. Their emergency work includes virtual unemployment clinics and supply networks to deliver food and necessities.

Make the Road New York
– Donate to:

 

connect.clickandpledge.com/w/Form/9a139c0d-d9fb-418e-8e96-117f0e0c841c

   




Make the Road carries out extensive organizing to empower local immigrant communities. The linked fund is for direct coronavirus support to vulnerable workers, undocumented households, and low-income immigrant families.
2. Damayan Migrant Workers Association: "The real heroes of this pandemic …"
Damayan is a non-profit with strong roots in Queens among immigrant Filipino low-wage workers, including domestic workers. Domestic work is essential work, Damayan's lead organizer Riya Ortiz explains, "Filipino domestic workers–babysitters, elder caregivers and housekeepers … care for the elderly and children, the most vulnerable during the pandemic, in the homes of their employers … Domestic work makes all work possible." Damayan also fights labor trafficking, recovers wages from exploitative employers, and participates in a range of campaigns promoting health, labor, gender, and immigrant rights. 
Many local Filipino workers are undocumented, living in crowded housing with no health insurance. COVID-19 has hit this community hard, taking its toll on the families of unemployed and essential workers alike. Concerned about the prospect of mass casualties in the community, Damayan swung into action, providing direct material support to their members.
In recognition of the response, Ortiz was recently praised as a "Hero of the Pandemic" by Newsweek. A queer immigrant daughter of a domestic worker, Ortiz prefers to put the spotlight on her community:
While I see this as an honor to be recognized for the work that I/we do in Damayan, in our eyes, the real heroes of this pandemic are the Filipino migrant worker members, the lifeline of our organization. They—the infected, elderly, sick, women, children, unemployed and underemployed, undocumented, and trafficked—are the ones who are the most scarred, marginalized and abused, and are deemed as disposable in this society. Despite their difficult circumstances, they have been fighting not just for their right to live with dignity but also their community's. We continue to honor and serve them through our organization and our work.
The goal of Damayan's emergency fundraiser (noted in our Share the Stimulus article) is to raise $20,000 in tax-deductible donations. Damayan will prioritize assistance to those already sick, the elderly, the unemployed, the underemployed, and those with small children at home. Besides basic food and housing needs, Damayan is gathering laptops and distributing wifi hotspots to workers with no internet access. 
What can you do?
3. Growing outcry for rent and mortgage cancellation
The banks who caused the 2008 financial crisis were bailed out by the federal government, despite their risky and often fraudulent lending practices. The result: giant banks remained obscenely profitable while ordinary people had their homes taken away through foreclosure. Renters got no assistance. In the current crisis, history threatens to repeat itself. The Trump Administration and Congress have given trillions of "relief" dollars to banks and major corporations, while offering extremely limited help for renters and homeowners: a short-term and short-sighted 60-day moratorium on foreclosure and eviction. 
Taking another path, Representative Alexandria Ocasio-Cortez is co-sponsoring a bill to cancel rent and mortgage payments for the duration of the pandemic. The bill's main sponsor, Rep. Ilhan Omar, notes, "This time, it's time to bail out the American people who are suffering." The proposed legislation aims to help renters and landlords, not just mortgage lenders and banks. 
The bill would constitute a full payment forgiveness, with no accumulation of debt for renters or homeowners and no negative impact on their credit rating or rental history. The legislation will establish a relief fund for landlords and mortgage holders to cover losses from the cancelled payments and create an optional fund to fully finance the purchase of private rental properties by non-profits, public housing authorities, cooperatives, community land trusts, and states or local governments—in order to increase the availability of affordable housing during this downturn.   Source:  Rep. Ilhan Omar website
Local neighborhood immigrant activist groups such as DRUM and Adhikaar are gearing up to defend besieged renters in our community. Both organizations promote the May Day: Can't Pay! campaign, which demands that Governor Cuomo:
Cancel rent for four months, or for the duration of the public health crisis – whichever is longer.

Freeze rents and offer every tenant in New York the right to renew their lease. No one's rent should go up during this epidemic.

Urgently and permanently re-house all New Yorkers experiencing homelessness and invest in public and social housing across our state.
There's growing sentiment–locally and nationally–for massive, targeted rent strikes to back up tenant demands. As the May Day: Can't Pay campaign puts it, "On May 1, unless our demands are met, many of us can't pay. So if we can't pay, let's not pay, together!" Make the Road is also discussing rent strikes with their members and supporters.
Ivan Contreras, an organizer with Woodside On the Move, says he is organizing a rent strike in 10 buildings with more than 5,000 tenants.
Basically, my tenants do not have the money to pay rent. Some of them don't have an immigration status…so it's been hard for them. The jobs they do to survive are basically jobs they cannot do from home. They are being laid off, but some of them are still working and risking their lives by going outside.
New York landlord groups are reacting with fury to the prospect of organized tenant militancy. "It's kind of disgusting, " says one landlord spokesperson. "It seems as if they are trying to use this crisis to further their political agenda." Actually, May Day: Can't Pay and many other groups considering a rent strike also support government relief for landlords who need it. But progressive activists are convinced that tenants will continue to be pushed aside by well-funded real estate interests unless they exert their collective power.
Undocumented immigrants, in particular, will have a hard time making up missed rent payments and may face a massive wave of evictions after restrictions are lifted, said Lena Melendez, an activist who said her building was going on rent strike. Landlords "have gotten looked after," Melendez said. "They have gotten tax abatements and deferments on their mortgages. And tenants have just gotten a temporary freeze, a pause, on evictions."
What can you do?
In solidarity, with collective care,
Jackson Heights Immigrant Solidarity Network
Please share this newsletter with friends, families, neighbors, networks, and colleagues so they can subscribe and receive news from JHISN.