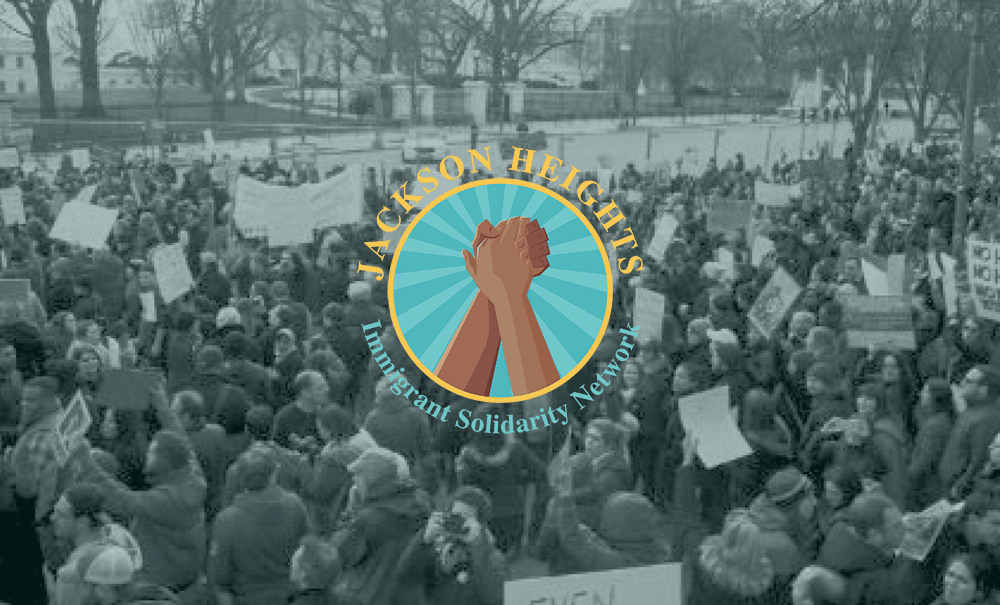 Dear Friends,
We hope this finds you safe and well, surrounded by things that can offer solace and a sense of community. 
As the health emergency continues in Jackson Heights and far beyond, JHISN wants to recognize the incredible emergency work being done by community-based immigrant rights and advocacy groups. In Queens, immigrant-led groups are right now organizing virtual unemployment clinics; home food delivery; quarantine facilities for people with COVID-19; support to renters, small homeowners, and small businesses who need rent and mortgage relief; burial assistance and bereavement support; digital literacy classes; census work via phone banks and texting; and political pressure on electeds for adequate relief aid, including to undocumented and mixed-status immigrant households.   
With media focused on the ravages and vulnerabilities in low-income and immigrant communities, this less visible labor of community care and material support by immigrant-led groups is life-nourishing. We honor their work.
Newsletter highlights:
Supporting immigrants excluded from federal stimulus relief under the CARES Act 

The COVID-19 crisis in US detention centers

Delivering food justice and food solidarity during the pandemic
1. "Stimulus" Discrimination: Another Blow to Immigrants
Excluding undocumented workers in this relief package is a grave mistake, one that will lead to great suffering in our communities, and likely the loss of life. — Manuel Castro, New Immigrant Community Empowerment
Some Jackson Heights residents are already starting to receive thousands of dollars in "stimulus" checks (or electronic deposits) mandated by Congress. But millions of immigrants who desperately need financial help during the pandemic won't get a penny. 
The government's action to exclude many of our neighbors from receiving needed stimulus relief money reveals an inhumane commitment to anti-immigrant policies, even during a deadly pandemic. 
On April 16 the Mayor of New York City announced a $20 million relief program, developed with the Open Society Foundations, specifically to provide emergency monetary relief to immigrant workers, including undocumented workers and their families. While this philanthropy will provide much-needed relief for up to 20,000 undocumented workers facing financial distress because of  COVID-19, it is important to note that there are 360,000 undocumented workers and 48,000 undocumented business owners in this city, none of whom will be receiving federal government support.
Responding to the discriminatory federal aid program, teachers in Oakland, CA have pledged to give their own stimulus money to undocumented families of the children they teach, adding momentum to a growing effort to re-distribute the stimulus money through voluntary actions. Nationally, the prominent immigrant justice group Cosecha is mobilizing a #ShareMyCheck campaign. JHISN is exploring local ways that those of us who are able can share some or all of our stimulus money with immigrants excluded from the stimulus program. Stay tuned for details next week. Together we can make a difference.
WHAT CAN YOU DO?
Discuss the inequities in the stimulus package with neighbors and friends.  

If you are getting the stimulus payment, and don't need some or any of it right now, consider gifting it to aid immigrant communities in our neighborhoods. Our next newsletter will offer suggestions for making your donation count locally.
2. #FreeThemAll: Release Detainees and Prisoners At Risk
In New York State, infection rates on Rikers Island have reportedly soared to seven times the rates in New York City as a whole. As of April 16, coronavirus infections in NYC jails have already reached a catastrophic 8.5%. The Legal Aid Society warns:
COVID-19 is spreading rapidly at Rikers Island and other local jails, endangering our clients, correction staff and all of New York City …. New York City jails have become the epicenter of COVID-19. It is imperative that Albany, City Hall, our local District Attorneys and the NYPD take swift and bold action. Source: Legal Aid Society, April 16, 2020
Meanwhile, Governor Cuomo has largely ignored calls for clemency for elderly inmates and others at high risk of infection among the 42,000 inmates at NY state prisons–even though at least 700 staff and inmates have tested positive. 
The Thirteenth Amendment kept slavery alive by constitutionalizing involuntary servitude as a punishment for those convicted of a crime. This is what allows inmates to be paid $0.62 per hour to make hand sanitizer while being charged $5.30 to buy toilet paper. Now we have Rikers inmates 'volunteering' to don personal protective equipment to dig mass graves for those who died from COVID-19–for $6.00 an hour. The pandemic has exacerbated the human rights issues in the USA's incarceration industry since physical distancing is not an option for either the jailed or their jailers. 
When it comes to immigrants detained by ICE and CBP–two rogue agencies ignoring Congressional oversight and enforcement–the demand to "Free Them All" makes urgent sense. "ICE has sweeping discretion to release the people in its custody for civil immigration violations at any time." As we write, over 4,000 doctors have signed an open letter to ICE calling on the agency to release individuals in immigrant detention in order to save lives. Responding to widespread outrage, ICE has recently released several hundred detainees, fitting many with tracking ankle bracelets. But tens of thousands remain locked up in ICE detention, facing imminent threat of infection by COVID-19.
At a privately-owned detention center near San Diego, at least 17 immigrant detainees have tested positive for COVID-19. In Tacoma, Washington, immigrants at the Northwest Detention Center held a protest on April 15 by forming the letters SOS with their bodies in the center's yard, and launching their third hunger strike in three weeks, as they continue to demand release. At a Chicago shelter for immigrant youth,19 children and two staff members have been diagnosed this past week with COVID-19. 
The brutal consequences of unjust incarceration combined with the deadly pandemic extend beyond the United States. Migrants, refugees and asylum seekers across the globe confront national lock-downs and border closures, trapping them in crowded encampments or carceral detention facilities. The Global Detention Project gathers updated information about what different countries are doing to protect–or not–vulnerable migrant populations: "Growing numbers of medical practitioners, NGOs, and international organisations have urged governments to release detainees and provide them with support as they navigate complex and perilous public spaces. While authorities in some countries have released detainees, many others have refused to do so." 
WHAT CAN YOU DO?
Food Justice during a Pandemic
Food radically connects humans to each other. The spread of coronavirus vividly exposes the global and local realities of interdependent food supply chains, as well as the power hierarchies that determine who farms and delivers food, who enjoys 'food security' and who does not. Today we should all take notice that many food supply chains in the US begin with farmworkers and people who labor in food processing plants. These workers are disproportionately immigrants of color, often undocumented. We are learning, too, that the lack of workplace protections, access to health care, adequate housing and hygiene have made these workforces dramatically vulnerable to the threat of COVID-19 outbreaks.
In southwest Florida, the Coalition of Immokalee Workers (CIW) is calling for immediate protections for farmworker communities—over 2 million workers nationwide—living in dense housing conditions and traveling to work in crowded buses. Farmworkers are laboring without protective gear, hand sanitizer, or access to COVID-19 testing. Farmworkers are clearly "essential workers" although often they have not been recognized as such: without their work, many grocery store shelves would be empty of familiar goods and produce.  
This week, the biggest coronavirus hot spot in the United States emerged in a pork processing plant in Sioux Falls, South Dakota, where a staggering 598 employees are now infected with COVID-19, among a largely immigrant workforce of 4,000 people. Meat processing plants across the country are starting to close due to the existence or the imminent threat of COVID-19 outbreaks. 
Here in central Queens, food insecurity is causing anxiety for more and more households. Local immigration groups reported last week that some of us are starting to worry about basic needs like food. Hunger, and fear of hunger, is stalking our community.  
On April 15, Mayor de Blasio announced a $170 million emergency food program to address hunger. A select number of NYC public schools are operating as Meal Hubs, offering three free meals daily, Mon-Friday, in one 'grab 'n go' food package. Food is available not only for students but for any New Yorker who shows up.  Below is a list of reliable resources for COVID-19 food assistance for folks in our neighborhoods and the NYC area:
WHAT CAN YOU DO? 
Sign and circulate

this petition

calling on Florida Governor DeSantis to protect Immokalee farmworkers.

Share the food assistance information here with neighbors, friends, folks in your synagogue, mosque, church or temple. Post in your coop building or share on a listserv or social media!

If you are able, consider donating or volunteering with

Hungry Monk Rescue Truck

, serving Queens and Brooklyn. 
In solidarity, with gratitude for the collective care that we share.
Jackson Heights Immigrant Solidarity Network