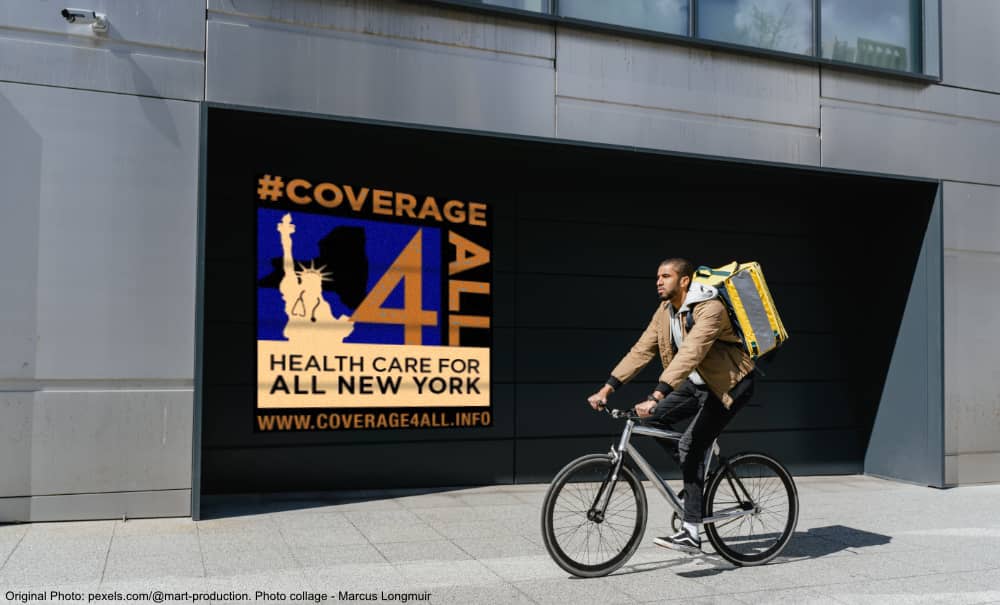 Dear friends, 
With Ramadan starting and spring officially arrived, we send wishes to all for collective blooming and community health. Three years ago this month, with the city shutting down and the pandemic spreading fast in our neighborhoods, JHISN launched a weekly e-newsletter as a form of local solidarity and mutual aid. We thank you for the support and solidarity you have shared in return. To those who still bear the loss of beloveds in the pandemic, and to all whose own health has been threatened or diminished, we offer our collective embrace.
This week's newsletter is all about the local. The postponement—for now—by the Adams administration of a promised wage hike fought for by delivery workers. An update on the new program that allows local groups to sponsor refugees, including here in Jackson Heights. And the statewide campaign to secure health insurance for immigrants, led by legislation sponsored by Queens Assembly member Jessica González-Rojas.  
Newsletter highlights:
Fair wages for NYC delivery workers: the struggle continues
Community Sponsorship Hub welcomes new refugees
#Coverage4All promotes health insurance for immigrant workers 

1. Deliverista Wage Hike Under Attack
In 2021, after a powerful struggle in the streets by Los Deliveristas Unidos (LDU), the New York City Council passed legislation establishing a minimum wage for delivery workers—one of the few such laws in the US. The base wage is intended to be equivalent to that of ride-hail drivers like those at Uber and Lyft. The Department of Consumer and Worker Protection (DCWP) was tasked by the Council with calculating the new hourly rate, taking into account waiting time, delivery rates, and other factors. Regulations were supposed to be published this January 1, taking effect on February 15.
In November, after conducting a detailed analysis, the DCWP proposed a $23.82-an-hour minimum wage. This was a major increase from deliveristas' current hourly average of $7.09 before tips. App workers looked forward to a dramatic improvement in their standard of living. But the delivery companies resisted. DoorDash New York, for instance, submitted a comment arguing that the new minimum wage "will likely result in substantial new costs that will need to be passed along to consumers…and many NYC families will likely no longer be able to afford delivery services."
Bowing to the app companies, the Adams administration let the legal deadline for the minimum wage law pass with no implementation. No raise for deliveristas. And then on March 2, the DWCP suddenly proposed a new, lower pay rate—$17.96 this year, rising to $19.96 in 2025. Their rationale for the reduction was that delivery workers sometimes connect with more than one app, and might collect waiting pay from more than one employer. But the new proposal is actually a direct gift from the mayor to the app companies. Not only has the proposed minimum wage been lowered, but its implementation has been stalled for an unknown period. As THE CITY reports, "The turnabout…kicks off another rulemaking and public hearing, scheduled for April 7."
Comptroller Brad Lander, who sponsored the delivery worker wage law during his time on the City Council, was harshly critical of the administration's delay and wage-cutting tactics:
"Every day deferred violates the law …. The only thing that has come out of this prolonged process is the weakening of standards at the behest of massive Silicon Valley gig companies. DCWP should not give in to corporate bullying. The delivery workers who were so critical to our city during the pandemic deserve their due, now."
Fahd Ahmed of JH-based DRUM (Desis Rising Up and Moving) agreed, criticizing "pressure from the corporations." For their part, Los Deliveristas Unidos has no intention of passively accepting the administration's downgrade. Delivery worker Sergio Ache told THE CITY that he is "keeping the faith." "This is not over," he insists. "Just like the companies organized to oppose the original rule, we need to keep organizing to win a fair wage."
WHAT CAN WE DO?
2. Community Sponsorship Hub to Administer the Welcome Corps
As you read in our 2/25 article "Biden Team Introduces the 'Welcome Corps,'" the US government launched a new program in January to enable small groups of individuals to sponsor migrants already approved for resettlement. During a webinar about refugee resettlement on 2/27, JHISN learned that the Welcome Corps program will be administered by a consortium led by the Community Sponsorship Hub (CSH) with funding provided by the US government: "The Community Sponsorship Hub Welcome Corps exists to grow the role of communities in the protection, welcome and integration of refugees and other forcibly displaced people."
CSH will train the sponsor groups signed up through Welcome Corps, and will rely on the expertise of the five organizations in the consortium that have long experience assisting refugees: CWS (Church World Service), IRC (International Refugee Committee), IRAP (International Refugee Admissions Program), IRIS (Integrated Refugee & Immigrant Services), and Welcome.US. These organizations will provide assistance in preparing the Welcome Plan, and offer guidance in securing funding and housing.
CSH began in September 2021 (with financial backing from Rockefeller Philanthropy Advisors, Inc.) as a response to the needs of Afghan refugees. Its goal was to enable local communities to participate directly in welcoming and integrating refugees into society through sponsorship. CSH's Sponsorship Circles claim a track record of success assisting Afghan refugees (since 2021) and Ukrainian refugees (since 2022).
WHAT CAN WE DO?
3. A New York 'Disgrace': Many Immigrant New Yorkers Excluded from Health Coverage
"Immigrants make up 54% of essential workers in New York and 70% of undocumented workers are employed in essential businesses. These New Yorkers contribute billions in taxes and economic productivity, yet do not reap benefits like accessing state health coverage options." –Gustavo Rivera and Jessica González-Rojas
At least 8,200 New Yorkers have reportedly died from COVID-19 because they did not have health insurance. Over 425,000 New York state residents are ineligible for public health care programs due to immigration status, and 250,000 remain uninsured. Eight out of ten New Yorkers believe immigration status should not be a barrier to quality healthcare, so New York could be leading the country by providing immigrant access to health services. But other states are leading the way.
California, Colorado, Illinois, Oregon, Washington state, and Washington DC have all initiated legislation to provide health coverage to people regardless of immigration status while extending to folks of different ages and income brackets. Each state approached this issue differently, but Colorado and Washington took a path that Governor Hochul had previously indicated New York could follow: securing a section 1332 waiver of the Affordable Care Act (ACA) to allow federal funds for the ACA to provide insurance coverage to undocumented immigrants.
In 2015 New York secured federal support for ACA funds to cover "lawfully present" immigrants—but not undocumented workers—in a health coverage program now called the Essential Plan. The Essential Plan Trust Fund Account currently has a $9 billion surplus that is estimated to grow by $2 billion more in a year. Federal rules require these funds can only be spent on health insurance coverage.
Last year advocates supported a "Coverage for All" bill that would request a 1332 waiver for New York to cover undocumented immigrants. Instead, Hochul expanded Medicare to cover undocumented seniors over age 65. In February 2023, Queens Assemblywoman Jessica González-Rojas reintroduced the "Coverage for All" bill which also has support from NYC Comptroller Brad Lander.
The statewide #Coverage4all campaign continues to advocate for the bill's passage and recently exceeded its goal to add 1,500 supportive comments to the bill. At the beginning of March, immigrant New Yorkers hand-delivered pill bottles to the Governor with notes inside prescribing #Coverage4All. This week a caravan and rally to support the initiative were organized in Long Island as well as a March to Albany. There is still time to demand that Governor Hochul request this important waiver from the federal government. 
WHAT CAN WE DO?
In solidarity and with collective care,
Jackson Heights Immigrant Solidarity Network (JHISN)
Follow @JHSolidarity on Facebook and Twitter and share this newsletter with friends, families, neighbors, networks, and colleagues so they can subscribe and receive news from JHISN.