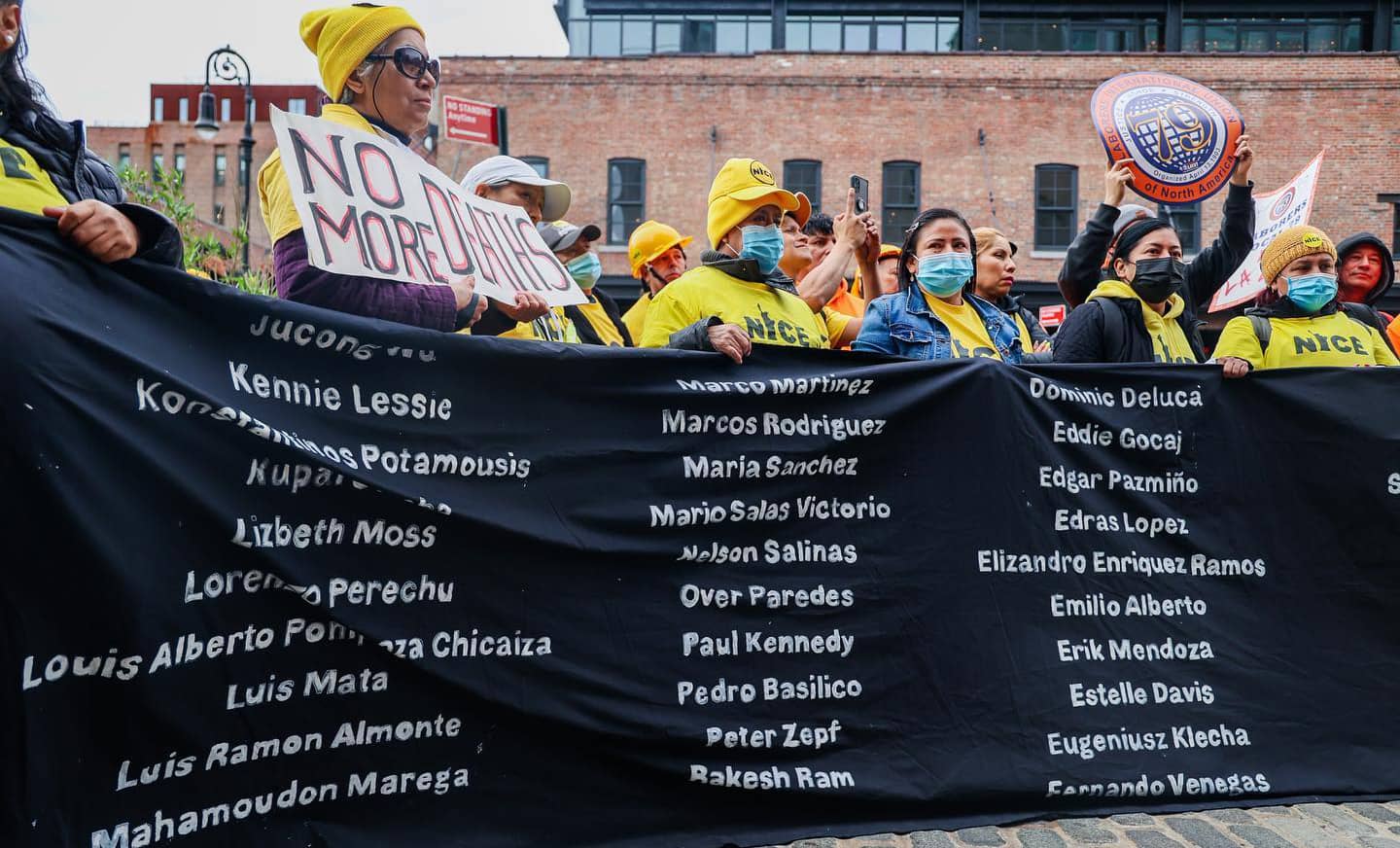 Dear friends,
As corporate media headlines flare about Title 42's termination, we try to offer some clarity about President Biden's national immigration policies. Reckoning with the abdication—and the criminality—of this Democratic administration's immigration politics is increasingly urgent. And as Memorial Day approaches, we report on a local act of remembrance led by Jackson Heights-based NICE (New Immigrant Community Empowerment), honoring immigrant workers who have died while performing their jobs.     
Newsletter highlights:
What's really going on? Update on national immigration policy

NICE marks Dia del Trabajador Caido (Workers Memorial Day)
---
1. Biden's New Immigration Policies Violate the Law
"The people are not the problem. Rather, the causes that drive families and individuals to cross borders and the short-sighted and unrealistic ways that politicians respond to them are the problem." –Amnesty International 
After the horrors of World War II, the US played a major role in convincing the UN General Assembly to adopt the Universal Declaration of Human Rights as the centerpiece of international law. Article 14 states, "Everyone has the right to seek and to enjoy in other countries asylum from persecution." The US also promoted the humanitarian provisions of the Geneva Refugee Convention, which Congress made part of domestic law in the Refugee Act of 1980. But today the US is breaking its promises—and the international and domestic laws that protect asylum seekers and refugees. 
The US often announces itself as a nation of immigrants, but it is at the same time a hotbed of xenophobia. Deciding which immigrants from where and how many are "acceptable" is a constant seesaw battle, especially during periods of massive migration like our own. Currently, one thing everyone seems to agree on is that the immigration system is "broken." But there is no unity in Congress on how to remedy the disgraceful mess.
In January 2021, President Biden sent a proposal for immigration reform to Congress incorporating his campaign promises to provide legal status to millions of immigrants, and reduce cruelty at the southern border. That bill went nowhere. Now Biden has pivoted to a new set of policies, mainly using executive orders. He is taking a "carrot and stick" approach: offering seemingly generous new ways to enter the country, paired with stiff enforcement to deter entry.
Human Rights First has documented eight separate ways that the new policies break international and US laws. The laws violated include Article 14 and Section 208 of the Immigration and Nationality Act, the Geneva Convention, the 1951 Refugee Convention, and Section 1158 of Title 8. Although there are current legal challenges from both the left and the right, the new policies nevertheless went into effect at midnight on May 11, the minute Title 42 ended.
Below are the specific policies, their real-life impacts, and how they violate established US and international laws:
The CBPOne app requires an asylum seeker located in Central and Northern Mexico to make an appointment at a US port of entry to present their claim. The app is intended to reduce wait time and crowding at the border. It assumes asylum seekers have a smartphone or access to the internet and can read one of five languages. The app is often inaccessible, has a limited number of appointments available, and uses facial recognition which often fails to identify non-white faces. The app raises privacy, discrimination, and surveillance concerns because data will be collected and stored even before a person enters the US. Mandatory use of the app violates the internationally accepted right to seek asylum—an unconditional principle also embedded in US law as noted above. 
Asylum seekers who enter without permission and who lack a legal basis to remain will be returned to their country of origin and will have a 5-year ban on reentry based on Title 8. Their only hope to avoid deportation is a "credible fear" interview while in CBP custody, held with limited access to legal counsel. International asylum law specifically requires that people not be returned to countries where they will be subjected to persecution (refoulement). "UNHCR [the UN refugee agency] is particularly concerned that … this [policy] would lead to cases of refoulement—the forced return of people to situations where their lives and safety would be at risk—which is prohibited under international law." –UNHCR
Parole for Venezuelans, Nicaraguans, Haitians, and Cubans. Up to 30,000 people per month can come to the US for two years and receive work authorization—IF they have an eligible sponsor, pass vetting and background checks, and can afford a plane ticket. This limits entry to migrants with connections in the US and the means to secure visas and plane tickets. Venezuelans, Nicaraguans, Haitians, and Cubans who cross Panama, Mexico, or the US border are ineligible for parole and will be expelled to Mexico, which has agreed to receive up to 30,000 people per month. This policy is a blatant violation of the international right to seek asylum. It also endangers lives. There have been over 13,000 attacks against migrants and asylum seekers in Mexico.
"U.S. policies returning asylum seekers to Mexico have resulted in unspeakable danger and harm, while the Mexican asylum system has consistently failed to protect people fleeing persecution."  –Meg McCarthy, Executive Director of National Immigrant Justice Center
Creation of new processing centers.  In Colombia, Guatemala, and perhaps other countries, migrants will supposedly be able to apply for legal entry into the US before they make the difficult journey. These centers aren't operational yet and require the use of the infamous CBPOne app. It's unclear if people from Honduras and El Salvador will get access to a center.
Migrants passing through other countries en route to US who do not first claim asylum there will be ineligible to claim asylum at the US border. This violates the international right to seek asylum as well as Section 1158 of Title 8 of the United States Code. This section clearly states that people can apply for asylum no matter how they enter the US.
1500 active-duty US soldiers have been deployed to the border to relieve Border Protection officers of administrative duties. This is further militarization of the border. Their presence will undoubtedly frighten people. It treats migrants as a security threat.
It's notable that other countries, including Colombia, Ecuador, Costa Rica, and Belize, have provided legal status to an increased number of migrants, basing their policies on the Los Angeles Declaration on Migration and Protection. Canada, Mexico, and Spain have also expanded refugee resettlement and temporary work opportunities. Mexico and Guatemala have ramped up their asylum systems, partly based on collaboration and funding agreements with the US. 
The new Biden Administration rules will be in effect for two years—May 11, 2023 to May 11, 2025. What happens then?
WHAT CAN WE DO?
---
2. Fallen Workers Day Organized by NICE
"We work to live, not to die." –NICE Facebook (May 1, 2023)
 Holding a black banner printed with the names of the dead, members of New Immigrant Community Empowerment (NICE) gathered on April 28 to mourn and to mobilize. Dia del Trabajador Caido ('Fallen Workers Day' or 'Workers Memorial Day') is an annual public event honoring NYC workers who have died on the job, and calling for increased safety and protections, especially in the construction industry.
 NICE, based in Jackson Heights, supported the seven-year fight to pass Carlos' Law, finally signed by Governor Hochul in December 2022. The legislation increases the criminal liability of employers whose workers are killed or seriously injured in the workplace. The law was named after Carlos Moncayo, a 22-year-old Ecuadorian immigrant living in Queens who was killed while doing construction work in 2015.   
 Worker safety and worker deaths are immigrant justice issues. The annual 2023 Deadly Skyline report produced by NYCOSH—the NY Committee for Occupational Safety and Health—reveals fatality statistics in NY's construction industry: in New York City, 20 workers died at their jobs, a 54% increase from the previous year. And while an estimated 10% of construction workers in New York State are Latinx, over 25% of fatalities were among Latinx workers. Immigrant workers are disproportionately dying on construction sites—and non-union sites in particular, according to NYCOSH, accounted for 86% of worker deaths in 2018. Even getting an accurate count of worker deaths and injuries has been a political battle. Not until Queens State Senator Jessica Ramos successfully sponsored legislation in 2021 requiring a statewide death registry for construction workers, did the Department of Labor belatedly begin to gather fatality statistics in a public database.    
 To remember is to keep alive. We support the necessary political work that NICE, NYCOSH, the Manhattan Justice Workers Collaborative, and their allies are doing to keep alive the struggle for a safe and accountable workplace. And to honor the living memory of immigrant workers who have been sacrificed while doing their job.  
WHAT CAN WE DO?
Donate to NICE

if you are able, and follow NICE social media

@NICE4Workers

.

Support the

online Worker Hotline

for reporting workplace crimes—including health & safety issues—against low-income workers, organized by the Manhattan Justice for Workers Collaborative.
In solidarity and with collective care,
Jackson Heights Immigrant Solidarity Network (JHISN)
Follow @JHSolidarity on Facebook and Twitter and share this newsletter with friends, families, neighbors, networks, and colleagues so they can subscribe and receive news from JHISN.