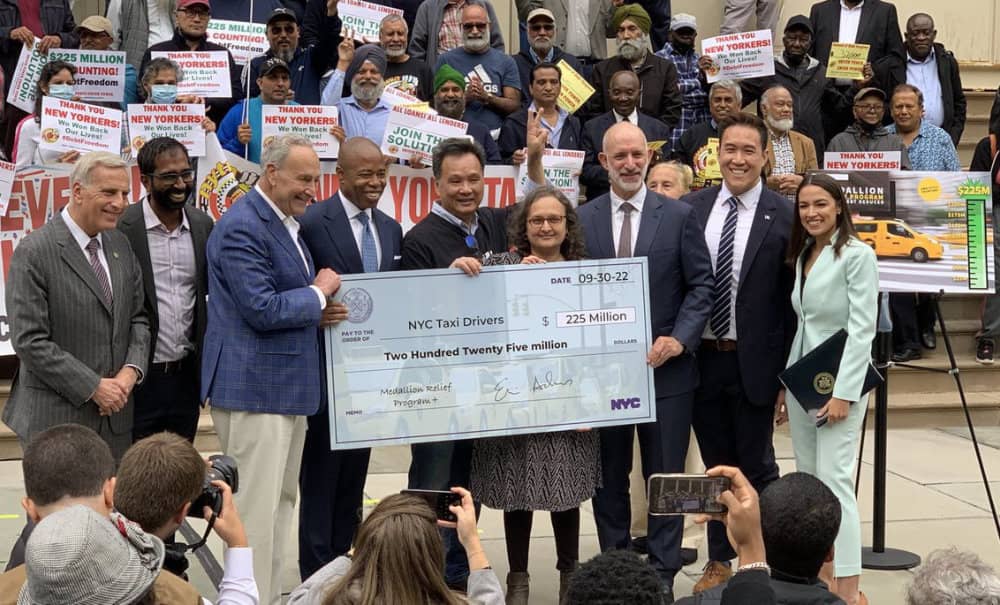 Dear friends,
As Fall leaves turn, we reflect on the seasons of struggle immigrants experience in our community and beyond. In this newsletter, we celebrate a season of debt relief for taxi workers—the triumphant result of years of resolute organizing, sacrifice, and deep solidarity. And we challenge the revival of austerity politics, which aims to keep us frozen in a winter of injustice and income inequality. As the taxi workers just showed us, it's a lie that New York "can't afford" to address the needs of its working-class residents.
Newsletter highlights:
Finally, real debt relief for taxi workers

"We can't afford it" is a lie
Taxi Workers' Victory "Brought to Life"
Last November, taxi drivers danced in the streets, ending a 40-day round-the-clock protest outside City Hall and a 15-day hunger strike. "We won!," declared Bhairavi Desai, director of the New York Taxi Workers Alliance (NYTWA), which represents 20,000 mostly immigrant drivers. That historic workers' victory secured a promise of millions of dollars in taxi medallion debt relief.
 Two weeks ago, the NYTWA, city officials, and politicians marked a milestone in the ongoing struggle, announcing at a press release that $225 million in loans to taxi drivers had been closed out. The Medallion Relief Program, launched in August 2022 with federal funds, has so far allowed more than 3,000 eligible NYC cab drivers to write down their loans to a maximum of $175,000—loans that had often been originally $500,000 or more.
 It is only because of the drivers' persistent disciplined struggle that the city government has finally agreed to provide relief—for a problem it helped create. JHISN reported a year ago on the city's complicit role in creating the scandal of crushing debt for local drivers:  
"… [C]ity agencies ripped off thousands of owner-drivers. First, they knowingly created an unsustainable bubble in taxi medallion prices and encouraged predatory loans, leaving drivers drowning in debt when the bubble burst. Then the city let tens of thousands of unregulated, no-medallion Uber and Lyft cars drive off with their fares. The pandemic delivered a final blow. Amid a wave of forced medallion foreclosures, nine drivers died by suicide."—JHISN newsletter 10/16/21
Astoria Assembly representative Zohran Mamdani, who supported the NYTWA during their years-long fight for economic justice, celebrated the historic deal that has now finally been "brought to life." But he also remembered and honored the taxi drivers' lives lost to the crisis:
 "While we can never bring those brothers back, those who took their own lives because of this horrific system of debt. Their families should always know that their struggles, their stories, those things are why we are here today lifting the debt off of other drivers' backs … It was because of what they went through and how they shared their struggle with the world that we are able to ensure that we don't lose a single additional driver to the same struggle." –Z. Mamdani (QNS, 9/27/22)
WHAT CAN WE DO?
The Big Lie
As federal pandemic relief money starts to recede in the rearview mirror, New York's political elites are reviving a familiar mantra: "we can't afford it." Working-class communities are being ripped apart by homelessness, disease, unemployment, mental health crisis, crumbling schools, and food insecurity, but not much can be done—"we can't afford it." 
In the back of our minds, we all know this mantra is a lie. "We can't afford it" is just another excuse for income inequality.
There's over $3 trillion in private wealth in New York City alone—more than the wealth of all but a few entire countries. There are more rich people here than in any other city in the world. And 1% of NYC residents "earn" roughly 90% of all income. There's literally nothing these people can't afford. But they have no intention of paying their share. 
Bloomberg, a long-time mouthpiece of the oligarchy, puts a cynical spin on it:  "Gotham's future will be decided by how many of these super-wealthy people remain after the pandemic is over….They paid $4.9 billion in local income taxes, making up 42.5% of total income tax collected." Hmm. 90% of the income, but 42.5% of the income tax? Is this rich peoples' idea of progressive taxation? And notice the sneaky threat that they might abandon the city if we ask them to pay more? 
The hypocrisy of "we can't afford it" is stark, and yet it's a common part of New York political discourse. Mayor Adams just declared a "state of emergency" because the richest city in the world "can't afford" to house desperate asylum seekers or other homeless people. At the same time, Adams' right-wing appointees to the Rent Guidelines Board handed landlords the largest rent increases since the Bloomberg years. They don't care if renters facing eviction can "afford it" or not. Before migrant buses even started arriving from Texas, Adams had already reduced the schools' budget, then ordered all city agencies to cut spending by 3 percent for the upcoming fiscal year. These cuts, in a time of high inflation, will be devastating for working-class families.
At the state level, the same hypocrisy rules. In Albany, this fall, more than 100 groups fought for relief for 175,000 immigrant excluded workers. They watched as the "can't afford it" state decided instead to fork out $600 million to subsidize a sports stadium owned by an upstate billionaire. Governor Hochul and Adams are also proposing billions in tax breaks for Penn Station redevelopment to benefit their donors at mega-realtor Vornado Realty.
Immigrant justice groups and other grassroots advocates are expected to accept zero-sum austerity: competing for an artificially limited pot of funding. Or rather what's left in the pot after the government pays for militarized cops and subsidies for big real estate and interest to the banks. (Almost half of NYC's $100 billion budget goes to servicing debt.) Battle by battle, organizers struggle to pry scarce social services out of a stingy government, or plead for funding from donors, foundations, and charities.
It doesn't have to be that way. Tapping the vast wealth and income of the super-rich to meet the needs of New York's working-class people is pivotal to social justice, including immigrant justice. Self-serving oligarchs, demanding deference and special treatment, are robbing our future from us moment by moment. When we take back what they are stealing from us, it will be obvious that we "can afford" a just, thriving society–one where migrants are not an "emergency," but welcome new neighbors.
WHAT CAN WE DO?
Join with coalitions

fighting

to tax the rich, like

#OccupyTheHamptons

and

#TaxtheRich

.

Demand that your public officials do something about income inequality, instead of just talking about it.
In solidarity and with collective care,
Jackson Heights Immigrant Solidarity Network (JHISN)
Follow @JHSolidarity on Facebook and Twitter and share this newsletter with friends, families, neighbors, networks, and colleagues so they can subscribe and receive news from JHISN.