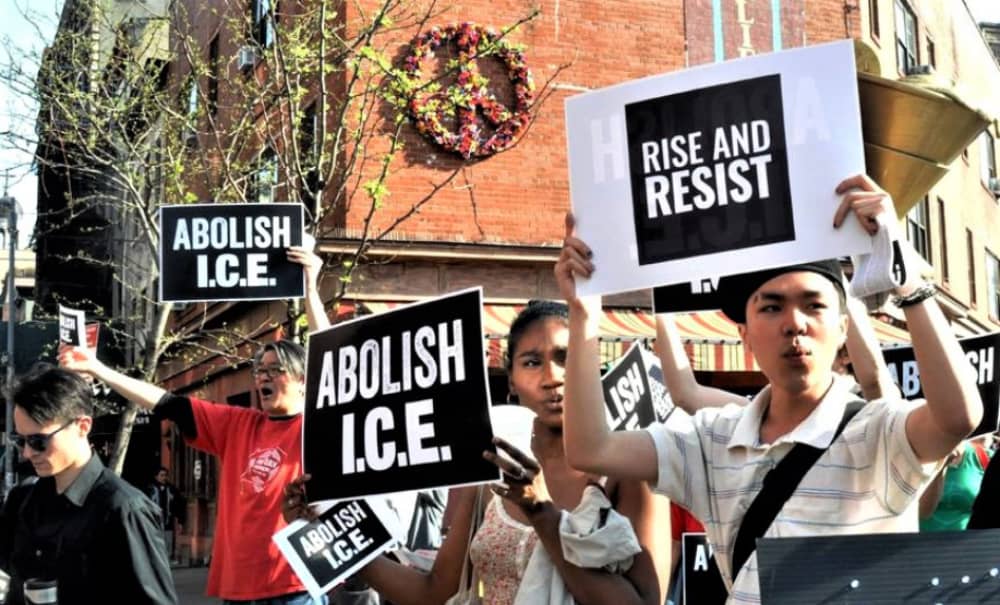 Dear friends,
On Tuesday, June 22, a very small percentage of registered NYC voters will head to the polls for the Democratic Party primaries which, in a city like ours, basically decide the outcome of next November's municipal elections. We encourage all of you who will vote to take immigrant justice issues with you to the voting booth (or absentee ballot!). The pandemic brought many of us into new intimacy with our streets, our small businesses, our neighbors, our park, our local issues, and our differences in class, race, citizenship status, vulnerability to disease, and access to care. We hope that intimacy carries over into a sustained commitment to participate in local forms of self-government and community-based power. 
Several immigrant justice groups that JHISN deeply respects are focused on the upcoming primaries. Make the Road New York has co-authored a report, Dignity, Community, & Power, laying out an election-year vision for immigrant communities' collective dreams and demands; their candidate endorsements can be found here. Desis Rising Up and Moving (DRUM) has offered specific endorsements of City Council candidates who support participatory working-class, immigrant-centered politics for economic, gender, and racial justice. Adhikaar and members of the NYC Care Campaign hosted a Candidate Forum for the District 26 City Council race. And to see what NYC mayoral candidates are saying about immigration politics–and why they need to say more, in a city of over 3 million immigrants–check out this recent article. 
In the meantime, we offer you an update on what's up with ICE (Immigration and Customs Enforcement) several years after the cry, 'Abolish ICE!', was raised by tens of thousands here in New York, and beyond.  
ABOLISHED ICE? Not yet …
Street Arrest – Story 1738
Jackson Heights, NY 11372
March 17, 2021
"ICE agents arrested LN on the street near his home in Jackson Heights around 10am as he was walking with his laundry to his local laundry mat. ICE agents left LN's laundry bag on the street as they drove away with him."  —  ICEwatch raids map / Immigrant Defense Project
As 'Story 1738' makes poignantly clear, ICE is still on the streets of Jackson Heights conducting arrests that disappear immigrants from our neighborhood as they go about their daily life. ICEwatch's invaluable map of verified ICE raids, launched in July 2018, also shows that ICE arrests in Queens County appear to be dropping off since the latest peak—right before the November 2020 election. Six months into a new federal administration, what is ICE actually doing? How are people continuing to resist ICE's key role in the criminalization of migration, and the harassment and terrorizing of immigrant communities in the US?
At first glance, some of the numbers seem promising: ICE arrests are reportedly plunging nationwide. "Interior arrests" by ICE (arrests not conducted at the border) are down to about 2500 per month, compared to an average of 6000 arrests in the last months of the Trump regime, and a grotesque 10,000 per month before the pandemic. In April, ICE deported 2962 immigrants, the lowest monthly number on record. 
In addition, Biden has ordered a full review of ICE priorities (not yet released). New interim rules prohibit ICE agents from arresting anyone who is not a national security threat, an aggravated felon, or a recent border crosser, without written authorization from senior ICE supervisors. And the new director of Homeland Security, Alejandro Mayorkas, has finally placed significant limits on ICE's ability to arrest immigrants at or near courthouses–something immigration activists have fought for for years. 
But beneath the numbers and temporary rule changes is a more disturbing reality. As ICE pulls back on 'interior arrests,' Customs and Border Patrol (CBP) under the Biden administration continues to expel migrants at the southern border in huge numbers, including those legally seeking asylum or refuge. Using an obscure CDC public health regulation called Title 42, activated in March 2020 by the Trump regime, over 750,000 migrants have been 'returned' to Mexico as public health threats, without any recourse to legal proceedings. Approximately 350,000 of those expulsions have occurred since Biden took office, including at least 50,000 families who have been turned back. Challenged by the ACLU as unlawful and opposed even by public health scientists, Title 42 remains in place with the new administration, keeping ICE deportation numbers low while in fact choking off migration across the border.
Even more tellingly, Biden's proposed $7.9 billion budget for ICE in 2022 echoes the Trump regime's funding levels, with about 50% dedicated to detention and deportation of immigrants, also in line with fiscal 2021 priorities. 
Several state-level legislative initiatives aim to press further than a new administration that claims to support immigrants and reign in ICE, but carries on policy and funding decisions of the malevolent anti-immigrant Trump era. Legislation has been passed or introduced in California, Illinois, Maryland, New Jersey, New Mexico, Washington, and Virginia, restricting government collaboration with, and funding for, ICE's detention infrastructure. In New Jersey, where most immigrant detainees from New York are incarcerated, political pressure grows to end detention programs in Essex, Bergen, and Hudson county jails. On June 8, fourteen protesters outside Bergen county jail were arrested while blocking an ICE van believed to be transporting immigrants to the airport for deportation.  
In New York, the recently introduced Dignity Not Detention Act calls on the state government and local communities to get out of the business of immigrant detention by ending ICE contracts and refusing to enter into new or expanded contracts. The bill would halt the jailing of New York immigrants who face deportation, allowing them to remain united with families and communities where they can more effectively fight deportation through legal avenues. 
A statement of support for the NY Dignity Not Detention Act was signed by over 75 activist organizations including local immigrant-led groups like Centro Corona, DRUM, The Street Vendors Project, NICE, and Emerald Isle Immigration Center. Tania Mattos, a local immigrant justice activist and co-founder of Queens Neighborhoods United, says: "We look forward to making New York the next state in the union that … fight[s] to end our costly, inhumane, and unaccountable detention system." 
WHAT CAN WE DO?
In solidarity and with collective care,
Jackson Heights Immigrant Solidarity Network (JHISN)
Follow @JHSolidarity on Facebook and Twitter and share this newsletter with friends, families, neighbors, networks, and colleagues so they can subscribe and receive news from JHISN.