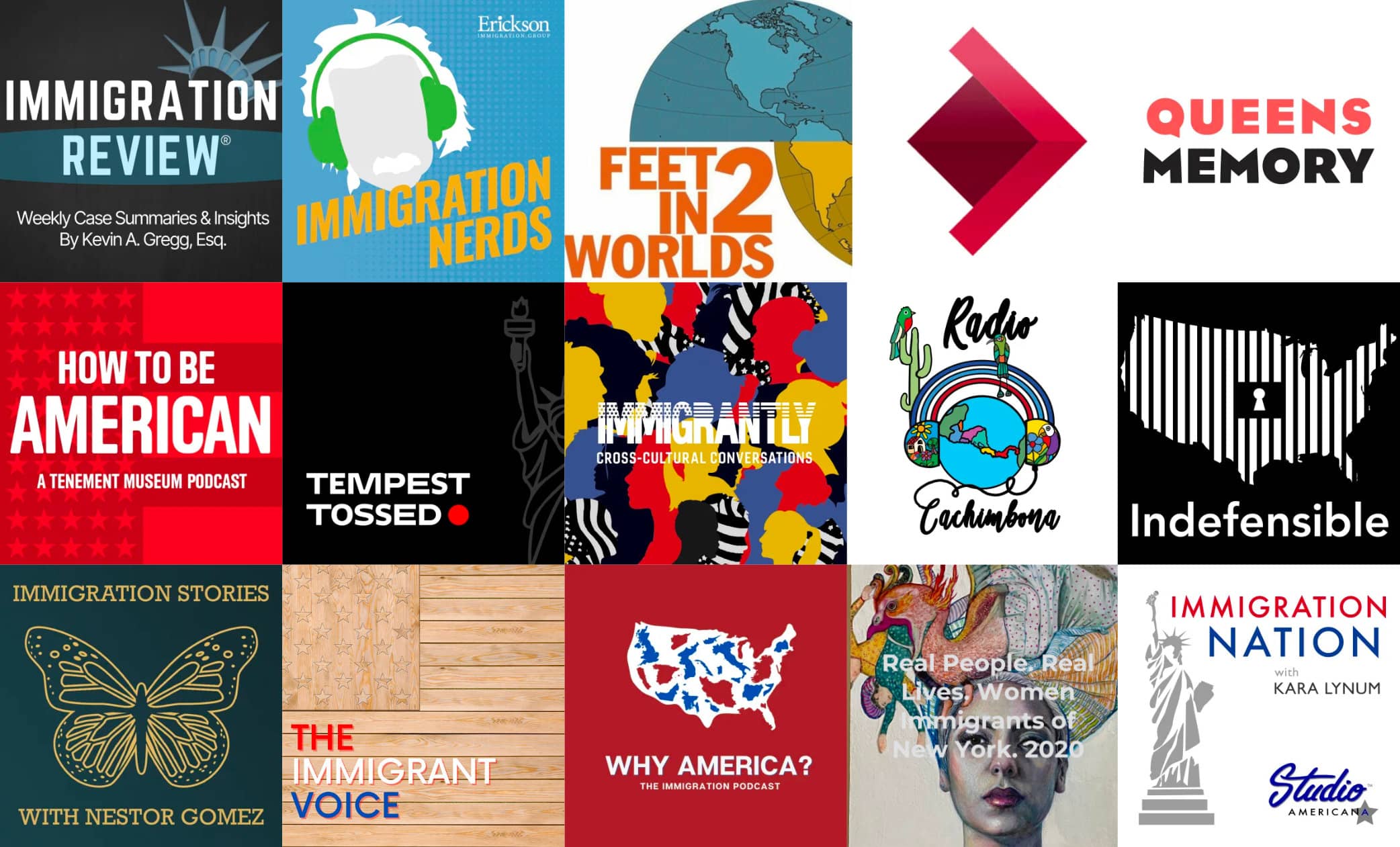 Dear friends,
Our newsletter arrives this week after a mass shooting in the large, working-class Asian and Latinx community of Sunset Park; a community that created an ICE Watch during the Trump administration and rallied to support its elder population during the pandemic—when city resources were lacking and xenophobic scapegoating about the causes of the virus were severe. This strong community successfully fought for tenants' rights and recently united to defeat a developer-led plan to rezone and replace the working-class waterfront. We know it will rally in recovery once again. 
We also write as a ferocious war still rages in Ukraine. Our first article reports on the red tape that Ukraine's refugees face if they do make it to the US. The newsletter ends with a lively review of the many podcasts you can listen to that will broaden your understanding, and social and political awareness, about immigration issues. We conclude with an invitation to share with us what you are listening to if we have missed a favorite podcast of your own!
Newsletter highlights:
Ukrainian migration to the US: slow and fraught

A wealth of immigration-related podcasts
1. Refugees, red tape, and race
As large numbers of refugees first started to flee the brutal Russian invasion of Ukraine (the total so far is over 4.6 million), the Biden administration promised that up to 100,000 would be given shelter in the US. Many Ukrainian refugees will eventually arrive in NYC, which has the largest concentration of Ukrainian-Americans in the country. But the process of actually allowing them into the US has barely begun. Key decisions about the status of Ukrainian migrants remain unresolved while the administration weighs practical and political factors. The current gridlock illustrates the complicated, bureaucratic, and politicized nature of US immigration law, even in the case of refugees officially welcomed by the president. 
The Biden government quickly granted Temporary Protected Status (TPS) to Ukrainians already inside the US, which protects them from being deported for at least 18 months. But this doesn't help Ukrainians who are not yet admitted. In addition, most Ukrainians are legally ineligible for ordinary asylum: fear of persecution by one's own government is usually a requirement.
The two main pathways that Ukrainians will probably use to gain entry to the US are visitor's visas and "humanitarian parole." Neither type of entry provides access to long-term residency or social welfare benefits. A visitor's visa is normally used for tourism or business, for up to six months. It might be a viable option for some refugees, depending on specific family circumstances and the discretion of immigration officers, but many Ukrainian families have already been turned down for visas.
Humanitarian parole is supposed to be available for "urgent humanitarian reasons." However, "it is not that easy to qualify," according to a recent article in Forbes. "Success often depends on family ties to U.S. citizens prepared to support the migrants on arrival or other such willing sponsors with financial means."
So far, there has been minimal direction from the federal government to guide the immigration bureaucracy or local authorities. The processing of applications has been painfully slow. The stakes are high: Ukrainian migrants whose visa applications are rejected or who aren't approved for humanitarian parole could face deportation or detention. 
In recent weeks, thousands of Ukrainians have tried to get faster access to humanitarian parole by flying to Mexico—which doesn't require a visa—and then traveling to the US border at Tijuana. This has led to a steady trickle of admissions, greatly facilitated by Ukrainian American civic and church groups that provide material support and run interference with both Mexican officials and the Border Patrol. But the journey from Ukraine is arduous, processing is slow, and success isn't guaranteed.
The circumstances of Ukrainian migrants gathering at the southern border are disturbing on a number of levels. They are camping out at the same sports complex formerly occupied by a caravan of migrants from Central America, who were forcefully turned back by the Border Patrol. We sympathize with anyone fleeing violent conflict. But while Ukrainians are slowly gaining admittance to the US, Black and Brown refugees from violent conflicts in Africa, Haiti, Latin America, and elsewhere are being excluded at the border, after their own arduous journeys. They are currently denied entry largely through the use of "Title 42"–-a false pretext of Covid public health control carried over from the Trump administration and strongly protested by human rights activists. 
Yet Ukrainians have immediately been given special exemption from Title 42. As legal advocate Blaine Bookey puts it, "President Biden's decision to welcome Ukrainian refugees seeking safety in the United States is the right thing to do. [But] there is no way to look at what's happening at the southern border other than along racial lines."
Title 42 will eventually be lifted for everybody. Biden plans to repeal it in May, despite active attempts by Republicans and some Democrats to keep it in place indefinitely. If that happens, Ukrainians in Mexico may actually find their admission process drastically slowed, as migrants of other nationalities are finally allowed to press their own claims for refuge. 
2. A podcast for every listener
Podcasting seems like a perfect way for grassroots activists to raise awareness about immigration. As an open and distributed platform, it allows stories and information to be broadcast widely without needing the resources of a radio station. The local activist groups that JHISN regularly reports about have not yet established their own shows. Instead, they appear as guests on the episodes of podcasts created by other groups or radio shows which makes it possible to reach an already existing and relevant listener base instead of creating a new one.
Some individuals and organizations have created podcasts dedicated specifically to immigration issues. Hendel Leiva, based on Long Island, began interviewing immigrant activists in 2015. He gave each person an opportunity on Immigration Mic to tell their personal story as well as talk about their activist work. After 5 years and just over 100 episodes, his series came to an end, but the benefit of the podcast media is that the archive remains. Archives are also great for binge-listening: 
Ali Noorani hosted the long-running podcast, Only In America; he created over 200 episodes of interviews from all over the US covering policy, social, and geopolitical situations surrounding immigration. Although Noorani's podcast ended recently when he gives up his role at the National Immigration Forum, there are several other organizations and think tanks in the capital with a focus on immigration issues:
Then there are the storytelling podcasts that advance inclusiveness or promote empathy by simply sharing the stories of human beings. The Immigrant Story invites immigrants to share their experiences, while The Immigrant Experience in America, Why America? and The Immigrant Voice have curated gatherings of stories about people choosing to come to this country. Nestor Gomez is a prolific storyteller, originally from Guatemala and now living in Chicago, who created 16 binge-able Immigration Stories, half of which feature New York City immigrants. Radio Cachimbona adds storytelling from Arizona about migrant resistance in the borderlands. Immigrantly is entirely produced by women and began as a podcast called The Alien Chronicles. It aims "to deconstruct stereotypical narratives of immigrants, their second-generation kids, people of color, and change-makers with cross-cultural, nuanced conversations." Taking a slightly different storytelling tack, How to Be American, produced by the Tenement Museum in NY, tells the history of US immigration and reveals the key role that women have played.
The New School, here in New York City, has contributed two podcasts to the immigration discussion. Now in its fourth season, Tempest Tossed focuses on refugee and asylum issues, and shares interviews with immigration policy experts, journalists, artists, and migrants. Hosted by Alex Aleinikoff, who served as United Nations Deputy High Commissioner for Refugees, the podcast has also featured Catalina Cruz, the first DREAMER in the New York State Assembly. The second podcast, Feet in 2 Worlds (FI2W), examines political issues related to immigration but has also found a unique approach to the subject by focusing on the significant role food plays in the immigrant story. FI2W last year joined with the Institute for Nonprofit News and also has a magazine and creates pieces for public radio. 
Immigration lawyers are also quite prolific in podcast creation. The Redirect Podcast is a weekly dive into the world of immigration law, refugees, border walls, rhetoric and politics, and the human impact of immigration restrictions. The Immigration Nerds looks at the social impact of immigration law, mixing social history and politics with discussions on race, identity, nationalism, war, and refugee policy. The Immigration Review Podcast comes out every Monday to explain opinions from the Supreme Court, the Board of Immigration Appeals, and The US Circuit Courts of Appeals. 
While the podcast format may not yet be leveraged as a tool by individual activist groups, there is certainly a wealth and variety of immigration-related podcasts that are available for us all to listen to on our commute, during a stroll down 34th Avenue, or in the evening after dinner. If there is a favorite immigration-related podcast you are listening to that we haven't covered in today's newsletter, please let us know at info@jhimmigrantsolidarity.org.
In solidarity and with collective care,
Jackson Heights Immigrant Solidarity Network (JHISN)
Follow @JHSolidarity on Facebook and Twitter and share this newsletter with friends, families, neighbors, networks, and colleagues so they can subscribe and receive news from JHISN.