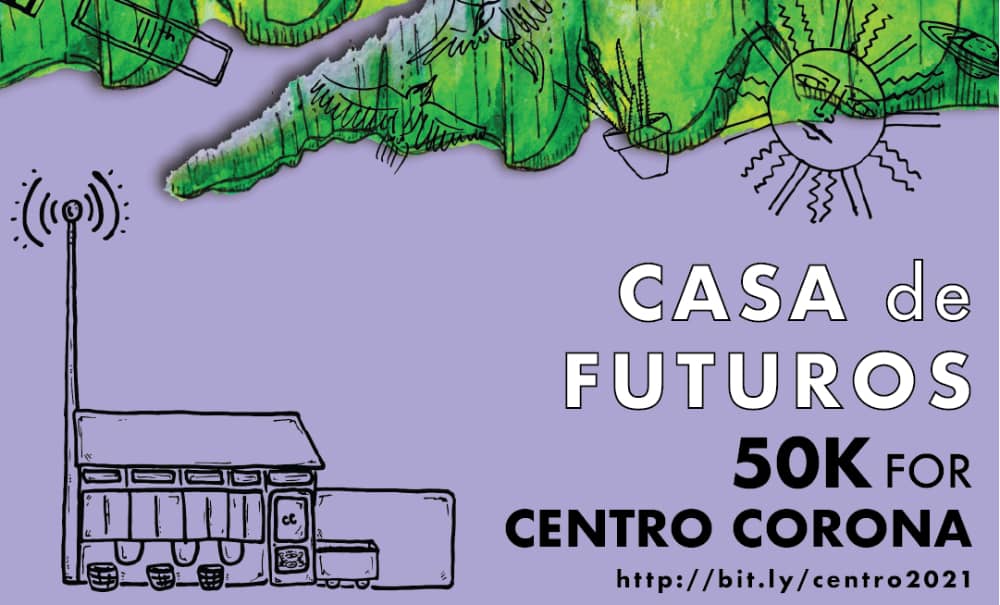 Dear friends,
As spring starts to bloom around us, we offer a newsletter with a hopeful eye on the future, and a giant hurrah for immigrant workers' victorious struggle to secure pandemic relief. 'Casa de Futuros' ('A House of Futures') is how Centro Corona describes their collective space and cultural center, built in the heart of Corona. We share a history of Centro Corona's vibrant immigrant-led space and invite your support of their fundraising campaign to cover rent for 2021. And for a third newsletter in a row, we report on the historic—and ultimately successful!—fight to include billions of dollars in the New York state budget for undocumented workers, including tens of thousands of Queens residents.
Newsletter highlights:
Help keep Centro Corona thriving!

Victory for the Fund Excluded Workers coalition
1. Centro Corona — a house of futures
Long before COVID-19 descended on us and 'mutual aid' suddenly became a common phrase, Centro Corona already seemed to echo the Mutualistas tradition from another time and culture (Texas and Mexico of the 1800's). Like those Mutualistas, which provided for working class families, this Central Queens community house places cooperation, and community protection and support as guiding principles of action. Their action recently has been running a fundraising campaign to ensure that Centro Corona can continue operating within and for the community for the rest of the year.
Born of the creative arts, Centro Corona has emerged from multiple pasts. In 2006, Tania Bruguera conceived of the Immigrant Movement International (IMI); an artist's examination of the political representation and conditions facing immigrants in various cities in the world. With funding from the Queens Museum in 2011 her "arte útil" concept was finally implemented as a storefront called IMI-Corona on Roosevelt Avenue. The local community was invited to use the space, with the intent that the cultural arts site would become a civic agent as a host of workshops. 
Local artists and culture bearers with longstanding ties to the largely immigrant community In Corona began making their own work within the space. By 2013, they pushed to create a community council aiming to develop independence from the IMI. Their reimagining process was interrupted when the landlord displaced them in 2018. For a non-capitalist community space to be ousted by a landlord seeking financial benefit was contemptuous, but the volunteer members came together and rebuilt Centro Corona at 47th ave at 104th Street. They continued using the experience, leadership, and knowledge of people from the working-class, migrant, youth, women, gender non-conforming, trans and queer communities to generate a self-determined and collectively-imagined future.
Some of Centro Corona's coordinators and volunteers note that when people meet and gather, there is a lot of celebration as well as social justice education. Half of the equation of their success is when someone shows up with certain skills and interests to share. The other half is when those same people come back to support the homework help, or sex education, or community safety training programs. People come back to continue being together.
"During the year, the space is full of political organizing meetings & cultural events, film screenings, poetry readings, celebrations, and discussion groups. Many campaigns have been born there, many more will be born. This space constantly generates new ideas and connections." Jenny Akchin @jennyaction
COVID forced doors to close in March 2020. Joining with Queens Neighborhoods United and Project Hajra, Centro Corona developed a Mutual Aid network which, in just 13 weeks, assisted over 80 families. Providing food deliveries, supporting health needs, and giving cash assistance, volunteers also conduct well-being check-ins, offer death and grief support, as well as joining virtual hangouts for conversations as a break from daily problems. They supported hundreds of families in the community during a time when federal and state government programs refused. 
The winter brought concerns of a second wave of COVID, financial stressors from more lost work, and worries about their kids' emotional and mental health. But recently the conversations seem to have changed as people are starting to think of new futures. Families in the Mutual Aid program have shifted from talking about uncertainty about COVID vaccination news to discussions about people getting vaccinated. And Centro Corona is looking at what its future holds. How will they use their garage/garden space for community gatherings? Will they be able to re-open as they hope in the summer? What will it mean to reopen while COVID is still with us? They know it will not look exactly the same as before … with direction from the community they are determining the best ways to use the space. 
Unlike the Mutualistas that were almost entirely shuttered by the Great Depression, we have an opportunity to ensure Centro Corona continues to be a house of futures for our community. Their primary expense is not the programs they run, but the monthly $3,800 they pay in rent for their space. Last week, as part of a fundraising campaign to raise $50,000 to keep their space for the rest of the year, Centro Corona entertained their community on facebook live events. We encourage our readers to donate what you can to support Centro Corona as a shared community space of collective reflection, encouragement, mutual aid, artistic expression, political action, popular education, cultural thriving and survival—a place of nourishment for the body, mind, and spirit. 
WHAT CAN WE DO?
2. $2.1 Billion towards Budget Justice for Excluded Workers
"Today, our work has been recognized. Our dignity has been recognized, and our dignity has been lifted by passing this fund …. It is more than $2.1 billion dollars. It is actually a recognition of undocumented workers. This is the future. This is the future that we're leaving behind for our kids, and a reminder for those who doubted us. This is proof that we did it." –Ana Ramirez, original hunger striker (QNS.com, 4/8/21)
 In what is being hailed as an historic victory, New York State passed a budget on April 6 that includes a $2.1 billion fund to support workers—mostly immigrant and undocumented—who have not yet received one dollar in federal or state support since the start of the pandemic. Over 192,000 undocumented New Yorkers, who pay an estimated $1.4 billion in annual taxes, lost their jobs during the crisis and will now be eligible for a one-time payment of up to $15,600 in retroactive unemployment and stimulus benefits. For undocumented workers in Jackson Heights and beyond, the fund is a lifeline to help cover missed rent payments and accumulated debt as workers struggle to avoid economic devastation. The Fiscal Policy Institute estimates that 290,000 workers statewide will benefit from the Excluded Workers Fund, including up to 58,000 Queens residents.
 The first-in-the-nation fund for excluded immigrant workers is the result of months of mobilization and strategizing by immigrant justice groups and their allies, including Make the Road NY, New York Immigration Coalition, and New York Communities for Change. In mid-March, the Fund Excluded Workers coalition launched a 23-day hunger strike by undocumented immigrants, which ended only after successful passage of the workers fund.
 The hunger strike did not secure the full $3.5 billion fund that would have provided equity with what other workers have received in benefits and stimulus checks over the past year. Recently incarcerated people were excluded from accessing the fund. And last-minute restrictions introduced by Governor Cuomo's team threaten to exclude many undocumented workers from the highest tier of benefits. Activists were careful to affirm the huge victory for immigrant workers, while condemning the inequities that continue to plague working class communities of color that have been most ravaged by the pandemic. 
 "[W]hile we celebrate today's news, the fact that workers even needed to fight for this funding is a travesty. The pandemic has made clear that the well-being of our communities is interconnected and the exclusion of some people hurts us all. It has also laid bare racist exclusions in our social safety net that keep some workers from basic support that's essential to survival. We hope that people across the country will be inspired by the bravery of workers in New York to end this unjust system once and for all." – Bianca Guerrero, coordinator, Fund Excluded Workers coalition
 And, indeed, inspired by New York, over 30 undocumented workers in New Jersey are now on a hunger strike demanding that the state provide unemployment and stimulus benefits for essential, but excluded, immigrant workers. 
 WHAT CAN WE DO?
Celebrate. Worker and immigrant struggles can and do win! Support the hunger strikers in NJ, and follow Make the Road New Jersey

here

.

Si se puede!

Share this

guide re: accessing the fund

with neighbors, activists, and community members.
In solidarity and with collective care,
Jackson Heights Immigrant Solidarity Network (JHISN)
Follow @JHSolidarity on Facebook and Twitter and share this newsletter with friends, families, neighbors, networks, and colleagues so they can subscribe and receive news from JHISN.