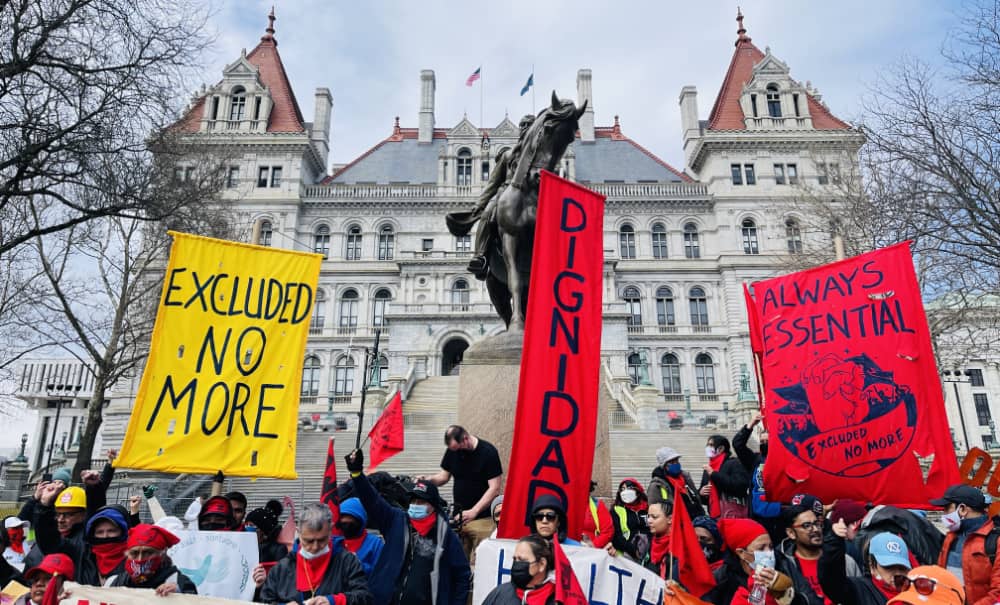 Dear friends, 
With you, we are watching for spring to poke around the corner and bring us renewed warmth and urban bloom. This week we offer a review of the internationally-acclaimed documentary Flee (2021), which narrates one Afghan family's story of escape, loss, and refuge. We then follow-up on a report in our last issue about the 'March to Albany,' as hundreds of immigrant activists arrived this past week in the capitol calling for budget justice, and a permanent fix to gaps in the safety net for tens of thousands of immigrant New Yorkers.   
Newsletter highlights:
Review of 2021 film documentary on Afghan refugee family

Immigrant activists march on Albany (Part 2)
1. Freedom Is Telling Your Story
"When you flee as a child, it takes time to learn to trust people. You're constantly on your guard, all the time, all the time. Even when you're in a safe place, you're on your guard."—Amin Nawabi in Flee (dir: Rasmussen, 2021)
The animated documentary Flee (directed by Jonas Poher Rasmussen and written by Rasmussen and Amin Nawabi) is the first film to be nominated in three different Academy Award categories: Best Animated Film, Best Documentary Feature, and Best International Feature Film. This captivating film, produced in Denmark, did not win any Oscars last Sunday. Award or not, the film is well worth viewing for its technical originality, and for how it starkly illuminates the decades of stress a refugee endures.
Flee recounts how Amin Nawabi (a pseudonym) fled as a gay teenager from Afghanistan to Denmark, and the consequences of his long and involved journey. Through an unusual combination of animated characters, television clips, historical film footage, photographs, and grey and white drawings, we learn how Nawabi's family endured the trauma of life under the mujahideen, flight to a repressive and secretive life in Moscow, desperate failed attempts to get smuggled by boat to Sweden, and, finally, Nawabi's successful illegal border crossing and asylum in Denmark.
What will stay with you from this film is the dramatic sacrifice of family members to save one another–a feature in so many refugee stories. The film also narrates the vile cruelty and greed of the traffickers, the corruption and brutality of law enforcement officers, and the fear and loneliness of being a refugee who yearns for "home" as a place of safety that is not temporary.
An essential part of Nawabi's survival is the false story he had to tell to be assured of asylum in Denmark–that all of his family was dead. With the possible exception of his father, none of his family is actually dead. At the time Nawabi escaped, his eldest brother and two sisters were in Sweden and his mother and older brother were in Moscow. Now they are all in various places in Europe. Late in the film we learn how much of a toll his necessary lie has taken on him: he cannot share stories of his family without revealing that they are alive, and so he constantly fears exposure. "I couldn't tell the truth. There were lots of consequences. I couldn't be myself. It was really painful."
In an interview on NPR between Nawabi, film director Rasmussen, and Ari Shapiro, Rasmussen tells how he and Nawabi became close friends in high school in Denmark. Nawabi recounts how Rasmussen is one of the few people he trusts, yet it took decades before he was comfortable enough to tell him his true story. He says the film has given him a sense of freedom.
Rasmussen and Nawabi want us to understand that "refugee" is a circumstance and not an identity. "Don't define him as a refugee because he is so much more. He's an academic, a homeowner, a husband, and a cat owner,"  Rasmussen explains.
Nawabi says it is amazing to see how Ukrainians today are being welcomed and helped, but how starkly differently other refugees were treated in 2015. The situation in Ukraine shows that displacement from your home and your country can happen to anyone. What is important is to help, and to be kind. 
To view Flee online: https://www.fleemovie.com/
2. March to Albany (Part 2)
"We came to Albany to tell the governor that we are awake, we are united, and we won't stop fighting until our needs are met … This movement is an example to other states. Immigrants across the country are rising up. We are demanding that our rights be respected … " —Miguel Angel Flores (Democracy Now, 3-24-2022)
One thousand excluded workers—together with elected officials, faith leaders, and political allies—marched to the steps of the Capitol on March 23, demanding the state budget include billions in additional support to fund excluded workers and establish a permanent unemployment insurance program for undocumented workers.
Crossing the Rensselaer-Albany Bridge and briefly shutting down traffic on a four-lane highway, activists called for an economic safety net that won't leave behind New York state's essential, and still excluded, immigrant workers.
As we reported in our last newsletter, tens of thousands of eligible New Yorkers were shut out of the historic $2.1 billion Excluded Workers Fund, established in April 2021 after a year-long mobilization by immigrant workers. Alongside the demand for re-opening the Fund with additional monies, immigrant justice groups are calling for 'Coverage for All': a health insurance plan for undocumented New Yorkers and documented workers who are paid 'off the books' by employers. To address structural inequalities in the social safety net dramatically revealed by the pandemic, immigrant groups are also fighting for a permanent unemployment insurance program to support undocumented workers.
New York's immigrant-led Fund Excluded Workers coalition (FEW) has helped launch campaigns for similar programs in at least five states across the US. State-level victories to fund excluded workers, and create permanent programs for health coverage and unemployment benefits, can help generate national momentum for changes at the federal level.
For now, the struggle is targeting Albany, Governor Hochul, and next year's state budget. "We all want the pandemic to be over," said Emma Kreyche of the Worker Justice Center of NY. "But it's callous and irresponsible of lawmakers to act as if we can move on while tens of thousands of excluded workers in our state are still in the midst of a profound crisis. No New Yorker should be without a safety net—not now and not in the future."
WHAT CAN WE DO?
Call Gov. Hochul (518-474-8390), press 3 then 1, and tell her to #FundExcludedWorkers!

Consider donating to the ongoing work of

#FundExcludedWorkers

.
In solidarity and with collective care,
Jackson Heights Immigrant Solidarity Network (JHISN)
Follow @JHSolidarity on Facebook and Twitter and share this newsletter with friends, families, neighbors, networks, and colleagues so they can subscribe and receive news from JHISN.