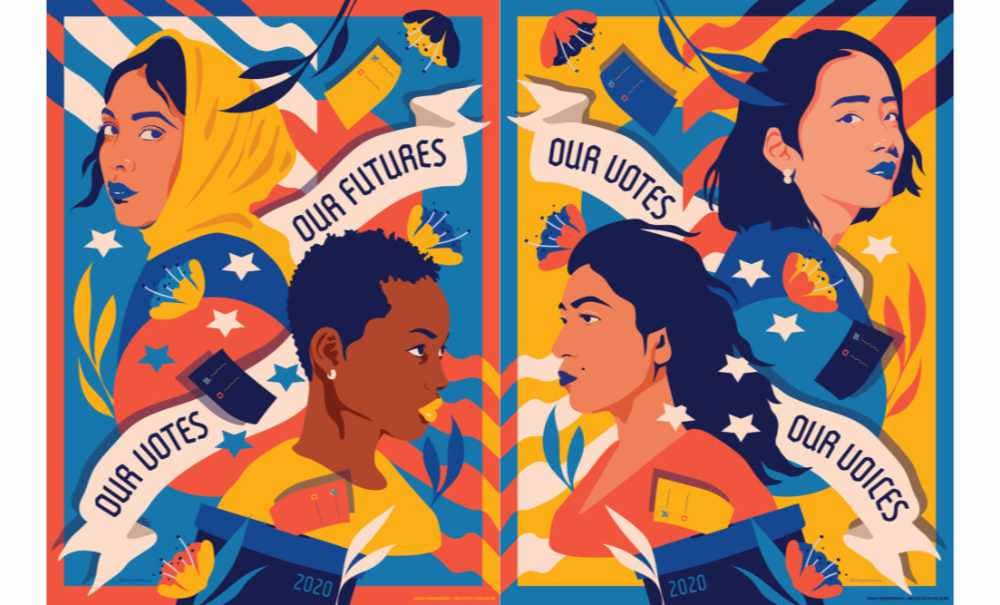 Dear friends,
We offer you this week, with collective hope, two promising stories about immigrant politics and creative power here in NYC. First, we report on a bill pending in the City Council that could grant municipal voting rights to almost 900,000 immigrant New Yorkers. Next, we look at the public art series designed by Amanda Phingbodhipakkiya that centers Asian American and Pacific Islanders in the very meaning of 'America.'
At the same time, with sorrow, we mourn the death and honor the life of Tarek Aziz, a delivery worker and member of DRUM who was killed on August 23 while biking after making a late-night delivery. Tarek is one of five food delivery workers who have died on the job in Brooklyn over the past year. Over 200 people gathered last Friday to remember Tarek, and to strengthen the larger movement where 'deliveristas' are supporting each other and fighting for safer working conditions. Just a week earlier, the NYC Council passed a first-in-the-nation slate of bills to guarantee minimum labor protections for deliveristas, an initial step toward economic justice; the grassroots immigrant collective Los Deliveristas Unidos–which co-organized the vigil for Tarek–has mobilized since winter 2020 to demand such protections, and more. Please help support Tarek's family with a GoFundMe donation of any amount. 
Newsletter highlights:
Immigrant voting expands democracy

Celebrating AAPIs in Times Square public art
1. NYC Voting Rights For Non-Citizens
"The more folks who are in the process participating in our democracy, the better it is for the entire city. This is an opportunity for New York City to really lead the country and lead the conversation in protecting and expanding voting rights."  —Paul Westrick, New York Immigration Coalition
Approximately 900,000 green card holders, DACA recipients, or people with Temporary Protected Status (TPS) live in New York City. They pay taxes, use city services, and send their children to NYC schools, but they can't vote for city officers or influence city laws.
That could change this year: The NY City Council is considering enacting Intro 1867, Our City, Our Vote, which would give those non-citizens the right to vote in city-wide elections.
The chief sponsor of the bill, Manhattan City Councilman Ydanis Rodriguez (representing immigrant-heavy Washington Heights, Inwood, and Marble Hill), has proposed that lawful permanent residents, or persons authorized to work in the US who have lived in New York City for at least 30 consecutive days, be able to vote for mayor, comptroller, public advocate, borough president, council member, and any city ballot initiative. Non-citizens would not be authorized to vote in state or federal elections.
The bill is supported by more than 50 immigrant-rights organizations. During the September 20 hearing on the bill, Assemblywoman Catalina Cruz (representing Jackson Heights, Corona, and Elmhurst) emphasized that non-citizen New Yorkers contribute about $10 billion in taxes every year: "This is taxation without representation, which stands contrary to the very principles on which our country was founded."
Because 35 council members support the bill, the council could override any veto from Mayor DeBlasio, who has opposed it. He and other opponents of the bill question its legality, alleging that it violates the state constitution. However, there is nothing in the constitution barring non-citizens from voting. In contrast, Eric Adams, the likely next mayor, provided written testimony at the September 20 hearing in favor of the law saying that it is fundamental for people to be able to have a say in who represents them in elected office. 
In fact, there is ample precedent for this kind of legislation. According to research by Ron Hayduk, a political scientist at San Francisco State University, early in US history, 40 states and federal territories allowed non-citizens to vote in local elections. But by 1900, after years of anti-immigrant campaigning, only 11 states allowed non-citizens to vote. Hayduk says, "There are a number of studies that have shown when immigrants participate, there's increases in and improvements in education policy and outcomes." New Yorkers may remember that non-citizens were permitted to vote in school board elections from 1968 until 2002 when control of schools passed to the state. As of June 2021, several cities in Maryland and two in Vermont permit non-citizens to vote in local and school board elections. Illinois and Washington, DC, are considering municipal votes for non-citizens.
Paul Westrick, senior manager of democracy policy with the New York Immigration Coalition argues, "This is a population of folks that we have classified as essential to our city. New York City cannot run without them. So how can we ask these New Yorkers to quite literally risk their lives, to keep us healthy and to keep this city running, while also denying them the right to vote, on how their taxes are spent and who represents them in government?" 
Several people have expressed concern about the ability of the Board of Elections to handle two different ballots when there are Federal elections at the same time as city elections. But Board of Elections executive director Michael J. Ryan said, "Of course there are challenges when you're maintaining two systems as opposed to one, but it has been done before and, from an operational perspective, there is absolutely no reason to think it cannot be done again." 
If the City Council doesn't pass Intro 1867 within the next three months, the law will have to be re-introduced, because most of the current council members will be replaced in 2022.
WHAT CAN WE DO?
2. Public art – a bold anti-racist statement in the city
Anyone visiting the area around Times Square after May 1 will have noticed many of the 40 distinct artworks and typographic designs displayed in 120 locations. The public art is part of the We Are More project by Brooklyn-based artist Amanda Phingbodhipakkiya (pronounced PING-bodee-bak-ee-ah), celebrating the power and solidarity of Asian American and Pacific Islander (AAPI) communities.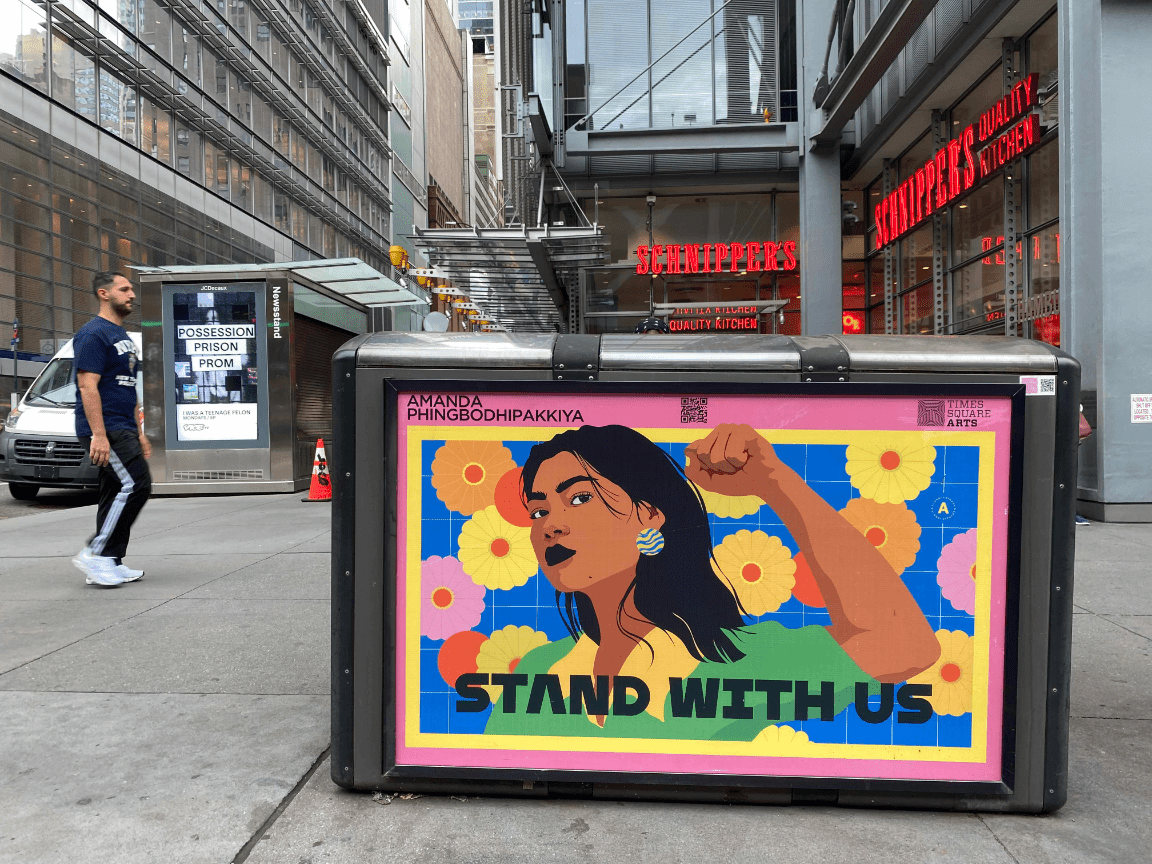 We Are More echoes elements of Phingbodhipakkiya's previous campaigns: I Still Believe in Our City, which addressed the rise in anti-Asian racism during the height of the COVID-19 crisis, as well as With Softness and Power, which appeared on the cover of Time Magazine in March, 2020. Bold flat colors, flower motifs, Asian women (though this time she includes men) with expressions of strength and purpose, juxtaposed with short forceful slogans.
Times Square Arts, the public art program run by the Times Square Alliance which displays this work, notes the series uses "the language of sorrow and anger to show that, despite what AAPI people have faced in New York and elsewhere, they remain undeterred and steadfast members of the cities they call home." An interview for Shondaland about I Still Believe in Our City revealed, from February to December 2020, 205 incidents of anti-Asian discrimination were reported to the New York City Commission on Human Rights, nearly a sevenfold increase from the 30 incidents reported during the same time period in 2019.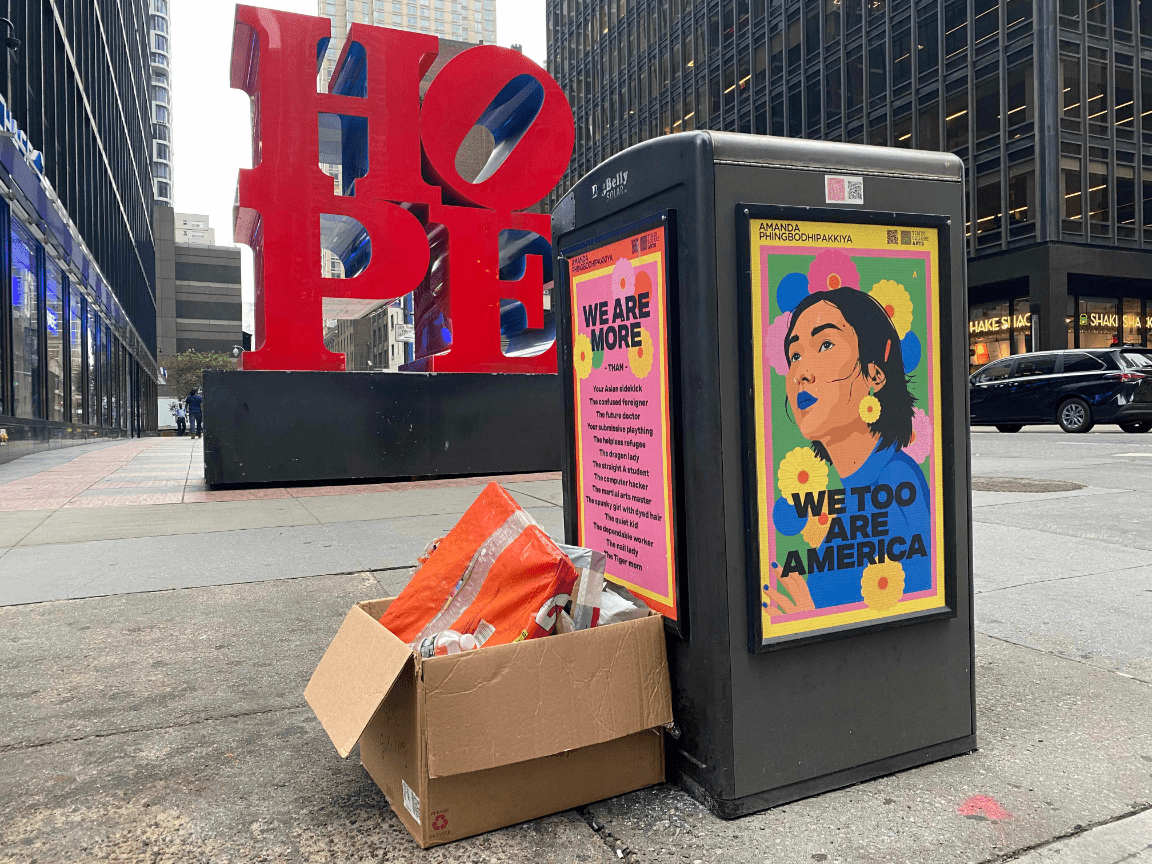 And today, with Phingbodhipakkiya's images throughout Times Square challenging New York to "Stand With Us" because "We Too Are America", we are reminded of the closing line I, too, am America, from Langston Hughes' poem published almost a century ago. That poem, which opens with "I, too, sing America," presented readers with the stark reality of racial inequality that Walt Whitman's famous, "I Hear America Singing" had failed to recognize as he wrote of working-class Americans.
As Phingbodhipakkiya notes in an eastwindezine interview, "Public art is widely accessible. You simply happen upon it as you go about your daily life, and that's the beauty of it. It doesn't sit behind gallery windows or an entrance fee." Her images become beacons of fortitude and belonging which compete with the density, crowds, and grunge of Times Square. They present the hope to 130,000 daily visitors to Times Square to see more than helpless refugees, computer hackers, nail ladies, and straight A students. Hope that the cursing, pushing, spitting, kicking, stabbing, and shooting will end. Hope that we will stand with these images that stand with us.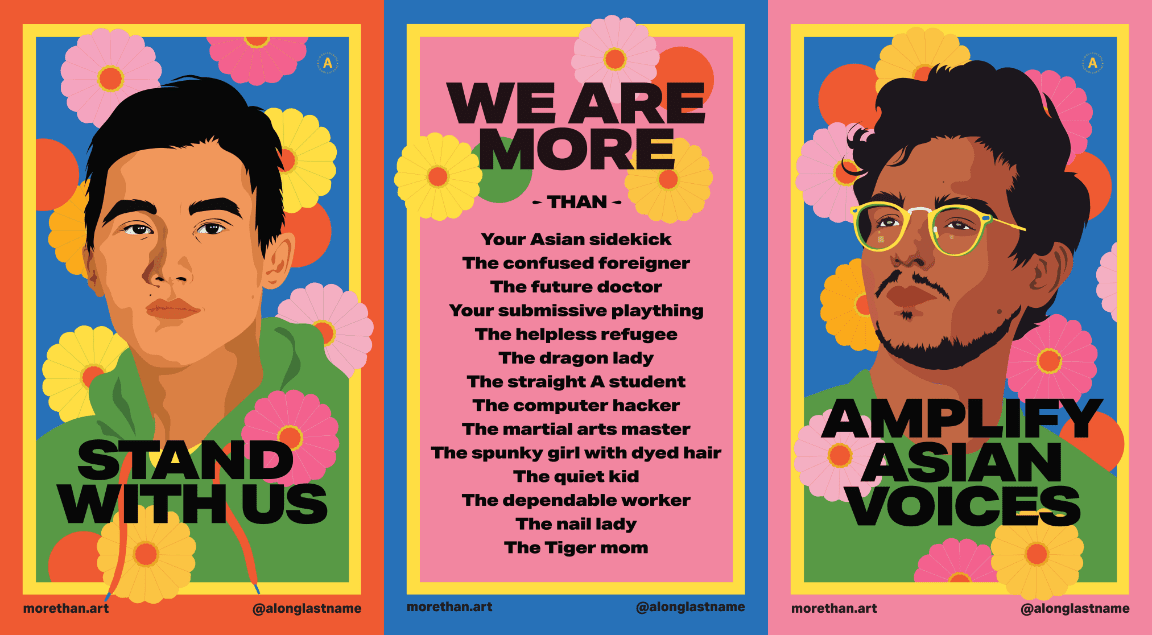 Possibly those visitors will scan the QR codes on the ground level We Are More posters and come to learn that "The peony symbolizes solidarity and friendship, the chrysanthemum signifies resilience—it's one of the few flowers that blooms when it's cold—and the hawthorn berry represents longevity and protection." Art, activism, and social change after all do happen in the worst of times.
WHAT CAN WE DO?
In solidarity and with collective care,
Jackson Heights Immigrant Solidarity Network (JHISN)
Follow @JHSolidarity on Facebook and Twitter and share this newsletter with friends, families, neighbors, networks, and colleagues so they can subscribe and receive news from JHISN.