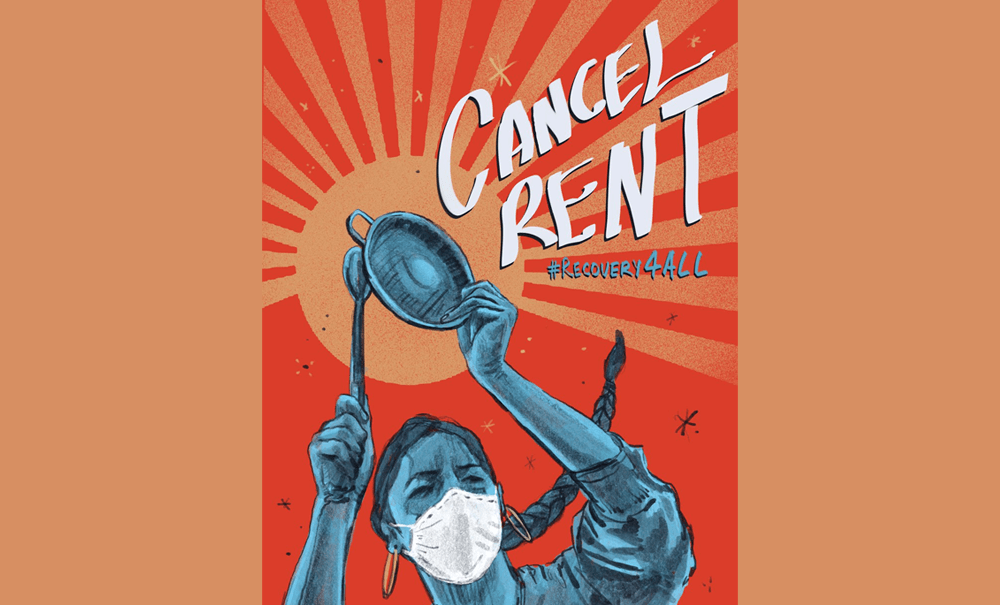 Dear Friends,
Greetings to you, as we enter the third month of stay-at-home restrictions in New York City. We continue to use our e-newsletter as a collective 'public space' during the pandemic, sharing news with a local focus on immigrant politics and solidarity. We are grateful for your encouraging responses! Please continue to send us ideas for future newsletter items, and feedback on how to make the newsletter most useful to you at info@jhimmigrantsolidarity.org
We are also now sharing the newsletter on social media. We invite you to follow @JHSolidarity on twitter and facebook, and to circulate newsletter items to folks who might be interested.  
Newsletter highlights: 
Immigrants Excluded from Rent Relief — update on #CancelRent and Legislative Proposals

Activist Art Traditions Continue during a Pandemic 

Immigrant Students Struggle for Educational Access 
1) Still No Rent Relief for Immigrants
Widespread inability to pay rent during the Covid-19 catastrophe continues to threaten the housing security of millions of immigrants left out of federal and state assistance programs. About 20% of tenants in the US failed to pay any part of their rent on May 1. This figure actually represents a drop from April 1. Analysts believe that increased rent payments were made possible by stimulus or unemployment money. Neither of these is available to roughly 11 million undocumented immigrants, as well as many others in their households.
#CancelRent says that there were 190,000 rent and mortgage strikes nationally. In New York, there were about 14,000 strikers, mostly in 57 large buildings. Many immigrants participated. This is probably not the massive response that organizers had hoped for, but it's a solid beginning for a movement that seems likely to grow as the rent crisis deepens. As activists say, "We can't pay, so we won't pay…together."
Proposals in the US Congress for emergency rent suspension or rental assistance, including initiatives by Ilhan Omar, Sherrod Brown, and a group of Queens Congress members, seem unlikely to go anywhere right now because of Republican opposition. At the state level, Governor Cuomo has made it clear that he does not support aid of any sort for undocumented immigrants. The current legislative effort with the best prospects may be the bill proposed by Michael Gianaris in the State Senate, calling for a 90-day suspension of rent and mortgages for anyone economically impacted by Covid-19. Notably, it has attracted support from some commercial tenants, individual homeowners, and even landlords, because it would provide for broad mortgage forgiveness as well as rent relief.
Currently, there is a NY State freeze on evictions, which has been extended through August 20. Tenant advocates expect a wave of eviction proceedings once the freeze ends, since all back rent will be due at that time. Also, a new provision added to the freeze puts the burden on tenants to prove that they can't pay their rent specifically as a result of Covid-19. This raises the prospect of grueling eviction hearings, initiated by landlords challenging the rent freeze for individual tenants. "Landlords will bring tenants to court, who will then have to demonstrate to landlords…that they were impacted, and the court will either find [tenants] credible or not," said Ellen Davidson, a staff attorney at Legal Aid Society. "In a city where landlords have called ICE on their tenants, people will have to choose whether or not to tell their landlords about their immigration status."
WHAT YOU CAN DO:
2) Making Art and Public Memory in Pandemic Times
In times of uncertainty, art is more than beauty or decoration — it's a tool. Art can heal, art can save lives, art can bring us together — even when we're apart. Aaron Huey, "Artists Paint a Portrait of a Pandemic"  
She has purple and white wings, pink-red boxing gloves, a blue cap, a white mask. Painted on the side of an abandoned building in Denver by mural artist Austin Zucchini-Fowler, Healthcare Hero is one of countless works of public art blooming across cities and towns in response to the pandemic. In New York City, she is four stories tall, a nurse in white and blue, palms pressed together like buddha, and E-S-S-E-N-T-I-A-L spelled out in bright red letters above her head—a poster designed by the Hawaiian artist Marvin Madariaga and projected on the side of an NYC hospital.  
Public art has a long, activist history of escaping the museum and the gallery to directly engage people in our everyday lives. In the current crisis, institutions ranging from the United Nations to the social change organization Amplifier are holding international contests for artists to contribute their work in the service of popular education and collective well-being during the pandemic.  
Here in Queens, a call for "Art from the Epicenter" is circulating right now for artists in Jackson Heights and neighboring areas to donate their artwork to support local organizations, including Covid Care Neighbor Network, Make the Road NY, and Meals for Elmhurst Hospital. Artists' donated work will be sold in an online exhibition/auction, with all monies going to local groups providing mutual aid to immigrant communities and those hit hardest by the crisis.
The Queens Public Library and Queens College have also launched the Queens Memory COVID-19 Project, a public art initiative gathering stories of how we are struggling, surviving, and coming together during the crisis. Part of the larger Queens Memory Project–a community archive narrating everyday life in "The World's Borough"–The COVID-19 Project belongs to us. As an intimate collection of oral histories, images, and experiences, the project will become a form of public memory for a moment which, for many of us right now, is filled with silence and loss.
WHAT YOU CAN DO:
3) Immigrant Students Can't Count on Billionaires for Equal Access to Education
Before the pandemic, the Education Justice Project of Make The Road New York, an immigrant-led justice organization, worked with public school parent committees and youth leaders to end ineffective punitive policies, and challenge the management of overcrowded and underfunded neighborhood schools. With a stunning 85% of youth participating in their Student Success Centers accepted to college, MTRNY's model was replicated across all five NYC boroughs, serving over 17,000 students in 34 schools.
After the pandemic hit and the schools closed, education for the children of immigrants has been disproportionately disrupted. The Mayor's office gave lip service to supporting immigrant families left out of federal funding and lacking access to educational technology. It was unclear how the city's approach would be funded, until the announcement that the Open Society Foundations, run by liberal philanthropist George Soros, earmarked $15 million to fund the Department of Education's remote learning program. 
Educational technology is often a problem area, especially for immigrant and low-income families. 15% of US households with children lack high-speed internet at home. One in three households that make below $30,000 a year lacks any internet. When parents live apart, or are in quarantine, internet learning can easily be disrupted. In New York, the Department of Education is supplying large numbers of internet-connected tablets, but some students still fall through the gaps. In one family we know, the children are doing their homework on their parent's mobile phone.
A JHISN newsletter reader, embracing Mutual Aid, asked us if there were organizations that were funding immigrant children who lack the devices and other technology necessary to participate in the remote learning program. They were looking to make a contribution to a local organization that specifically supports children's edtech needs. Please let us know if you are aware of any in our neighborhood?
Governor Cuomo took the idea of billionaires funding education even further by recently inviting Bill Gates to advise a council to 'Reimagine Education'. The council met without the input of any educators from New York City, or any grassroots experts like the New York Immigration Coalition's Education Collaborative. As Forbes magazine reports, The Gates Foundation has been involved in several education projects that have ended badly. This includes the 2011 InBloom initiative, which Gates simply walked away from after $100 million had been wasted.
Over 150 years ago an immigrant industrialist, Peter Cooper, founded Cooper Union on the Lower East Side to provide free education to the working class, women, and people of color. He aimed to promote civic virtue and harmony. Today we have racist millionaires in the White House who are "prompting immigrant families to forgo services that they fear could land them on Immigration and Customs Enforcement's radar or jeopardize their path to citizenship." Although right now we find ourselves a long way from civic harmony, perhaps we can at least provide all students access to the necessary resources they need to pursue the education they deserve. 
WHAT YOU CAN DO:
With gratitude for collective care and mutual aid in these staggering times, 
Jackson Heights Immigrant Solidarity Network
Follow @JHSolidarity on facebook and twitter and share this newsletter with friends, families, neighbors, networks, and colleagues so they can subscribe and receive news from JHISN.