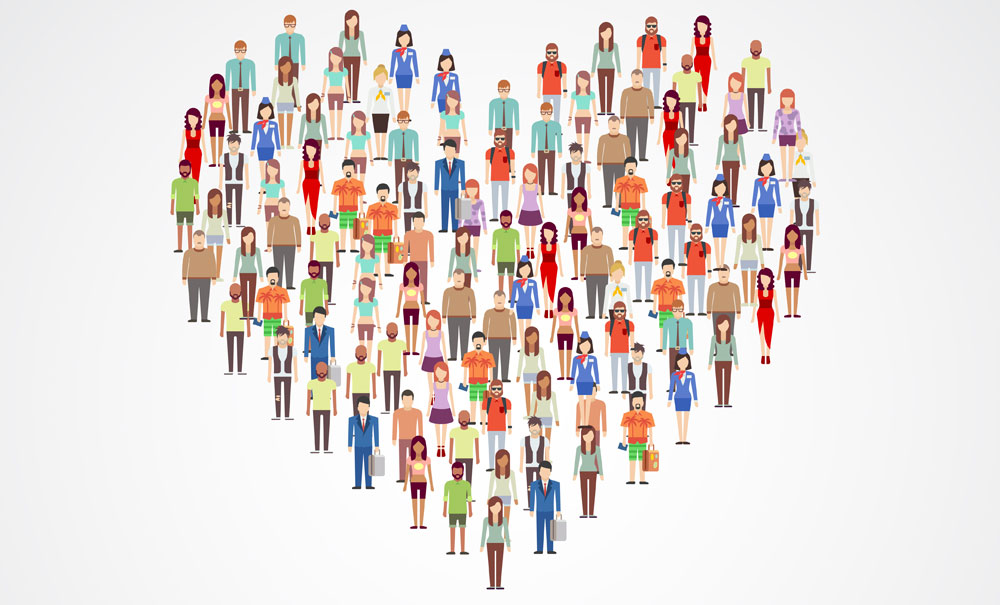 Dear friends,
Warm greetings to each of you, as Spring arrives in full force during the ongoing pandemic. In this strange mix of blooming flowers, economic anxiety, lush green trees, and local grief, we hope you are finding ways to be safe and to feel connected. 
To celebrate the return of light and warmth, we want to share with you a public art project that one of our newsletter readers just shared with us. 'Queensbound' is "poetry for the people online," a collaborative digital project that brings together recordings of poetry by Queens writers, many of them first or second-generation immigrants. One poem is selected for each subway stop in Queens–click on the green dot for 'Jackson Heights/Roosevelt Ave' stop and you will hear Meera Nair, local writer and community activist, reading her wonderful poem "In These Streets". 
Newsletter highlights:
How to practice Mutual Aid 

New York Taxi Workers Alliance: Essential Workers

Local small businesses in danger as federal programs offer little relief
1. 'Solidarity not Charity' — Practicing Mutual Aid
Mutual aid is a form of political participation in which people take responsibility for caring for one another and changing political conditions … by actually building new social relations that are more survivable. There is nothing new about mutual aid—people have worked together to survive for all of human history. "Solidarity Not Charity…" March 2020  
Many of us first heard the phrase 'mutual aid' in the early weeks of the pandemic, as neighbors in Jackson Heights quickly mobilized in the face of a frightening threat. Working at the local level, often through all-volunteer actions, mutual aid starts by respecting and nourishing our basic interdependence—the deeply 'mutual' ways in which we rely on, care for, and shape each others' everyday lives. 
The origins of mutual aid are many. Some would remind us that thousands of years of communal ownership and collective action among indigenous communities embody the core values of mutual aid. Some would point to the Black Panther Party's free breakfast program for children, free health clinics, free ambulance services, and transportation programs for elderly folks in the community. Some of us remember how here in NYC, after the devastating hurricane of 2012,  Occupy Sandy organized emergency relief, food and essential supplies delivery, clean-up crews, and house rebuilding that exceeded what Bloomberg's municipal government was willing or able to provide. 
Mutual aid steps in to say that we can't wait for government or philanthropy or power elites to meet our needs—especially in disaster or crisis situations. Mutual aid says that we will cooperate and work together for the sake of our common good, our shared and very 'public' health, our interdependent economic lives, our cultural survival. Mutual aid knows that the new social relations that we create through intimate material support for each other can be a building block for sustained social movements and political change. 
Locally and globally right now, there are countless mutual aid projects taking place, sharing resources and power, redistributing money and the tools for protection in a pandemic. Many of them don't call themselves 'mutual aid'; nor do they need to. Here in Jackson Heights, immigrant-led and frontline community groups are organizing essential workers, delivering food and needed supplies, mobilizing rent strikes, strategizing small business survival, sharing public health information, providing burial assistance, and collectively mourning community members lost to COVID-19. All of this and more is mutual aid.
We invite you to explore some of the mutual aid projects taking place in our neighborhoods (see below), and consider how you might participate. Mutual aid requires us to move beyond the language of gifting or donating or helping those in need, by recognizing that the people you are 'aiding' have already aided you, and will aid you again. It is, profoundly, mutual. As those of us with food security think about how to participate in food assistance for community members threatened with hunger and food insecurity, we can remember how important immigrant, and often undocumented, labor is at supplying us with access to food. Those of us who can redirect some or all of a stimulus check to local immigrant-led groups can reflect on how the money can be more 'mutually' distributed in the face of a federal government that systematically excludes many immigrants, and all undocumented households, from emergency federal relief. 
WHAT YOU CAN DO
2. NYC Taxi Drivers — Essential Workers Fighting for Essential Rights
The Queens-based New York Taxi Workers Alliance (NYTWA) was featured in 2020 Pulitzer Prize-winning investigative reporting detailing the predatory loans that have crushed the NYC taxi industry. In August 2019 the NYTWA successfully lobbied to ensure that a cap was extended on the number of for-hire vehicles in NYC, and was taking the next steps to demand guarantees for a living wage, job security for app drivers, and a raise for all drivers. Then the COVID-19 pandemic hit. 
The NYTWA was forced to shift priorities. They are now focused on advising their nearly 20,000 members–almost all immigrants, from over 100 countries–on ways to deal with the ongoing health and economic crisis. The NYTWA's comprehensive guide to help drivers and their families get through the pandemic covers the full range of needs: from unemployment advice to burial assistance, stimulus checks and medallion loans, business loans, and food access. 
The group's activist work also continues. NYTWA is gathering signatures for a petition against Uber's employment practices, including the company's misinformation about drivers' eligibility for unemployment benefits. They are using Twitter to report on the large number of food deliveries by NYTWA members, and to share the announcement that TLC drivers will now be paid $53 per route by the city, rather than an hourly fee for these food runs.
NYTWA also announced recently the good news that the MTA will pay for taxis for essential workers during subway shutdowns. Between 1 am and 5 am, trips will be dispatched via Curb, Arro, and other apps that are now contracted for Access A Ride taxi trips. The Jackson Heights Immigrant Solidarity Network values the services that taxi drivers provide throughout our city and applauds the work that NYTWA is doing to ensure they are recognized and rewarded for their essential work.
WHAT YOU CAN DO
Add your

support to the petition

calling on Uber to stop misleading drivers about their employment rights

Listen in to the special community radio program held every Sunday night at 9 pm by dialing in to Radio Samatiguila at 712-770-5345; Code 123843#
3. How the PPP has Failed Small Businesses
The vibrant street-level commerce of our local neighborhoods has been transformed into stretches of urban desert, as small business after small business stands empty, indefinitely closed during the pandemic. The Queens Chamber of Commerce recently warned that up to 50% of Queens restaurants and bars may not reopen. The emergency federal Payroll Protection Program (PPP), hailed as offering stimulus money to aid small businesses,  "has been a disaster" for Queens businesses, according to CoC President Tom Grech. Many immigrant-run small businesses, the cultural and commercial backbone of Jackson Heights, face a precarious future as federal relief remains out of reach.
The PPP was initially funded by Congress with $349 billion. The idea was to generate forgivable loans to small businesses so they could pay current employee wages, plus rent, utilities, and mortgage interest. However, the way the program was structured and implemented turned it into a bitter farce. 
The PPP plan had two critical problems. First of all, the definition of "small" business, as crafted by lobbyists, was ridiculously broad. Loans of up to $10 million were available, offered to businesses with up to 500 employees. PPP eligibility regulations were riddled with giant loopholes. For instance, wealthy owners of large hotel or restaurant chains were allowed to qualify for PPP loans if each of their franchises or outlets had fewer than 500 employees. One absurd example was Ashford, Inc. Made up of several subsidiaries owning or operating 130 hotels, it received $126 million. Shake Shack, a parent company with many different stores, also received a multi-million dollar loan.
The second major problem was that PPP loans had to go through a complicated application process at private banks before being forwarded to the Small Business Administration (SBA) for approval. Banks favored their long-time customers–usually what we would consider mid-sized businesses with access to accountants and lawyers. This favoritism effectively put true small businesses at the end of the line. Many ended up on long waiting lists, and couldn't even get their loan applications reviewed by the banks.
With funding quickly running out, and millions of small businesses facing disaster, there was a huge outcry about the unfairness of the PPP. As a result of public pressure, the regulations were tightened; many big companies "voluntarily" returned their loans. On April 29, Treasury Secretary Mnuchin said that large public companies would have to prove they met the revised criteria or face criminal liability. He promised to audit any company that received more than $2 million. More than 100 companies have disclosed loans of $2 million or more; as of April 30, about 20 will return the money.
All $359 billion of the original PPP funding is gone. It wasn't enough, and it wasn't distributed fairly. Look around your neighborhood. Don't you think the shuttered small businesses you see are the ones Congress should be helping? The SBA says it approved 2 million loans. They say that the loans they did make averaged around $206,000 each–far more than most local mom and pop businesses were asking for. One-quarter of all the PPP money went for loans of more than $2 million. If the PPP money was spread around, almost 7 million small businesses could have gotten a $50,000 loan. Instead, small local businesses in our neighborhoods–many of them immigrant-owned–are struggling to survive, their viability undermined by favoritism, bureaucracy and corporate greed.
WHAT YOU CAN DO
Thank you for supporting the many forms of collective care and political power that our communities so deeply need right now. We wish you well-being and spring breezes.  
In solidarity,
Jackson Heights Immigrant Solidarity Network
Please share this newsletter with friends, families, neighbors, networks, and colleagues so they can subscribe and receive news from JHISN.