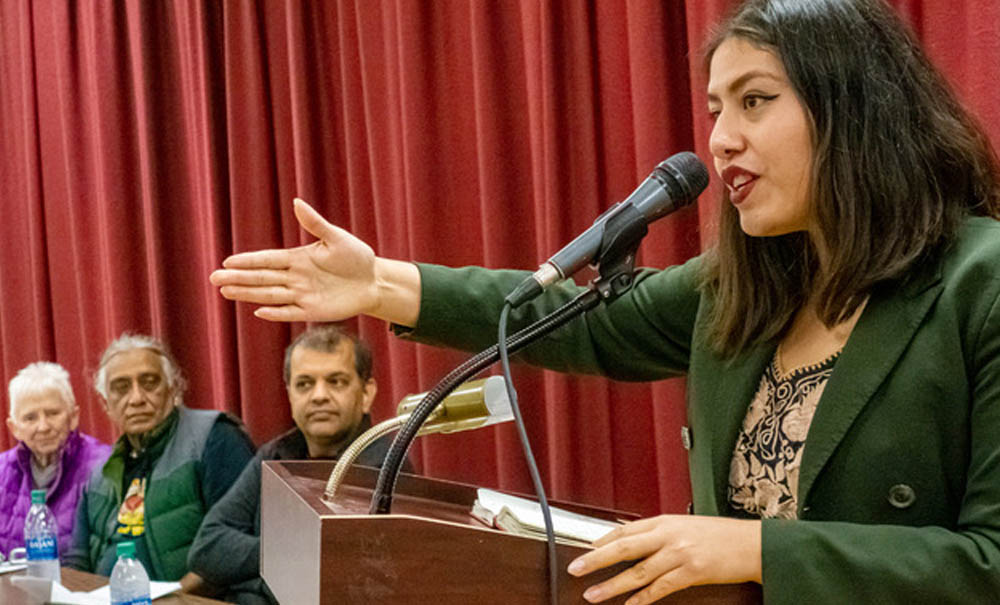 At JHISN's Community Gathering on October 17, activist Denise (Lupita) Romero spoke about her recent confrontation with US Senator and Democratic Party Leader Chuck Schumer on the streets of Woodside, Queens. Some video of the encounter can be seen online:
During the street confrontation, Romero told Schumer that he wasn't welcome in Queens. She said that, in spite of Schumer's claims about supporting immigrant rights, he and his fellow Democrats were actually dividing immigrants: offering to help some, while putting a deportation target on the backs of many others. Speaking over Schumer as he wagged a finger in her face, Romero insisted that dividing immigrants this way undermines the struggle for rights and justice for all immigrants.
Romero, a "Dreamer" brought to the US as a small child, would possibly be eligible for permanent legal status if the "comprehensive immigration reform" legislation proposed by Schumer and Nancy Pelosi ever passed in Congress. (At least if she met a set of strict eligibility guidelines and conditions.) But, as Romero pointed out to Schumer, her own parents would be still be subject to deportation, along with millions of other immigrants. In addition, the Democrats' "comprehensive immigration reform" bills include billions of dollars for tougher enforcement—more ICE and Border Patrol agents, more courts and more equipment, including drones and other advanced technology.
At the JHISN community gathering, Romero said that she understands why lots of US citizens are caught up in supporting the Democratic Party as a way of defeating Trump. But she argued passionately that, with the rights of millions of immigrants on the line, people should be demanding much more from their leaders than what Schumer, Pelosi, and other mainstream Democrats are offering.
JHISN received a range of feedback about Romero's talk. Some attendees expressed discomfort with her anger, and felt defensive. Others worried that attacks on Democrats could help Trump get reelected. And still others were enthusiastic about the talk, which they found inspiring, challenging or energizing. If you weren't there, check out the video of Denise Romero, and see for yourself.
For a recap of our community gathering, including photos and videos of the speakers' presentations and musical performances, see our News story.