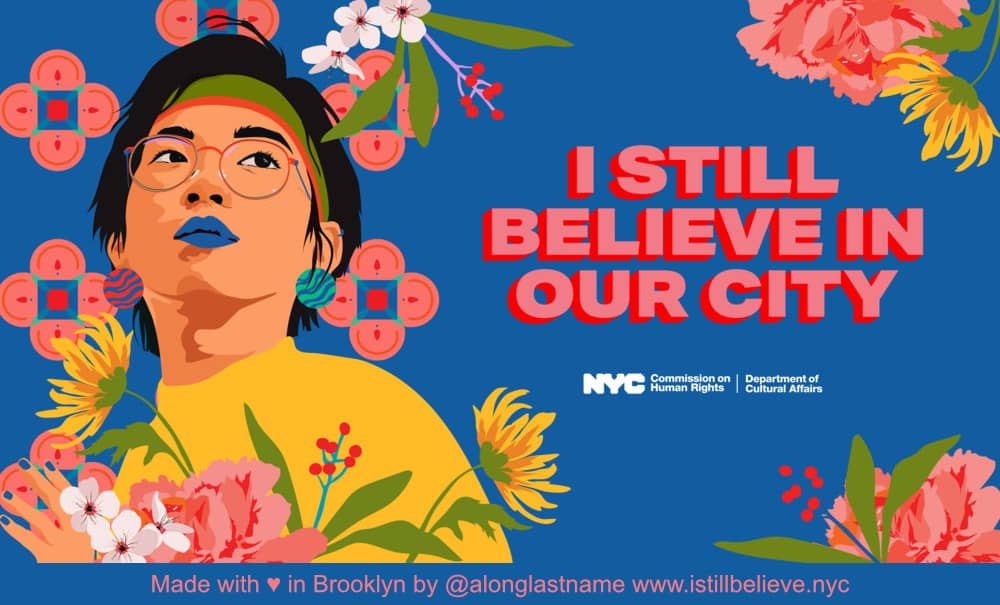 Dear friends,
We offer you this week two articles focused on people of Asian descent in New York City, where the Asian community numbers over 1.5 million residents. We take a look at the shifting political affiliations of Asian-American New Yorkers, as the Republican party makes inroads with promises of 'law and order' for a community targeted by growing anti-Asian violence. And we briefly introduce you to a recent series of public podcasts, featuring the voices and storytelling of people of Asian descent here in Queens.  
As the winter solstice and longest night of the year approaches, we wish you the seeds of new beginnings–and the warmth of local solidarity.
Newsletter highlights:
Rise of conservatism among Asian New Yorkers?

Queens Library podcasts: local histories of Asian immigration
1. Conservative Asian Mobilization Alarms NYC Democrats
Conservatives are gaining influence in a number of Asian American communities in New York City. This rightward shift has significantly impacted recent elections in the city, shocking a Democratic Party leadership that some accuse of taking the fast-growing Asian vote for granted. 
A conservative trend, particularly among recent Chinese American immigrants, was clearly evident in the 2020 mayoral contest. Hundreds of mostly-Asian voting districts—including many in Flushing and Elmhurst—voted for Republican Curtis Sliwa over Eric Adams, often by substantial margins. Although Adams still prevailed overall in mainly-Asian precincts, the Democratic margin of victory in those neighborhoods was cut in half compared to the De Blasio margin in 2017. 
This trend continued during the latest midterm elections. Asian American voters, actively courted by Republicans, contributed to right-wing candidate Lee Zeldin's unexpectedly strong challenge to Kathy Hochul. Crossover Asian votes in Brooklyn and Queens helped flip House seats to the Republicans. An aggressive campaign by Lester Chang—a conservative Republican endorsed by the likes of Rudy Guiliani—unseated Peter Abbate, a Brooklyn Democrat who had been in the State Assembly since 1986.
The electoral trend is just one manifestation of the energetic grassroots mobilization and organizing happening among local Asian American conservatives. For example, a demonstration protesting a center for homeless people in Sunset Park drew about 1,000 conservative opponents; similar protests have happened in Flushing. The Chinese American Citizens Alliance of Greater New York (CACA), a conservative group with satellite offices in Elmhurst and Flushing, is at the forefront of Republican-supported campaigns to prevent changes in the gifted-and-talented programs in city schools, which have largely excluded Black and Latinx students. Characterized by an unquestioning pro-police stance, CACA also led a movement against the prosecution of police officer Peter Liang, son of Chinese immigrants, after he fatally shot Akai Gurley in the stairway of a NYCHA building in 2014. A number of the Asian activists spearheading these campaigns are registered Democrats, but are now openly speaking about their lack of party loyalty and the possibility of becoming Republicans.
There have always been conservative trends among immigrants—sometimes based on religion, political experiences in their home countries, or simply class interests. But the failure of Democratic elected officials to make convincing progress on issues critical to Asian Americans seems to have enabled conservatives to gain a wider audience. The Republican Party has moved quickly into the vacuum, just as it has with some Latinx voters.
Among the key issues exploited by the Republicans are the twin dangers of street crime and anti-Asian violence. Racist violence against Asian Americans in New York continues at a very high level, and the unfocused and divided response by Democratic leaders hasn't improved things. For instance, efforts by New York Democrats to ramp up community mental health systems and remove potentially violent people from the streets are of questionable value, highly controversial, disorganized, and have resulted in no practical improvement for Asian communities so far. Even the funds meant to generate new community-based public relations campaigns opposing anti-Asian hate have fallen into a black hole, with no public announcement of recipients and no accountability from the city.
On the other hand, Sliwa's Guardian Angels set up well-publicized street patrols in Manhattan's Chinatown, Bay Ridge, Flushing, Middle Village, and other neighborhoods, promising to protect Asian residents. Even though the patrols were more performative than substantive, they were at least a visible street-level response. For some Asian Americans living in constant fear, the Republican program of harsh policing and "law and order" may seem like a possible way out, even though they are aware of the Trump administration's role in whipping up anti-Asian hate. 
Asian Americans are also being courted by the Right on the issue of affirmative action in jobs and education. During the recent midterm campaign, Asian New Yorkers received mailings attacking Joe Biden and the Democrats for supporting affirmative action, which was characterized as discrimination against Asians as well as whites. One flyer mailed to JH residents came from the America First Legal Foundation, founded by notorious anti-immigrant white nationalist and Trump advisor, Stephen Miller. Conservative groups have also initiated well-publicized national lawsuits, sometimes involving Asian plaintiffs, aiming to overturn affirmative action at universities.
Prominent Asian Democrats express frustration that their party isn't maintaining strong, active relationships with Asian communities. When the disappointing results of the 2022 New York midterms started rolling in, Congresswoman Grace Meng angrily tweeted, "Our party better start giving more of a shit about #aapi voters and communities." But more promises and a better campaign organization aren't likely to change the current slippage to Republicans. Democrats will have to come up with practical solutions to Asian American concerns and follow through on their pledges if they want to keep their current majority among local Asian voters.
Nevertheless, there are some positive countertrends for Democrats. Taiwanese immigrant Iwen Chu just became the first Asian American woman elected to the NY State Senate. She ran a progressive campaign, listed on both the Democratic and Working Families ballot lines, in a Brooklyn district that is 46% Asian. In our local City Council District 25, three Asian Americans emerged as leading vote-getters in the Democratic primary, with progressive candidate Shekar Krishnan eventually prevailing. A new survey from the Coalition for Asian American Children and Families (CACF) shows that there is strong sentiment in favor of racial diversity and desegregation in education among Asian American and Pacific Islander (AAPI) students and parents. Nationally, Asian Americans continue to vote Democratic by a significant margin; this might eventually help weaken the conservative electoral organizing here.
An entirely different model of Asian American politics is exemplified by CAAAV Organizing Asian Communities. Rather than starting with electoral politics, CAAAV works from the bottom up to build bases among working-class and poor Asians living in Queens and Manhattan housing projects. They organize residents to protect each other and improve their conditions, insisting on close collaboration with African American, Latinx, and Native activists.
"Rarely do public institutions and government care about what happens to us. They think of our well-being as an afterthought. They speak pretty words but fail to give us what we need. In many cases, these institutions contribute to our harm. We know that Asian, Black, Latinx and Indigenous communities face the same threats, and that these forces against us grow more powerful when we fight against each other…. These conditions are why we must fight and organize for resources to make our lives safer. We respond to anti-Asian violence by organizing with our neighbors to fight for true safety for the working class every single day—safe housing, dignified work and the right to live without fear." —CAAAV
WHAT CAN WE DO?
2. Asian Voices Animate Queens Memory Project (QMP) Podcasts 
"Listening back to all eight episodes, I realize we've created a multi-lingual memory book that speaks to how far we've come as a borough. And how far we still have to go."  –J. Faye Yuan, Queens Memory Curator, Season 3 Episode 10, "Things That Brought Us Together" 
We urge our readers to check out the wonderful podcast series, featuring stories from neighbors of Asian descent, produced by Queens Memory Project (QMP) and the Queens Library. All ten episodes of the new Season 3, "Our Major Minor Voices," center the voices, histories, and personal narratives of Asian and Asian-Americans in Queens. Thoughtfully curated and skillfully produced, the series is a gem for all kinds of local listeners: from long-standing members of Asian communities to newcomers to Jackson Heights. Eight of the ten episodes are bilingual, featuring the many languages of Queens including Nepali, Bangla, Korean, Mandarin, Hindi, Tagalog, and Tibetan. 
Three public events were held in Jackson Heights to launch three different podcast episodes with special resonance for our neighborhood. To mark the release of Episode 9, "The Greatest Inheritance," featuring the stories of two New Yorkers from Bangladesh, a live celebration of Bengali poetry, music, and dance was held last June on 34th Avenue and the Open Street.  
 In a borough where one in four residents identifies as Asian American, the podcasts' local histories of "minoritized" communities are a major contribution. Listen, explore, learn, and enjoy.  
WHAT CAN WE DO?
In solidarity and with collective care,
Jackson Heights Immigrant Solidarity Network (JHISN)
Follow @JHSolidarity on Facebook and Twitter and share this newsletter with friends, families, neighbors, networks, and colleagues so they can subscribe and receive news from JHISN.