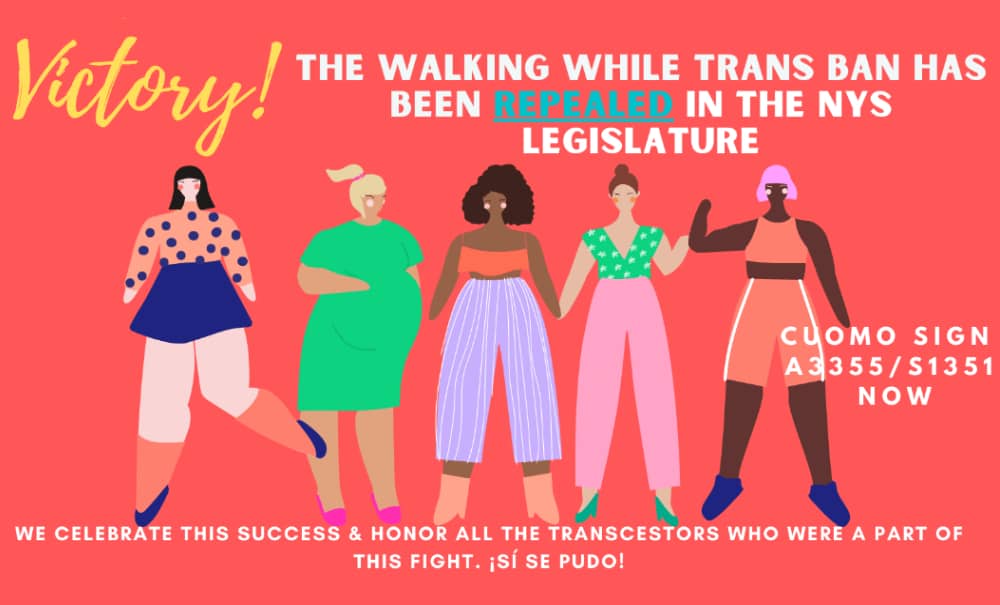 Dear friends,
Snow has fallen on Jackson Heights and the rest of the nation – JHISN hopes that you and those close to you are well. It is Black History month and The Immigration Coalition has shared 7 Facts reminding us of the history of Black immigrants in relation to national policies which unjustly incarcerate and vilify. This week's newsletter offers two stories on the politics of incarceration and decarceration for US immigrants. First, the repeal of a NY State criminal statute that benefits transgender immigrants in Jackson Heights. Second, our ongoing challenge to demolish the powerful fiction of 'good' vs. 'bad' immigrant, as a new Democratic administration must face its own history of criminalizing immigration.
Newsletter highlights:
Repeal of "Walking While Trans" Ban Celebrated by Immigration Groups

Refusing the Narrative of 'Good' vs. 'Bad' Immigrant 
1. 'Walking While Trans' repeal marks a turning point for New York trans immigrants
Racial justice, LGBTQ, and immigrants' rights advocates scored a long-awaited victory early this month when Governor Andrew Cuomo signed a law lifting a decades-old rule that posed a threat to many of the state's Black and Latinx residents. Among the chief complaints raised was the way it had been used by police to target New York's transgender residents, including here in Queens.
Advocates say repeal is especially important for trans people of color and immigrants. It could also create momentum for more change, including decriminalization of sex work.
The new law repeals a statute passed in 1976 that became known as the "Walking While Trans Ban." It allowed police to stop people for loitering, ostensibly to stop prostitution. But critics said the "notoriously vague" law permitted police to arrest, without evidence, anyone they presumed to be engaged in sex work. In a 2016 civil rights class-action lawsuit arguing that the law was unconstitutional, the Legal Aid Society wrote that a "woman can be improperly arrested and detained simply because an officer takes issue with her clothing or appearance."
"This statute has been utilized at the discretion of law enforcement to profile, harass, and criminalize women of color, particularly trans women of color, not only creating a pipeline to unjust incarceration, but creating potential immigration hurdles and barriers seeking employment and housing," said a February 1 letter to the governor from Make the Road New York, signed by more than 150 organizations, including JHISN. 
The letter is part of Make the Road's broader campaign to secure the dignity and safety of translatinas: "Our deep ties in the translatina community in Queens, and to the larger immigrant organizing community, allows us to address the unique and multifaceted challenges facing immigrant, undocumented, and Latinx trans people."
Aside from the psychological and physical impacts of being detained, arrest leaves many trans immigrants in a potentially dangerous position. An arrest on sex work-related charges could lead to deportation under U.S. immigration law. Many trans immigrants are asylum seekers who face dangerous persecution in their home countries. Having arrest records sealed, as the new law mandates, could prevent deportation and reopen the opportunity for asylum.
But some advocates say the repeal is only one necessary step toward destigmatizing trans and gender-nonconforming people. The next big hurdle for many is decriminalizing sex work. Supporters of decriminalization, like Make the Road New York, say it would allow for safer working conditions for all sex workers, including many of the people who were arrested under the recently repealed law.
A bill introduced in the New York legislature in 2019 with support from the New York Immigration Coalition and Make the Road New York would allow consenting adults to trade sex and to patronize sex workers. It also aims to combat trafficking, rape, assault, battery, and sexual harassment. A competing bill, crafted by Senator Liz Kreuger and New Yorkers for the Equality Model, would also decriminalize people doing sex work. But, in contrast, it would treat buying sex, sex trafficking, and brothel owning as illegal. It would also increase access to social services for sex workers.
The debate on how to decriminalize, and how to increase safety for sex workers, is not new. But decriminalization is gaining momentum now, with greater focus on racial justice and immigrant rights, particularly for LGBTQ people. The Walking While Trans repeal adds even more fuel to the movement.
"It feels like it's so powerful to know that the advocacy of a community so disenfranchised like the trans community was able to lead this groundbreaking change in the state of New York," Cecilia Gentili, founder of Transgender Equity Consulting, told NPR. It's "very refreshing for the trans community and the immigrant community, especially Black and brown trans people…and knowing that they will be able to walk in the streets without having that nervousness of being stopped and frisked by police."
WHAT CAN WE DO?
2. Challenging the politics of 'good' vs. 'bad' immigrants 
Picture the scene: a 23-year old DACA recipient is asked to embrace an immigration system that would finally grant her secure residency in the U.S. … while that same system targets for deportation her mother, an undocumented immigrant who has lived and worked in NYC for 20 years, and her younger brother with a 'criminal' record for a minor drug offense. Multiply that scene across millions of immigrant families in the U.S., and you start to have a feel for the brutal power behind the narrative of 'good' vs. 'bad' immigrants.
That narrative is being directly challenged as immigrant justice groups nationwide build their blueprints and collective dreams for post-Trump immigration legislation. Activists are calling for a new immigration system that can address—with dignity and justice—the need for a pathway to citizenship for 11 million undocumented residents. For an end to the criminalization of migration. Will the Biden/Harris administration listen?
[T]his story of the "bad hombre" has been weaponized over the decades to punish entire immigrant communities. By contrasting the, quote-unquote, "bad hombre" with the, quote, "good" immigrants, who work unnaturally hard and never break any rules, essentially what politicians are doing is they're reducing immigrant lives to caricatures who can be exploited and expelled from the country. (Guerrero, Democracy Now, 1/26/21)
Much of the responsibility for the dangerous framing of good vs. bad immigrants can be attributed to the Clinton administration's simultaneous pursuit of 'tough on crime' and 'tough on immigration' policies in the mid-1990s. Several Clinton-era laws dramatically expanded the population of immigrants vulnerable to mandatory detention and deportation (see Loyd & Mountz, 2018, Ch. 6). The 1996 Illegal Immigration Reform and Immigrant Responsibility Act (IIRIRA) helped cement the legal infrastructure for the massive deportation machine operating today: immigrant deportations increased from 70,000 in 1996 to 400,000 by the Obama administration's first term.
The figure of the "criminal alien"—contrasted with images of the legal, 'good,' and contributing immigrant—was popularized in these years. By 2009, almost 50% of immigrants detained by ICE were channeled through the 'Criminal Alien Program,' a nationwide and semi-secretive web of federal, state, and local law enforcement that is responsible for hundreds of thousands of immigrant removals. CAP operates in all federal and state prisons, and hundreds of local jails, where immigrants who have been arrested (including those not yet convicted) are subject to removal proceedings. This collusion between federal immigration authorities and the historically anti-black US criminal justice system also disproportionately affects Black immigrants, who are removed at rates five times their representation in the US population.
[C]ruel policies of immigration enforcement are a pillar of Democrats' governance. The rhetoric of "productive" and "legal" immigrants, with the simultaneous demonization of "criminal" and "illegal" immigrants, has been the cornerstone of the party's immigration platform for three decades. (Harsha Walia, The Intercept, 2/7/21)
As a new Democratic administration takes the reigns of DHS and immigration policy, the brief history offered here becomes terribly relevant. With even a limited 100-day moratorium announced by Biden stopped in its tracks by a Trump-appointed federal judge, and with recent headlines that the Biden administration is ready to be 'flexible' re their promised overhaul of immigration—can the dreams and demands of immigration activists be meaningfully realized? Can a 'good' immigration system finally be constructed, in the face of a very 'bad' history of both Republican and Democratic governance?
In solidarity and with collective care,
Jackson Heights Immigrant Solidarity Network
Follow @JHSolidarity on Facebook and Twitter and share this newsletter with friends, families, neighbors, networks, and colleagues so they can subscribe and receive news from JHISN.