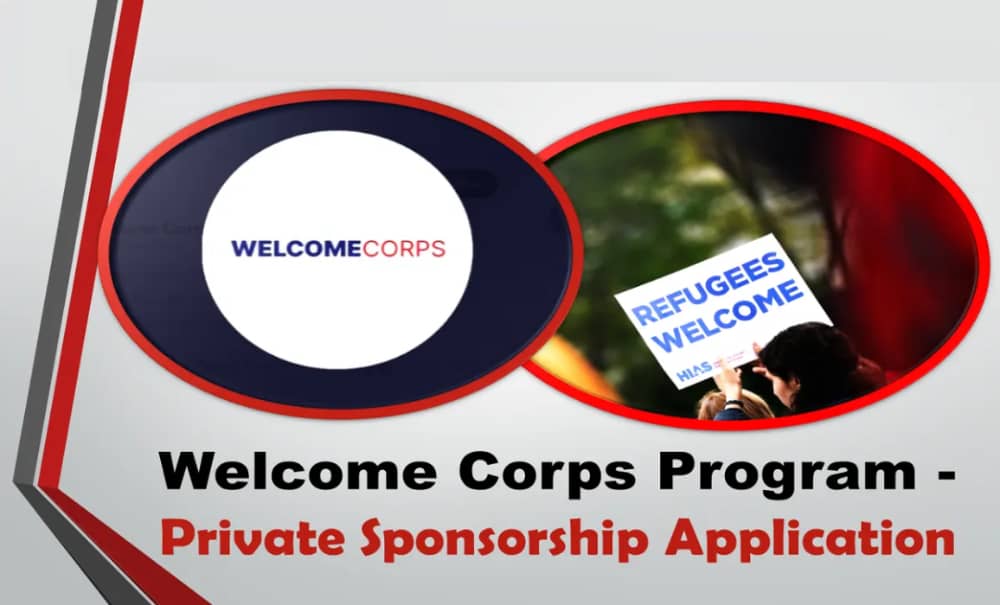 Dear friends,
While immigration politics at the national level feels like a familiar quagmire, we report this week on a new federal program to reorganize the sponsorship of refugees in the US. The 'Welcome Corps' enables community-based groups of five or more people to sponsor a refugee family or individual refugee, ending the decades-long practice of refugee resettlement being managed by a small number of agencies nationwide. The change, we hope, has promise, including for potential sponsorship groups here in Jackson Heights.
At the same time, we highlight the current migrant emergency here in NYC. The crisis appears to be hiding in plain sight as tens of thousands of new migrants arrive in the city, many of them transported here as part of a Republican plan to strain resources, undermine asylum-seekers, and embarrass municipal leaders. It's working.    
Newsletter highlights:
New sponsorship program welcomes refugees

NYC's migrant crisis a Republican dream 
1. Biden Team Introduces the "Welcome Corps"
Despite a campaign promise to create more humane immigration policies, the Biden administration has struggled to create significant movement on the way immigration policy is debated or implemented. Although efforts were made to repeal the Title 42 border restrictions, Homeland Security recently proposed the Circumvention of Legal Pathways rule to create a presumption of asylum ineligibility at the border. But there has been a potentially positive development: the creation of the Welcome Corps which was proclaimed "the boldest innovation in refugee resettlement in four decades." It's not really an innovation as it is modeled on the Canadian "group of five" program which has successfully relocated over 327,000 refugees since 1979, and has been copied by both the Australian and UK governments.
"Under the Welcome Corps program, you and a few of your friends can pool together funds to provide an immigration pathway that allows vulnerable people who may not otherwise be able to immigrate the ability to rebuild their lives in the US. Forming a private sponsor group involves bringing together at least five adults in your area and collectively raising $2,275 for each person you want to resettle in your community. With that money, sponsors commit to helping them through the first three months there, which can include securing and furnishing housing, stocking the pantry with food, supporting job hunts, and registering kids for school." Vox
The US has had prior experience with programs like this. The Displaced Persons Act of 1948 brought European refugees from the war and relied on individuals and organizations to help people find jobs and homes. After the Cuban Revolution of the 1950s,14,000 children were provided with places to live throughout the country. 130,000 Vietnamese, Laotian, and Cambodian refugees were resettled thanks to the Indochina Migration and Refugee Assistance Act of 1975. 
Jimmy Carter signed the Refugee Act of 1980, which created the Office of Refugee Resettlement (ORR), formally adopted the United Nations' definition of refugees, and established the practice of setting numerical limits on how many refugees the US would accept. The ORR was located inside the US Department of Health & Human Services and "partnered primarily with non-profit resettlement agencies to provide initial resettlement assistance to newly arriving refugees." There have been only nine federally funded nonprofits managing all US refugee settlements—until now.
Budgetary constraints during COVID under the Trump administration forced nearly a third of the country's resettlement offices to close permanently or suspend operations. The graph below from the Migration Policy Institute shows how Biden's recent increase to the ceiling of how many refugees can enter the US did not result in a similar increase in the number of refugees admitted. In November of 2022, experts stated the US would not reach that refugee ceiling unless it changed many shortcomings of the process. Although we should not let the government off the hook for fixing those shortcomings, Welcome Corps is one change that can help.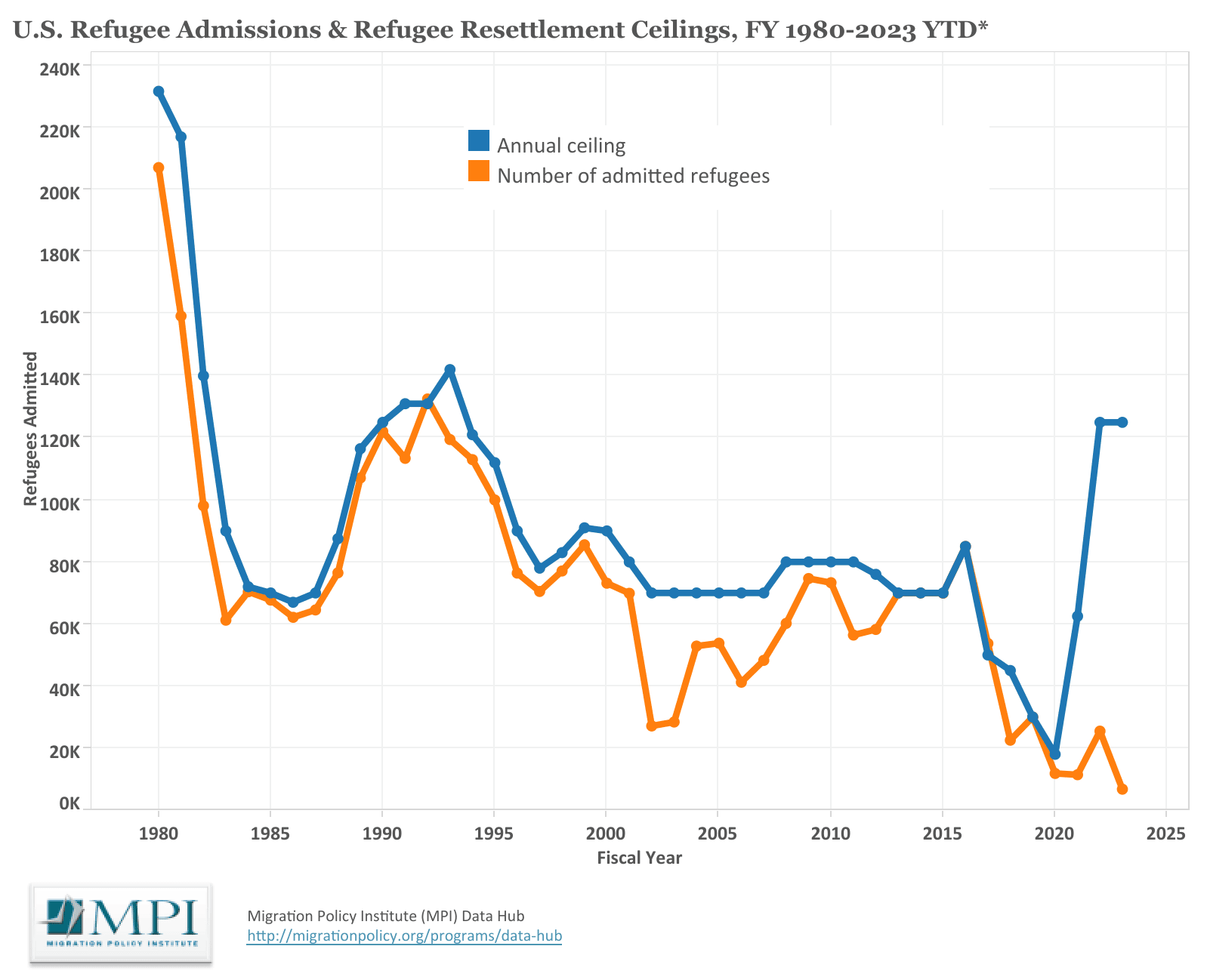 According to Welcome.US, over 20,000 people signed up during the week after the Welcome Corps program launched on January 19, 2023. Yougov polling found that 60% of US adults favor the new program (53% of Republicans and 76% of Democrats) and over 25% expressed interest in actually becoming sponsors. One of the hopes for the Welcome Corps is it will allow refugees to receive support in locations where the current refugee support organizations do not have a presence (or had to recently close) and thus expand the reach of resettlement throughout the country.
"Refugee newcomers who arrive through the Welcome Corps will follow an established government process that includes extensive security vetting and health checks. They will have refugee status, employment authorization, access to key public benefits like health insurance, and can eventually apply for U.S. citizenship. The Welcome Corps program provides sponsor groups with access to tools and resources, including a budget template, fundraising support, an arrival checklist, and ongoing guidance throughout the initial sponsorship period." –CISION PR Newswire
The Welcome Corps Getting Started webpage clearly outlines the steps involved from watching an info session, through having all five sponsors complete their background checks, attending training and support sessions, developing Welcome Plans, and signing the commitment form. New York already has a number of refugee assistance organizations in place. But perhaps their knowledge can be mined and areas like Jackson Heights will become another model for the nation by gathering together many groups of five people who will sponsor refugees to come to the neighborhood.
WHAT CAN WE DO?
2. How to Create a Crisis: Brutal Playbook by Republican Governors Unfolds in NYC
It's hard to fully grasp what is taking place in New York City: a migrant emergency and humanitarian crisis created purposefully and with impunity by Republican governors targeting 'blue' cities with unexpected busloads of immigrants who crossed the southern border. The vast majority of the recent arrivals are from South and Central America with a smaller, and less publicly visible, number from West Africa. Nearly 44,000 asylum seekers have arrived in the city since last spring, many sent with right-wing fanfare by Republican governors betting that the migrants cannot be effectively housed and socially supported here. 12,000 new migrants arrived in NYC in January 2023 alone.
 Let's be clear, more than 3 million New Yorkers were born outside the US; NYC is built on immigrant labor and culture and power. But the city was not prepared for—was intentionally caught unprepared for—receiving tens of thousands of migrants in such a short period of time, with no capacity to anticipate or coordinate the budgetary, legal, social service, educational, health, and housing resources necessary to support them. And many new migrants, unlike earlier groups, are landing here without existing community or family ties, without extra clothing or winter coats, or without sometimes knowing that NYC was their destination. City Comptroller Brad Lander reports that the city likely will spend $4 billion this year and next funding recently-arrived asylum seekers. 
 The city has publicly flailed while trying to provide adequate housing for migrant newcomers. But that was the point. Migrants are caught in a catch-22 of not being able to get legal work permits because of roadblocks in filing their asylum case which is required before they can work lawfully. But that was the hope. City resources are strained to the breaking point; Mayor Adams has declared a state of emergency and begged for more federal and state funds. That was the fever dream of Republican governors in Texas, Arizona, and Florida—a cascade of public crises in northern cities.
 Criticism of the city government for its abject failures to safely house new migrants is warranted. Yet why is one of the few cities in the US with a progressive right-to-shelter law in the crosshairs of a migrant housing crisis? Volunteers, immigrant justice organizations, and mutual aid groups in NYC have stepped up to provide resources and material aid to new migrants. Yet how long can the city support the unexpected challenges intentionally created by Republican electeds who have, for decades, blocked immigration policies that could address the economic, geopolitical, and environmental disasters fueling increased migration?
WHAT CAN WE DO?
In solidarity and with collective care,
Jackson Heights Immigrant Solidarity Network (JHISN)
Follow @JHSolidarity on Facebook and Twitter and share this newsletter with friends, families, neighbors, networks, and colleagues so they can subscribe and receive news from JHISN.