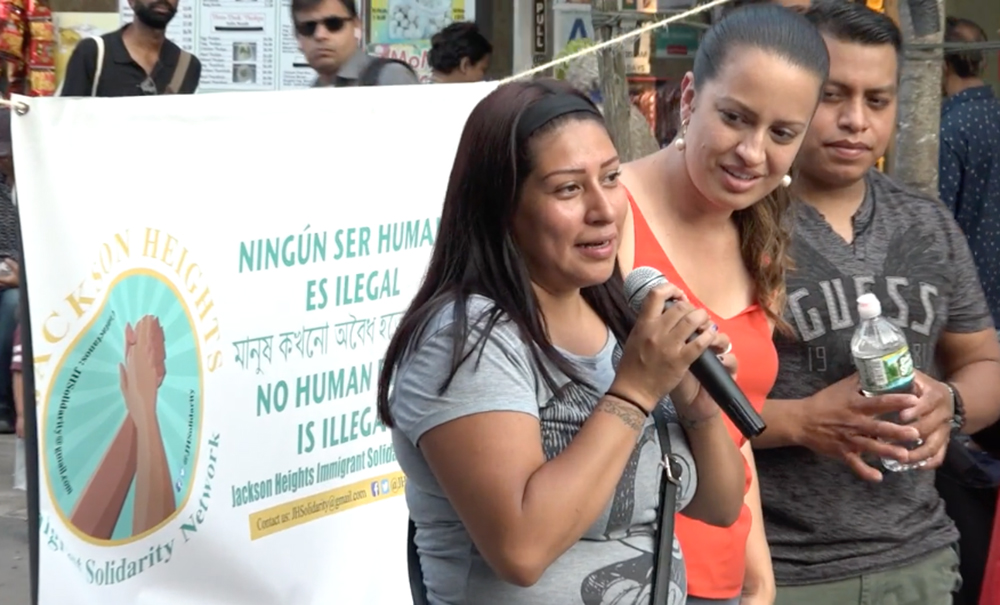 August 16, on a hot and humid evening, JHISN hosted a lively speak-out at Diversity Plaza. About 70 local residents and activists met to discuss immigration issues, including family separation, DACA, Temporary Protected Status and the need to resist ICE brutality in all its forms. A wide range of Jackson Heights neighbors participated.
The speak-out was the first event to take place at newly-renovated Diversity Plaza; a warm welcome was provided by Plaza businessman and activist Agha M. Saleh.
At the heart of the event were dramatic accounts by immigrant families in our community who are struggling to defend themselves from ICE's cruel deportation machine. We heard from the family of Alfredo Flores, who was detained when the Greyhound bus he was riding unexpectedly crossed into Canada. The family is fighting hard to stop his deportation with the help of Jackson Heights supporters.
Also speaking out were two young sisters from Jackson Heights who are trying to reverse the unjust and deeply hurtful deportation of their father to Bangladesh. And "Dreamer" Denise Romero described the stress and pain of facing potential deportation after growing up and living almost her whole life in the US.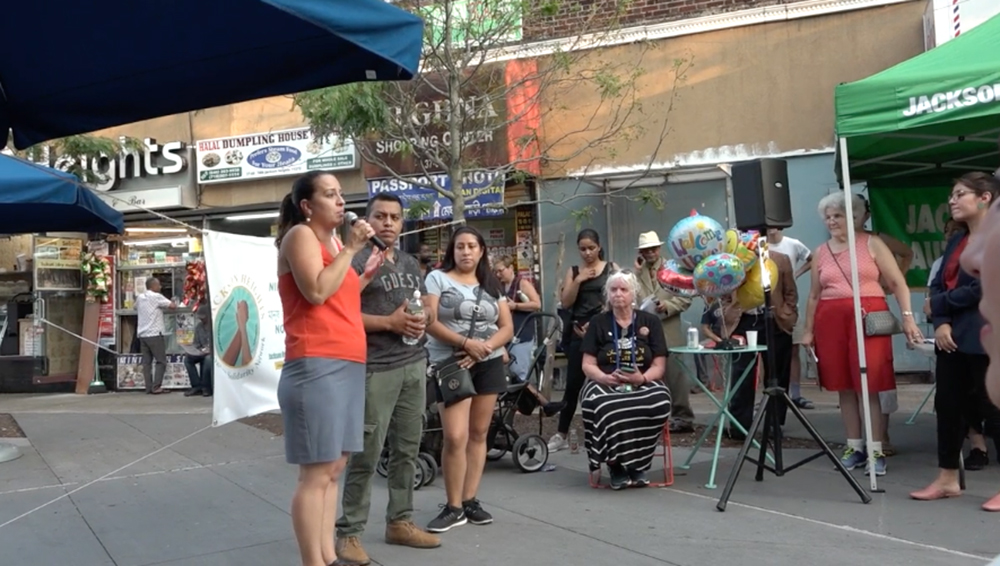 Other speakers reported their first-hand experiences fighting against ICE's family separation policy at the US-Mexico border: Julie Schweitert Collazo from Immigrant Families Together, attorney-activist Carolina Rubio MacWright and local immigration attorney Ed Cuccia, as well as community organizers Zoey Levine and Shekar Krishnan. There were expressions of resistance and solidarity from Howie Hawkins of the New York Green Party, JHISN's Melissa Greenberg and others. Translation was provided in English, Spanish and Bengla.
The event was co-hosted by UnLocal, the Elmhurst Baptist Church, and the Jackson Heights Beautification Group. JHISN sponsored the event as part of our commitment to work with others to mobilize our whole neighborhood in solidarity with immigrants under attack.