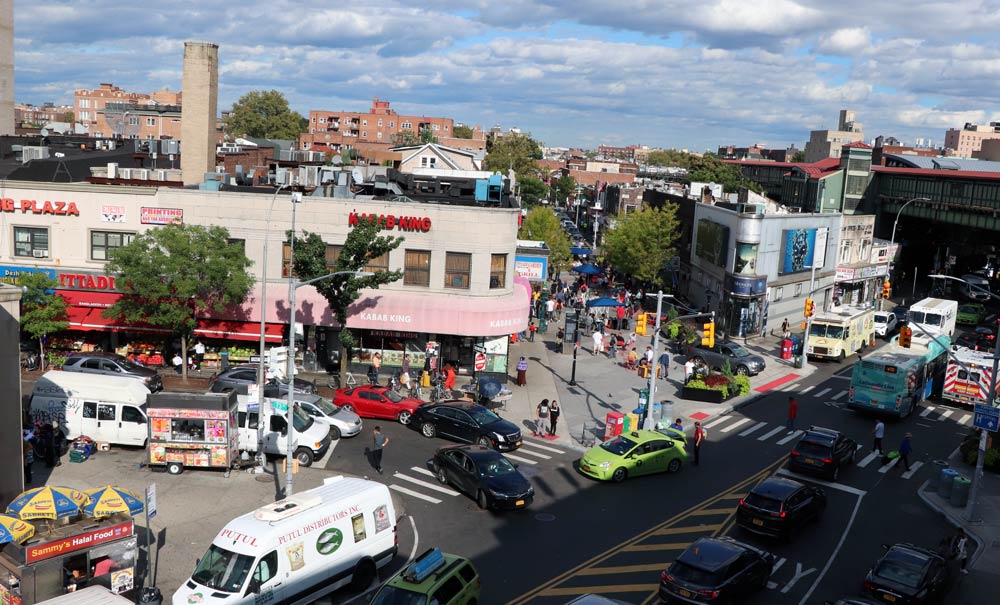 The NY State Comptroller's Office recently released what they call "An Economic Snapshot of the Greater Jackson Heights Area." This area includes East Elmhurst and North Corona.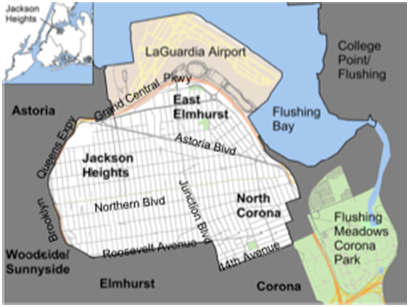 The report highlights an increase in new businesses and business sales, marking a rebound from the 2009 economic crisis. The growth is attributed largely to immigrants. As the authors put it, "The greater Jackson Heights area's large, vibrant immigrant community is the driving force behind the local economy." The "Economic Snapshot" also includes a number of interesting facts:
Immigrants make up 60% of the population of the Jackson Heights area–roughly 102,300 people. This is a much higher percentage of immigrants than the City as a whole (37%) or the US (14%).
According to the US Census Bureau, the largest immigrant group in the Jackson Heights area today is Ecuadorans, making up 20% of the immigrant population, or about 20,800 people. The second-largest group is Dominicans, followed by Mexicans. Bangladeshis, Colombians, Peruvians, Chinese and Indians also made up significant shares. (Many people believe that the Census Bureau has undercounted the population of Jackson Heights, especially immigrants.)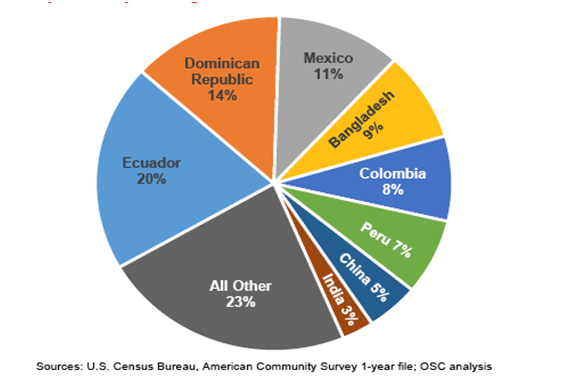 In 2017, more than 60% of residents (both native born and immigrant) considered themselves Hispanic, 19% Asian, 12% white, and 5% Black or African American.
81% of all residents of the area speak a language other than English in their home. At the same time, 84% of area children are proficient in English.
Immigrants make up more than three quarters of the employed residents of the Jackson Heights area. The most common jobs are construction worker, housekeeper, janitor, taxi driver, retail worker, restaurant worker, administrative assistant and office clerk. The Jackson Heights area also has an unusually high level of self-employment (15%). 90% of the self-employed people are immigrants.
Median household income in the Jackson Heights area is $56,600. This has been rising over the past several years. But it is lower in earning power than the median 2009 income level, because of inflation.
12.7% of households in Jackson Heights proper live in poverty, less than the City as a whole. The percentage is 18.8% in East Elmhurst and 19.5% in North Corona.
Since 2009, median rent in the Jackson Heights area has grown by 26%, nearly three times faster than the growth in household income. 10% of households in the area are considered severely overcrowded.
The full State Comptroller report can be downloaded here.