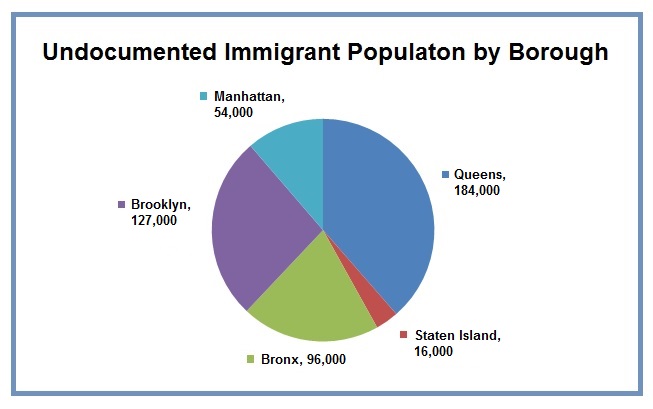 NYC is home to 3.2 million immigrants (foreign-born people), the largest number in city history.
Immigrants make up over 37% of the city's population. There are more households that include immigrants than there are households without any immigrants.
Over a million children (under 18) live in a household with at least one foreign-born family member. This represents almost 60% of all NYC children.
About 56% of immigrant New Yorkers are naturalized US citizens. Almost half of those naturalized citizens have lived in the US for 20 years or more.
An estimated 660,000 legal residents of New York (green card holders and others) are potentially eligible to naturalize in the future under current law.
5.3% of New Yorkers are undocumented immigrants. This is roughly 477,000 people. Mixed-status households, which include at least one undocumented family member, make up 12.7% of households in the city.
The undocumented population of the city has been going down since 2008, nationally and locally. The decline has been attributed to the weak economy after the 2008 housing crash, improved economic conditions in Mexico, and increased enforcement at the border.
16.6% of Queens residents are undocumented immigrants—roughly 184,000 people. This is far more undocumented immigrants than live in any other borough.
67% of undocumented immigrants in New York have at least a high school diploma. Over 21% have a college degree, including advanced degrees.
65% of all New Yorkers over age 16 are in the labor force. But 77.4% of undocumented immigrants in the city over age 16 are in the labor force. Their median earnings are 35% lower than those of citizens.
Source: "State of Our Immigrant City, MOIA Annual Report for Calendar Year 2018"