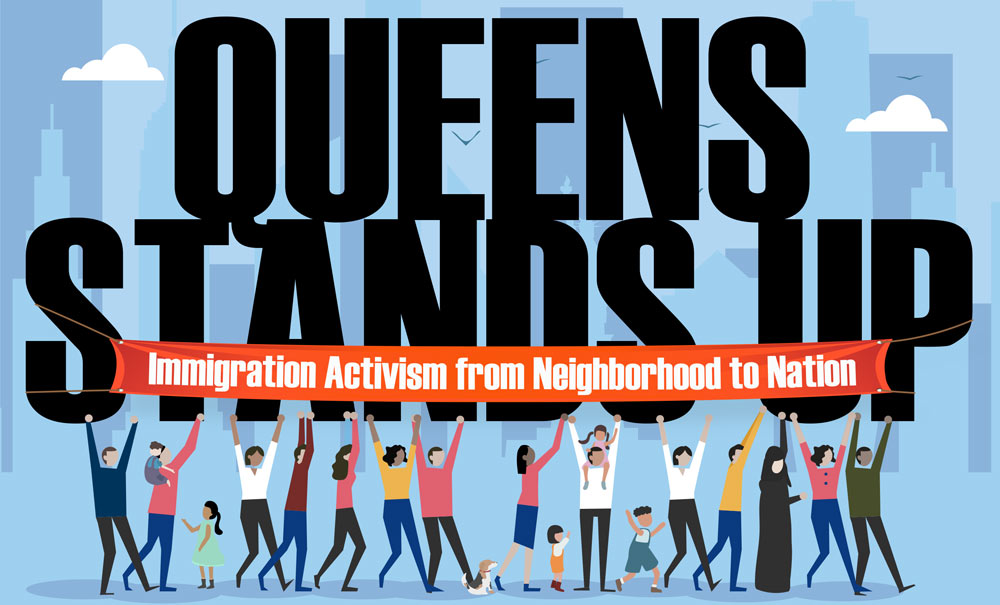 On the evening of October 18, the Jackson Heights Immigrant Solidarity Network (JHISN) sponsored a community forum to discuss a range of urgent immigration issues. The slogan for the event, held at St. Mark's Episcopal Church, was "Immigration Activism From Neighborhood to Nation."
The forum had a powerful panel of speakers. If you missed the event, you can watch the full video here, or watch videos of the individual speakers below.
Lea Ramirez detailed the programs that the Legal Aid Society of New York has developed to assist immigrants.
Afaf Nasher from the Council on American Islamic Relations (CAIR) gave a dynamic presentation on the rise of Islamophobia and the toll it takes on Muslims, including immigrants.
Ellen Whitt from the Immigrant Rights Committee and the Central New Jersey Coalition Against Endless War put a spotlight on local governments who accept ICE money to incarcerate immigrants, using these tainted funds to prop up their budgets.
Julie Schwietert Collazo updated us on the work of Immigrant Families Together, a crowd-funded group which is providing bail for dozens of immigrants trapped in ICE detention centers, reuniting them with their families.
The gathering also heard from our neighbors Alfredo Flores and his wife Wendy Valverde. Alfredo was arrested by Border Patrol after a Greyhound bus he was traveling on unexpectedly drove into Canada and back into the US. Now out of jail, he is working with an attorney to remain in the US with his US citizen wife and children.
He and Wendy described the emotional hardship caused to their family because of Alfredo's incarceration, as well as their uncertainty about the future. The children have been especially affected—clinging to their father and constantly worried he will be arrested again. Alfredo and Wendy spoke out not just for themselves, but for the human rights of all immigrants.
Phillip Josselyn, representing the Committee in Solidarity with the People of El Salvador (CISPES), explained how the US's destructive, long-standing foreign policy in Central America has forced millions of people to leave their homes in El Salvador, Guatemala and Honduras.
Carol Scott, from New Sanctuary Coalition, talked about their fundamental belief that no person should be deported and how this informs the work they do from immigrant accompaniment to pro se legal clinics.
The JHISN was represented by Melissa Greenberg and Marcus Longmuir. Co-sponsors included CISPES, the Jackson Heights Beautification Group, the Parent Association of P.S. 69Q, Queens Neighborhoods United, Rise and Resist and Socialist Alternative. Special thanks to St. Mark's Episcopal Church for sharing their space and Joe Friendly for shooting the video.